Do you need to scan large documents and photos?
Then you should consider flatbed slide scanners. Read our buying guide where you can find a lot of useful information about these best flatbed scanner. Furthermore, check out the flatbed scanners reviews and pick the best flatbed scanner for your requirements.
Our Top Picks
6 Best Flatbed Scanners Reviews
Best Of Best Flatbed Scanner
Doxie Flip Scanner
Space-saving Design
The Doxie Flip is a cordless flatbed scanner that measures 10.24 x 6.46 x 1.34 inches. It is a compact device, you can place it on your desk, it fits anywhere. If you want to store it, the drawer will be enough for it. Use this scanner for photos and documents, memories, albums, letters, stamps, notebooks and so on.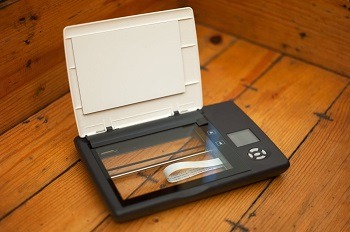 Removable Lid
Because of its size, it is a portable scanner. It uses batteries and a memory card for saving the scans. That means you can scan wherever you are. There is no need for a computer. The Doxie features a removable lid, it's useful because you can place the scanner directly on your originals.
Auto-stitch Feature
Through the transparent window, you can see your scans. The maximal optical resolution is 600 dots per inch, you'll have quality scans. If you want to scan some large original, use the Auto-stitch feature. It will merge multiple scans into one image.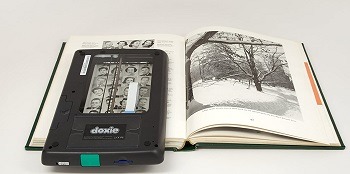 Bundled Software
You don't have to worry about your originals, the Doxie won't damage them. This flatbed scanner supports Windows and Mac OS. The intelligent auto adjustment will crop and contrast your scans immediately. Use the included software to organize and send your scans to multiple destinations.
Highlighted Points:
mobile flatbed scanner ideal for photos
great for old photos, magazines, notebooks
the optical resolution is 600 dots per inch
preview your scans through the transparent window
the auto-stitch feature merges multiple scans together
there is a removable lid for placing the scanner directly on originals
Best Photo Flatbed Scanner
Canon CanoScan Lide220 Scanner
Elegant Design
The Canon CanoScan Lide220 photo scanner is the best flatbed scanner for photos and it features an elegant black design. It works great with Windows and Mac operating systems. The dimensions of this scanner are 9.9 x 14.4 x 1.6 inches. It is powered by USB, so connect it easily to your PC. Use it in a horizontal or vertical position.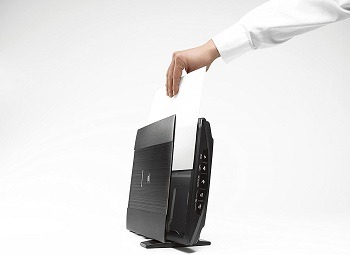 Contact Image Sensor
The maximal power consumption is 2.5 W during scanning. Use the item for photos, documents, receipts, drawings and more. The maximal paper size is 8.5 inches in width and 11.7 inches in length. That is a little bigger than the A4 format. This scanner uses a Contact Image Sensor.
Outstanding Resolution
The maximal optical resolution is 4800 x 4800 dots per inch so it is a great home photo scanner. You'll have excellent image quality. The color depth is 48-bit with over 280 trillion colors. If you want to scan a color letter-size document, this flatbed photo scanner requires approximately 10 seconds.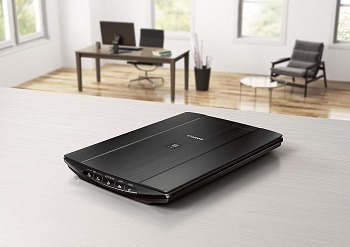 Auto-scan Mode
There are five EZ buttons on Canon's interface. They are intended for scan, copy, send to the cloud and PDF file creating. There are many useful features, like auto-scan mode – it automatically recognizes the document type and saves the scans with appropriate settings.
Highlighted Points:
versatile scanner – works in a horizontal and vertical position
the optical resolution is 4800 dots per inch
the auto scan mode recognizes document types
control the scanner with five buttons
intended for A4 paper sizes
Best Film Flatbed Scanner
Epson Perfection V550 Scanner
Film Holders
Epson Perfection V550 is very quality flatbed film scanner. It measures 19.1 x 11.2 x 4.6 inches and it is powered by USB. The package includes a user's manual, AC adapter and power cable, USB cable, negatives and film holders. This flatbed slide scanner is perfect for old photos, film and negatives.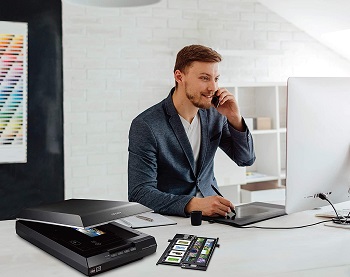 35mm Slides
This flatbed slide scanner features the highest resolution – 6400 dots per inch. The built-in transparency unit allows you to scan 35mm slides, negatives and film. Epson has many amazing features. If you want to scan your old photos, use the Easy Photo Fix, it will restore faded colors.
ReadyScan Technology
The ReadyScan LED technology permits you to scan whenever you want. The device doesn't require a warm-up time. Digital ICE technology automatically removes dust and scratches from the film. Moreover, you can scan multiple items at once, the auto-edge detection crops each image.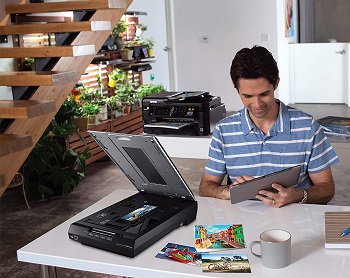 ABBYY FineReader
The Epson features ABBYY FineReader Optical Character Recognition technology. Use this technology to convert your scans into searchable PDF files. Find them with keyword or sentence. Or you can convert your scans into editable files, like Word or Excel.
Highlighted Points:
this flatbed negative scanner delivers sharp scans with 6400 dpi
auto-edge detection for multiple pages scanning
built-in ABBYY's Optical Character Recognition
Digital ICE technology for clear film and slides
Easy Photo Fix restores faded colors
the ReadyScan technology for scanning anytime
Best Portable Flatbed Slide Scanner
HP ScanJet Flatbed Scanner
Affordable Item
The HP ScanJet Pro 2500 is a budget flatbed scanner. This scanner has the ability to scan photos, receipts, documents and business cards. The dimensions are 13.8 x 17.8 x 4.8 inches and it is lightweight. You can carry it with you easily, it's a portable flatbed scanner.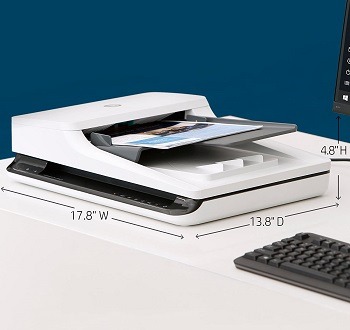 Long Documents
This scanner is compatible with Mac and Windows operating systems. The HP ScanJet supports various paper sizes, for example, letter, legal, business cards and others. The maximal paper size is 8 inches in width and 122 inches in length. That is great if you need to scan panoramas.
Duplex Scanning
The scanning speed is up to 20 pages per minute and 40 images per minute. The daily duty cycle is 1500 pages. The duplex feature means the scanner is able to scan both sides of the paper at the same time. It is a bit unusual, but the HP flatbed scanner has an automatic document feeder with a 50-page capacity.

Powerful Software Functions
The package includes a scanner, installation guide, power cord and adapter, USB cable and CDS with software. It's important to note that the minimal paper size is 4.1 x 5.8 inches. The software is integrated and it's able to auto-crop, rotate, resize, detect color, adjust brightness and more.
Highlighted Points:
the affordable and lightweight scanner
flatbed scanner with automatic document feeder
the feeder capacity is 50 pages per single pass
scanning speed is 20 pages per minute
it's able to simplex/duplex scanning
integrated software with multiple functions
Best Artwork Flatbed Scanner
Xerox Flatbed A3 Scanner
Connect It To ADF
The Xerox DocuMate 4700 is a USB scanner, so you can connect it to Windows and Mac OS via Hi-speed USB 2.0 cable. Also, you can connect it to a Xerox automatic document feeder scanner. That means you can use two scanners as one product. It's a portable flatbed scanner.
Best 11 x 17 Flatbed Scanner
This flatbed scanner is able to scan large documents, it supports papers of 11 x 17 inches, 8.5 x 14, 11 x 14, 9 x 12 and other large sizes. Use it for artworks, drawings and large papers. This is one of the fastest flatbed scanners with a speed of 2.5 seconds per page at 300 dots per inch.
Contact Image Sensor
The maximal optical resolution is 600 dpi, so it isn't the best for high-quality scans. That resolution is provided by Contact Image Sensor. The recommended daily duty cycle is 10,000 pages. You can scan non-stop. That's why this large document scanner is good for high capacity scanning.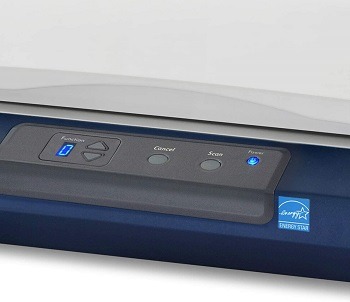 Supported Apps
On the front of the device, there are nine buttons and they are fully customizable. They are intended for scan, scan to email, PDF, OCR and other functions. The Xerox comes with many scanning apps, like Visioneer Acuity, ABBYY FineReader Sprint, Visioneer OneTouch, etc.
Highlighted Points:
large scanner for artwork and tabloid-size documents
the scanning speed is 2.5 seconds per page
the daily duty cycle is 10,000 pages
nine buttons for scan, send scans, conversion, etc.
Acuity software improves image quality
Best Large Flatbed Slide Scanner
Plustek Large Flatbed Scanner
Large Format Scanner
The Plustek OS 1180 scanner is very popular because of its size and features. The dimensions are 23.18 x 16.02 x 2.67 inches. it comes in white color and this device is powered by USB. The box includes the user's manual, instruction, CD with drivers and software, AC adapter and USB cable.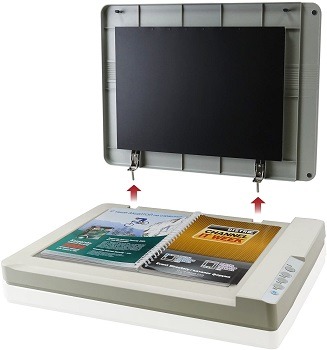 No Warm-up Time
This scanner is intended for large format scanning. It supports A3 paper size or 11.69 x 17-inch documents. Because of the LED light source, you don't have to wait for the device to warm-up. That also saves energy. The Plustek works with Mac and Windows operating systems.
High Resolution
The maximal optical resolution is up to 1200 dots per inch. The color depth is 48-bit. So, this is a high-speed photo scanner too. For scanning the greyscale A3 document, it takes 9 seconds. For color A3 paper, it needs 15 seconds. The Plustek 1180 scanner has four one-touch scan buttons.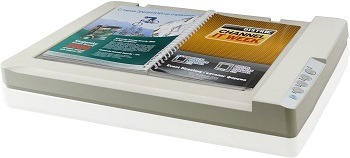 eBook Library
These buttons are for scan, OCR, PDF and email. The integrated Optical Character Recognition allows you to convert your scans into multiple formats. Find your scans easily with keywords or sentences. It is good for books, you can make your own eBook library.
Highlighted Points:
it scans art, photos, newspapers, documents,…
compatible with Mac and Windows
the optical resolution is 1200 dpi
the color depth is 48-bit
four one-touch buttons for quickly use
convert your files with OCR software
Things To Know About Flatbed Scanner
The flatbed scanners are flexible and offer higher quality. They have a lot of advantages, but before any impulsive purchase, check out the basic features.
Scanned Material – With a flatbed scanner you can scan various document types because of its larger scan area. That means you can scan magazines, newspapers, receipts, drawings, papers, business cards, and even bound books without unbinding them. Moreover, there is a large scanner for artwork, too.
Optical Resolution – If you want to have high-quality scans, you need to check out the scanner's resolution. It is measured in dots per inch. The scanners for documents should have at least 200 dots per inch. If you scan photos and artwork, choose the 600 dpi and higher resolution.
Scan Area – The flatbed scanner has a lid and a glass panel. You need to place a document or photo on that glass and press the scan button. These scanners come in different scan area sizes. Some models have the ability to hold up A3 format, 11" x 17", while others are intended for A4 document size.
Simplex Scanning – Usually, these scanners have a simplex function only. That means they aren't capable to scan the document from both sides at the same time. After scanning, you need to flip the paper manually and scan the other side of it.
Connectivity – There are different ways you can connect your scanner with a PC or laptop. Some scanners use USB connectivity. They don't need an AC power adapter for scanning. Just connect it with a PC and transfer your data. Some models work even wirelessly.
Final Verdict
For those who are in doubt, we recommend the Doxie Flip scanner. This is a cordless device with 600 dpi resolution, auto-stitch feature and removable lid. If you are interested in more large-scale scanner models, check out the review of large bed scanners. Similar scanners are in the post about large format flatbed scanners.