Are you looking for the best passport scanner?
Before you buy a passport reader machine, there are some factors you need to consider, like price, size, functionality, document types, speed and more. We will explain some scanner's features, so you can easily decide which model suits you best. Also, there are reviews of different scanners with great characteristics.
Our Top Picks
Best 5 Passport Scanners
Best Of Best Passport Scanner
Gemalto MRZ Swipe Reader CR100
Wide Range Of Use
The Gemalto MRZ Swipe Reader CR100 is a compact passport reader, it measures 12 x 10 x 6 inches and weighs 11.2 ounces. This product is designed for hotels, banking, law enforcement, transportation, car hire and retail markets. The price is affordable.
Issued After 2005
This passport swipe reader is able to read the code line from passports, IDs and other MRTDs (machine-readable travel documents). It will read all passports in the world which are issued after 2005. That also includes USA green cards, visas and more.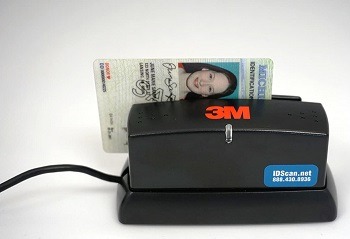 User-friendly Design
It features a simple hand-swipe design and a small footprint. You can attach it to a display, cash register or keyboard, the Gemalto has non-slip swiping. There are a USB 2.0 output and a single interface cable. The Gemalto passport scanner is compatible with Windows 7, Windows Vista and Windows XP SP3.
LED Lights
This scanner isn't just for passports, it is able to read driving licenses and three-track magnetic cards. The Gemalto scanner uses the LED indicators with blue, green and red lights to show you about reading success. The warranty lasts 1 year, but you can extend it to 3 years.
Highlighted Points:
easy-to-use with hand-swipe design
compact and lightweight product
ability to read IDs, passports, driving licenses
it is a USB powered device
great for hotels, border control, banking
Best Documents Passport Scanner
Desko Passport Reader
Compact Device
The Desko FP500e passport scanner is a small and efficient document reader. This reader has 7 x 6.5 x 4.5 inches. The scan window features 100 x 130mm. The resolution is 250 up to 600 DPI. The 600 dots per inch is great for documents but isn't ideal for photo scanning.
Quad Optics Technology
This scanner has the ability to read the passports, visas and other national ID cards. Desko scanner uses the quad optics technology so it's great for security and travel services. The Desko is compatible with more accessories like batteries, cables, manuals and software disks, power supplies.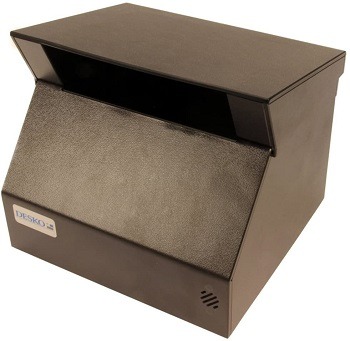 No Maintenance Required
The Desko ID and passport scanner doesn't have moving parts, the whole device is based on LED technology. Therefore, this scanner is a maintenance-free and reliable item. The Desko is capable of decoding 1D or 2D barcodes of documents.
Automatic Recognition
This product provides automatic and high-reliability OCR MRZ recognition. The OCR stands for optical character recognition. Desko requires a USB interface for fast data transfer. or you can transfer the data via RS232 interface. The visible and audible indicators show scanner status.
Highlighted Points:
small passport scanner and verifier
it uses advanced quad optics technology
the maintenance isn't needed
automatic OCR recognition
suitable for passports, visas and other ID cards
Best Photo Passport Scanner
Acuant Snapshell Passport Reader
Pricey Item
The Acuant SnapShell passport scanner has 7.2 inches of length, 6.8 inches of width and 5.11 inches of height. It weighs 24 ounces. This product is designed for passport, driving licenses, business cards and medical records reading. The package includes a USB cable and instructions.
Fast Scanning
The maximal document size, which this scanner is able to read is 5 inches x 3.5 inches. It is a pretty fast scanner, it needs 2 seconds for complete scanning. Acuant features 600 dots per inch. It is powered by USB and requires a USB 2.0 connection. It is ideal for passport sized images.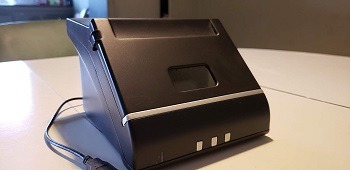 Windows 10 Compatible
The Acuant uses a digital camera to capture the image. It's simple to use this device, it doesn't have moving parts, just place the passport on the glass plate and the item will scan it. There is no calibration needed. You can use different software options. The Acuant is compatible with Windows 10.
Highlighted Points:
designed for passports, driving licenses and ID cards
picture quality – up to 600 DPI
the scanning is complete within a second
compatible with Windows 10
it uses a digital camera for images reading
Best RFID Passport Scanner
Regula 7017 Passport Reader
High-quality Materials
The Regula 7017 passport and document reader is a small-sized device for desktop use. The body is made of the quality and durable plastics, so it isn't easy to damage it. It measures 5.8 x 5.1 x 3.7 inches. This is a lightweight product of 1 pound.
Radio Frequency
You need to connect the scanner with your PC via USB cable. It is easy to use because there are no moving parts. This model is equipped with an RFID reader. RFID is radio frequency identification and it enables contactless identification using magnetic fields. Regula captures images in white light.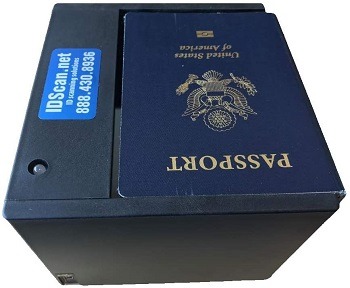 Supported Format
The Regula passport scanner comes with a software development kit for easy integration. It supports the documents of ID-1, ID-2, ID-3. The maximal document size is 87 x 128mm or 3.42 x 5 inches. This scanner is good for tourist agencies, consulates, financial institutions, insurance companies and others.
Device Status
This RFID passport reader features LED indicators with red, green and yellow lights. They show device status. When you insert the document into the scanning area, the reader automatically detects the document and scans it.  Also, the reader automatically recognizes the document type.
Highlighted Points:
the reader uses radio frequency identification
it scans ID-1, ID-2 and ID-3 formats
automatically detect and scan the documents
multicolor LED indicators for device status
the scanner recognizes the document type
Best Barcode Passport Scanner
Eyoyo Barcode Scanner
Desktop Scanner
The Eyoyo is a compact desktop scanner with a big scan window. It is suitable for supermarkets, retail shops, libraries, drug stores and other industrials. It fits anywhere because of its small dimensions. The package includes a manual, USB cable and scanner.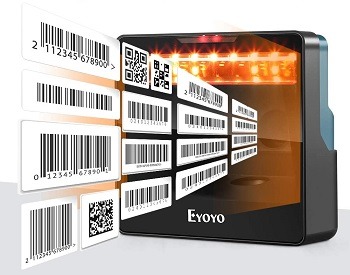 Multiple System Compatible
The scan range is large, so you can easily capture barcodes. Connect it with a computer, cash register or POS. Just plug it into the outlet and it's ready to use. You don't have to install any software. Also, the Eyoyo works with Windows XP/7/8/10, Linux, Mac OS and other systems.
QR Code Scanner
Eyoyo has the ability to accurately capture the QR code from smartphones, papers or other displays. Because of infrared auto-sensing scanning, it is a hands-free device. You don't have to hold it in your hand. The scanning head provides high precision.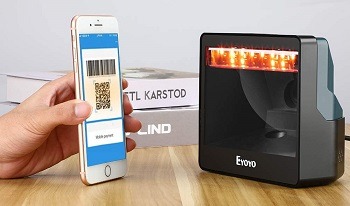 Passports, ID Cards,…
This passport barcode reader scans in every condition, light or dark environments. It scans barcode under plastic bags or on reflective papers. The Eyoyo is able to scan the barcodes on the ID cards, passports and driver's licenses. The price is affordable. If you have any questions, contact customer service.
Highlighted Points:
desktop-sized hands-free passport QR code scanner
suitable for ID cards, passports and QR codes
big scan window for fast and accurate scanning
great device for supermarkets, retail shops, library
compatible with Windows, Mac OS, Linux and others
infrared auto-sensing scanning
Things To Know About Passport Scanners
The passport scanners provide you to verify the individual identity and check some important data. Learn how to use it, which technologies are good to have and more useful information.
Easy-to-use – The passport scanner isn't a complicated device, it's pretty simple to use it. There is a scan button which you need to press before scanning. Some scanners automatically detect and recognize the documents. Also, they scan it immediately.
Fast Scanning – High-quality passport readers are able to scan the documents within a second. That is especially important in crowded spaces, like airports. Also, you need to prepare the scanner for use. Some models could be ready for scanning in a few seconds.
Good DPI – The DPI stands for dots per inch. The higher the resolution on your scanner means you can retain the more detail. The 72 DPI generates a rough image, but the scanners with 350 or 600 DPI provide the most quality and accurate scanning.
Radio Frequency – Or shortly, RFID technology. The passport scanners with this technology provide contactless identification. They use the magnetic field for reading. That scanners are able to identify the objects in moving faster. This is a secure technology that prevents spying and stealing the data.
Secure Device – Before you buy a passport reader check out its security. Many new passport scanners use advanced technology to protect sensitive data. All information which scanner read is stored within encrypted databases. There is no access to unauthorized people.
Final Verdict
In our opinion, the best passport scanner is the Gemalto MRZ Swipe Reader. It is good for banking, hotels, border controls, it's compact and you can attach it to the cash register or display. If you looking for scanners for your photographs and documents, check out the review of the best scanners for photos and documents. If you work with large documents, in the post about large document scanners, there are many quality models.