Have you been thinking about buying a quality binding machine? Do you want to learn more about these devices?
If you are, then keep on reading because, in this article, we'll list the top 16 best-rated items currently available in the market. Learn more about their design, features and specifications. Also, don't forget to check a few tips and tricks that make your purchase successful.
Our Top Picks
What Is A Binding Machine?
A binder is a type of machine that works to bind pages and covers into a book or another binding project. It can do so with the help of heat and glue, or different fasteners (such as combs, coils, and wires). Depending on which type of projects you want to create, you get to choose between many different binding systems and types.
Automatic Machines For Binding
This type of binder maker runs fully or partially on electricity. They are also called electric. This means that they either have an electric punch and electric binder or just one of these two is electric, in which case it is only partially automatic. These are a great choice for those who bind regularly and in higher volumes to save time.
Manual Binder Makers
Unlike electric binders, manual machines for binding books are completely run manually. They usually have levers that punch holes and insert binds by lifting and lowering. Manual models are a good option for those who want to bind a project from time to time as it will take longer to manually punch holes and bind everything together.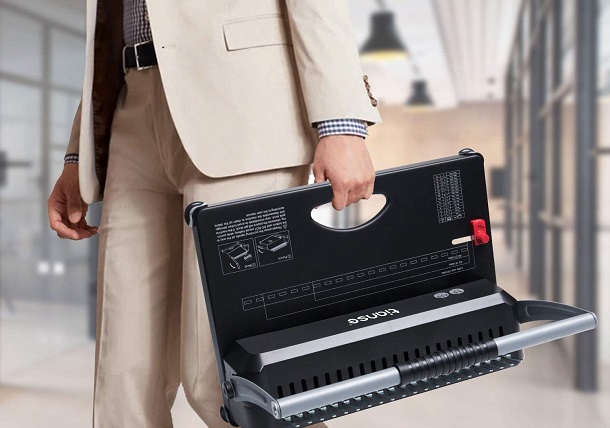 What Are The Different Types?
Machines for binding can be manual or automatic (electric) and have different binding systems, usually thermal, coil, comb, and wire. They have a different finish and different features, so choosing the right one will mainly depend on how you want your bound project to look, how durable you need it to be, etc.
Thermal Binder
This type of machine for binding is electric and uses heat to bind pages and covers together. It is also known as a perfect bound machine. Using heat and glue, it connects pages to each other and then to the book spine. This makes it the most professional-looking desktop version of a machine used for binding books. It can either make softcover or hardcover books.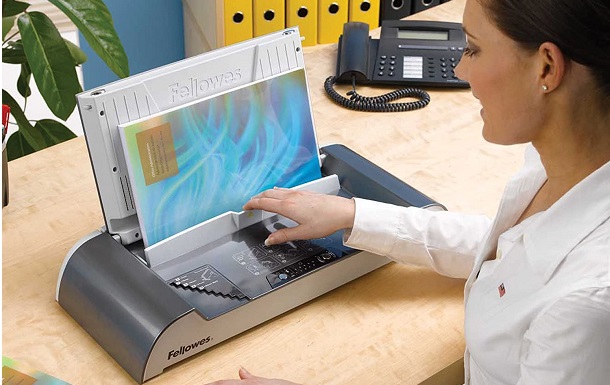 Machine Bind With A Wire
Another type of binder that can either be automatic or manual, or partially electronic. It uses a hinge of double-wired loops to bind books through holes with a 3:1 or 4:1 pitch (three or four holes per inch). With a wire, you can usually bind between 20 and 200 pages. It is one of the traditional bookbinding methods, along with coils and combs.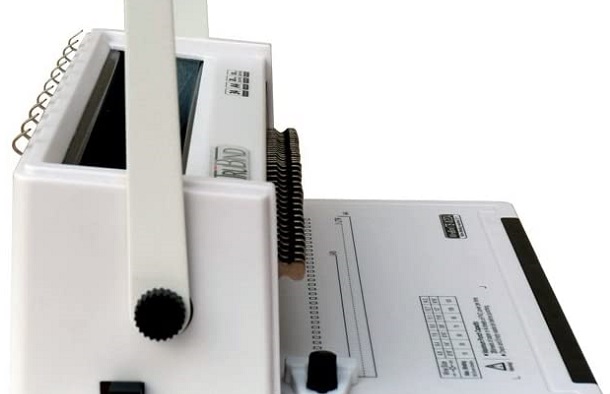 Coil Spiral Machine For Binding
The second traditional binding type is a coil binder. It is also known as spiral. It uses a long spiral coil, usually plastic, that is inserted and twisted through punched holes along the spinal edge to bind the papers together. A coil binder can either have a 3:1, 4:1, or 5:1 pitch pattern.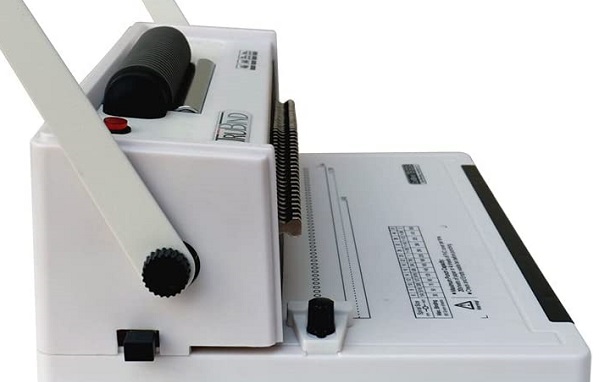 Bind With A Comb Machine
The last traditional type is the machine that uses plastic combs to bind pages and covers into a project. You can bind anywhere between 20 and 450 pages together with a comb binder. Plastic comb machines can be either manual or electric. With the electric model, you will easily punch holes in papers with a foot pedal or a button.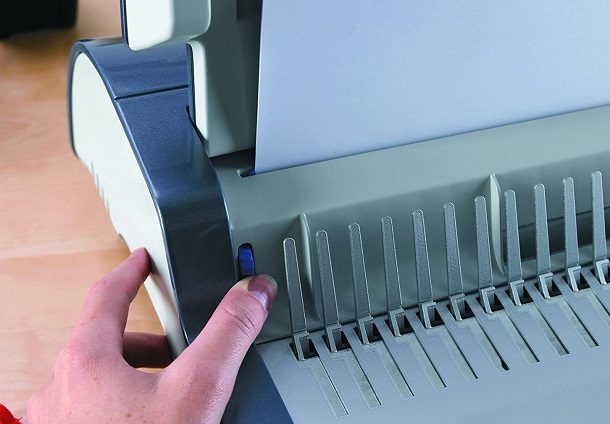 Is Coil Binding Better Than Comb?
If you want to lay pages flat, both coil and comb-bound projects will allow it. However, with a comb-bound project, you won't be able to turn paged 360 degrees. Moreover, the coil is a more durable option, but it won't allow you to put the title on the spine of the book like the comb binding will.
What Is The Most Durable Binding Machine?
The most durable are either wire or thermal, depending on which style you prefer. The wire is more durable than comb and coil machines if you want a model that binds books traditionally. If you want to bind projects to look similar to a book, then thermal binding will offer you the most professional-looking solution to the binding.
Is Perfect Binding Durable?
Books that are bound with perfect binding are strong and durable thanks to the glue that is holding the pages and the covers together. If you want a professional look and a binding that is somewhat easy to edit, then choose perfect (thermal) binding. A perfect bound machine allows you to reheat the finished project and take out or add more pages inside.
Is Perfect Binding Expensive?
While they are a bit more expensive, perfect bound (thermal) machines still give a professional look without a really high cost. If you are planning to bind books and projects and sell them, perfect binding is a good choice as it looks nice and is durable, so you can earn money in the end.
Pros & Cons Of Using A Machine To Bind Projects
A machine used for binding books will bring you many positives, but, just like with anything, there are also some negative sides to using a binder machine.
The Pros
Some positive sides of using a machine for binding are:
Versatile use – they are great for professional and personal use, in homes, offices, print shops, schools, etc
Saving time – a binder maker will save you time by giving you a machine that will bind a project in a shorter time than it would take without a machine
Various types – the market offers different machine types so that there is something for everyone's budget, for different binding projects, etc
Contributes to efficiency – if a binder machine is simple and easy to use, it will bind books in a short time, allowing office staff to get back to other tasks quickly
Professional-looking documents – you can bind reports, presentations, sales materials, sample books, cookbooks, proposals, assignments into a professional-looking document
The Cons
Binder machines also have some negative sides that you should consider:
Complicated to use – binder makers, especially manual models, can be a bit harder to understand how to use, but you can get the hang of it by watching a tutorial video and reading the manufacturer's manual guide
The punch pins can become dull – you will have to ensure your machine is maintained properly so that the punch pins and dies do not become too dull, in which case you will have to change them
Some binding is permanent – if you go for a permanent binding type (like coil or wire), it will be hard to edit the document once the binding is done without ruining the wire or the coil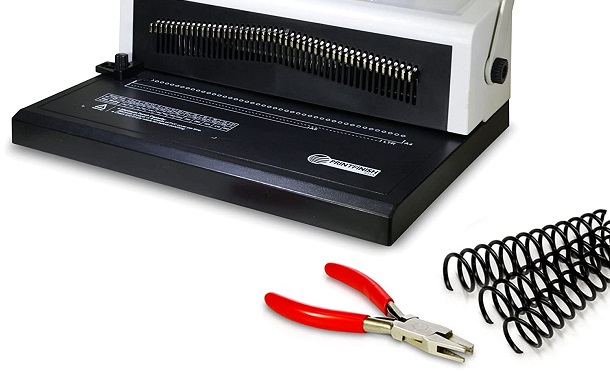 Which Is The Best Binding Machine?
To get the best one for use, these are the things you need to pay attention to.
Pitch Pattern On The Puncher
The puncher is used for punching holes through the spinal edge of the document sheets. You can mostly choose between machines with 2:1, 3:1, 4:1, and 5:1 pitch patterns. This means they can either make two, three, four, or five holes per inch of a document. Choose a bigger pitch pattern for thicker projects.
Punching Capacity
For wire, coil, and comb machines, you have to think about the maximum punching capacity. In manual models and models for home use, you should choose the punching capacity of around 15 pages. If you want to bind regularly and have a lot of documents to bind in one day, then choose 20+ sheets of punching capacity to be quicker.
Binding Capacity
This tells you how many pages you can bind into a single project. If you are only going to use your machine occasionally and at home, a binding capacity of around 250 pages will be enough for you. If you have to bind all the time and books with different numbers of pages, then look for those that can bind 450 pages or more.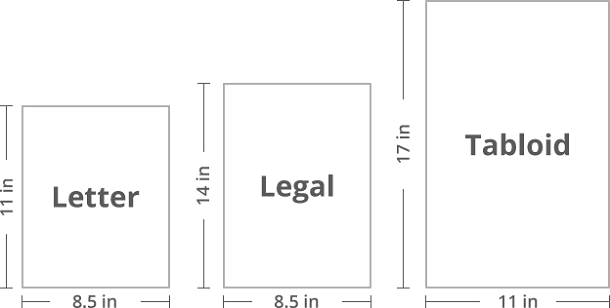 Size Of Document
To choose the right size for your needs, think about the size of the documents you will want to bind into one. For standard sizes of up to 11 inches, you won't need a model with a long throat. However, if you are going to bind documents of legal size or bigger, it is best to go for models that are made for extra-long documents, such as those with an open throat.
Electric Vs. Manual
If you are only going to bind a couple of books per week or month, a manual binder will be good enough for you. Go for an electric one if you are going to bind multiple projects in a day to make it easier on your hands. You won't have to punch holes or insert bindings manually.
Cooling Rack
If you choose a model that works with heat and glue, you will need a cooling rack on the side where you can put your book to cool and become compact as the glue gets harder.
Tray For Scrapped Paper
For binders that have a puncher, the tray will keep the scrapped paper collected under the unit until you empty it out.
Which Type Is The Best Choice For You?
If you want your bound project to lay flat, go for a wire, coil, or comb model. However, with the comb, you will not be able to open the pages 360 degrees. When choosing a binding method, also think about the durability. For example, wire and coil and more durable than a comb. For a professional finish, you should go for a thermal model.
Best 15 Binding Machines
TruBind Spiral Binder
Electric Coil Inserter
TruBind machine is backed by a 2-year warranty. That warranty covers all manufacturing defects. The power adapter is included in the package and the machine requires a standard 110V outlet. It measures 18 x 15 x 10 inches. The electric coil inserter provides hands-free operation.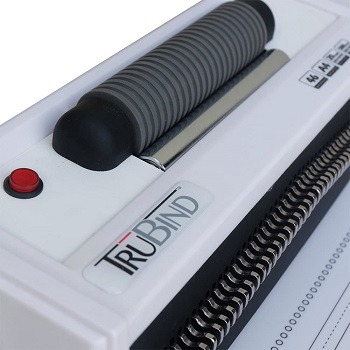 High Punching Capacity
It is easy to create professional-looking books, notebooks, booklet and documents. TruBind machine features a large punching capacity of up to 20 sheets. Adjust the side and depth margins for any document sizes. Full sturdy grip handlebar is suitable for left-handed and right-handed people.
Marigold Thermal Bidning Machine
For Hardcovers
Marigold is an American-made machine, perfect for large offices with demanding tasks. Use it for calendars, reports, schedules, notebooks and books. Marigold binds up to 200 sheets of paper for softcover and 160 sheets for hardcover. Works in 100V to 120V volatge range.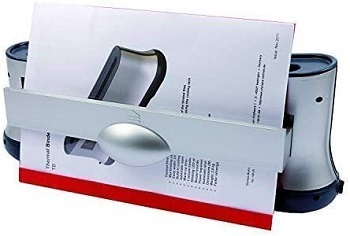 Overheating Protection
This machine features a quick 1-minute thermal binding cycle with a short heat-up time of 3 minutes. When the binding process starts, you'll hear sound signals. Also, when the process is completed, there is a beep signal. Equipped with an auto-shut-off feature that prevents overheating. Marigold is safe for use.
Fellowes Quasar Electric Machine
Quality Construction
Fellowes Quasar is a compact and practical machine. Its dimensions are 7.1 x 18.7 x 20.5 inches. This is a strong and long-lasting machine built of high-quality steel that will last for years. It is very simple to use – punch the holes, align the paper and place the comb.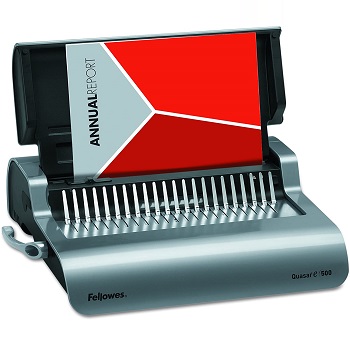 Electric Punch
At the push of the button, this machine will punch up to 20 sheets of paper. It binds up to 500 sheets with a 2-inch comb. Fellowes has a vertical paper loading that provides more accurate alignment. There is an integrated internal storage tray that collects paper pieces.
Fellowes Helios 60 Machine
Heat-up Time
Fellowes Helios 60 features an elegant and modern design, this is a thermal model. It measures 3.9 x 20.8 x 9.4 inches. This model is designed for heavy-duty tasks and large offices. Its thermal binding cycle lasts from 1 to 3 minutes. The heat-up time lasts 4 minutes.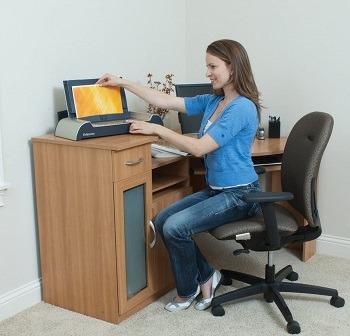 HeatShield Feature
It binds up to 600 sheets in one step. Fellowes features a HeatShield barrier that protects you from heated plates and prevents injuries. The signal will light up when the binding process start. When the process is complete, there is a sound signal. The overheating protection is included.
TruBind TB-W20A Binder
Full Handlebar
TruBind TB-W20A is a powerful wire machine measuring 17 x 8 x 14 inches and weighing 18 pounds. This manual model that features 3:1 wire loop binding. There are twin loop wire O-binding spines for a more professional look. The full handlebar is suitable for left-and right-handed.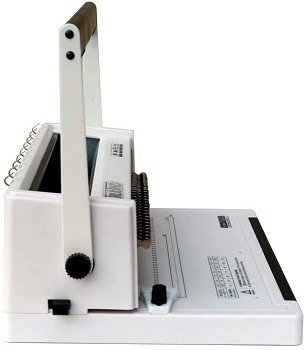 Open Throat Design
Punch up to 20 sheets at a time and bind up to 12o sheets. The size of your book, notebook or other documents isn't important. You need to modify side and depth margins. Open throat design accepts standard and non-standard document sizes. Its price is affordable and comes with a 2-year warranty.
We R Memory Keeper Machine
Ergonomic Handle
We R Memory Keepers brand produce this compact Version 2 device designed for bookbinding. It measures 12 x 9.5 x 4.7 inches and weighs 7 pounds. It is suitable for notebooks and bookbinding. This machine is great for schools, home and recreational use. The cinch machine features a soft and ergonomic handle.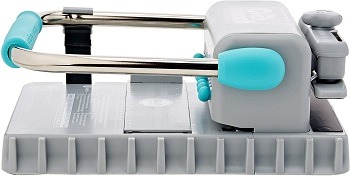 2:1 Pitch
It punches up to 20 sheets of paper. We R Memory Keepers Version 2 machine is suitable for standards and non-standard paper sizes. Use the alignment pegs and customizable hole punch knob. The hole pitch is 2:1, meaning it makes 2 holes per inch. It features strong and durable springs.
Fellowes Galaxy E Machine
Heavy Machine
Fellowes Galaxy E500 is a powerful machine designed for demanding tasks in large offices. This product is pretty heavy and measures 19.7 x 8.3 x 23 inches. The machine is suitable for offices, schools and recreational use. It uses electricity to punch up to 25 sheets at a time.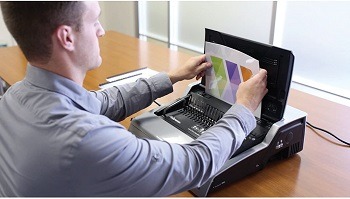 Electric Punch
There is a 2-inch comb that supports binding up to 500 sheets. Insert the documents vertically for more accurate alignment. If you want to improve your productivity, use the binding mechanism separately. The edge guide is adjustable for precise alignment. Push the button and Fellowes punches sheets immediately.
Akiles Coilmac ER41 Bind Machine
Manual Coil Punch
Akiles CoilMac ER41 is a large device equipped with a manual coil punch and an electric coil inserter that provides faster binding. It measures 18 x 8 x 13 inches and weighs 21 pounds. It punches up to 20 sheets of paper. Use it for hardboard, too, it is powerful enough. The holes are oval.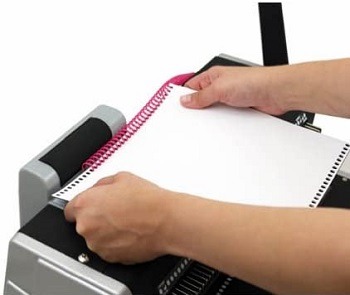 Blade Set
This notebook machine features 54 fully disengaged pins, remove or add them according to our needs. The punching length is adjustable from 13 to 26 inches. Also, the blade set features cast-hardened and heat-treated steel dies. With Precision Guiding System it's easy to create professional-looking notebooks and books.
Fellowes Star+ Bind Machine
Simple To Use
Fellowes Star+ machine is ideal for use at home, in school or small office. It weighs 9 pounds and measures 3.1 x 17.7 x 9.8 inches. This machine is constructed of robust and durable plastics. Fellowes Star+ is simple to use and does require much space. Its price is affordable.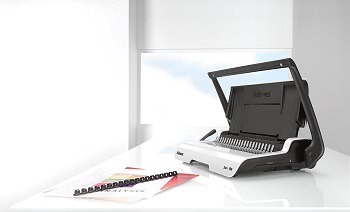 Vertical Paper Loading
It punches up to 15 sheets of paper at a time and binds up to 150 sheets with a 3/4 comb. Also, this machine features a measurement device for your documents. The edge guide is adjustable, so center your documents easily. Vertical paper loading provides more accuracy.
Akiles WireMac-31 Bind Machine
Powerful Mechanism
Akiles WireMac-31 model is one of the best on the market. It features a powerful hole punching mechanism that pierces through 20 sheets at a time. All of 40 dies are disengaged, use only those you need for your book or documents. Because of the wide throat opening, Akiles accepts A4 and larger papers.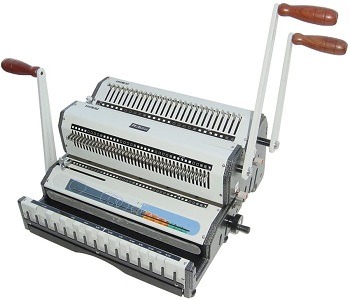 Two Handles
This model measures 19 x 15.6 x 9.5 inches and weighs 35 pounds. Its construction is made of durable metal. There is a 3:1 pitch, meaning, it makes 3 holes per inch. Akiles has a vertical closing mechanism that provides more accuracy. There are two powerful handles for all your tasks.
GBC ProClick Electric Machine
High Binding Capacity
GBC ProClick machine is made of durable and quality materials. A 1-year warranty is provided by the manufacturer. The item dimensions are 14 x 16 x 8 inches and it weighs 22 pounds. Use this model with GBC ProClick Spines only. Its binding capacity is 110 sheets.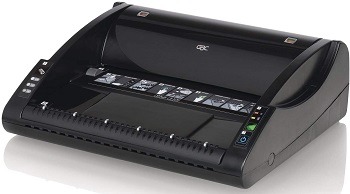 Accurate Punching
The electric punch pierces through 15 sheets of paper. GBC ProClick machine allows you to edit documents, add or remove pages. Use it for letter-size documents and oversized documents. The Handy Right feature provides accurate punching and binding. Its price is high.
Swingline VeloBind Machine
Lightweight Device
Swingline measures 20 x 12 x 8 inches and weighs 8 pounds. It is an affordable and lightweight device, so it is easy to move it from one desk to another. Swingline is suitable for larger offices and companies. It binds up to 200 sheets at a time and punches up to 24 papers.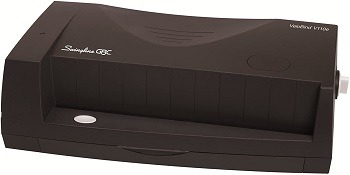 Editing Tool
When you want to punch the documents, simply push the button. You can use this machine for standard and non-standard documents. If a paper jam occurs, there is a jam release knob. Moreover, the editing tool is included if you want to add or remove pages.
Offnova 21-hole Binder Machine
Curved Handle
Offnova is a low-cost comb binder that can be used at home or for recreational use. This bookbinder weighs 6.4 pounds and has 14.5 x 10.2 x 9.2 inches. Place it on your desk, workbench, table and store easily in a drawer or tray. It features a curved handle and requires a low force to pierce the paper.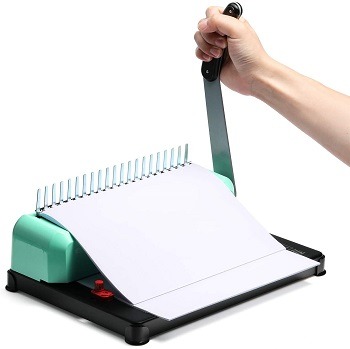 Work Simultaneously
You can manually punch up to 12 sheets of paper. Offnova machines work simultaneously, punching and binding documents at the same time. A4 and A5 paper sizes are supported. Bind up to 450 sheets using a positioning knob to align the paper. The margin can also be adjusted.
Tianse 21-hole Machine
Easy-to-use
Tianse is a compact, easy-to-use machine. Place the comb ring after inserting the file and pressing the handle. Then open the comb ring, lay the perforated paper inside and pull the handle back. This machine is appropriate for use in offices, schools, libraries, bookstores, etc.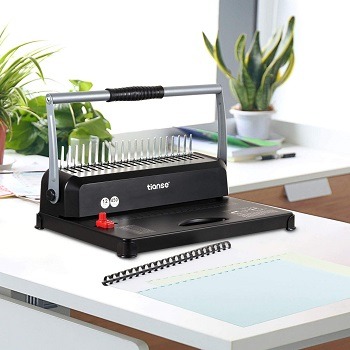 Professional-looking Books
Punch up to 15 sheets of paper manually and 450 sheets can be bound with 2-inch comb spines. It is easy to create professional-looking books. Tianse binder can handle a variety of paper sizes, including A4/letter-size and larger papers. Large sheets can be accommodated by the open-throat design.
TruBind Electric Punch Machine
Pricey Item
TruBind is a professional-grade electric binder backed by a 1-year warranty. It comes with an electric punch and an electric coil inserter. The package includes a machine and coil cutter/crimping tool. Punches up to 25 sheets of paper at a time. The price is high.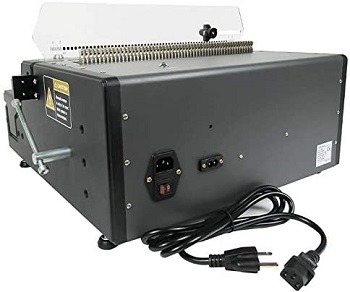 Disengaging Pins
This binder is made to handle a lot of work. There are 54 fully disengaging pins that prevent half-punched holes on your paper. There is an oval dye shape, making turning the pages and inserting the coil easier. Depth and side margins are adjustable. Simply push the button and the machine punches the sheets.
How To Use A Machine To Bind?
The instructions to use a machine for binding depend on which binding method you go for.
How Do You Use A Wire/Comb/Coil Machine To Bind?
To bound by wire, comb, or coil, here is what you should do:
Turn on the machine, the power switch is usually located at the back of the unit. If your machine is manual, prepare the levers for use.
Adjust and set the depth margin for punching holes according to how thick your project is.
Insert a test paper of the same size as your project into the throat and punch. Do not forget to disengage the unused pins at the end of the document or you will have half holes at the edge of the document. If you are happy with the test, you can start punching and binding your project.
Punch the covers separately from the inside of the binding project.
Put the comb/wire onto the opener and place your documents in. Close the comb/wire. If you have a coil machine, insert it manually or with the help of an electric roller. The extra coil should be crimped at the edges for durability and a better look.
Your project should be done.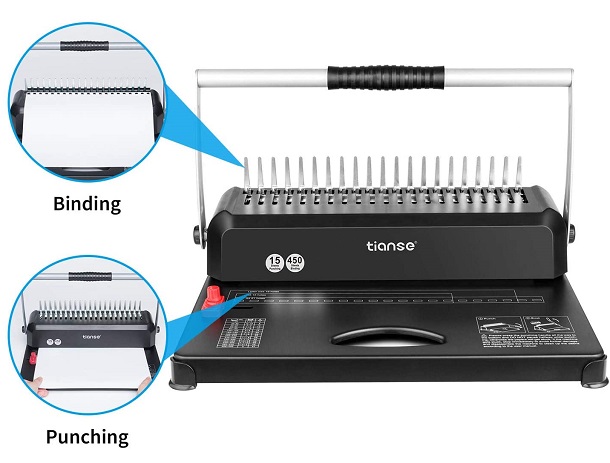 How Do You Use A Binder With Heat And Glue?
If you have a machine that works to heat up the glue and binds your documents together, do it by following these steps:
Select a cover in the proper size for your documents.
Place the documents inside the thermal cover. Jog all the pages into place.
Place the whole document into the slot. The spine side needs to be facing down.
Turn on the thermal machine.
The machine will alert you once the thermal process is done.
Place the book inside the cooling rack, stand, or tray once the machine is done with binding.
Wait around 10 minutes for the adhesive to cool and the document will be ready to use.
How To Use Them Safely?
Always read the instructions before using your bindery machine to learn how to operate it safely. Make sure not to put your fingers in the punch, or anywhere near the heating station if you have a thermal model as temperatures are really high. For safety, also never leave the machine unattended in the presence of children.
How To Maintain Your Binder?
The maintenance of the binder depends on the type you have. If you have a machine with a puncher, make sure to oil the punching pins so that they do not go dull. You can do that from time to time by putting some of the manufacturer-recommended oil on a cloth and rubbing the pins with it. Moreover, make sure to empty the tray for scrapped paper often. If you have a thermal model, you will have to clean it to remove any glue residue from the unit. You can do that with a non-abrasive cloth and manufacturer-recommended cleanser.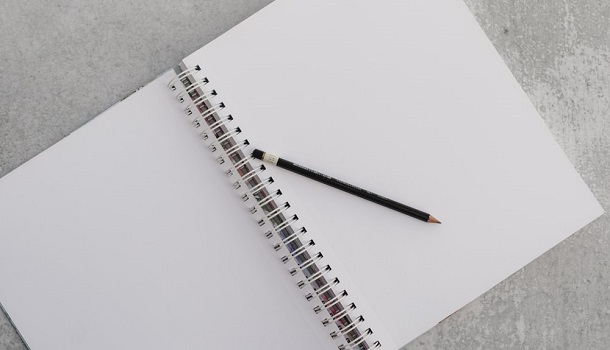 How Do You Bind Without A Machine?
If you want to create bound projects without the use of a machine, there are a few different options you should consider. Firstly, you can bind with the help of staples, but it won't look as professional and won't be as durable for thicker projects. For those who are in a hurry but want their documents to look presentable, bind your pages with report covers. Screw posts are good if you have a three-hole puncher so that you can thread the screw posts through them and is great for thicker projects. Without using a machine, you can also bind papers with three-ring binders. You will need to punch three holes in your loose-leaf documents and you are ready to go!
How Do You Book Bind DIY?
There are many different ways you can create a DIY book bind at home. Among others, we thought this is a fun way to bind a book the DIY way. This way, you will create something similar to a perfect-bound book with hardcovers.
Create neat stacks of paper in piles of up to 8 sheets.
Fold each stack in half.
Then, unfold each stack and turn them over.
You will need to staple through the middle of the fold vertically. Put two staples through each stack along the crease.
Get someone to hold all the stacks of folded paper together. Alternatively, use a giant paper clip to do it.
Apply the glue to the spine of the stacks that are being held together by a clip or your helper.
Wait around 10 minutes for the adhesive to cool and the document will be ready to use.
Prepare the cover where you are going to insert the pages that are glued together.
Flue the paper into the cover.
You should have a hardcover DIY-bound book ready.
Another great way to DIY bookbinding is explained in this video: