Are you looking for the best scanner for office use?
We will introduce you to the best office scanners on the market. Read their reviews and find a suitable model for your requirements. We described the most relevant features, so you can decide easier, whether you need the best office scanner for your work.
Our Top Picks
6 Best Office Scanners
Best Of Best Home Office Scanner
Canon imageFormula R40 Scanner
Reliable Scanner
The Canon imageFormula R40 is an efficient and reliable scanner. Its dimensions are 11.14 x 9.9 x 9.6 inches. It works with Mac and Windows operating systems. Use it in your office or at your home. It is good for receipts, documents, thin and thick documents, photos and business cards.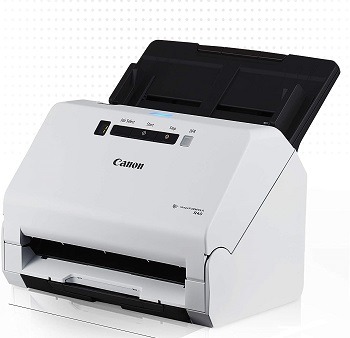 Duplex Scanning
As one of the best office scanners, it is able to scan both sides of the document at the same time. The Canon is fast, it scans 40 pages per minute. This automatic book scanner can hold up to 60 pages. Load the feeder with a stack of paper and press the scan button.
Standard Paper Size
Connect the scanner to your computer through the USB cable. It supports TWAIN drivers. The max paper size it accepts is letter paper size or A4 (8.5 x 11 inches). It is the standard paper size. With the bundled software, you can convert your scans into searchable PDF files.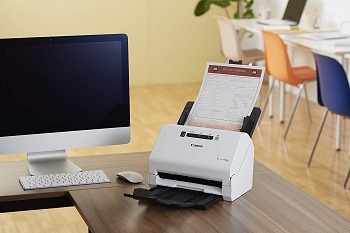 Bundled Software
Moreover, you can create editable files in Word, Excel or other formats. The Canon has built-in Optical Character Recognition software. Send your scans directly to cloud service, like Google Drive, OneDrive, Dropbox, SharePoint and more.
Highlighted Points:
quality office scanner
powered by USB, it supports Windows and Mac
it scans 40 pages per minute
ability to scan both sides of a document at the same time
the automatic document feeder holds up to 60 pages
built-in Optical Character Recognition
Best Multi-page Office Scanner
Brother ADS-2200 Scanner
Desktop Scanner
The Brother ADS-2200 scanner is great for any desk. It weighs 5.5 pounds and has 5.8 x 11.8 x 7 inches. This office scanner is compatible with Mac, Windows and Linux operating systems. The user interface is simple and delivers customizable one-button scanning.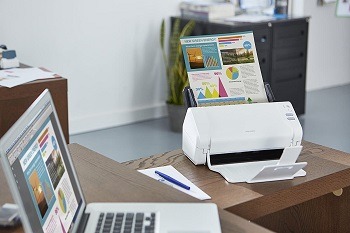 Auto-size Document Detection
This high-speed scanner automatic document feeder holds up to 50 sheets. It features auto-size document detection which makes the different sized document scanning easier. Connect the scanner to the computer via USB cable. It scans single sized documents at speed of up to 35 pages per minute.
Double-sided Documents
The ADS-2200 is able to scan double-sided documents, too. It scans documents in black and white, color and greyscale. The max paper width you can insert into the scanner is 8.5 inches and the max length is 196 inches. It is great for multi-page scanning.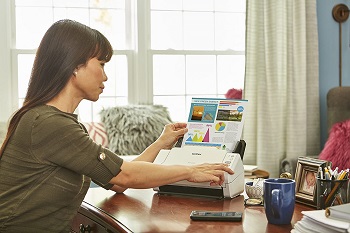 Advanced Functions
Optimize your documents with auto-skew, blank page removal, auto image rotation and multi-feed detection. The OCR software is integrated into the scanner. It helps you to convert your files into searchable and editable files. Send your scans to a USB flash drive, print, email, etc.
Highlighted Points:
simple, intuitive user interface
the 50-sheet capacity automatic document feeder
efficiently scan single-sided and double-sided documents
it scans 35 pages per single minute
includes a package of scanning software
Best 2-sided Office Scanner
Epson WorkForce ES-400 Scanner
Best Office Document Scanner
This sheet-fed scanner is USB powered scanner intended for photo, documents, receipts, business cards and papers. The Epson WorkForce Es-400 is one of the best and affordable document scanners for office. It measures 12.3 inches in height, 12.6 inches in depth and 11.6 inches in width.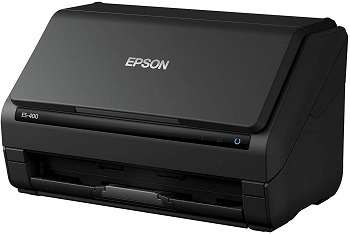 70 Images Per Minute
It works with Windows 7/8/8.1 and Mac OS. This office scanner is able to accept multiple pages. Insert the stack of paper into the automatic document feeder. It holds up to 50 pages. It is able to scan 35 pages per minute and 70 images per minute. The Single Step technology allows duplex scanning.
Ultrasonic Double Feed Detection
The Epson features Ultrasonic Double Feed Detection which prevents missing pages. This scanner accepts very long papers. The built-in Nuance Optical Character Recognition allows you to create searchable PDFs and editable files like Word or Excel.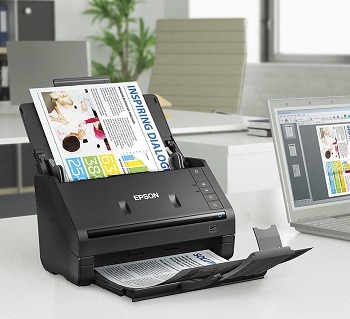 600 Dots Per Inch
After scanning, you can email or upload your document to cloud services, like Dropbox, Evernote and Google Drive. Also, the software provides automatic file naming and object recognition. Adjust your image with the auto crop, blank page removal and background removal. The delivered resolution is 600 dpi.
Highlighted Points:
a reliable sheet-fed scanner that boasts speeds up to 35 ppm
the resolution is 600 dots per inch
the Ultrasonic Double Feed Detection prevents missing pages
adjust your scans with image enhancement
integrated Optical Character Recognition software
automatic document feeder – 50-page capacity
Best Automatic Office Scanner
Fujitsu ScanSnap iX1500 Scanner
Wi-Fi Connection
The Fujitsu ScanSnap iX1500 scanner that uses Wi-Fi and USB connection. The dimensions are 11.5 x 6 x 6.30 inches. it weighs 7.5 pounds only, so it's easy to move it from one place to another. This model is compatible with Windows, Mac and Linux OS.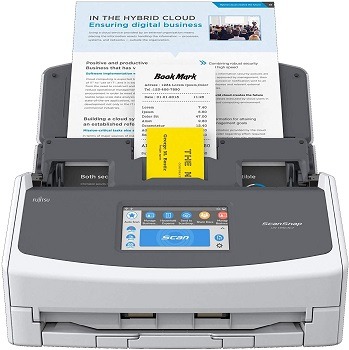 Large Touchscreen
This small office scanner has a large 4.3-inch touchscreen, it makes scanning and control easier. There is a Send to ScanSnap button that allows you to send the scans to multiple destinations like Google Drive, Dropbox, desktop folder and more.
Paperless Office
Use it for documents, business cards, photos, receipts and more. It will cover all your office needs for scanning. The home office scanner boasts a speed of up to 30 pages per minute. You can load the automatic document feeder with 50 pages. The optical resolution is 600 dots per inch.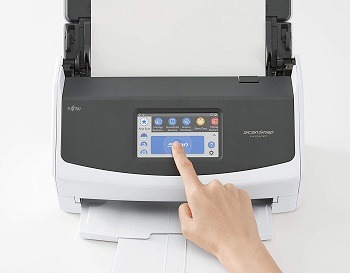 Automatic Image Cleanup
The intelligent function will increase the document quality and optimize contrast, rotate the image, crop the image, remove blank pages, etc. You can create more than 30 profiles and optimize the scanning workflow. Furthermore, save your settings and select them with one touch.
Highlighted Points:
office scanner with Wi-Fi and USB connection
scan via Wi-Fi to cloud services
a large 4.3-inch touchscreen for easy control
works with Linux, Mac and Windows
scanning speed of up to 30 pages
create multiple profiles and save the settings
Best Professional Office Scanner
Raven Pro Office Scanner
Two Colors
The Raven Pro document scanner is available in white and black color. It is legal size scanner intended for the receipt, paper, contracts, business cards and document scanning. The dimensions are 12.44 inches in width, 8.15 inches in depth and 7 inches in height. It features Wi-Fi and Ethernet connectivity.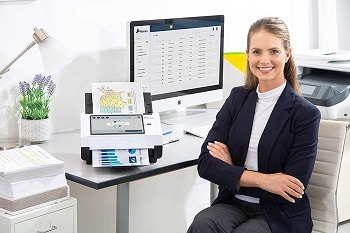 Easy-to-navigate
There is a large control panel, it works on touch and has 8 inches. It provides more visibility and easier navigation. Moreover, you can control and edit the document without a computer. The Raven Pro ensures double-sided scanning which increases productivity.
Fast Scanner
This is one of the fastest office document scanners, it is able to scan 60 pages per single minute. Also, you can load the automatic document feeder with maximally 100 pages. You don't have to install any software before you send your scans to cloud services.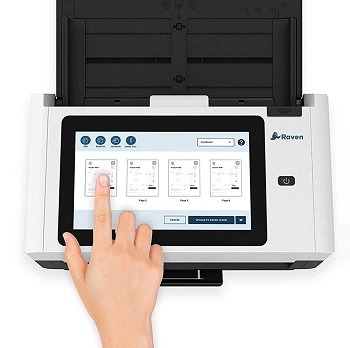 Quality Modes
It delivers few different modes, you can scan in 200, 300, 400 and 600 dots per inch. The integrated software will automatically deskew, crop, rotate, remove blank pages and prevent missing pages. The Optical Character Recognition software detects text, so you can easily find your documents.
Highlighted Points:
it scans virtually any type of document
large 8-inch LCD touchscreen for easy use
the document editing tool is integrated into the scanner
scan directly to email, fax or cloud service
scan speed is 60 pages per minute
the ADF is able to hold up to 100 pages
Best Flatbed Home Office Scanner
Xerox Flatbed Office Scanner
In The Box
The Xerox XD-Combo is a flatbed document scanner designed for Windows and Mac operating systems. The package includes a scanner, USB cable, power supply, ADF pad, power plug adapters, warranty card, installation guide and DVD with user's manual, drivers and software.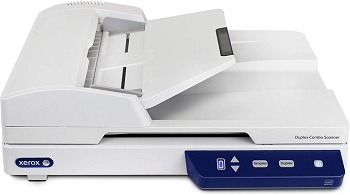 Small Footprint
It features a small footprint, there are 15.8 inches in width, 13 inches in depth and 5 inches in height. This is the best scanner for the medical office. It's lightweight, so you can transport it easily. This is an automatic document feeder and flatbed scanner combo.
Book Scanner
This office scanner provides fast duplex scanning and has an easy-to-use control panel for one-touch scanning. There are nine presets. It scans plastic cards, receipts, photos, magazines and books. At a single minute, it scans up to 25 pages or 50 images. ADF accepts 35 pages.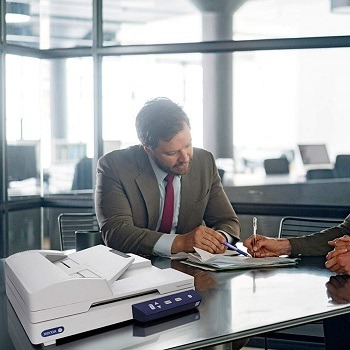 Business Card Reader
Send your scans to any applications and destinations, like email, cloud service and file folder. The Visioneer Acuity software improves the visual clarity of scans, removes unwanted marks and smudges. The built-in ABBYY Business Card Reader recognizes 22 languages and transfers information into the database.
Highlighted Points:
automatic document feeder and flatbed scanner combo
the feeder holds up to 35 pages
the scanning speed is 35 sheets per minute
ABBYY Business Card Reader integrated
OCR software included
Acuity software improves scans quality
Things To Know About Office Scanners
The office document scanners are more powerful than handheld or home scanners. Usually, they have higher capacity and better scanning speed. Consider other important features.
Page Capacity – There are different multi-page document scanners on the market. The sheet-fed scanners have a larger capacity, they feature an automatic document feeder. That means you can load the stack of paper into the feeder. Some models hold up to 100 pages.
Scanning Speed – The scanner speed is measured in pages per minute or impressions/images per minute. The ipm is a term for duplex scanning. The duplex scanner is a better option for office use. If you work with high paper volume, consider a scanning speed of 35 pages per minute or above.
Advanced Features – Many document scanners have bundled software. For example, there is Optical Character Recognition which allows you to create searchable and editable files. The image enhancement automatically improves image quality.
Compatibility – Before purchase, check the operating system your office use. Not all document scanners are compatible with all operating systems. Often they are compatible with Windows and Mac OS. There are fewer models that are compatible with the Linux system.
Scanner Resolution – The resolution is measured in dots per inch. More dots means better image quality. The office document scanners which deliver 600 dpi are enough for everyday office needs. If you require high resolution photo scanning, consider the resolution of at least 1200 dots per inch.
Final Verdict
All of these models have adjusted features for office use. As the best model, we recommend the Canon imageFormula R40 scanner. It features easy setup for office use, it includes scanning software and a 60-page automatic document feeder. If the scanning speed is important features for you, check out the post about the best high-speed scanners. For non-standard documents, we have prepared an article about large document scanners.