Do you wonder which laminator to buy to be practical for relocating?
Read this post to see the list of the best portable laminators. Except for 6 suggestions for buying a portable laminating machine, you can read also the guide to be informed about the important things to consider while buying.
The picks
Best 6 Portable Laminators
BEST OF BEST PORTABLE LAMINATOR
Toyuugo SL200 Hot And Cold Machine
Two Laminating Options
The Toyuugo laminator uses both cold and thermal laminating system. It's designed to laminate various types of pouches. If you want to laminate old pictures or some important documents, it's better to use cold mode. The hot mode is purposed for other things. The laminator takes up to 3 minutes to be warmed up.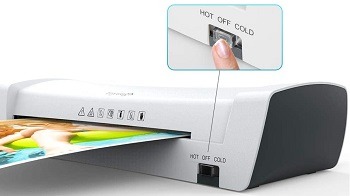 Short Laminating Time
You will get the laminated papers for a short time thanks to the speed of this laminator. It can laminate about 280 mm of the paper per minute. Thanks to its two-roller design, the speed is high. Although this Toyuggo laminator finishes the job quickly, the results are quality. The smoothness is guaranteed.
What If The Jam Happens?
If some error happens, you need to press the ABS button. When you push this button, the laminator will clear wrapped pouches. No matter if the jam happens or not, this portable laminator doesn't make a lot of noise. It's practical to use it in the office without worry that you will disturb your colleagues.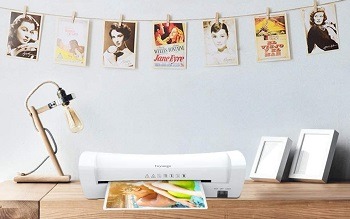 Not Only For Papers
This laminator has a compact size so it will suit your palm while carrying it. You can use this model to laminate the paper of A4, A5, and A6 sizes. Not only for paper but this model is purposed also for photos, postcards, posters, and more.
Highlighted Points:
cold and thermal laminating modes
two-roller design
ABS button for the case the pouch wraps
ideal for laminating A4, A5, A6 sizes of paper
280 mm of the paper per minute
about 3 minutes for warming
BEST HOME PORTABLE LAMINATOR
Crenova 173339 A4 Laminator
Easy To Carry It
Crenova laminator comes in black color and compact design. The design makes it practical for translocating so you can bring it home from your workplace if you need it. Its length is about 10 inches. The laminator is small so the kids can carry it at school to use it for school projects.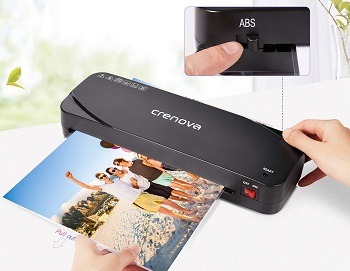 Package Equipped Fully
In the package, you will get a paper trimmer, corner rounder, and 20 pieces of the pouches for A4, A5, and A6 papers. These accessories are useful while laminating because you can achieve better results. It's practical the package is fully equipped so you don't have to purchase the tools separately.
Done For 5 Minutes
This portable laminator uses the thermal laminating system. It heats up for about 5 minutes maximally. The speed of the laminating is 250 mm per minute. With that speed, you can laminate about 50 pieces of A4 paper per hour. You can use 2,5-4 mil pouches.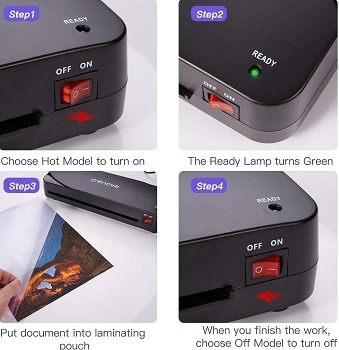 Paper Gets Stuck?
The laminating goes smoothly but it may happen the paper or pouch gets stuck. In that case, you need to activate the ABS function and the machine will throw away the papers and pouches. To activate the ABS option, you need to press the button.
Highlighted Points:
pouches, trimmer, and rounder included in the package
up to 5 minutes to be warmed
compatible with up to 4mil pouches
ABS function included
the laminating speed of 250mm/min
BEST COMMERCIAL PORTABLE LAMINATOR
AmazonBasics Thermal Laminator Machine
Up To 9 Inches
This AmazonBasics portable laminator is wide enough to hold the documents with a width of 9 inches. If you have wider papers, you can purchase the 12-inch version of this model. It's the size of usual business cards. You can laminate also papers, photos, letters, and so on.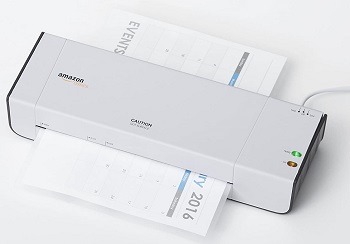 3 Mil Or 5 Mil Options?
You can use two hot laminating modes. You should use the recommended heating system to get better results. To get optimal results, you should set a 3 mil option to laminate standard documents. If you want to laminate thinner papers, the best to use is 5 mil setting.
Light Sign To Start
If you use thermal mode, you need to wait about 4 minutes until the laminator heats up. You will see the indicator lights that will notify you when the laminator is ready to work. When you see the green light turns on, you can start laminating.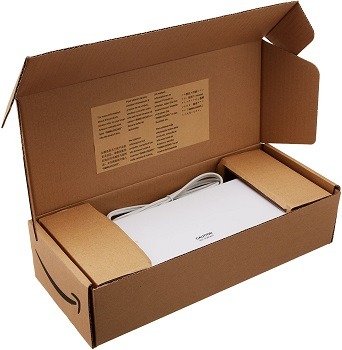 Easy To Save Your Document
If you notice the paper stuck, you need to press the "release" button on the back part. If the jam of pouch happens, you can recover the laminator and save the document pressing this button. The buttons for other settings are also placed on the back part.
Highlighted Points:
for 9 inch wide documents, business cards, and more
4-minute lasting warming
compatible with 3 mil and 5 mil pouches
the "release" button saves the stuck paper
indicator lights included
BEST SMALL PORTABLE LAMINATOR
Llivekit A4 Laminating Machine
Comes With Accessories
The Llivekit laminator gets in the package with 20 pouches, a paper trimmer, and a corner rounder. The black laminator is about 10 inches long which is a size practical for carrying. It's the best laminator for the papers of A4 size.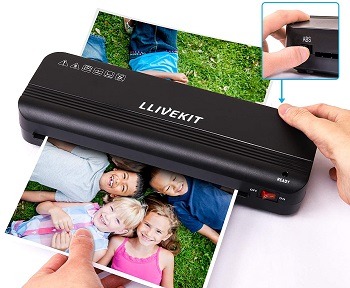 Double Roller Design
This model uses a thermal laminating system that has a heating time of 3-5 minutes. The laminating speed is 280 mm/min just like most portable laminators. This model has a double roller design which means the noise is prevented. The sound of the laminator isn't disturbing.
No Air Bubbles
There is the ABS button that protects the paper from wrapping. The system is designed to prevent air bubbles. The laminating is smooth and jam occurs rarely. You can use 3-5 mil pouches. You will get 10 pouches for A4 paper and 10 pieces for photos of about 20 cm of the length.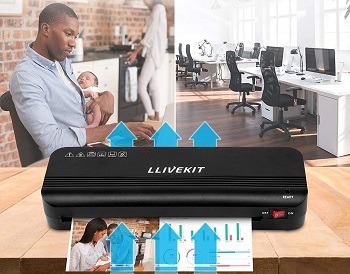 Simple Laminating Process
You need to switch on the laminator and leave it a few minutes. When you see the green indicator light turns on, you can put a document with the pouch in the laminator. If the corners of the laminating paper are too sharp, you can use the tools you get in the package to fix it.
Highlighted Points:
up to 5 minutes of the preheating
thermal laminating mechanism
ABS button for releasing the paper
pouches, trimmer, and rounder in the package
suitable for 9-inch papers maximally
green LED indicator light
low noise level
BEST HEAT PORTABLE LAMINATOR
Abox A4 Laminating Machine
Practical For Relocating
The Abox laminator has a compact design so it won't take a lot of space in your office, at home, or in the classroom. The compact size makes it practical for relocating. You can transport the laminator from home to work or school and other places.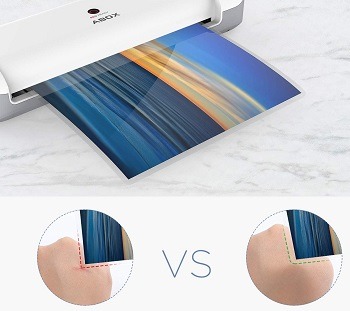 Smaller Thickness Of Pouches
The system includes 2 rollers that prevent the jam during the laminating. You can laminate the documents of 9-inch width maximally. You need to use 3 mil pouches. You will get 12 pouches in the package that you can use as a reserve. You need to purchase 3 mil pouches separately.
Faster Than Others
This thermal laminator takes from 2 to 4 minutes to be warmed up. It has an incredible speed of 300 mm per minute. It's a higher speed than the speed of the previous portable laminators I reviewed. The hot laminating system allows you to finish your tasks quickly.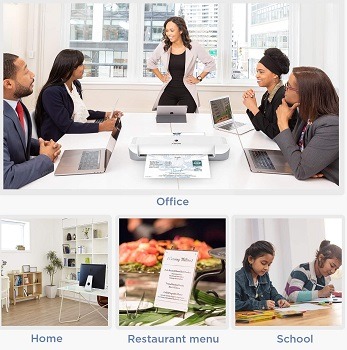 Half Of Hour In Continuity
It's possible to use the Abox laminator for up to 30 minutes continuously. The working time more than 30 minutes in continuity might be harmful to the laminator. No matter if you use it half of the hour because it works quietly. You won't disturb anyone.
Highlighted Points:
2-4 minutes to be warmed up
2 roller design
for documents of 3-9 inch wide
12 pouches in the package
30 minutes of continuous work
speed of 300 mm/min
BEST COLD PORTABLE LAMINATOR
Tacklife Hot And Cold Laminator
Ten Pouches In The Package
This Tacklife laminator is purposed for laminating the papers, letters, business cards, and photos of the size of up to 9 inches. You will get 10 pouches that you can use to laminate the papers of A4 size and photos of A5 size. There are aslo 3 pouches for cards.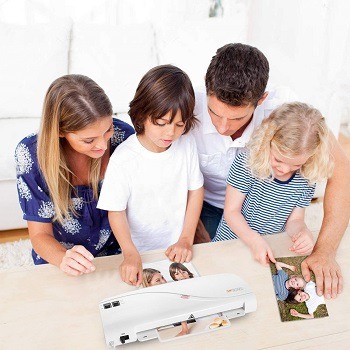 Two Types Of Pouches
Like some reviewed models, this one also includes 2 roller system. The cold and heat laminating systems support 3 mil or 5 mil pouches. The 3 mil pouches are recommended for usual documents while thin documents are compatible with 5 mil pouches.
Usual Small Size
The overall length of the Tacklife machine is about 13 inches. It's about 5 inches wide. It's the size of an average portable laminator. You can carry it to work or school. Its size is practical also for kids but they need to be careful while carrying and using it.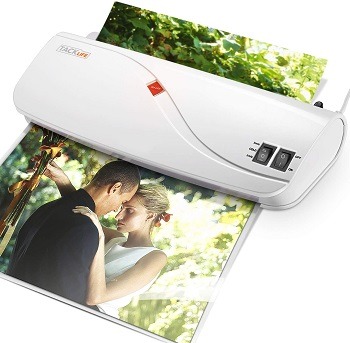 ABS Button For Intervention
The jam might occur but there is the ABS button that prevents damages of the paper. When you press the ABS button, the stuck paper releases and you can repeat the laminating process. To avoid the jam, you need to wait until the orange light turns on.
Highlighted Points:
about 13 inches long
10 pieces of pouches in the box
preheating time of about 3 minutes
2 roller system
for 3 mil and 5 mil thick pouches
laminating papers, cards, photos, and more
press the ABS button in case of damages
Things To Know About Portable Laminators
When it comes to portability, there are some characteristics that make a laminator portable. In the first place, there is a size. That means the portable laminators are practical for all the generations. The design also has an important role. There are more useful features such as the purpose and speed of laminating.
Compact Size – The small size makes the laminators practical to carry. You can hold them with one or two hands and relocate them. If you transport them in the car or public transport, you can hold them in your lap or place in a bag.
Practical Design – The design is convenient which means it's adjusted for your hands and lap. These laminators are lightweight so you don't have to use a lot of your physical power to relocate the laminator or to carry it with you.
Various Purposes – Since they are portable, you can use the same laminator in different places and for different purposes. For example, you can have a laminator at home and use it for laminating family photos. However, if you need a laminator to do some tasks at work or in school, you don't have to buy another laminator but transport the one you already have.
Short Laminating Time – It may be important for you how long does the laminating time last if you have to carry it. You don't have much time to laminate in one place because you need to bring it to another place. In that case, the high speed is very useful. The speed of 250-300 mm/min makes the laminating process fast.
Ideal For Kids – The portable laminators are especially useful for kids because they might need these machines for their school tasks. Since the size is smaller, it's practical for kids that don't have as much power as adults. They can store a laminator in their school bags or backpacks.