Are you searching for a large vinyl cutter?
Then you're at the right place!
Here you can read detailed reviews about the best 6 models on the market. You can read about different categories such as professional, laser, small business, etc. For more info about important features, check out the buying guide.
Our Top Picks
Best 6 Large Vinyl Cutters
BEST OF BEST LARGE VINYL CUTTER
USCutter 34" Vinyl Cutter
Cuts Variety Of Materials
This large vinyl cutter has a maximum cutting width of 30.63", and the maximum paper feed is 34". The system runs on a Stepper motor so the standard blades cut with a maximum speed of 39 ips and maximum downforce of 12.34 ounces. Therefore, this professional vinyl cutter can cut thicker materials than vinyl such as leather, fabric, etc.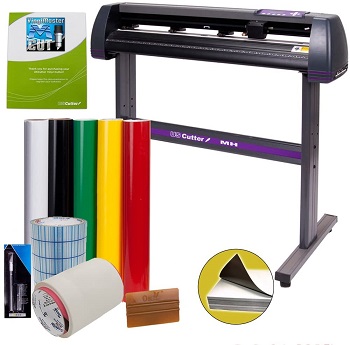 Automatic Workflow
The feed features 3 adjustable pinch-rollers that can set the guide rail according to the material width. In that way, you can do projects of different sizes. Another user-friendly feature that allows fast workflow is the superior ball-bearing dual roller system.
Control Settings
You can put material on top of the roller and it's fed automatically. At the top of the machine is an LCD that shows all settings and control panel to adjust them according to the material. The included software is VinylMaster Cut that's suitable for only Windows, and can't work with Mac. Also, it can work with both DM-PL and HP-GL command sets.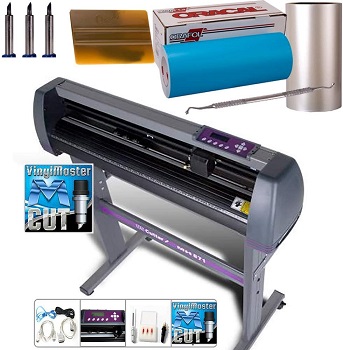 Full Package
It features a pen with a holder so it can be used as a plotter too. With the model, you'll get two rolls of sign vinyl that are 12" wide, one roll of paper application tape, one roll of medium tack application transfer tape, three replacement blades, one hobby knife, and one squeegee.
Highlighted Points:
39 ips maximum cutting speed
12.34 ounces maximum cutting downforce
adjustable pinch-rollers
ball-bearing dual roller system
VinylMaster Cut for Windows
BEST FOR SMALL BUSINESS LARGE VINYL CUTTER
Vevor 34"Vinyl Cutting Machine
High-Efficient And Stable
This is the best vinyl cutter for small business because it's very efficient and stable. This large format vinyl cutter has a D-typed motherboard and 4M high-speed cache memory. Also, it has an anti-deviation design with double spring pinch-rollers and steel roller that keep the material straight and fixated.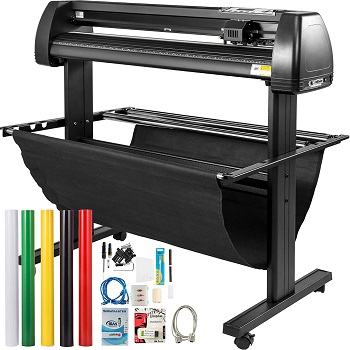 Pinch Rollers And Precision
Pinch-rollers adjust guide rail according to different material width, so you can create projects of different sizes. The large vinyl cutter has high precision in cutting with 0.0004" repetitions. The maximum paper feed is 34" and the maximum cutting width is 30.7".
High Cutting Speed And Pressure
Besides having an adjustable paper feed, this vinyl cutter has a strong and fast blade. The cutting pressure ranges between 0.7 ounces and 17.6 ounces, while the speed can be set in a range from 0.8 ips to 31.5 ips.  The model has both COMPIM and USB interface to connect with a computer.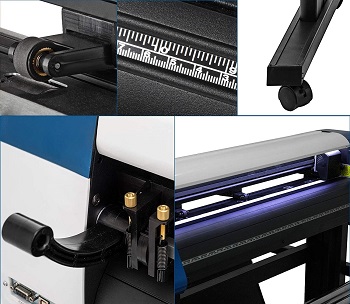 Signmaster Software
The included software is Signmaster software compatible with Windows and DM-PL and HP-GL command sets. You'll also get a set of accessories, a metal stand, and a catching basket. The model runs on a Stepper motor. The optimal working temperature range is 41°F- 95°F, and the relative humidity range is between 30% and 50%.
Highlighted Points:
D-type motherboard
4M inner memory
31.5 maximum cutting speed
adjustable pinch-rollers
Singmaster software for Windows
BEST CHEAP LARGE VINYL CUTTER
Vevor 53"Cutter Machine
Large Feed With Rollers
This large vinyl cutter includes many high-quality functions for great value! The maximum paper feed is 53.1" which is much bigger in comparison to previous models. The highest cutting width is 49.6". The model has 4 double-spring pinch rollers and an aluminum knurling stick that maintain the material straight throughout the cutting process.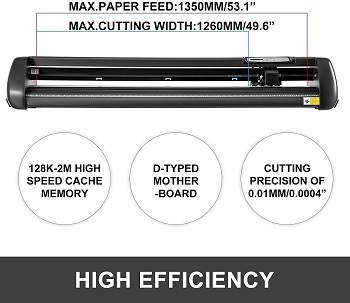 High Repetition Accuracy
Also, they adjust guide rail to any width so you can use different materials and create projects of many sizes. This cheap vinyl cutter machine has high cutting precision with 0.0004" repetition accuracy. Therefore, even small images can be cut with high precision. The system runs on a Stepper motor.
For Thick Materials
The cutting downforce ranges from 0.4 ounces to 17.64 ounces, while the cutting speed ranges from 0.4 ips up to 31.5 ips. These high values mean that the blade is capable to cut many materials besides vinyl such as stencil vinyl, leather, fabric, vellum, cardstock, paper, etc.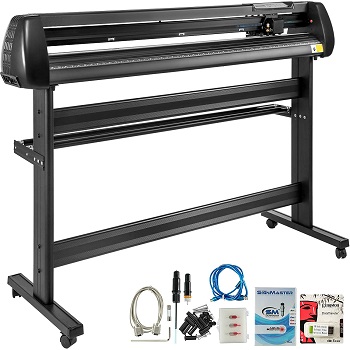 Windows And Interface
The system has a D-type motherboard with 128K-2M high-speed inner memory. All settings are shown on the large LCD screen with a backlight. Both speed and pressure can be adjusted with the control panel. The machine and computer can be connected with the COMPIM and USB interface. The machine has Signmaster software compatible with Windows.
Highlighted Points:
53.1" maximum paper feed
double-spring pinch rollers
17.64 ounces maximum weight
Signmaster Software
LCD with backlight
BEST COMMERCIAL LARGE VINYL CUTTER
Mophorn 53" Vinyl Cutter Machine
Cutting Feed And Width
Great commercial large vinyl cutter with 53" wide paper feed and 49.6" wide cutting width. Like the previous model, it has a wide feed that can be adjusted to fit any material size with 4 pinch-rollers. This means you can do both big and large projects which is an important feature for any commercial use.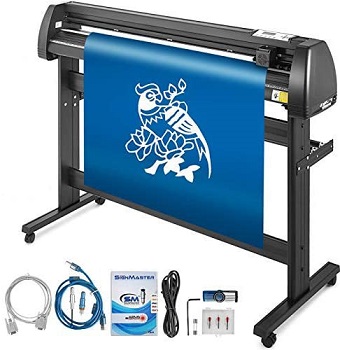 Strong And Fast Blades
The blade has high cutting pressure of 17.64 ounces to cut stencil vinyl, leather, fabric, and other materials. Also, it has a minimum cutting pressure of 0.4 ounces for gentle cutting of thin materials such as paper, cardstock, craft paper, etc. This prevents damage to Teflon coating beneath the cutting area.
LCD With Emergency Button
The maximum cutting speed is 31.5 ips, while the minimum speed is 0.4 ips. Speed and cutting range is adjustable with a control panel. The industrial vinyl cutter also features an LCD with a backlight for easy navigation and a working process. There's an emergency button for stop and restart during the cutting.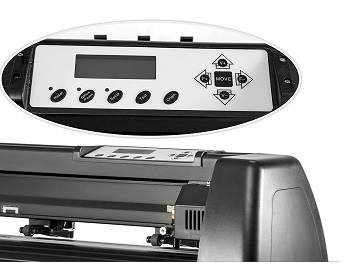 Software With Full Package
The system works on Signmaster software that's compatible with Windows and both 32-bit and 64-bit processors. It can use DM-PL and HP-GL command sets. In the package you'll get 3 blades with a holder, one pen holder, USB and serial cable, USB flash disk, power cord, and a floor stand.
Highlighted Points:
the maximum cutting width is 49.6"
adjustable 4 pinch-rollers
emergency button
Signmaster software for Windows
includes a floor stand
BEST LASER LARGE VINYL CUTTER
USCutter 50" Laserpoint 2 Machine
Contour Cutting
This is a unique large vinyl cutting machine because it features ARMS (Automatic Registration Mark Sensor) system in contour cutting. That means you can put printed images in the machine, and the blade will follow the laser and cut around printed lines. That ensures high precision and accuracy in cutting.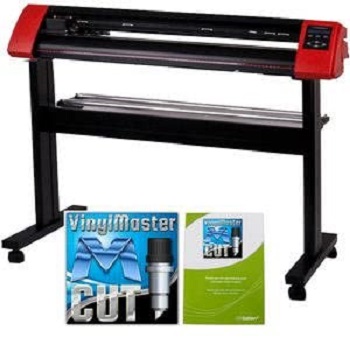 Wide Feed And Strong Blade
Besides that, this contour cutting vinyl cutter has auto-memory of cutting speed and pressure so you can easily adjust the settings according to the project and material type. The maximum paper feed is 50" which is suitable for big vinyl projects. Also, a strong blade can cut other materials such as leather, cardstock, fabric, etc.
Backlight LCD And Emergency Settings
The control panel with LCD has buttons to adjust blade settings. Blue and yellow clear blacklight of LCD is allowing easy navigation when working. Also, this large vinyl cutter has an emergency start and restart button you can use anytime, even during work.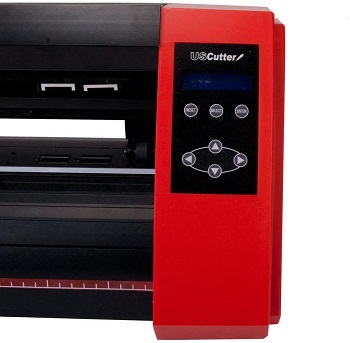 Pen And Auto Blade
It features 45-degree blades with a holder and a pen with a pen holder. Besides laser cutting, this model is suitable for drawing too. The blade is auto-adjustable, which means it will adjust pressure and cutting to the material automatically. The system works with VinylMaster Cut software for Windows.
Highlighted Points:
ARMS contour cutting
auto-memory of cutting speed and pressure
50" maximum paper feed
LCD with yellow and blue blacklight
VinylMaster Cut software for Windows
BEST PROFESSIONAL LARGE VINYL CUTTER
Graphtec CW6000-120 Cutter Machine
Servo Motor
In comparison to other large vinyl cutters from the list, this is the most professional industrial-grade model. It runs on a servo motor that's much faster and stronger when compared to the stepper motor. Therefore, industrial-grade blades are very fast with high downforce.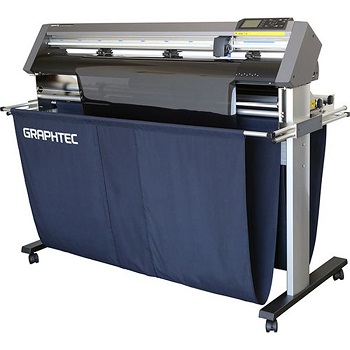 High Cutting Precision
This servo motor vinyl cutter can cut any material, and with the adjustable wide feed, you can do projects of any size. The maximum cutting width is 47.8". The feed has pinch rollers and a 4-point dual-axis skew correction that keeps material straight. Also, it features tangential control enhanced precision in cutting.
Works With Mac And Windows
The system has Graphtec Studio software that's similar to Silhouette Studio and it's suitable for both Adobe Illustrator and CorelDraw plug-in. Also, you can use the software on both Mac and Windows operating computers. The machine and computer can be connected with a USB interface.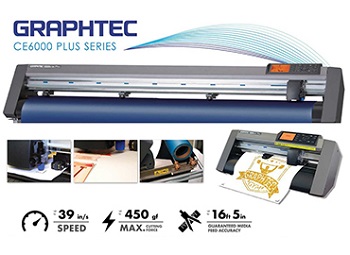 High Speed And Pressure
The cutting has high performance because it's operated with laser function- ARMS contour cutting. Therefore, this model can cut pre-printed images. The maximum cutting speed is 40 ips while the cutting force range is between 0.7 ounces and 15.87 ounces. All settings can be adjusted with an LCD control panel that supports 10 languages. Unit is covered with a 1-year limited warranty.
Highlighted Points:
industrial-grade blades
ARMS contour cutting with upgraded precision
Graphtec Studio software for Mac And Windows
47.8" maximum cutting width
40 ips maximum cutting speed
Things To Know About Large Vinyl Cutters
A large vinyl cutter is ideal for making big projects, signs, letters, images, etc. It's also often used for business because they have a wide material feed that allows cutting materials of different widths in case it has an adjustable feed. Here I'll write more about cutting pressure, speed, laser functions, etc.
Adjustable Feed – Like I mentioned, if the model has an adjustable feed it can work with materials of different sizes. That's possible with the pinch-rollers and grit-rollers. They are holding the material and keeping it straight in the feed, but also adjusting the guiding rail to the different width of material.
Cutting Settings – A large-format vinyl cutter can work with different material sizes if having pinch-rollers, but it can only cut a variety of materials if having a strong enough blade. To cut thicker materials than vinyl, the blade should have a cutting speed higher than 15 ips and a cutting downforce higher than 10 ounces.
Software Compatibility – A very important feature to consider is the Software. If you need a vinyl cutter for Mac, you should consider models with Sure Cuts A Lot Pro, Silhouette Studio, Graphtec Studio, or Cricut Design Space software. Other software such as VinylMaster Cut and Signmaster is suitable for Windows only.
User-Friendly Accessories – Big vinyl roll cutter is often used for automated and unattended projects. Therefore it's so convenient to buy a model that includes a metal stand and catch basket. In that way, the machine is elevated and the materials will go from feed to basket which will prevent them from damaging.
Additional Functions – User-friendly functions that can come with a large vinyl cutting machine are laser contour cutting, drawing with a pen, or scanning. Laser contour cutting is very precise and ideal for creating images, stickers, and logos from printed images.