Do you want to purchase a dual monitor home office setup to increase your productivity?
This post includes all the info you need. First, check the shortlist of the best models, choose the one and read about it in detail, and check things to know about this monitor type. Few minutes of reading might help while buying.
Our Top Picks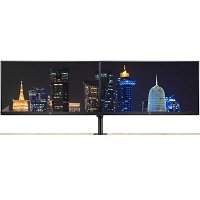 HP P244 LED Monitor
OVERALL RATING: ★★★★★
It's a set of the stand and two monitors with the same useful features and energy-saving design.
Jump To Review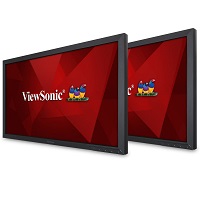 ViewSonic VA2252SM Monitor
OVERALL RATING: ★★★★☆
Using two ViewSonic monitors with an eye-straining reduction system makes even long-lasting business meeting pleasant.
Jump To Review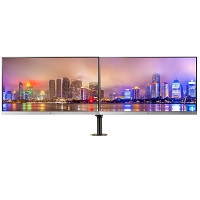 HP EliteDisplay E233 Monitor
OVERALL RATING: ★★★★☆
You will get two monitors of the same size and design and mount clamp you need to set them up and place at your desk.
Jump To Review
What Are Dual Monitors?
Essentially, dual monitors are a pair of (two) display screens connected through one computer system. This means that two monitors are placed next to each other for more screen real estate.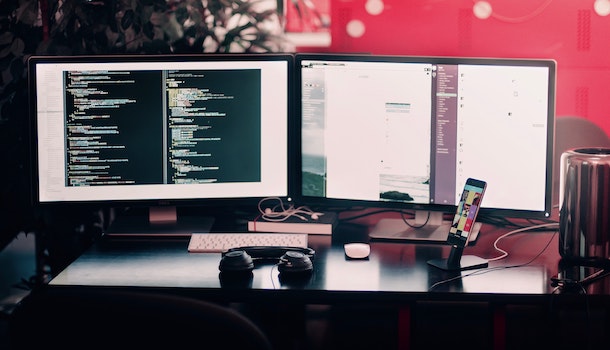 Do You Need Two Monitors To Work From Home?
You do not necessarily need two monitors in your home office. However, if you have enough space for it and need a larger screen than the one you have right now, then it would be a good idea to invest in a dual setup. Nowadays, jobs require people to run multiple screens and apps at once, so it can help with work-from-home professionals' productivity.
Dual Vs. Ultrawide Monitors
The first different between the two is that the dual setup uses two normal-size monitors so that you can run different programs on each one of them. On the other hand, an ultra-wide version is just one monitor that has a large horizontal screen space. Buying two separate monitors for a dual setup is usually cheaper and this is a more functional, versatile option. On the other hand, ultra-wide models are better for entertainment and gaming.
Is Dual Different From Curved Monitor?
Although both dual and curved monitors features the wide view, there is a big difference: curved is one monitor while dual setup contains two monitors. Curved model usually has the size of 32-45 inch which is almost the same long as two monitors placed one next to another making a dual setup.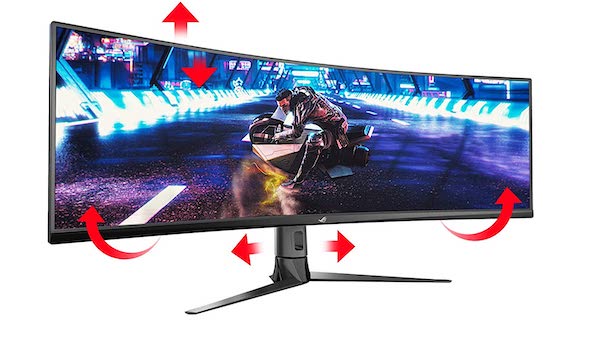 Do You Need Two Of The Same Monitors?
For the best set up in your home, it is recommended to go for the two of the same monitors. However, this is not needed. You can even have two different monitors hooked up together for a dual setup in your home office. All you have to think about is how big you need the monitors to be for the work you need to do and if the technology in the monitor is suitable for your use.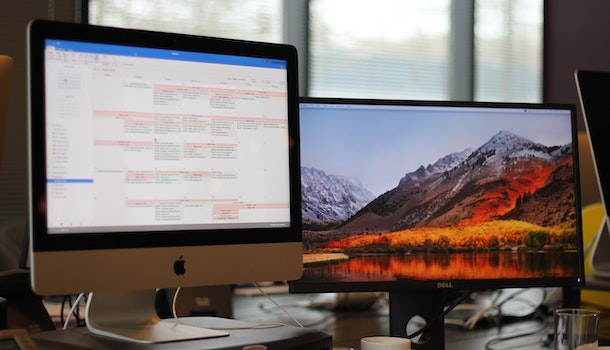 Will You Get Two Monitors In The Package?
Yes, many models include two monitors in the package which is the best option for dual setup. You can make dual monitor setup from single monitor package as well. Then you need to order two monitors separately. Some models are cheaper when they come in the package of 2 so it may be more profitable for you to look for dual setup. Moreover, the package of two monitors includes also the mount kit and stand which you have to purchase seaparately if you buy two single monitors.
Scientifical Benefits Of Using Dual Monitors
According to scientifical research into the behavioral science, this is how two monitors help workers when working from home:
Increase productivity – productivity can be increased up to 42% by using multiple screens for work
Faster work – those who use dual monitors, compared to those with only one, do their work 18% faster
Other Positives Of Two Screens
With the help of two screens in your home office, you will also be able to:
Split the programs on two screens – for instance, you can keep an eye on the work chats or emails on one monitor, and use the other to run other programs for work
Take notes during a meeting – using one monitor for a video call and another for writing down any notes from the meeting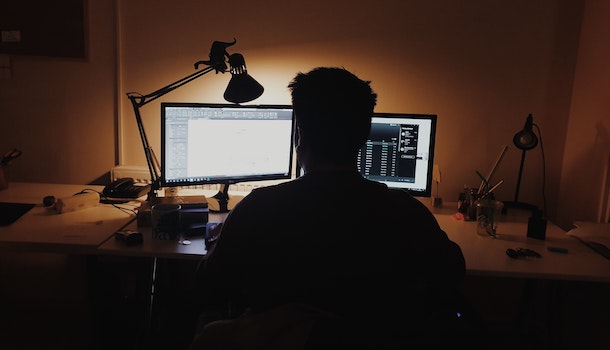 Downsides Of Two-Monitor Setups
If you decide to include double monitors in your home office, you will also learn that:
It takes more space – if you have limited space, the two screens could be too big to use
More expensive – having to invest in two monitors is more expensive than needing just one
What Do You Have To Know Before Purchase?
You should learn about the features and characteristics of monitors before you make a purchase and set up a dual monitor station for working from home.
Display Size
For your home office, dual monitors should have a 22-inch to 24-inch size individually. The bigger models are a good choice if you need even more desktop space for video or photo editing, etc.
Display Resolution
For the better picture quality, you will need a monitor with a good resolution. Nowadays, people usually do not like to settle for less than 4K (3840 x 2160). If you also like to play games on the same computer you do your work on, then we suggest 4K resolution. However, if you want to spend less money, then full HD (1920 x 1080) will also be acceptable for work.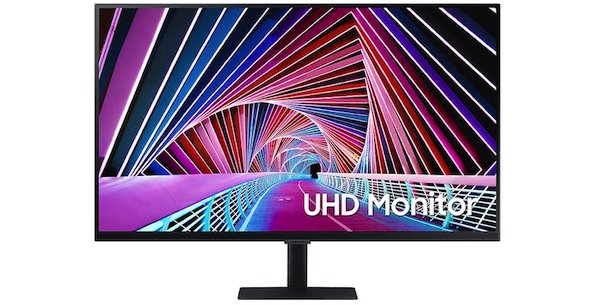 Response Time
Your monitor should have at least 8 ms response time to run smoothly even when viewing moving visuals. It will also be good enough for most office or multimedia work like photo editing.
Refresh Rate
For a smoother display performance, you need a higher refresh rate. On average, it needs to be at least 60 Hz. It should not glitch or stutter in that case. If you want a really smooth performance, then up to 120 Hz should be a good choice.
Ergonomic Design
Monitors need to give you an ergonomic comfort when working from home. Thus, look for those that allow you to adjust the height and swivel, pivot, and tilt the screen to ensure maximum comfort for your posture.
Bezzels & Framing
The monitors you go for should also have thin bezzels and small framings. That way, when you put them next to each other, you will have minimum space that is not the desktop screen, making it almost unnoticeable.
Connectivity Ports
The monitors need to have different connectivity ports to work properly and connect to the computer and other accessories. When looking for a monitor, HDMI, VGA, USB, USB-C, and DisplayPort will be a good thing to have.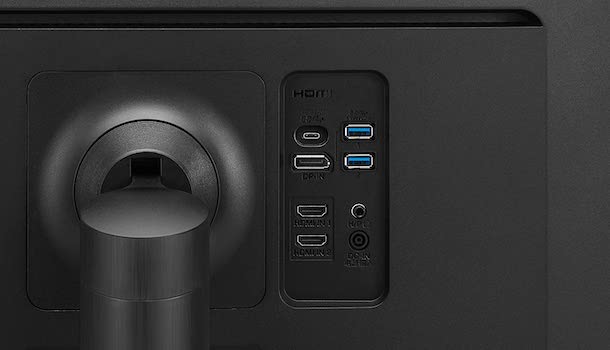 Price
The price varies among models. If you do not want to spend a lot of money, you can buy them for as cheap as $100 up to $300. For more expensive models, you will need to spend between $400 to $600.
5 Best Dual Monitors For Home Office
Best Of Best Dual Monitor Home Office
SPECIFICATION:
Size: 24 inches
Resolution: 1920 x 1080
Ratio: 16:9

Ports: HDMI, VGA
Compatiblity: Windows
Weight: 35 pounds
HP P244 LED Monitor
Two Monitors, One Stand
This HP dual monitor for your home office comes in a black color design which includes both the frame and the stand. There is one stand for two monitors. They are connected firmly and placed straightly. You can separate the monitors and connect each of them to a stand separately.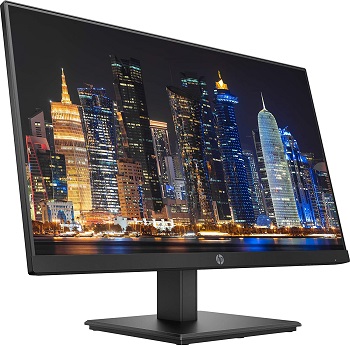 Length Is Longer
Each monitor has a size of about 24 inches. When you connect them together, you get a large monitor with an overall size of about 50 inches. The size increases in length while the width and the height stay the same. Each monitor is LED type and they have the same resolution.
Carbon Reduction Certification
The resolution is 1920×1080 which is full HD. This HP model is energy star certified. It saves energy so it's efficient and it has carbon reduction ability. Each monitor from the set includes the VGA, HDMI, DisplayPort, and more ports just like usual modern monitors.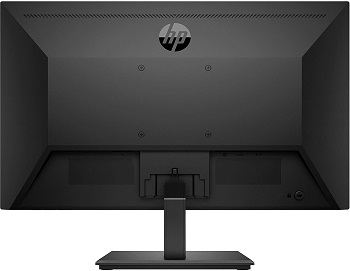 Various Stand Mount Types
In the package with these two monitors, you will get a desk mount clamp to make them stable. The monitors are compatible with a VESA mount but it's not included. The dual-monitor has a swivel tilt which means you can change the position of the monitors by turning them on each side.
Overall:
Size:
Functional:
Design:
Technology:
Ergonomics:
PRICE
approx:$499 – $649
determined by online offer (Amazon) and seasonal sales
Highlighted Points:
each monitor is 24 inches approximately
the resolution of both monitors is 1920×1080
HDMI, VGA, and DisplayPort included
comes with an adjustable stand and clamp
energy star certified monitor model
ViewSonic VA2252SM Monitor
SPECIFICATION:
Size: 22 inches
Resolution: 1920 x 1080
Ratio: 16:9

Ports: DVI-D, VGA
Compatiblity: Windows
Weight: 13.54 pounds
Two Separated Monitors
The ViewSonic dual monitor setup includes two monitors made for mounting on the wall. Each monitor includes the needed mounting hook. You can place the monitors one by another or place each monitor on one wall. This characteristic makes it practical for big conference rooms.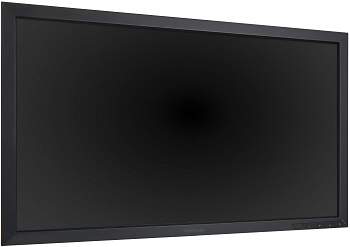 Ideal Size For A Conference Room
Each monitor is 22 inches big so the size of the dual monitors, if you connect them, is about 45 inches. Thanks to a quality 1080p resolution and LED system, the monitor provides a good view no matter where is your seat at the long conference table.
Comfort For Eye Ensured
The monitors are flicker-free and have blue light filter options. The flicker-free technology makes the videos smooth which is important to have a successful meeting. The blue light provides comfort for eyes so long-lasting meetings won't make your collaborators tired. These options make it practical for conference rooms.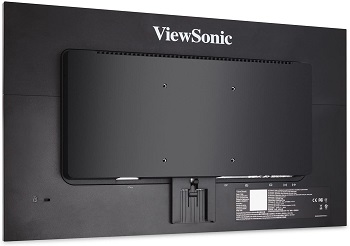 Cables And Ports Included
These monitors are compatible with a lot of devices and operating systems. You can connect them with a computer or laptop and it's best for Mac. The DVI-D, DisplayPort, and VGA port included. The power cable, VGA, and DisplayPort cables will be in the package.
Overall:
Size:
Functional:
Design:
Technology:
Ergonomics:
PRICE
approx:$217 – $329
determined by online offer (Amazon, Walmart, Target) and seasonal sales
Highlighted Points:
two monitors with 1920×1080 resolution
flicker-free technology and blue light filter
compatible with Mac system the best
VGA and DisplayPort inputs and cables in the set
designed for big conference room
the size of each monitor is 22 inches
HP EliteDisplay E233 Monitor
SPECIFICATION:
Size: 46 inches
Resolution: 1920 x 1080
Ratio: 16:9

Ports: HDMI, USB, VGA
Compatiblity: Windows
Weight: 35 pounds
Desk Clamp And Minimalistic Stand
This HP model consists of dual monitors for home offices that are separated and placed on the same stand. The set comes also with a desk clamp so you can make the monitors stable. The stand takes a small place at the desk.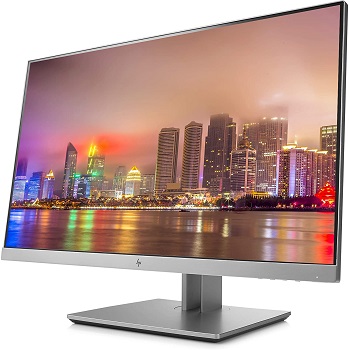 Big Overall Size
The monitor includes LED backlit which makes the office work comfortable. The size of 23 inches contributes to the comfortable use of this monitor set. You can use double monitors as one big monitor of 46 inches size. If you want to use them separately, you need to select the duplicate display option.
Vibrant Color Screen
Just like most office work monitors, this one also has a resolution of 1920×1080. It has a vibrant color screen and a wide-angle. It's easy to connect the monitors with operating system devices using HDMI or USB connections. All the needed ports are included in the monitors.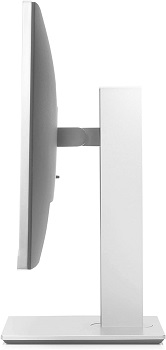 Low Energy Spending
The monitor has on-screen control and you can choose the language you want. You can use the monitors at the desk or place them on the wall. They are VESA mount compatible. You don't have to worry about spending the energy since the model is every star certified.
Overall:
Size:
Functional:
Design:
Technology:
Ergonomics:
PRICE
approx:$599 – $849
determined by online offer (Amazon, Walmart) and seasonal sales
Highlighted Points:
2 monitors of 23 inches in the package
each monitor has 1920×1080 resolution
LED-backlit included in the monitor
VESA mount compatible
on-screen control in different languages
vibrant colors and vide angle view
LG 20MK400H-B Monitors
SPECIFICATION:
Size: 20 inches
Resolution: 1366 x 768
Ratio: 16:9

Ports: HDMI, USB, VGA
Compatiblity: Windows 10
Weight: NL
Separated LCD Monitors
This dual monitor setup includes all the tools you need. Except for two monitors, there is also an HDMI cable for connection and cleaning cloth. Two LCD monitors are separated which means each of them has one stand. You can connect them to make a dual monitor or use them separately.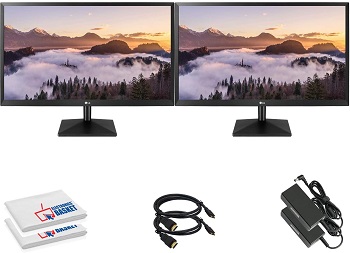 Full HD Resolution
The monitor has a size of 20 inches and a 16:9 aspect ratio. The monitors are full HD and the resolution is 1366×768. The HDMI cable that comes in the package is 2 meters long. You can use it to connect the monitors with the PC easily.
Clear Picture Ensured
The monitor provides a clear picture no matter if you watch the images, videos, or read the text. The clear picture makes long office work easier. The clear picture is the result of LCD display technology and high resolution. The big size of the monitor also makes the work easier.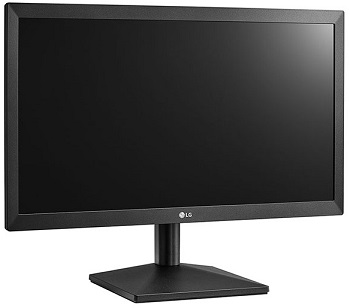 VGA Connections Available
Not only HDMI but you can use also a VGA port to connect the monitors with other devices. This dual monitor system is simple so you can install it at the desk easily. The wall mount is not compatible so it's only for office purposes.
Overall:
Size:
Functional:
Design:
Technology:
Ergonomics:
PRICE
approx:$200 – $400
determined by online offer (Amazon) and seasonal sales
Highlighted Points:
two monitors with the 20-inch size
VGA and HDMI connections offered
HDMI cable 2 meters long in the package
the aspect ratio is 16:9
microfiber cloth for cleaning is included
Dell P2219H Dual Monitor
SPECIFICATION:
Size: 21.5 inches
Resolution: 1920 x 1080
Ratio: 16:9

Ports: HDMI, VGA, USB
Compatiblity: Windows
Weight: NL
The Same Characteristics
The Dell dual monitor consists of two screens and two stands. The monitors have the same characteristics and the same design. The monitors come with a cleaning set which makes the maintenance easy. The size of each monitor is 21,5 inches which means the overall size is 43 inches.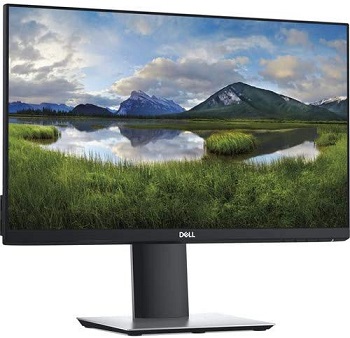 Fast Response Time
The monitors have an aspect ratio of 16:9. The resolution is 1920×1080. The contrast ratio is 1000:1. The response time is 8 ms so it works simultaneously with the PC or device you use. The monitor has standard functions of the monitor models for work.
Comes With Cables
The monitors have HDMI, DisplayPort, and VGA port built-in. The monitor set comes with power cables. You can use some of these ports to connect the monitors with the PC. The ports are placed on the top part. The position is practical for connections.

Adjust Them Separately
The monitors in the package are not connected so you can use each monitor separately. It's possible to arrange each monitor as you like to meet your favorite view angle. You can place these monitors only on the desk while wall mounting is not available.
Overall:
Size:
Functional:
Design:
Technology:
Ergonomics:
PRICE
approx:$500 – $679
determined by online offer (Amazon) and seasonal sales
Highlighted Points:
two same monitors in the package
the aspect ratio is 16:9
fast response time of 8 ms
screens have the 1920×1080 resolution
each monitor has a size of 21,5 inches
How Do I Setup A Home Office With Two Monitors?
To set up two monitors to work with one computer system, you will have to first find out if your computer supports dual monitors, how to split the screen between the two screens, and more.
How Can I Tell If My Computer Supports Dual Monitors?
For Windows 10 users, you can check if your computer supports dual monitors by opening Settings, then selecting System, and then Display. Scroll down to see if the Dual Monitor option is available. If it is, you can connect it to two monitors.
How Do I Split My Screen Between Two Monitors?
To split your screen between two monitors on a Windows operating system, you should right-click on an empty area of the desktop. Then, select Display Settings and scroll down to the Multiple displays, select Duplicate these displays or Extend these displays.

What Else You Might Need?
For the best setup, besides the two monitors, you should also look for:
Dual monitor stands – you can buy a single stand that you can mount both monitors to so that they are not each attached to their own stands
Mounts for dual monitors – if you want to save up desk space, you can mount your monitors onto the wall by using a mount and a mounting bracket
Dual monitor hubs – if you are connecting two monitors to a laptop, a hub will be of a lot of help as most laptops do not have all the necessary ports for connection
Can I Connect More Than 2 Monitors?
It depends on graphics card of your computer as well as built-in ports. To check if your graphics card supports it, go on Control Panel, then find Device Manager and click Display Adapters. There you will find out the name of your card. Then enter on Google the card and your monitor setup names and see if they are compatible. When it comes to ports, most computers support 3 or even 4 monitor connections. The process of connecting dual or multiple monitors is the same. That means, you need to use cables and then set multiple screen option in the computer settings.
Ergonomic Setup
You do not want your neck, back, and eyes to suffer while working for eight hours a day from your home. You can prevent this if you set up the monitors ergonimically. How can you do that?
The primary monitor should be placed slightly to the side.
The top of the monitor should be at eye height and arms-length away.
The second monitor should be placed next to the first one and should be slightly angled towards you (half of a semi-circle).
If you have a dominant eye, place the secondary monitor on the side of that eye.
If you only use the secondary monitor occasionally, place the main one right in front of you.
If both monitors are used at all times, then set them at a 30-degree angle so that the angle is right in front of you.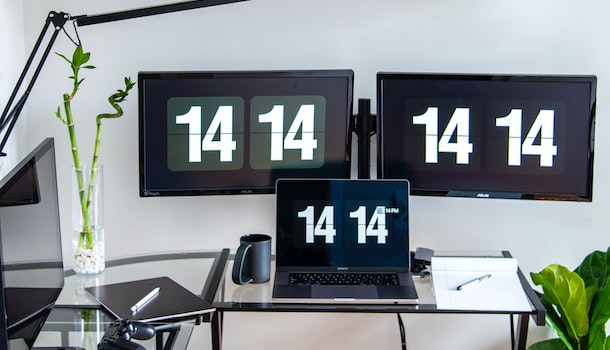 What Type Of Desk Is Best For Dual Monitors?
You will need a long desk to be able to fit two monitors on it and still have enough space for other accessories and plug ins, such as a keyboard and a mouse. If your space does not allow a long desk, then an L-shaped desk will also be suitable for two monitors.
Final Verdict
In the variety of the best dual monitors for home office, the HP P244 24-inch monitor stands out since it has an adjustable stand, long size, and all the functions a monitor needs to have. The dual models are practical for home as well as offices. You can choose a package that includes two picks of the same monitors or make double order of a single monitor.