Do you want to buy the best paper shredder for your small office?
Through our buying guide, you will learn which features you need to look for. Then you will be able to decide which of the paper shredder from our list is the best for small office.
Our Top Picks
5 Best Small Office Paper Shredders
Best Of Best Small Office Shredder
Bonsaii C206-D Paper Shredder
Lockable Wheels
Bonsaii C206-D paper shredder is the best compact paper shredder, you can place it in the corner of the room, under the work desk or somewhere else. There are 17.9 inches of height, 13.2 inches of width and 9.1 inches of depth. It weighs 12 pounds. Bonsaii is equipped with universal casters and two front wheels are lockable.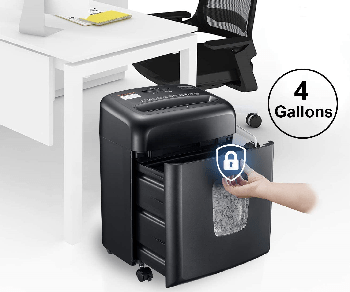 Paper & Credit Card
This micro-cut paper shredder cuts the paper into small and unreadable particles of 5/32 x 15/32 inches. The security level is P-4. Bonsaii destroys credit cards, junk mail and paper with staples and clips. You can insert 8 sheets of paper maximally.
Auto-Mode
This small office paper shredder runs continuously for up to 5 minutes. Then it requires 45 minutes to cool-down. Turn on the auto-mode, then the shredder will start shredding when the sensors detect the paper. The pull-out wastebasket offers 5-gallon of capacity.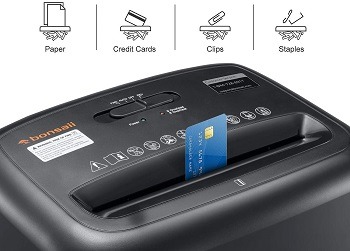 Manual Reverse Feature
If you insert too much paper into the slot, push the manual reverse button. It will reverse the blades and clear the paper jams. For optimal performance, use the lubricated sheets or oil at least twice a month. The overload and overheat system protects the device from damage.
Highlighted Points:
universal lockable casters for mobility
it takes 8 sheets of paper per pass
maintain it with lubricated sheets
auto-start mode and manual reverse feature
5-gallon pull-out wastebasket
Best Micro-cut Small Office Shredder
Aurora AU1210MA Paper Shredder
Top Secure
Aurora AU1210MA is a professional-grade paper shredder. This machine is designed for people who work with sensitive documents and require a high-security level. It provides a P-4 level, which means it shreds the paper into particles of 5/32 x 15/32 inches.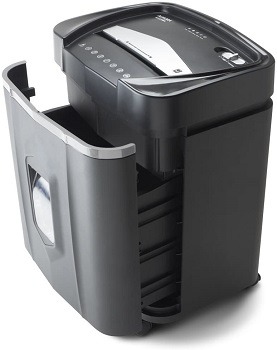 Non-stop 60 Minutes
This device destroys the paper, credit cards, CDs and DVDs. Also, you don't have to remove staples or paper clips from documents. Aurora will destroy them, too. The maximal sheets per single pass are 12 papers. This small office paper shredder runs 60 minutes continuously.
Auto-reverse Feature
The shredded paper drops into the pull-out waste bin. It holds up to 5 gallons. You can see when the bin is full through the transparent window. Empty the bin when it's 2/3 full. To prevent paper jams, there is an auto-reverse feature, the device will stop shredding and reverse the blades.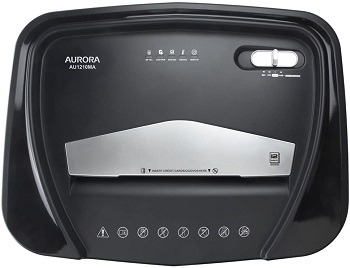 Useful LED Lights
The paper entry is 8.7 inches wide. On the control panel are LED indicators located. They will alert you about overload, overheat, door open, bin full and power status. This small micro cut shredder has a separate slot for credit cards, CDs and DVDs, don't insert them into the paper entry.
Highlighted Points:
mobile micro-cut paper shredder
it shreds paper, paper clips and staples
there is a separate slot for CD/DVD/credit cards
it takes up to 12 sheets of paper per pass
pull-out waste bin with 5-gallons
Best Cross-cut Small Office Shredder
Ragu Cross-cut Shredder
Affordable Price
Ragu is a compact cross-cut office paper shredder. It measures 11.73 x 5.98 x 13.07 inches. It won't take up too much space. Also, it is lightweight, there are 6 pounds. It is easy to take it and place it on some other desk or shelf. The price is affordable and the warranty lasts 1 year.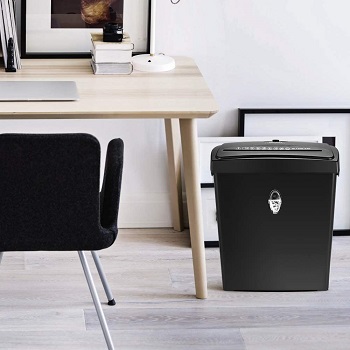 6-sheet Capacity
This small office shredder has the ability to shred max 6 sheets of paper at a time. It is capable to destroy credit cards, you can insert one credit card per pass. The P-4 security level ensures small, unreadable particles of 5/32 x 1-1/2 inches.
2-minute Run Time
After 2 minutes of continuously shredding, let the device cool-down for at least 20 minutes. Then you can use it again. The wastebasket features a small see-through window, so you can check out if the bin is full of papers. The thermal protection shuts off the device when it starts to overheat.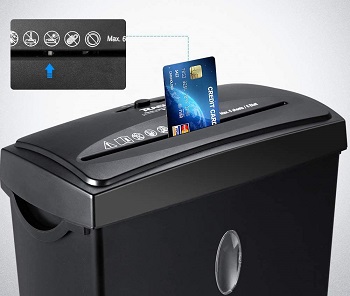 Sturdy Material
Ragu is equipped with an auto-start feature, it will automatically start shredding when the sensors detect the paper. It ensures smooth shredding. The manual reverse feature prevents annoying paper jams. This paper shredder is made of the quality and durable ABS plastics. It is a long-lasting product.
Highlighted Points:
the device is made of durable materials
cross-cut shredder with 6-sheet capacity
it shreds credit cards and small paper clips
runs 2 minutes continuously, then it's 20-minute off
it automatically shreds documents
Best Compact Small Office Shredder
Ezbasics Paper Shredder
Black & White
Ezbasics paper shredder is available in the white and black combo. It fits in any small office decor. The shredder dimensions are: 14.93 x 7.45 x 13.46 inches. It is ideal for small offices or home office use. It shreds credit card bills, bank statements, receipts and other unwanted information.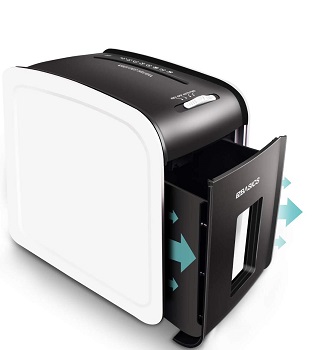 5-sheet Per Pass
This is a good shredder for a small office, it is capable of shredding paper, credit cards, staples and paper clips. Ezbasics shreds up to 5 sheets of paper per single pass. Insert only one credit card per pass. Shreds paper measures 3/19 x 1-3/16 inches. It meets the P-4 security level.
Exclusive Cutter Design
The cutters are made of sturdy material, they are durable. You don't have to use oil or lubricated sheets. You'll get 7 years of warranty for cutters. Also, the cutters don't produce a loud noise, there are 58 decibels which is equivalent to normal people conversation.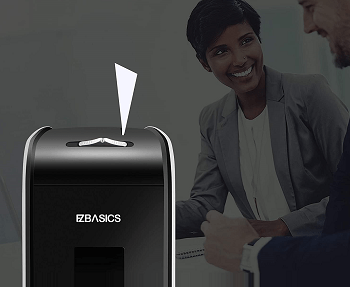 Not For Sealed Envelope
The pull-out wastebasket holds up to 3.1 gallons of shredded papers. Empty the bin before it is 100% full. Also, if the small shredder works 5 minutes, leave it to cool-down for 30 minutes. Never insert sealed envelopes into the paper entry, you'll damage the device.
Highlighted Points:
it shreds paper clips, staples and credit cards
runs 5 minutes continuously before 30 minutes off
the maintenance isn't necessary
the waste bin accepts 3.1 gallons
ultra-low-noise design for a comfortable workspace
high-security level for confidential papers
Best Cheap Small Office Shredder
AmazonBasics Office Paper Shredder
Low Price
You can choose between similar AmazonBasics models. Choose the sheet capacity which suits the best for your needs. Here, the focus is on an 8-sheet paper shredder. This model has 17 inches of height, 12 inches of width and 7.30 inches of depth. It's affordable.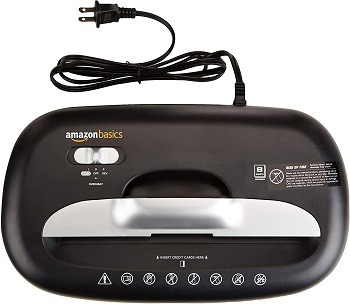 Medium Security Level
This small office shredder is lightweight, there are 8 pounds. It is a cross-cut paper shredder that turns the paper into particles of 3/16 x 1-27/32 inches. The security level is medium, P-3. AmazonBasics shreds the paper, credit cards, staples and clips. It isn't intended for CDs/DVDs.
Overheat Protection
AmazonBasic continuously runs for up to 3 minutes, then let the machine to cool down for 30 minutes. As we mentioned above, you can insert 8 sheets of paper per single pass. Put only one credit card at a time. If the shredder continues to run beyond its limit, it will shut off automatically to protect the motor.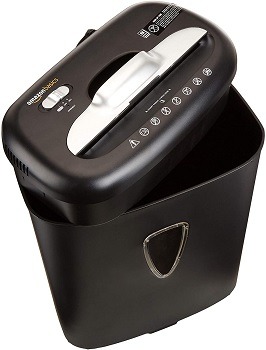 User-friendy Design
This paper shredder has a user-friendly design, there are three modes – auto, off and reverse. The pull-out bin has a capacity of 4.1 gallons. Through a small transparent window, you can check if you need to empty the bin. Use the reverse mode if the paper starts to stuck between blades so it is a good paper shredder under 50$.
Highlighted Points:
compact and affordable cross-cut shredder
there is a medium security level, P-3
three modes – auto, reverse and off
the continuous run time lasts three minutes
the waste bin holds up to 4.1 gallons
shreds credit cards, paper, clips and staples
Things To Know About Small Office Paper Shredders
The small office requires an appropriate paper shredder. It should have smaller dimensions, designed for low sheet capacity and produce a low noise level.
Small Dimensions – If you work in a small office, there is no space for big devices. The paper shredders are available in different dimensions, so you can find small and compact paper shredder for your office. They are practical and easy to use, you can even choose a desktop paper shredder.
Low Noise Level – You can work alone or with your colleagues, but if the shredder produces annoying and loud noise, it is difficult to concentrate on your work. Choose the paper shredder with a lower noise level, for example, 60dB or below is optimal for workspace.
Sheet Capacity – Small office doesn't produce a huge amount of paper, you don't have to buy a paper shredder which has the ability to shred 20+ sheets per single time. You can consider 5 sheets to 15 sheets at the time. That is enough for small office requirements.
Security Level – For those who work with sensitive documents, the micro-cut paper shredder is the best choice. It provides the highest security level. The strip-cut shredder ensures a low-security level, so if you just want to destroy documents, pick that shredder type. Cross-cut is between these two types, it offers medium security.
Run Time – You can destroy a small number of papers in a short time. When you buying a shredder, consider shredding speed and run time. The run time could be from 3 minutes to 10 minutes. At that time, these machines are able to shred more than a hundred documents.