Do you want to purchase the best inkjet printer for stickers but you don't know which model to choose?
Then this post is just for you. Here is the list of our best picks that are best-rated on the market. With the categories, detailed reviews, and buying guide, this post might help while buying.
Our Top Picks
6 Best Inkjet Printer For Stickers Models
Best Of Best Inkjet Printer For Stickers
HP OfficeJet 5255 Printer
Standard Printer Functions
The HP OfficeJet printer model has a black color design and the size of a standard printer for papers. It's a desktop printer so you need to ensure enough space for it on your office desk. You can use it not only for printing but also for scanning.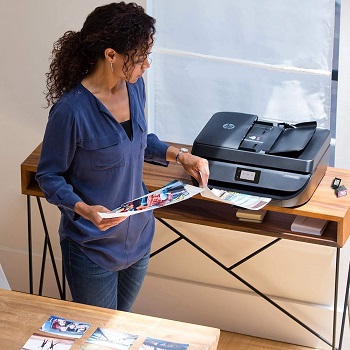 Printing Directly From Web
The printer has a Bluetooth connection so you don't need cables. It's simple to use the printer thanks to the touchscreen. You can print the materials directly from social media, Google Drive, iCloud and similar platforms. The printer supports various paper types such as envelopes, plain paper, label paper, and glossy sticking paper.
Varying Material Size
Since it's suitable for labels and supports the 4×6 material size, you can use this machine as a 4×6 shipping label printer. Not only these dimensions but you can print also the documents with 5×7 inches and 8×10 inches dimensions. A practical option this printer offers is 2-sides printing.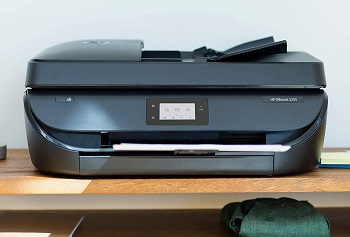 Big Or Small Vinyl Stickers
The wide range of material sizes makes this model the best inkjet printer for vinyl stickers. You can make the vinyl decals in multiple sizes which is useful in business. You can please all your customers' demands. You can print the vinyl sticker templates in color thanks to instant ink technology.
Highlighted Points:
printing and scanning functions available
Bluetooth connection with PC ensured
the printer uses instant ink technology
glossy paper, plain paper, envelopes, and labels suitable
printing option directly from social media and Cloud
supports 4×6, 5×7, and 8×10 material sizes
Best Large Inkjet Printer For Stickers
Epson WorkForce WF-7710 Printer
Wireless Or Cable
The Epson label printer is the same type of printer as the previous model. That means this model is specified also for copying, scanning, and faxing. You can connect this printer to your computer using the usual USB cable. However, it might be more practical to connect them via a wireless network.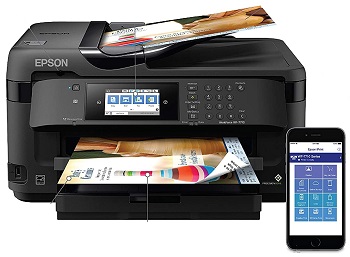 Wide-Format Materials
This best inkjet printer for vinyl stickers supports wide-format materials. The maximum size of the papers is 13×19 inches. That means you can make the vinyl and waterslide decals in various sizes. The glossy paper is suitable for this model just like the standard paper.
Monochrome Or Color
You can print stickers in color or black-white. The printing mode determines the speed. However, the difference in speeds is not big. Monochrome printing is a little faster than printing in color. The printer has a 2-sides printing function which saves the paper. It's useful when you print on standard paper.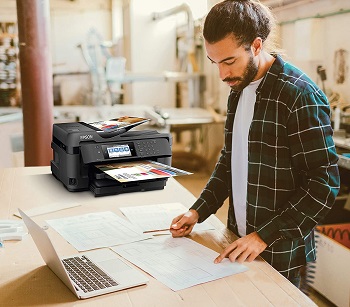 Up To 250 Papers
This black design printer has a tray that supports up to 250 papers at a time. The printer is about 22 inches long and 19 inches wide approximately. It's a big printer for vinyl stickers and standard documents just like these models are the big label printers.
Highlighted Points:
printer with dimensions 22×19 inches approximately
maximal document and sticker size is 13×19 inches
prints in color or black and white
connects with a computer wirelessly
includes the tray that supports 250 sheets
has copy, scan, fax, and print functions
Best Small Inkjet Printer For Stickers
Brother VC-500W Label Maker
Small Sticker Labels
Unlike the previous two label printers, this best inkjet printer for stickers is a kind of label maker. Just like all the color label makers, this model also creates small sticker labels. The primary function of these stickers is to mark the products. It's a useful machine for business.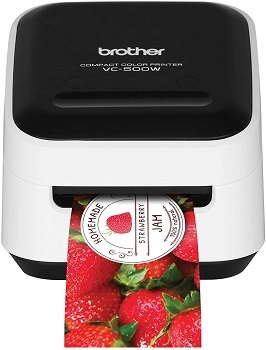 Photos And Stickers
The small design of this printer makes this model suitable for any place. You can use it in the office to print product stickers but also photos. This model includes ZINK technology. It's easy to make stickers by pressing one button of the label maker.
Up To 50 Mm
You need to use the tape roll that is 50 mm wide maximally. The minimal suitable width of the tape is 9 mm. In the package with this sticker label maker, you will get the tape roll of 25 mm. However, you need to purchase sticking adhesive tapes to make stickers.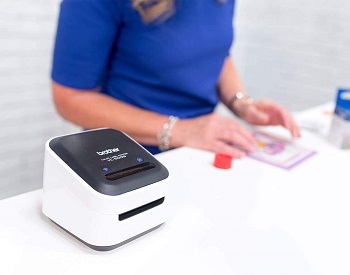 From Computer To Tablet
You need to connect this label printer with a computer to make stickers. It's possible to connect the label maker with Windows or Mac operating systems. Except for the computers, you can use also mobile phones or tablets and connect them with the printer via a wireless network.
Highlighted Points:
ZINK technology for printing in color
connects to PC, smartphone, or tablet
wireless connectivity is possible
a compact and space-saving design
supports Mac and Windows systems
suitable for tape roll with up to 50 mm width
Best Cheap Inkjet Printer For Stickers
Canon PIXMA TR4520 Printer
Glossy Paper For Stickers
The Canon Pixma printer is one more inkjet printer that supports plain papers as well s glossy papers for waterslide or vinyl stickers. It functions as a standard printer so you can not only make stickers but also print, copy, and scan documents. The printer is connectable to a computer and smartphone.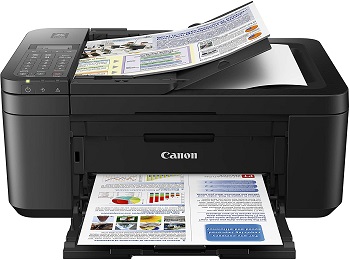 Mobile App Available
Just like most sticker printers, this best inkjet printer for stickers also supports wireless connection so it's similar to Bluetooth label makers. if you use a smartphone, you can download the mobile app and make sticker templates easily. It's easy to adjust the printing options using the control panel.
Saves Ink And Energy
The technology of this printer prevents the lack of ink. It saves 10 percent of ink and notifies you about it so you can add more ink at the time. The printer saves energy since it has an automatic power-off function. The machine switches off automatically if you forget to turn it off.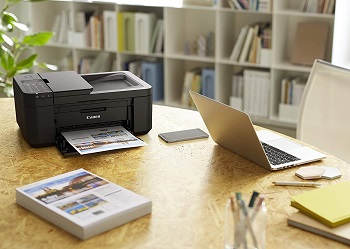 Standard Useful Functions
Since it's functional as a standard paper printer, this Canon model supports 2-sides printing. This printing mode saves the paper but it's not applicable for waterslide or vinyl paper but plain paper only. Since it prints in color, you can make high-quality photos as well.
Highlighted Points:
a printer with standard functions
supports wireless connectivity with the smartphone
comes with the mobile app for sticker editing
10 percent of ink saving option
automatic switch-off function available
Best Home Inkjet Printer For Stickers
Kodak HERO 7.1 Printer
Touchscreen Control Panel
The Kodak Hero printer is a compact injekt model that is best for home use or personal office use. It includes the control panel with touchscreen. It's standard printer so you can copy and scan as well. The printing option is available for plain paper, glossy paper, and so on.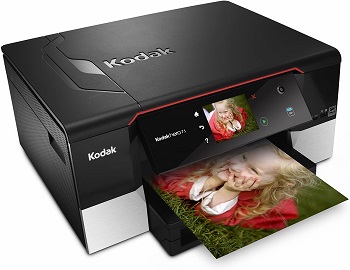 High-Quality Photos
This is the best inkjet printer for stickers but also for photos. The quality of the photos is high and it includes the separate tray you can use only for photos. You can send the photos from a computer to the printer via wireless connection.
iPhone Or Android
Not only computers but iPhone and Android smrtohones are also compatible rith this printer. You can use also iPad and iPod. If you connect them with the printer, it's practical to use Kodak pic app, create the stickers and print easily. The mobile app is free to downloand.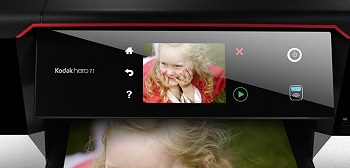 Saves Paper And Money
There are other functions that make this printer similar to other inkjet printers. One of them is the 2-sides printing. It activates automatically so you can save the money you'd spend on paper. Saving paper, this printing mode makes the printer eco-friendy.
Highlighted Points:
compact design ideal for home office
includes the control panel with touchscreen
compatible with iOs and Android smartphones
wireless connection available to turn on
high-quality printing especially for photos
saves paper with 2-sides printing mode
Best Commercial Inkjet Printer For Stickers
Primera LX500 Label Printer
Sticker Labels In Color
This is not standard printer but label maker. That means you can use it for making stickers for your products. It's the best inkjet printer for stickers used for commercial purpose. It's simialr to the commercial label makers, but this one prints in color and it's not purposed for receipts.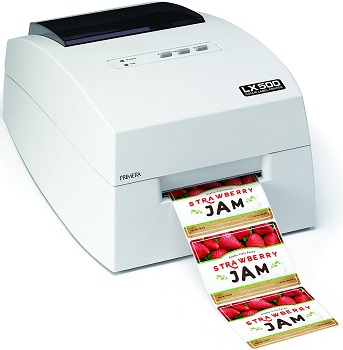 Simple To Operate
Not onyl the stickers but you can print the photos and graphics with this printer model. The operating system of this label maker is simple since it includes a few buttons on the top. It includes also the indicator lights that signifies the ink capacity.
Various Materials For Use
You can use this label maker to create not only the stickers using adhesive material but also more creative things using various materials. The machine supports paper, polyester, synthetic and similar materials. You need to insert the tape roll in the printer properly before you start to make stickers.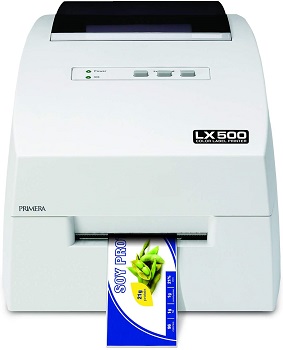 Cable Is Neccessary
You can create the labels 0,5 to 4 incehs wide. The package includes the cable you have to use to connect the printer with the comootuer. It's not Bluetooth model like most other printers so it's not so portable. You need to place it on a desk near a Windows or Mac PC.
Highlighted Points:
suitable for various materials for printing
includes buttons and indicator lights
needs cable for connection with computer
compatible with Windows or Mac systems
creates the label stickers 0,5 to 4 inches wide
Things To Know About Inkjet Printer For Stickers
There are two groups of inkjet printers made for stickers. According to these two types, you can make two kinds of stickers. The inkjet technology means printing in color on special paper type. The price of both printer types is the same. Read more about these specifications below.
Two Types Of Printers – There are two types of inkjet printers that make stickers. The first type is label maker in color with inkjet technology. In the second group, there are printers with standard print/copy/scan functions. These two types differ in size, technology, and sticker types they create.
Two Sticker Types – The label makers use sticking tape that is inserted in the printer interior. The tape is made for standard stickers used in space organizing and in business to mark the products. Another printer type makes vinyl decals or stickers and waterslide decals/stickers.
Color Technology – Both sticker label maker and standard printer have color output type that makes them the inkjet printers. This technology consists of the ink and head that sprays the ink on the paper. The number of inks varies from model to model. Bigger models include more color inks.
Vinyl Or Glossy Paper – To be specified for printing the stickers, the printer needs to support the self-adhesive paper made for stickers. These are usually glossy papers that you can use for vinyl stickers or waterslide decals. The label makers require a sticking tape roll.
The Same Price – The price of the inkjet label printers and standard printers doesn't differ a lot. The average price of both inkjet printer types is 200-300 dollars. The size doesn't have the main influece on the price since some small label makers are more expensive than some large-format printers.