Are you looking for the best foosball table for home that will be elegant and fit in nicely?
If this is the case, continue reading this article.
We have made a list of the best models for home, so, the only thing you need to do is to pick a table based on your needs and wishes. This might be a white foosball table, an antique-looking one or maybe a LED table.
Our Top Picks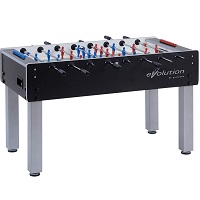 Garlando G-500 Indoor Foosball Table
OVERALL RATING: ★★★★★
Boasting professional-quality features, this sophisticated foosball table comes in three neutral colors.
Jump To Review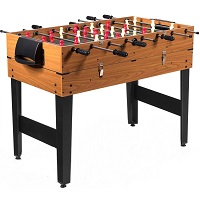 GYMAX 3 in 1 Game Table
OVERALL RATING: ★★★★☆
This multi-game table will bring endless amounts of fun and excitement to the whole family!
Jump To Review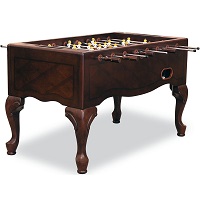 Fairview Game Rooms Foosball Table
OVERALL RATING: ★★★★☆
This beautifully carved table looks like an expensive piece of furniture and brings a dash of luxury to any home.
Jump To Review
What Makes A Foosball Table Suitable For Your Household?
If you want one for your home, you can choose between a vast offer of tables for foosball. It might be hard for you to pick, so think about the following not to get overwhelmed.
Where Will You Keep The Table?
To pick accordingly, you first have to think about where you will put your table for playing foosball. Measure the available space so that you can know which dimensions you have to go for. However, keep in mind that the space where you will put the table needs to be much bigger than the table dimensions for playing foosball easily, without knocking into other things or hitting the wall.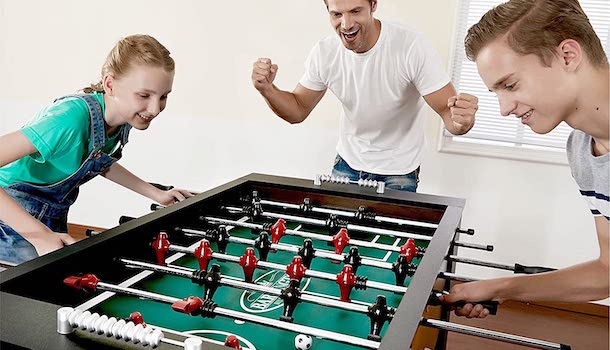 How Much Space Should You Leave On The Side?
Once you put the table into its position in your home, you should have around 4 feet of space left on each player's side so that they can play freely and walk around. For the ends of the table, you need to leave 18 to 24 inches of space so that score counters are easily accessed.
The Size Of The Standard Table
A standard model for foosball usually measures around 30 inches wide and 60 inches long. If this does not work for your space, there are always both bigger and smaller options available.
Should A Foosball Table Be Flat?
If the terrain in your house is not level, you won't be able to play foosball on the table. Make sure you buy a table that is flat, as well or that has feet that can be adjusted to the ground level. Without this feature, you won't be able to have a proper foosball experience.
Indoor Or Outdoor Use In Your Household
In your household, you might want to use your table for foosball both indoors and outdoors. However, make sure that the manufacturer allows it for the model you go for. For example, some indoor models won't be recommended for outdoor use if they are made from solid wood and other materials that cannot withstand outdoor weather conditions. If you want a model for your terrace or patio, pick a durable plastic or metal model.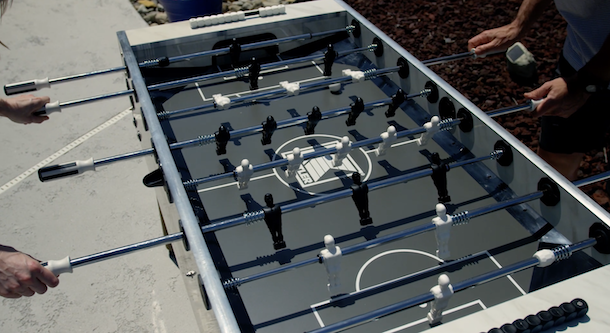 Table Type For Home
You can choose between traditional, coffee table, and tabletop models for your household.
Traditional – choose this if you have enough space for a tournament-like foosball experience; traditional models usually weigh hundreds of pounds and are around 5 feet long and 30 inches wide.
Coffee table – this type is great if you do not have separate space for a table for foosball; they are the size and height of coffee tables so players have to kneel to be able to play foosball, the playing surface is enclosed in glass
Tabletop model – comes in many different sizes, including mini, for use on top of the table; you can use it for a family game night and then store away until you need it again
Multi-game combo – some foosball tables come in the combination with other games which is a popular choice for homes as you get to play foosball, ping pong, or pool and other games without having to own different tables
How Many People Can Play On A Foosball Table?
Tables for the game of foosball usually need one player on each side of the table. However, some bigger tables are good for two players on each side or four players in total.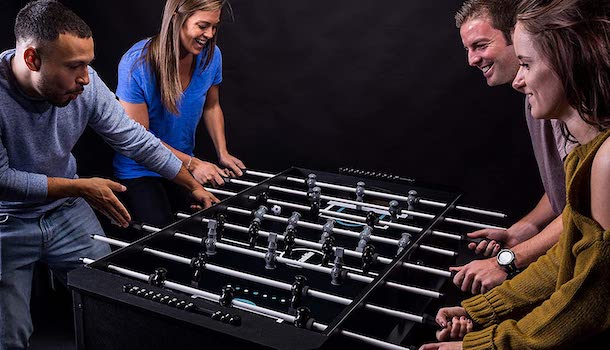 Reasons For Buying One For Your Home
There are many reasons why you should consider incorporating a table for playing foosball into your home.
No playing experience required – anyone can play table soccer, no matter if they have played before or not; all you have to do is score against your opponent and follow some simple rules
For bonding with family and friends – put a foosball table in your home and you will be able to spend time with your friends and family, play a game, converse, and have fun at the same time
Teamwork – you can play this table game against one person, or it can be played by 4 people, 2 on each time for quality teamwork, team building, etc
Keep in shape – if you want a fun way to keep your body active and in shape, foosball is a great choice as you will have to engage your reflexes and strike away at any moment; great for the body and mind
Anti-stress therapy – playing foosball is a great way to vent out and get rid of all the negative energy that you might have accumulated over the day or week
Reasons Against Investing In One
There are a couple of obstacles that might stop you from buying equipment for table soccer.
It can be expensive – while there are affordable models available on the market, foosball tables can also be quite expensive and not for everyone's budget if you want a quality table that will last for generations
You might not have enough space for it – even if you are a lover of foosball, maybe your living conditions are such that you do not have a space for a proper model
How To Choose The Best Foosball Table For Home Use?
To get the table for the best foosball experience, there are some things you need to keep in mind.
What Is A Good Size For Your House?
If the space in your home allows, go for a standard table for playing foosball. It means that you will need around 10 x 8 feet of free space to fit the table in and have enough room for playing around it. If you live in a compact space, maybe a small model will be a better option for you.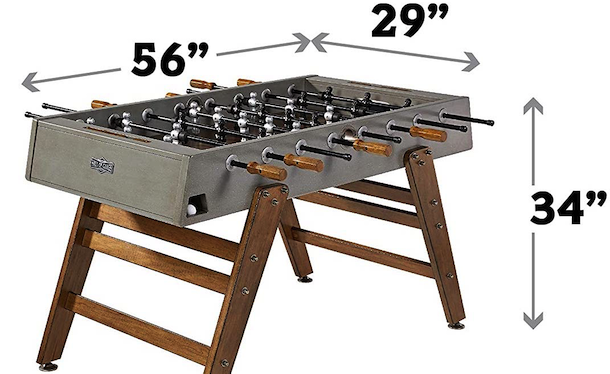 Material
This is important to keep an eye on, as only with quality material you will get a durable table. For sturdiness while playing, choose one that has a solid wooden body, which is also good for aggressive playing. If you want a table that is easy to store away, choose one made of plastic and other lightweight materials. The material of the playing surface is important, too. Glass, plexiglass, and acrylic surfaces for playing allow the ball to glide easily. If you want more control of the ball, pick a table made of solid wood or linoleum.
Weight
The table needs to be robust and heavy enough in weight so it does not shift during play. For aggressive foosball play, choose a table that is around 200 pounds. If you want to also transport it and move it more easily, look for those that weigh 100 to 200 pounds.
Style
You will want the style of your foosball game table to fit the overall style of your home with color, design, or similar material. That is why these tables are available in many different styles – from vintage and retro models to mid-century and modern styles.
Skill Level
Entry-level is great for children and those who do not have experience in foosball. For more experienced users, choose models with premium details and equipment. For example, you might want to look for textured balls and counterbalanced foosball men for a professional experience.
Goalie Configuration
You can either choose a table for foosball with a single goalie or triple goalies. The goalie configuration is related to the playing surface. Single goalies have ramped corners so the ball can bounce back to the center. Triple goalies come with a flat surface. For beginners, it is easier to choose a flat goal surface and triple goalies.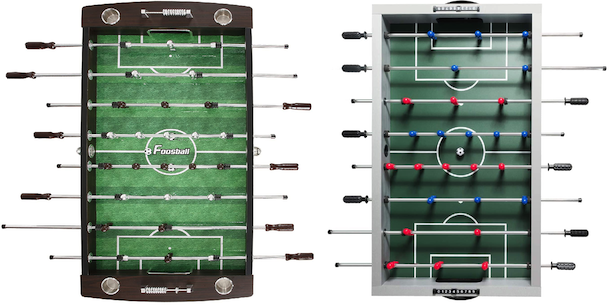 Counterbalanced Foos Men
The configuration of foos men is just as important as that of the goalies. For instance, counterbalanced foos men have the same weight in their feet and head so the men stay horizontal for better control of the ball.
Playfield
You can choose between flat playing surfaces, curved at the centerline, or those ramped at the corners. If you are a more experienced player, you might want those that are curved or ramped. Otherwise, the flat surface will be enough.
Playing Rods
There are different types of rods to choose from. Some rods for foosball are made from solid steel. They are heavy while thin-walled hollow rods are too light. That is why your best option might be in between – hollow solid steel rods for the best strength, mobility, and rigidity in one.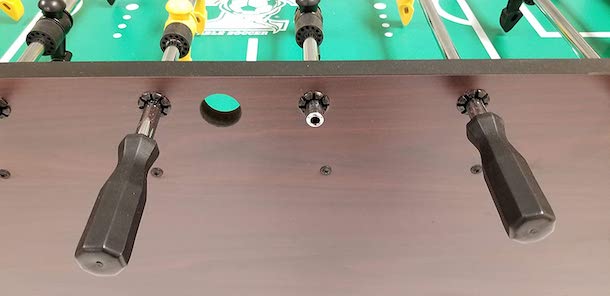 Handles On Rods
When it comes to handles, make sure they are ergonomically made for comfort. For example, wooden handles of octagonal shape are the best for controlling the rods without the chance of slipping.
Balls
Balls made of hard plastic are not the best option for playing. Textured balls are a good choice for more control, but smooth balls are a better option for gliding and smooth play.

Additional Features
It is also good to go for a table that has leg levelers that will make the ball play fairly on the playfield. With them, you can make sure that the table is level. From additional features, you might also want cup holders, decals, scoreboards, and covers to keep your foosball game table covered when not in use.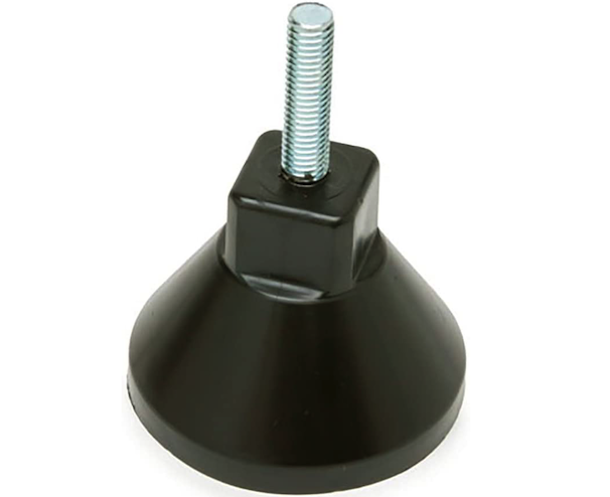 Cabinet
Besides legs, the cabinet is the other main part of a foosball table. It needs to be made of tough material to keep the playfield and the other contents inside properly. Cabinets can be made from MDF, wood, and some can even have a marble look.
Price
While the price of the table is important to keep in mind, it might be more important to consider its quality. For example, you can get quality models for under a thousand dollars with many great features and even a warranty. However, you will also be able to find cheaper than that, and more expensive than that.
Is It Better To Buy A New Or A Used One?
If it is possible, it is always better to go for a new table. If you buy a used table, make sure it is maintained properly and working so you do not have to replace any parts and spend more money on the table in the end.
The Best Brand For Home Use
If you are unsure of which brand is a good choice, there are a few you should consider. For instance, look into Tornado, KICK, Carrom, Shelti, and Hathaway table brands for foosball.
Best 6 Foosball Table For Home Reviews
Garlando G-500 Indoor Foosball Table
SPECIFICATION:
Material: Wood
Dimensions: 56 x 35 x 30 inches
Weight: 165 pounds

Color: White
Style: Classic
Assembly required: Yes
Plastic Laminated Playfield
This top-quality foosball table comes in three colors: black, gray and white. All three versions will fit nicely into any home interior because of their neutral color palette. The table features a plastic laminated playfield which enables the ball to move fast.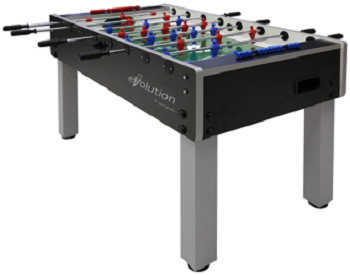 Adjustable Leg Levelers
Featuring a 1-inch thick cabinet, this official-size foosball table boasts heavy-duty steel legs. The legs have integrated adjustable levelers that guarantee maximum stability and a balanced playing field on all kinds of surfaces which is extremely important for a good quality game.
Telescopic Steel Rods
The durable foosball men with one-goalie setup are attached to telescopic stress-resistant steel rods with steel ball bearings which reduce wrist stress and keep the game fast. The rods feature ergonomically designed plastic handles that are very comfortable and prevent hand pain.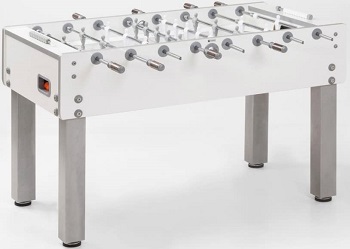 Dual Ball Return System
The ball retrieval is easy and quick thanks to the very convenient dual ball return system. Color-coordinated scoring devices can be found on each side of the table and they make score recording really easy. This foosball table for home comes with all the accessories necessary for playing including ten standard white balls.
Overall:
Durability:
Size:
Weight:
Play:
Design:
PRICE
approx:$1,447 – $1,889
determined by online offer (Amazon, Walmart, Wayfair) and seasonal sales
Highlighted Points:
top-quality official-size foosball table
plastic laminated playfield
adjustable leg levelers
telescopic stress-resistant steel rods
ergonomically designed plastic handles
dual ball return system
GYMAX 3 in 1 Game Table
SPECIFICATION:
Material: Engineered wood, iron
Dimensions: 48 x 23 x 32 inches
Weight: 49 pounds

Color: Black/wood
Style: Classic
Assembly required: Yes
Foosball, Billiards & Hockey Game Surfaces
This hockey, pool and foosball table offers endless entertainment for the whole family. If one game simply isn't enough for you but you don't want to waste space on three different game tables, you should probably consider this table. It features playing surfaces for foosball, hockey, and billiards.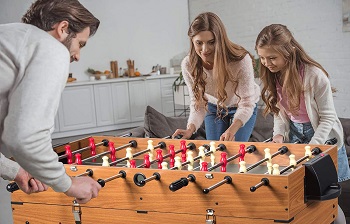 Easy To Switch Between Games
Made of high-quality MDF with a wooden finish, this elegant table will be a great addition to your home. It is really easy to switch between games thanks to three interchangeable tabletops with a locking clasp and stack-up design. Its construction is very durable and it can withstand the toughest matches.
Legs With No-Slip Pads
Four leg construction features non-slip pads that effectively protect the floor from scratching and prevent unwanted movement. Foosball game surface comes with comfortable PVC handles and iron rods that feature white and red robot-style foosball men with a 3-goalie configuration.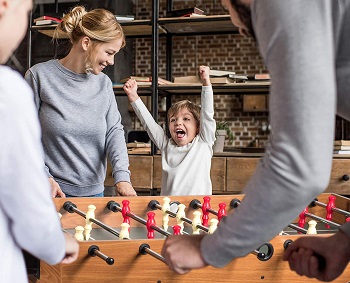 Designed For Family Use
GYMAX 3 in 1 Game Table comes packed with accessories for all three games. It measures 48″ L x 23″ W x 32.5″ H and weighs 49 lbs. If you want a multi-game table that is specially designed for family use, this is the table for you. It is suitable for 2-4 people and it will bring so much joy and excitement to your family and that is why it is on this list as one of best home foosball tables.
Overall:
Durability:
Size:
Weight:
Play:
Design:
PRICE
approx:$189 – $399
determined by online offer (Amazon, Walmart) and seasonal sales
Highlighted Points:
endless entertainment for whole family
easy to switch between games
made of durable MDF material
legs with no-slip pads
comes with all necessary accessories
Fairview Game Rooms Home Foosball Table
SPECIFICATION:
Material: Stainless steel
Dimensions: 55 x 30 x 36 inches
Weight: 119 pounds

Color: Black
Style: Traditional
Assembly required: Yes
Beautifully Carved Legs
This foosball table has an antique look and really stands out because it looks like an expensive piece of furniture. It boasts beautifully carved Queen Anne Legs which give it an exquisite look. They are not only beautiful but also provide high stability even though they don't have levelers.
Made Of Wood
Fairview Game Rooms Home Foosball Table is made of wood which is a high-quality material that guarantees maximum durability and longevity. It is available in two wonderful colors – mahogany and chestnut, so you can choose which color would be a better fit for your home.
Glossy Brown Playfield
The playfield isn't classic green like on most tables, but elegant brown with white lines. It is sleek and glossy, enabling the ball to move fast over it. The unique foosball men with 3-goalie configuration are attached to durable stainless steel rods with comfortable brown handles. Unfortunately, they are not counterbalanced.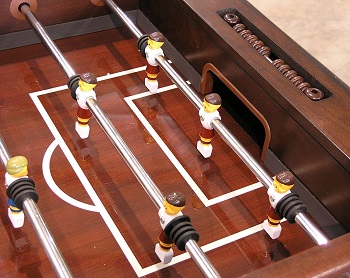 Embedded Score Tracking Units
Two score tracking devices are embedded into the table and help to keep track of the action. All accessories necessary for playing will come with the table, including clear and simple instructions for assembly. Assembly is not complicated but it takes some time.
Overall:
Durability:
Size:
Weight:
Play:
Design:
PRICE
approx:$1,149 – $1,235
determined by online offer (Amazon, Wayfair) and seasonal sales
Highlighted Points:
Queen Anne Legs without levelers
made of natural wood
glossy brown playfield
3-goalie configuration
assembly takes some time
Giantex 48" Foosball Table
SPECIFICATION:
Material: Engineered wood
Dimensions: 48 x 24 x 31 inches
Weight: 119 pounds

Color: Black/wood
Style: Classic
Assembly required: Yes
Strurdy & Durable Construction
This cheap foosball table is available in two colors – Black and Wood. Both versions of the table are unique and stylish. The "Wood" version might be a great fit for interiors decorated in industrial style. Made of MDF, this soccer table boasts a sturdy and durable construction.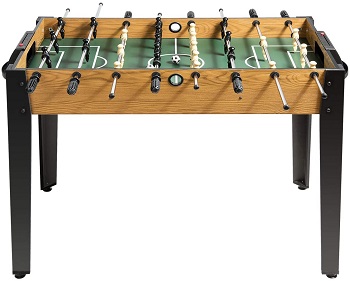 Compact Size Saves Spaces
Thanks to its compact size of 48″ L x 24″ W x 31″ H, this table will fit smaller spaces. Also, if you think a full-size table takes up too much space, maybe you should consider this table. Even though it comes at a very affordable price, it doesn't look cheap and it is not a low-quality foosball table.
Suitable For Children
What is also great is the fact that this table is suitable for kids. This means that the whole family can enjoy playing on game nights. Table sports are recommended for children because they can learn about different sports, practice their motor skills and strategic thinking.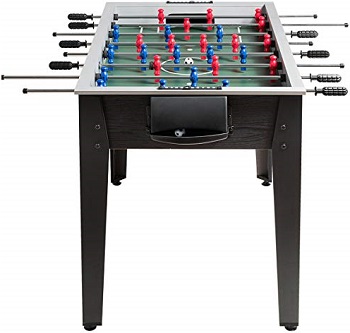 Ergonomic Handles & Adjustable Leg Levelers
Giantex 48" Foosball Table comes with stainless steel rods that feature 24 robot-style foosball men with a 3-goalie configuration. The handles are ergonomic and non-slip. Stability is secured by the integrated leg levelers that ensure a balanced playfield on uneven surfaces.
Overall:
Durability:
Size:
Weight:
Play:
Design:
PRICE
approx:$100 – $109
determined by online offer (Amazon) and seasonal sales
Highlighted Points:
sturdy& durable construction
good size for small spaces
great quality at a low price
suitable for children
ergonomic non-slip handles
integrated leg levelers
René Pierre Color Blanc Foosball Table
SPECIFICATION:
Material: Solid wood, MDF
Dimensions: 60 x 41 x 36 inches
Weight: 170 pounds

Color: White
Style: Classic
Assembly required: Yes
Handmade In France
Handmade in France, this stylish foosball table in white color will be a centerpiece in any room and a great conversation starter. Thanks to its exquisite design, this table really stands out. However, it is not all about the looks. This table is a high-quality soccer table that provides a great playing experience.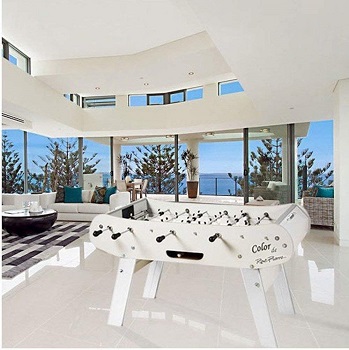 Telescopic Stainless Steel Rods
The chrome-plated stainless steel telescopic rods with Teflon rings and dampening springs feature aluminum die-cast foosball men which are hand-painted in black and silver. Telescopic rods add to safety because, unlike solid rods, they were designed to move in an out of the cabinet without poking through the other side.
Ergonomically Designed Handles
The handles are ergonomically designed and therefore very comfortable. Apart from a stress-free experience for your wrists, they also provide control for precision shots and delicate passes. Such handles are very important if you plan to play table foosball often.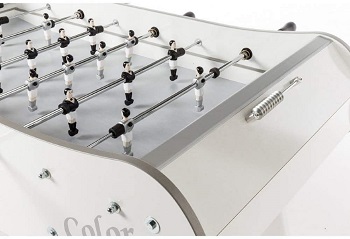 White Linoleum Playfield
The elegant playfield is made of white linoleum which allows the ball to slide fast across the surface, while solid wood legs ensure stability during intense matches. René Pierre Color Blanc Foosball Table has built-in abacus scoring units on each side of the table and comes complete with all necessary accessories, including two cork balls.
Overall:
Durability:
Size:
Weight:
Play:
Design:
PRICE
approx:$1,799 – $2,248
determined by online offer (Amazon, eBay) and seasonal sales
Highlighted Points:
handmade in France
all-white exquisite design
telescopic stainless steel rods
ergonomically designed handles
white linoleum playfield
solid wood legs
Atomic Azure LED Light Up Foosball Table
SPECIFICATION:
Material: Engineered wood
Dimensions: 58 x 30 x 34 inches
Weight: 116 pounds

Color: Black
Style: Classic
Assembly required: Yes
Illuminating LED Blue Lights
This LED foosball table is made of high-quality materials, and since it boasts a simple black design, it will fit into any interior. Thanks to its illuminating blue lights, you will be able to play in the dark. Trust us, these blue lights create an amazing and magical atmosphere.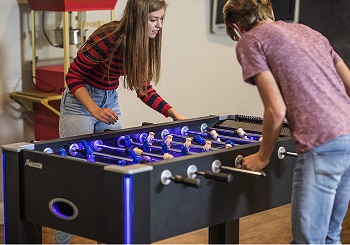 Rechargeable LED Ball
What is more, these LED lights are interactive and they are paired with in-game music. How cool is that?! Even the foosball is LED lighted which means you can really play in total darkness. It is also USB rechargeable. The table features a built-in ball charger and it takes 45 minutes for the ball to be fully charged. It will last up to six hours.
Automatic Electronic Scoring
Strong and durable 15.8 mm steel rods feature two teams of white and blue robot-style foosball men with a 3-goalie configuration. The goal boxes are also lit up. Automatic electronic scoring is another cool feature of this table. It enables the easiest tracking of the score ever.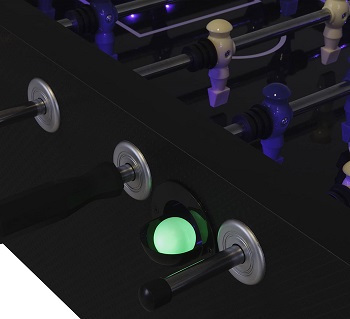 Spacious 47" x 27" Playfield
Atomic Azure LED Light Up Foosball Table measures 58.25 x 30.75 x 34.38 inches and weighs 116.71 pounds. It features a spacious 47" x 27" playfield. It comes with all the necessary accessories for playing. Assembly is required, but it is simple and fast.
Overall:
Durability:
Size:
Weight:
Play:
Design:
PRICE
approx:$489 – $814
determined by online offer (Amazon, Walmart) and seasonal sales
Highlighted Points:
simple black design
magical playing atmosphere
illuminating interactive LED blue lights
lights paired with in-game music
rechargeable LED foosball
simple and fast assembly
What Type Of Maintenance Is Required?
You will have to, first of all, keep the table clean from dust and other impurities. Every few months, you should lubricate the rods for smooth moving and rotating. You can do it with liquid or spray silicone. If you use your table often, we suggest cleaning it every week. For less frequent use, cleaning it monthly will be enough. However, if you are keeping your table to play foosball outdoors, then you will have to clean it more often. A cover for it will also be a good investment.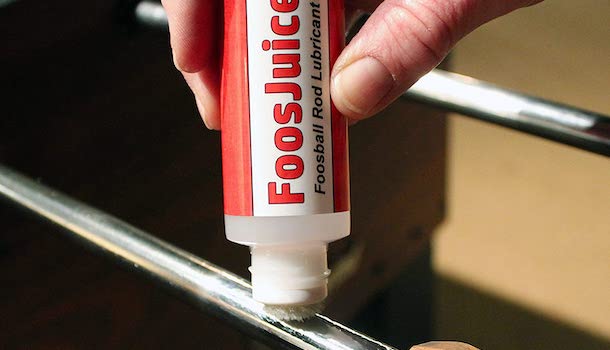 How Do You Set Up A Foosball Table?
Setting it up before use won't be a complicated process but will usually take a couple of hours and up to 3 people. Follow the manual instructions to make sure you are doing everything properly. Here are some general instructions you should follow:
Attach the playfield surface to the base of the table.
Attach the sides to the playing surface and base and then attach the rods, too.
Close the sides at the four corners.
Once you have assembled the cabinet of the table, attach the legs to it.
Insert the rods inside the holes and attach the players to the rods.
Next, you can attach the handles to the rods, as well as rod stoppers.
Lubricate the rods for smooth playing.
Fit the goals and scoreboards to the table.
Check out this video to help you get an idea of how to do the assembly:

Can You Assemble It Alone?
Essentially, yes, you can assemble a foosball table by yourself but it might take you longer to get it to work.
Is It Possible To Move Your Table After Assembly?
This depends on how big and heavy the table is. Most free-standing ones are made to stay in the same spot as they might be too big to fit through the doors without disassembling them or too heavy to move, especially on your own. For heavy models, you can ask someone for help, use a rug underneath to move it or even use a trolley. If your table is too big to fit through the door assembles, you might have to remove the legs.
Final Verdict
The Garlando G-500 Indoor Foosball Table is the best option for your home because it is the official-size foosball table with top-quality features like telescopic rods, adjustable leg levelers, ergonomic handles and a dual ball return system. It also comes in three different colors and boasts an elegant design that will fit into any home interior. It's important that you choose the table in appropriate size according to your room size. You will need to assemble it but as you could see, it's not complicated when you follow the instructions.