Are you looking for a kids' foosball table that would be suitable for your children?
If you can't decide which table to choose, we are here to help you.
We have found a number of models that are definitely worth taking into consideration. The only thing left for you to do is to pick the most suitable one for your child: tabletop, foldable one, 3 in 1 table with more game options, or maybe a cheap one that won't be a blow to your budget.
Our Top Picks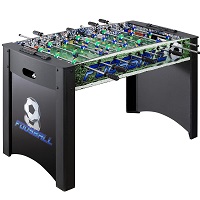 Hathaway Playoff 4' Foosball Table
OVERALL RATING: ★★★★★
Made for fun, this beautifully designed foosball table boasts amazing colorful graphics.
Jump To Review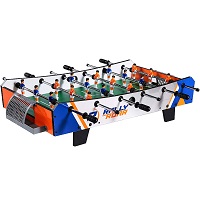 Rally and Roar Foosball Tabletop
OVERALL RATING: ★★★★☆
This miniature version of a classic foosball game is just as fun, exciting and challenging as bigger tables.
Jump To Review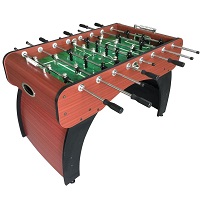 Hathaway Metropolitan Foosball Table
OVERALL RATING: ★★★★☆
Unique vintage-looking kids' table like this one definitely stands out from the crowd.
Jump To Review
What Makes A Foosball Table Suitable For Kids?
For a foosball table to be good for kids to play on, it will have to be easy to use, not too big or too powerful, and will have to be suitable for their age. If all of these requirements are met, then kids can truly enjoy the famous table game of foosball, practice their skills, and advance their motoric skills.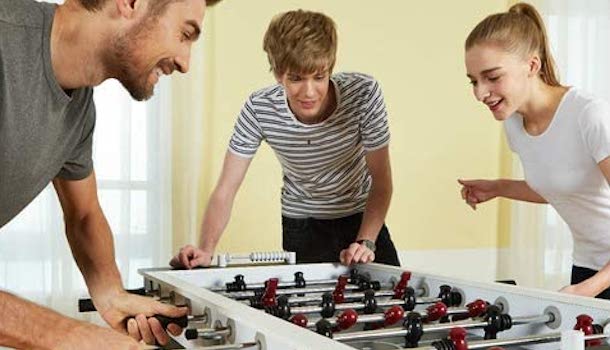 Size
The market offers many sizes of soccer tables so finding one suitable for your children will be easy. Usually, a standard table is around 56 inches long and 34 inches high, which won't be suitable for children under 10 to 12. However, there are plenty of mini versions that are constructed with kids' abilities in mind.
Entry Level
Chances are your child hasn't even had a chance to play foosball yet. That is why you need to look for an entry-level model on the market. Thus, look for models with a flat playing surface, easy-to-use rods and figures, fun scoreboard systems, and tables in general that are not complicated to use.
The Age Suitability
Usually, tables for playing foosball that are recommended for juniors have age suitability marked on them. Most commonly, this age will say 6+, so it is not recommended for kids who are younger than that. Why is that? Because youngsters under 6 are not suitable for this game and there are too many little pieces on it that could be a choking hazard.
Is It Too Difficult For A 5-Year Old?
If you get the right model, a game of foosball can be very entertaining even for a 5-year-old. Of course, not every 5-year-old child is the same so keep that in mind. But if your 5-year-old kid loves these types of games and can follow the fast pace of the foosball, they will love it. Of course, make sure the table is small enough and that it features fewer players to make it easier for them.
Easy Storage
It is also important for such a foosball table to be easy to put away when not in use, especially if you do not have space for a dedicated kids' corner with toys. Storing them away won't be such a big problem as most are smaller in dimensions without legs or with foldable legs.

Pros & Cons Of Kids' Versions
There are many positive and negative sides to getting a table football game for your kids that you might have to consider before making the purchase.
Pros
If your kids play foosball regularly, they will:
Develop skills – both motoric skills and strategic thinking will be developed with the help of this game
Socialize face-to-face – by playing with other kids in real life and real-time, kids will learn how to be around others of their age and how to play different roles together
Bond with family – a great way for parents to spend some quality time with their young children
Play with parents regularly – a foosball table sounds like the type of game and toy that kids will keep coming back to as they can play table football with their parents often
Spend less time on computer games – if you are looking for a way to get your children away from their computers and tablets, a soccer table will help you to minimize their PC game and YouTube time
Develop compassion – compassion and kindness through foosball happens as kids can learn that foosball is for both girls and boys, young and old people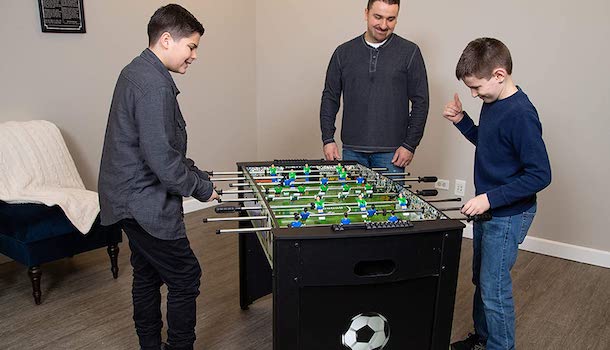 Cons
However, there are some negative sides, too:
Choking hazards – many small parts can be swallowed if you leave your kids unattended
Not for all ages – most usually, this game won't be very suitable if your kids are under 6 years old
You might not have enough space – unlike with some other toys, a foosball table might be too big if you have limited space available, live in a small apartment, or lack storage space
Specifications To Take Into Account
There are some features and specifications on foosball tables that you have to think about when choosing the right version for your children.
Appropriate Size
Depending on the age and height of your children, here is how you can choose a foosball table in an appropriate size:
20-inch models – kids aged 6+
48-inch models – teenagers
Between 20-inch and 48-inch – great for those aged 9-12
Weight
A table that your children are going to play foosball on should be lightweight enough so that they can set it up with your help, but not completely light so that they can easily break it or smash it against the floor (we know tantrums are possible).
Style
You get to choose between at least four different styles. For example, a standard model is the one with legs, free-standing, and great if you have enough space for it. However, if you lack space, you can choose either a folding one or one that you put on top of your table. The latter will take up even less space when in storage. Finally, you can also buy a combo model that will have more than just the surface for playing foosball on it. For example, those that also let you play air hockey and pool.
Materials
If you want a durable one, choose materials such as metal and hardwood. If you prefer to have a model that is lightweight for easy moving, then pick hard plastic and lighter wood. However, these won't last you as long as the durable ones.
Number Of Players
Most kids-size tables for foosball allow one kid on each side as they are smaller. However, if you invest in a bigger model that has four rods on each side, then you can even have two kids playing at each side of the table.
Goalie Configuration
You can choose between models that have a single goalie or triple goalies. For kids, it might be easier if they have three goalies to keep the ball from getting into the net. For more skilled kids, a single goalie might be of more preference.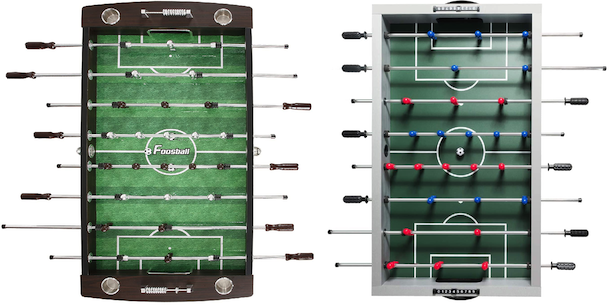 Can I Convert A Three-Goalie Configuration Into A One-Goalie One?
Yes, you can. You will have to buy a conversion kit to do so as it will involve more than just adding two more goalies to the rod. You will also have to install ramps at the corners so that the ball does not get stuck. However, you cannot convert it the other way around as you most often won't be able to remove the ramps from the corners if you want three goalies instead.
Type Of Figures
When it comes to the foosball players attached to the rods, you get to choose between different types. For those who are only learning how to play, it might be enough to have entry-level features (rounded toes, non-robotic style). However, if you want your kids to get good at playing foosball, you might want to buy those with cross-hatched feet and counterbalance for better control of the ball and the game overall.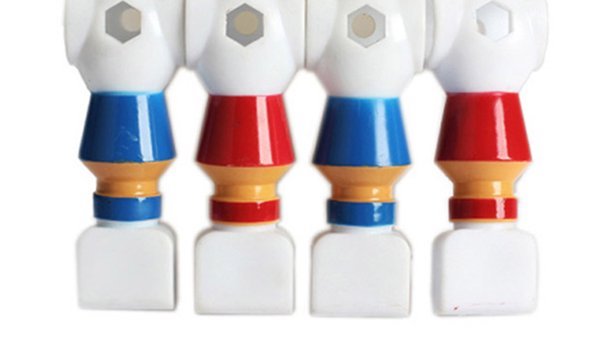 Rods & Handles
The rods should be made of durable material but one that is not too heavy so that your kids' arms don't hurt during play. For example, choose hollowed steel rods. Also, make sure the handles on the rods are ergonomic for comfortable holding.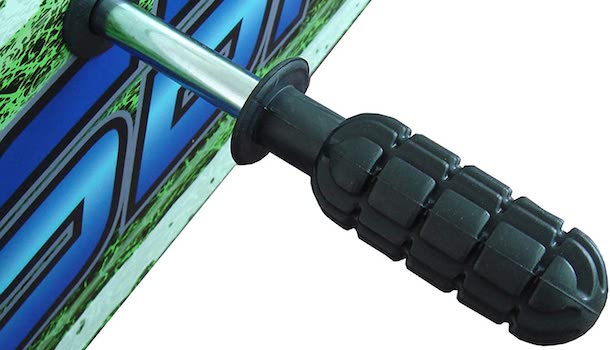 Playfield Surface
The playing surface is a very important part of the table. If you want a beginner-friendly version for your kids, choose one that is made from wood for more slow play. If you want faster play, choose that made of plastic materials.
The Balls
Usually, kids will prefer the standard plastic version of the foosball that comes in white and black pentagons. This ball will not offer too much control. That is why it may not be the best choice for those who want their kids to become good at foosball. In that case, rather choose a textured ball for more precise shooting, passing, etc.
Indoor Or Outdoor Model?
There are some foosball tables that you can use both indoors and outdoors. However, most of them are suitable only for indoor use. If you want an outdoor table, make sure it is made from plastic and other materials suitable for outdoor weather elements. For instance, wood material is not recommended for outdoor due to moisture.
Best 6 Kids' Foosball Tables
Hathaway Playoff 4' Foosball Table
SPECIFICATION:
Material: Engineered wood
Dimensions: 48 x 24 x 32 inches
Weight: 51 pounds

Color: Black/green
Style: Classic
Assembly required: No
Amazing Colorful Graphics
This beautifully designed foosball table was made for fun and brings so much excitement to the game. Its amazing colorful high-gloss graphics depict a soccer stadium packed with fans. The foosball men are realistically molded, which also adds to the cool experience. Kids will love it!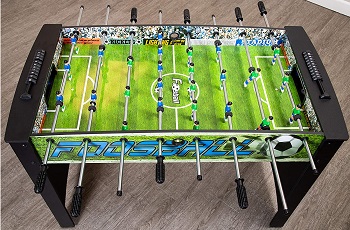 Quality Materials & Ergonomic Handles
Not only kids but also adults will absolutely enjoy this foosball table. Quality materials ensure durability while the solid construction guarantees maximum stability. Chrome-plated steel rods enable a smooth play and the integrated leg levelers are adjustable. Ergonomically designed handles are very comfortable both for children and adults.
Foosball Men With Precise Foot
The foosball player figures have reinforced legs with end panel supports for better precision, and the goals are guarded by 3 goalies. Abacus style score counters keep scoring simple. All these features are perfect for children and make this table suitable for new players of table soccer.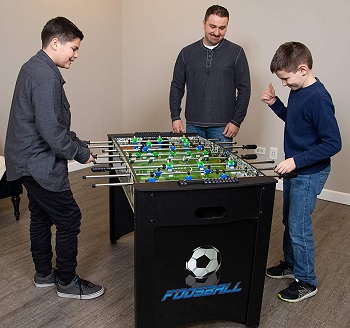 Best Value For Money
Hathaway Playoff Foosball Table is 4 feet long and therefore fits pretty much everywhere. The assembly is simple and fast. It comes with all the necessary parts and accessories, including two balls. This is the best value for money and you definitely won't have any regrets if you buy this foosball table.
Overall:
Durability:
Size:
Weight:
Play:
Design:
PRICE
approx:$135 – $198
determined by online offer (Amazon, Walmart) and seasonal sales
Highlighted Points:
colorful high-gloss graphics
durability and maximum stability
chrome-plated rods for smooth play
comfortable ergonomic handles
foosball men with reinforced legs
simple and fast assembly
Rally and Roar Foosball Tabletop
SPECIFICATION:
Material: Wood
Dimensions: 40 x 20 x 9 inches
Weight: 16 pounds

Color: Blue/white/orange
Style: Tabletop
Assembly required: No
Fun, Exciting & Easy To Play
This tabletop foosball table for kids is a miniature version of a classic foosball game. However, it is just as fun, exciting and challenging. Even though it is compact, it still has a spacious surface which allows enough room to play standard foosball. Designed for 2-4 players and easy to play, this table is great for the adults too.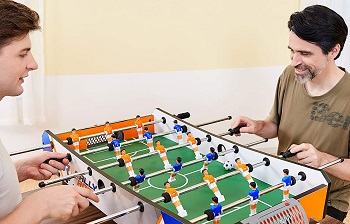 Compact, Light & Portable
This small-size table is also light, which means you can literally take it everywhere: from kids' birthday parties to family barbecues or camping trips. The only thing you will need is to find a table or another flat surface for a stable play. The foosball men are pre-assembled so you won't have to bother with that.
Non-Slip Ergonomic Handles
The construction of the table is sturdy and durable. This table is built to endure not only practice games with kids but also serious rounds with adults. Thanks to the ½" diameter chrome-plated steel rods and ergonomic handles made of non-slip rubber, players will always feel in control.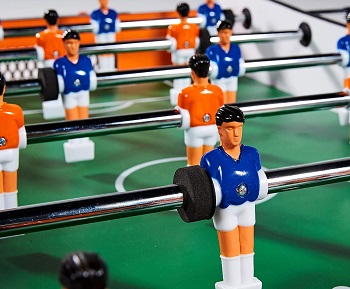 Padded Legs To Prevent Scratches 
With this tabletop foosball table, you can turn any flat surface in your home into a real playground. Its legs are padded with foam to prevent your playing surface from scratches and wear and tear. Not only is this table easy to store but it also saves a lot more space in comparison to many other foosball tables.
Overall:
Durability:
Size:
Weight:
Play:
Design:
PRICE
approx:$71 – $99
determined by online offer (Amazon, Walmart) and seasonal sales
Highlighted Points:
mini version of a classic foosball game
compact, portable and very light
built to endure intense play
ergonomically designed non-slip handles
padded legs with foam to prevent  scratches
Hathaway Metropolitan Foosball Table
SPECIFICATION:
Material: Engineered wood
Dimensions: 54 x 29 x 34 inches
Weight: 90 pounds

Color: Cherry wood
Style: Vintage
Assembly required: Yes
Vintage-Looking Sophisticated Design
If you want to buy a foosball table for your kid that will, at the same time, fit into a traditional and more elegant interior, this is the table you should go for. This unique vintage-looking curved design certainly makes it special and different from standard soccer tables for children.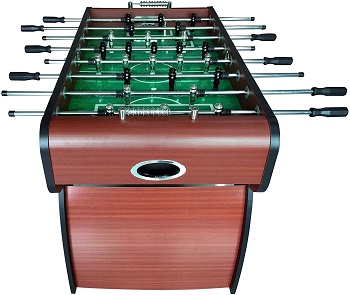 ABS molded Robo-Style Players
The cherry wood finish of this vintage-style table cabinet oozes sophistication. It is extra-thick, very stable, and features a vibrant, realistic-looking green playfield. Black and silver Robo-Style players are ABS molded and extremely durable. High-quality balls that come with this table roll smoothly over the glossy playfield.
Ergonomic Handles For Stress-Free Game
Stainless steel rods with EZ-spin bearings guarantee a smooth play and stability at a competitive pace. Ergonomically designed sure-grip handles allow better ball control and ensure hours of stress-free playing that won't be uncomfortable for children's hands.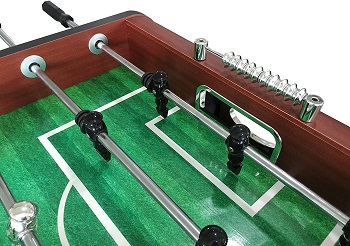 Great For Family Tournaments
Measuring 54-in L x 29-in W x 34-in H, this foosball table is the ideal size for your game room and it will keep your family and friends entertained for many many years. It is also great for tournaments. Don't worry about the assembly – it is pretty simple and fast.
Overall:
Durability:
Size:
Weight:
Play:
Design:
PRICE
approx:$416 – $433
determined by online offer (Amazon, Wayfair) and seasonal sales
Highlighted Points:
vintage-looking classy design
extremely durable Robo-Style players
stainless steel rods with EZ-spin bearings
comfortable ergonomically designed handles
perfect size and easy to fit into any space
Win.Max Mini Foosball Table
SPECIFICATION:
Material: Engineered wood
Dimensions: 20 x 12 x 2 inches
Weight: 6.2 pounds

Color: Light wood
Style: Tabletop
Assembly required: Yes
High Quality At Affordable Price
Cheap doesn't always mean bad quality. This children tabletop foosball table will surely exceed your expectations. Nicely designed with realistic players and green playfield means that kids will love it. The light brown color of the cheap table cabinet makes it easy to fit into every interior.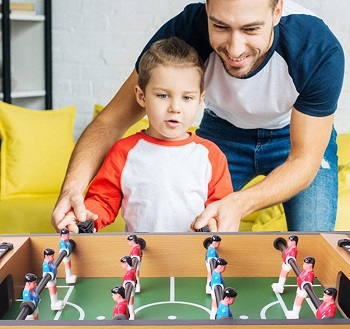 Primarily Designed For Kids
High-quality MDF guarantees durability and stability. What is the most important, is the fact that this table is very safe for kids – this was the manufacturer's priority while making this table. Curved bump-resistant corners are installed in this table especially to prevent children from getting injured. Of course, this doesn't mean that adults can't have fun using the table as well.
Easy To Turn Lightweight Rods
8mm iron rods are hollow in the center and therefore light and easy for children to turn it. The handles are non-slip and comfortable for smaller hands. Kids will get all things needed for a fun game in the package: 12 foosball men (6 for each team), 4 rods, 2 scoreboards and 2 balls. You will also get instructions and a tool needed for the whole process of assembly, which is simple and fast.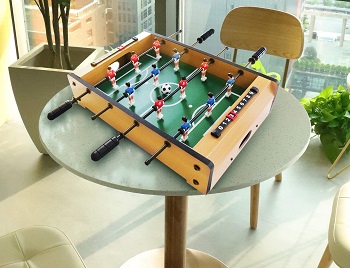 Great Gift For Any Kid
WIN.MAX Mini Foosball Table makes a great gift for your child because it is safe, easy to play and encourages socializing. Your kid will be able to invite their friends over and hang for real instead of communicating with them through social networks. At the same time, they will develop their motor skills and strategic thinking.
Overall:
Durability:
Size:
Weight:
Play:
Design:
PRICE
approx:$50 – $62
determined by online offer (Amazon) and seasonal sales
Highlighted Points:
low price but great quality
designed especially for kids
comfortable non-slip handles
easy to turn light iron rods
great present for any kid
Hathaway Playmaker 3-In-1 Foosball Multi-Game Table
SPECIFICATION:
Material: Egineered wood
Dimensions: 38 x 20 x 28 inches
Weight: 25.3 pounds

Color: Black/green
Style: 3-in-1
Assembly required: Yes
Every Kid's Dream
This foosball table is every kid's dream. Why? Well, because it comes with reversible target nets for hockey and soccer practice. Its hook-and-loop system enables easy switching between games and provides three times more fun for kids than a regular table that is for foosball only.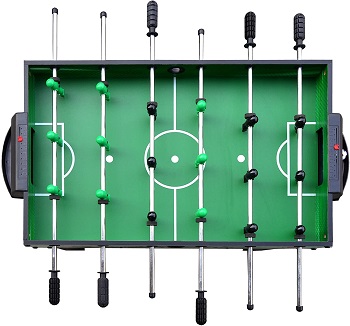 Scratch Resistant Surface
The foosball playfield has a green poly-sealed scratch-resistant surface and it enables the foosball to roll really fast. The ball is controlled by 13 black and green foosball men with three goalies on each side. Chrome-plated steel foosball rods are easy to turn, while independent leg levelers ensure stability and even play on any surface.
Soccer & Hockey Themed Practice Targets
Reversible soccer and hockey themed practice targets are integrated into the table. The nylon goal net is rip-resistant and durable. It is a good idea to invest in this table if your child loves soccer. This way they will be able to practice soccer or hockey whenever they want without leaving the house.
Packed With Accessories
This 3-In-1 Foosball Table comes with hockey, soccer and parts and accessories your kid needs to enjoy the fun games of table foosball, soccer and hockey. Apart from the table and practice targets, you will also get two 1.25-in soccer balls, two 2.75-in hockey balls, and 13.5-in hockey sticks (kid-sized) that are great for small spaces.
Overall:
Durability:
Size:
Weight:
Play:
Design:
PRICE
approx:$109 – $187
determined by online offer (Amazon, Walmart) and seasonal sales
Highlighted Points:
3 games in one table: table foosball, soccer & hockey
hook-and-loop system for easy game switching
poly-sealed scratch-resistant surface
integrated soccer/hockey themed practice targets
comes with great accessories
Win.Max Preassembled Folding Foosball Table
SPECIFICATION:
Material: Plastic/engineered wood
Dimensions: 48 x 24 x 32 inches
Weight: 44 pounds

Color: Blue/yellow
Style: Folding
Assembly required: No
Only One Minute For Assembly
What is best about this foldable table is the fact that it is 99% preassembled. You'll only need 1 minute to assemble it. This model in modern style has a nice design with fresh colors which will be especially attractive for children. The foosball men are monochrome and stylish.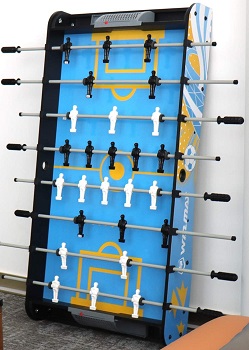 Made of High-Quality Materials
The table is constructed of high-quality MDF which ensures durability. Even though this is a foldable table, you don't have to worry about stability. The triangle structure with brackets is sturdy enough to endure a competitive game. The adults should try it too!
Perfect Size For Children
The iron rods are hollow in the center and therefore light and easy for kids to turn. The handles are comfortable and non-slip. The moderate size of the table (47.64 x 24.02 x 31.89 inches) is good for all generations. Most importantly, this foosball table is safe for children.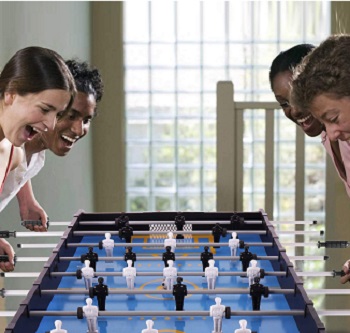 Assembly Guidelines
Before assembling the table, find a clean level spot for it. Two adults working together will assemble this table most efficiently.  What they need to do is to unfold the legs, attach the rods with players facing the right direction and adjust the leg levelers.
Overall:
Durability:
Size:
Weight:
Play:
Design:
PRICE
approx:$200 – $250
determined by online offer (Amazon) and seasonal sales
Highlighted Points:
Assembly in only one minute
fresh design with lively colors
table measurements perfect for kids
comfortable non-slip handles
easy to play & safe for children
How Do You Clean A Foosball Table?
It is important to keep the table clean of dust and dirt, especially the one used by kids as they often put their hands into their mouth after touching the table. To clean, it is best to use non-chemical detergent and a soft cloth. Also, the proper way of cleaning will depend on the material. For wood materials, it will be best to just use a dry or a damp cloth, while you will also be able to use soapy water on plastic materials.
Which Tools Are Required To Assemble It?
To be able to assemble a table for foosball, you will need the following tools:
a screwdriver
a ratchet set
a drill
However, in some cases, most of the table can even come assembled, unless it is very big in size, so you won't need to worry about assembly.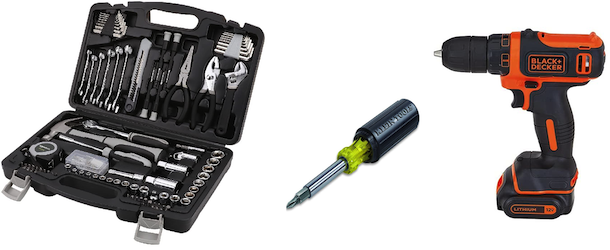 How To Assemble It?
First of all, read the instruction manual that comes with the table you purchased. In it, you can find all the necessary steps to take to assemble it properly. Usually, the assembly will include attaching the players to the rods, putting the cabinet together, attaching the legs to the cabinet, etc.
Are Foosball Tables Safe For Kids?
There are many safety concerns you might be worried about when it comes to buying a foosball table for your kids.
Are There Any Choking Hazards?
First of all, foosball tables are not meant for kids under the age of 6 usually. Those who are younger are more likely to want to put small parts into their mouth and swallow. Those older will probably not even attempt it. However, do make sure to be with young children so that they do not swallow any small parts of plastic that might chip off from the figures, the ball, or any other small part of the table.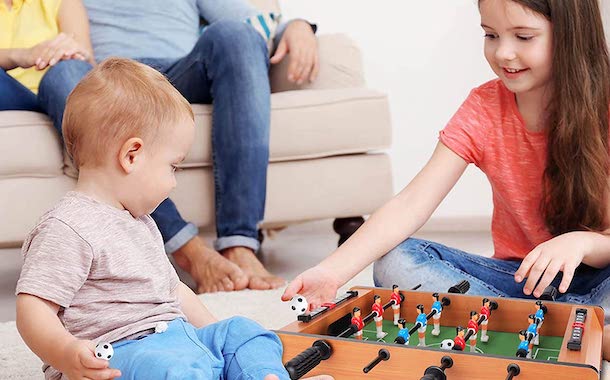 Are The Playing Rods Safe?
There are two types of rods you can choose between. Non-telescopic rods are usually less safe as there is a chance that the opponent can get kicked in the stomach from the other side so this is not a good choice for kids. Telescopic rods, on the other hand, are a better option for kids. They do not protrude to the other side of the table so there is no chance that they will hurt someone on the other side of the table.
Are Kids' Fingers Safe?
You don't have to worry about your kids hurting their fingers as the rods are safe to use. However, make sure they do not put their fingers inside the playing field while the game is being played as they might hurt themselves. Also, the skin on their hands might get caught in the holes for the rods so be aware of this.
Can The Ball Hit With Force Hurt Their Eyes?
This should not be a problem as kids cannot hit the ball with such force that it could fly and hurt someone if it hits their eyes. Moreover, the foosballs are made of lightweight materials that make it almost impossible for the hit to hurt someone.
How To Ensure Safety?
Make sure that:
Kids are being supervised during the game
They do not put the ball inside their mouth
They do not get aggressive with the rods as the kids' tables are usually lightweight and this action will make the table move around
They do not hit anyone with the rod on the other side of the table if the rods are non-telescopic
There is no spinning on the rods
They warn each other when a player is going to pick up a ball
There is no rod slamming into the wall of the table
They do not move or lift the table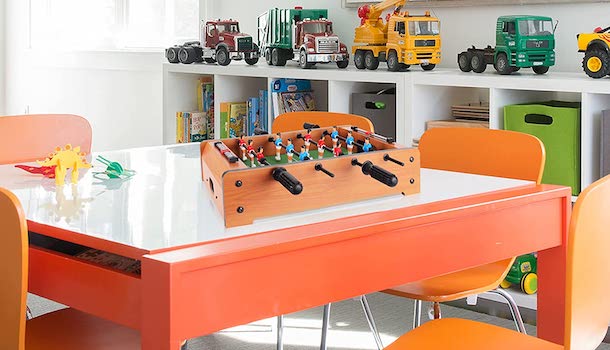 DIY Foosball Table With Your Kids
Creating a foosball table with kids is a great idea. A DIY project that includes parents and children will help them bond and spend quality time together. At the same time, it is also a cheap project that won't cost you a lot of money as you can find cheap parts for it online. Moreover, by working on this project, your kids will learn a thing or two, develop their skills, and they will enjoy playing with it knowing that they helped to make it.
What Will You Need?
You will need these tools and parts to make a foosball table for kids:
shoebox
small wooden rods/skewers
clothes pegs
knife
hot glue
ping pong balls
How To DIY?
Take these steps to make a foosball table with your kids:
Paint the shoe box inside. Use watercolors in green. Then let it dry.
Create goal holes on each short side of the box.
Use a white color pen to draw the centerline and the goal boxes on the playfield.
Make holes in the sides to insert the skewers.
Paint the clothes pegs in two team colors, for example, blue and red. Draw faces on the pegs if you want, too.
Put three pegs on each skewer and insert them inside the box.
Check this video for more information:

Final Verdict
When buying a model for your children, you need to make sure they are both safe and easy to use at the same time. Also, you will have to find the right size for your kids, depending on their age and height. The Hathaway Playoff 4' Foosball Table is the best model for children because it is constructed of high-quality materials that provide stability and durability. It is safe and comfortable for kids due to ergonomically designed handles and adjustable leg levelers.