Are you looking for a kids' foosball table that would be suitable for your children?
If you can't decide which table to choose, we are here to help you.
We have found a number of soccer tables for kids that are definitely worth taking into consideration. The only thing left for you to do is to pick the most suitable one for your child: kids' tabletop foosball table, foldable one, 3 in 1 table with more game options, or maybe a cheap one that won't be a blow to your budget.
Our Top Picks
Best 6 Kids' Foosball Tables For Children To Play
BEST OF BEST KIDS' FOOSBALL TABLE
Hathaway Playoff 4' Foosball Table
Amazing Colorful Graphics
This beautifully designed foosball table was made for fun and brings so much excitement to the game. Its amazing colorful high-gloss graphics depict a soccer stadium packed with fans. The foosball men are realistically molded, which also adds to the cool experience. Kids will love it!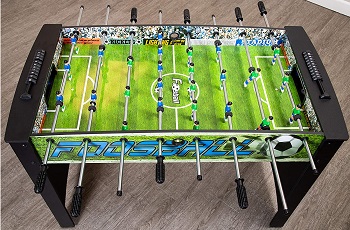 Quality Materials & Ergonomic Handles
Not only kids but also adults will absolutely enjoy this foosball table. Quality materials ensure durability while the solid construction guarantees maximum stability. Chrome-plated steel rods enable a smooth play and the integrated leg levelers are adjustable. Ergonomically designed handles are very comfortable both for children and adults.
Foosball Men With Precise Foot
The foosball men have reinforced legs with end panel supports for better precision, and the goals are guarded by 3 goalies. Abacus style score counters keep scoring simple. All these features are perfect for children and make this table suitable for new players of table soccer.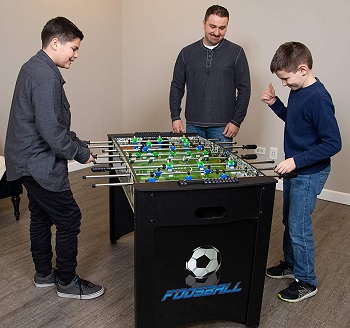 Best Value For Money
Hathaway Playoff Foosball Table is 4 feet long and therefore fits pretty much everywhere. The assembly is simple and fast. It comes with all the necessary parts and accessories, including two balls. This is the best value for money and you definitely won't have any regrets if you buy this foosball table.
Highlighted Points:
colorful high-gloss graphics
durability and maximum stability
chrome-plated rods for smooth play
comfortable ergonomic handles
foosball men with reinforced legs
simple and fast assembly
BEST TABLETOP KIDS' FOOSBALL TABLE
Rally and Roar Foosball Tabletop
Fun, Exciting & Easy To Play
This tabletop foosball table for kids is a miniature version of a classic foosball game. However, it is just as fun, exciting and challenging. Even though it is compact, it still has a spacious surface which allows enough room to play standard foosball. Designed for 2-4 players and easy to play, this table is great for the adults too.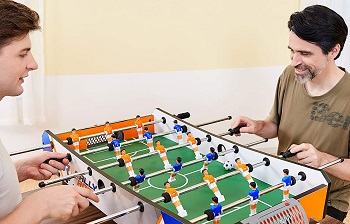 Compact, Light & Portable
This small foosball table is also light, which means you can literally take it everywhere: from kids' birthday parties to family barbecues or camping trips. The only thing you will need is to find a table or another flat surface for a stable play. The foosball men are pre-assembled so you won't have to bother with that.
Non-Slip Ergonomic Handles
The construction of the table is sturdy and durable. This table is built to endure not only practice games with kids but also serious rounds with adults. Thanks to the ½" diameter chrome-plated steel rods and ergonomic handles made of non-slip rubber, players will always feel in control.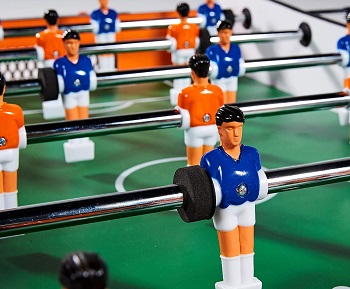 Padded Legs To Prevent Scratches 
With this tabletop foosball table, you can turn any flat surface in your home into a real playground. Its legs are padded with foam to prevent your playing surface from scratches and wear and tear. Not only is this table easy to store but it also saves a lot more space in comparison to many other foosball tables.
Highlighted Points:
mini version of a classic foosball game
compact, portable and very light
built to endure intense play
ergonomically designed non-slip handles
padded legs with foam to prevent  scratches
BEST CHEAP KIDS' FOOSBALL TABLE
Win.Max Mini Foosball Table
High Quality At Affordable Price
Cheap doesn't always mean bad quality. This kids' tabletop foosball table will surely exceed your expectations. Nicely designed with realistic players and green playfield means that kids will love it. The light brown color of the cheap foosball table cabinet makes it easy to fit into every interior.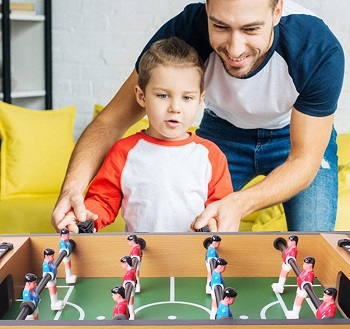 Primarily Designed For Kids
High-quality MDF guarantees durability and stability. What is the most important, is the fact that this table is very safe for kids – this was the manufacturer's priority while making this table. Curved bump-resistant corners are installed in this table especially to prevent children from getting injured. Of course, this doesn't mean that adults can't have fun using the table as well.
Easy To Turn Lightweight Rods
8mm iron rods are hollow in the center and therefore light and easy for children to turn it. The handles are non-slip and comfortable for smaller hands. Kids will get all things needed for a fun game in the package: 12 foosball men (6 for each team), 4 rods, 2 scoreboards and 2 balls. You will also get instructions and a tool needed for the whole process of assembly, which is simple and fast.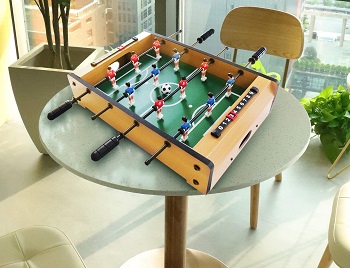 Great Gift For Any Kid
WIN.MAX Mini Foosball Table makes a great gift for your child because it is safe, easy to play and encourages socializing. Your kid will be able to invite their friends over and hang for real instead of communicating with them through social networks. At the same time, they will develop their motor skills and strategic thinking.
Highlighted Points:
low price but great quality
designed especially for kids
comfortable non-slip handles
easy to turn light iron rods
great present for any kid
BEST VINTAGE KIDS' FOOSBALL TABLE
Hathaway Metropolitan Foosball Table
Vintage-Looking Sophisticated Design
If you want to buy a foosball table for your kid that will, at the same time, fit into a traditional and more elegant interior, this is the table you should go for. This unique vintage-looking curved design certainly makes it special and different from standard soccer tables for children.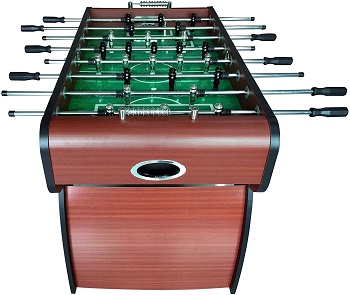 ABS molded Robo-Style Players
The cherry wood finish of this vintage foosball table cabinet oozes sophistication. It is extra-thick, very stable, and features a vibrant, realistic-looking green playfield. Black and silver Robo-Style players are ABS molded and extremely durable. High-quality balls that come with this table roll smoothly over the glossy playfield.
Ergonomic Handles For Stress-Free Game
Stainless steel rods with EZ-spin bearings guarantee a smooth play and stability at a competitive pace. Ergonomically designed sure-grip handles allow better ball control and ensure hours of stress-free playing that won't be uncomfortable for children's hands.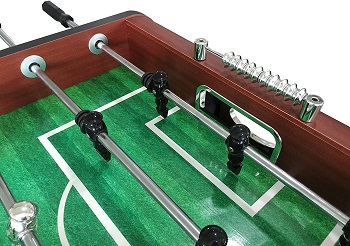 Great For Family Tournaments
Measuring 54-in L x 29-in W x 34-in H, this foosball table is the ideal size for your game room and it will keep your family and friends entertained for many many years. It is also great for tournaments. Don't worry about the assembly – it is pretty simple and fast.
Highlighted Points:
vintage-looking classy design
extremely durable Robo-Style players
stainless steel rods with EZ-spin bearings
comfortable ergonomically designed handles
perfect size and easy to fit into any space
BEST 3 IN 1 KIDS' FOOSBALL TABLE
Hathaway Playmaker 3-In-1 Foosball Multi-Game Table
Every Kid's Dream
This foosball table is every kid's dream. Why? Well, because it comes with reversible target nets for hockey and soccer practice. Its hook-and-loop system enables easy switching between games and provides three times more fun for kids than a regular table that is for foosball only.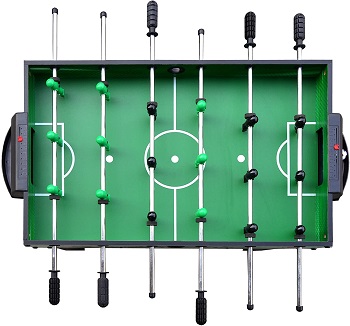 Scratch Resistant Surface
The foosball playfield has a green poly-sealed scratch-resistant surface and it enables the foosball to roll really fast. The ball is controlled by 13 black and green foosball men with three goalies on each side. Chrome-plated steel foosball rods are easy to turn, while independent leg levelers ensure stability and even play on any surface.
Soccer & Hockey Themed Practice Targets
Reversible soccer and hockey themed practice targets are integrated into the table. The nylon goal net is rip-resistant and durable. It is a good idea to invest in this table if your child loves soccer. This way they will be able to practice soccer or hockey whenever they want without leaving the house.
Packed With Accessories
This 3-In-1 Foosball Table comes with hockey, soccer and foosball table parts and accessories your kid needs to enjoy the fun games of table foosball, soccer and hockey. Apart from the table and practice targets, you will also get two 1.25-in soccer balls, two 2.75-in hockey balls, and 13.5-in hockey sticks (kid-sized) that are great for small spaces.
Highlighted Points:
3 games in one table: table foosball, soccer & hockey
hook-and-loop system for easy game switching
poly-sealed scratch-resistant surface
integrated soccer&hockey themed practice targets
comes with great accessories
BEST FOLDABLE KIDS' FOOSBALL TABLE
Win.Max Preassembled Folding Foosball Table
Only One Minute For Assembly
What is best about this foldable table is the fact that it is 99% preassembled. You'll only need 1 minute to assemble it. This modern foosball table has a nice design with fresh colors which will be especially attractive for children. The foosball men are monochrome and stylish.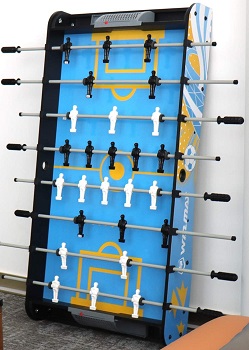 Made of High-Quality Materials
The table is constructed of high-quality MDF which ensures durability. Even though this is a foldable table, you don't have to worry about stability. The triangle structure with brackets is sturdy enough to endure a competitive game. The adults should try it too!
Perfect Size For Children
The iron rods are hollow in the center and therefore light and easy for kids to turn. The handles are comfortable and non-slip. The moderate size of the table (47.64 x 24.02 x 31.89 inches) is good for all generations. Most importantly, this foosball table is safe for children.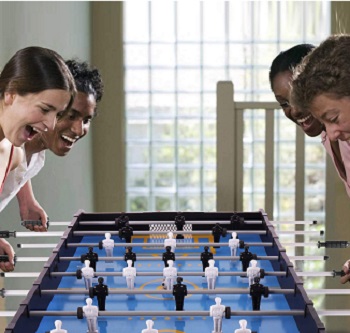 Assembly Guidelines
Before assembling the table, find a clean level spot for it. Two adults working together will assemble this table most efficiently.  What they need to do is to unfold the legs, attach the rods with players facing the right direction and adjust the leg levelers.
Highlighted Points:
Assembly in only one minute
fresh design with lively colors
table measurements perfect for kids
comfortable non-slip handles
easy to play & safe for children
THINGS TO KNOW ABOUT KIDS' FOOSBALL TABLES
A foosball table is not only a fun gift for your child but also a useful thing which helps in the development of motoric skills and strategic thinking. It also encourages face-to-face socialization with other kids. Playing table foosball, kids are likely to spend less time watching youtube and playing computer games, which is great. To help you choose the best table for your kid, we are giving you a few tips below:
Table Measurements – Find the right size of a foosball table that will suit your kid. Standard foosball tables are too big and too high for children to play with. The option that provides the most flexibility is the tabletop portable foosball table – you can put it at any height you want.
Ergonomic Handles – We recommend ergonomically designed handles that are also non-slip. This kind of handle is the most comfortable for the small hand of a child. By choosing ergonomic handles, you can prevent writs injuries and sore hands after playing for a long time.
Multi Game Table Options – You can also conisder multi game foosball tables with one or more games already installed in it. That way your kid can play foosball, air hockey or even ping pong on one table.
Colorful Graphics & Added Features – We all know that kids appreciate lively colors and cool designs. Children will surely have more will and motivation to play if the table looks cool and interesting. Another thing they will love is the possibility of playing more games, so you should definitively check out 3-in-one foosball tables.
FINAL VERDICT
The Hathaway Playoff 4' Foosball Table is the best kids' foosball table because it is constructed of high-quality materials that provide stability and durability. It is safe and comfortable for kids due to ergonomically designed handles and adjustable leg levelers. Also, kids will love the amazing graphics of this table. If you are not interested only in kids' foosball tables and would like to buy one for yourself, you may want to check out foosball tables for home or something even better, like tournament foosball tables.