Want to alleviate discomfort while sitting at the work?
Unfortunately, you can't avoid sitting, but there is something you can do for your body. Interested?
Well, did you consider massage office chairs? If you aren't then keep reading. The massage benefits on the human body are already proven, so learn more about these chair type, how you can benefit from it and which modes you can choose from.
Our Top Picks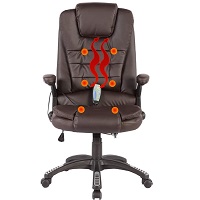 Mecor High-back Office Chair
OVERALL RATING: ★★★★★
This executive office chair offers 6-point massage modes, a heating feature and an automatic shut down.
Jump To Review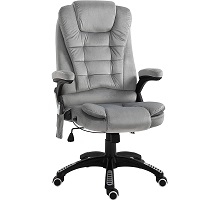 Vinsetto Executive Office Chair
OVERALL RATING: ★★★★☆
This reclining office chair is equipped with six powerful motors and a heating function on the backrest area.
Jump To Review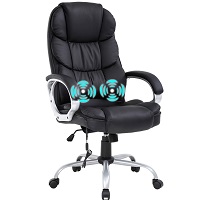 BestOffice Ergonomic Desk Chair
OVERALL RATING: ★★★★☆
The budget-friendly ergonomic office chair provides easy lumbar massage and comes with a remote for simple control.
Jump To Review
Is a Massage Office Chair Worth It?
This chair was first introduced to the consumer market in the late 1980s.  Intended to emulate the motions and techniques of an actual masseuse, the goal of this chair was to relieve stress, tension and alleviate pain. The massage vibrating chair can be a great way to make it through a long day of work. But, let's face it, these chairs are sophisticated products, so purchasing one should be treated as such.
How To Use It?
All you need to do is plug it in and press the button on the remote control. It's usually placed in a pocket on the right side of a chair to be easy for you to reach it in a sitting position.
What Body Parts Does It Massage?
It depends on each model's settings but the most of them offer massage in 3 areas:
lumbar back
middle back
upper back
How Intensive Massage Is?
The chair includes vibrating motors built in the pillows. Therefore, the massage refers to vibrating which is not as intensive as hand massage. Will it be too low or too hard for you, it depends on your preferences.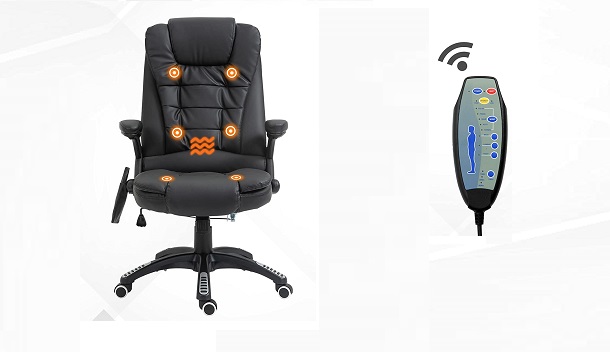 Will Vibration Sound Disturb Me?
There's no doubt that you will hear the sound sitting in the chair. It may be disturbing if it's usually hard for you to concentrate on your tasks in a loudly environment. For someone who can work in a crowd or in traffic, they won't even notice the vibration sound during the work.
Why Your Body Needs a Massage During the Workday?
There is a number of reasons why these chairs are good for your body. So, there are some of them:
Reduces Stress – This chair will reduce or completely remove stress, according to research, this chair usually reduces a whopping 85% of stress.
Improves Physical Health – It relieves your body's accumulated muscle tension.
Promotes Relaxation – You don't have to visit spas, this chair will relax your body.
Increases Flexibility – Combined with heat, it helps to loosen up the inflexible and inactive muscles.
Increases Productivity – A good massage therapy gives you extra focus, mental clarity and alertness.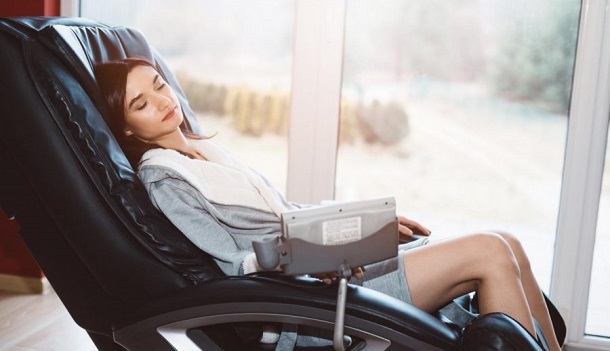 What are the Disadvantages of This Chair?
These chairs can be rather costly, so keep that in mind. They required power outlets and usually come with a short power cord. This chair can't replace professional massage, if you need a deeper massage or cover a more specific area of your body, you can't expect your chair to magically take care of it.
How to Choose The Ideal Office Chair With Massage Function?
There are some features you need to keep in mind when looking for the best chair with a massage function for your office. If you are wondering what model is really the best, well, that depends on your requirements. By checking these features, you'll be able to find the one that suits you the best.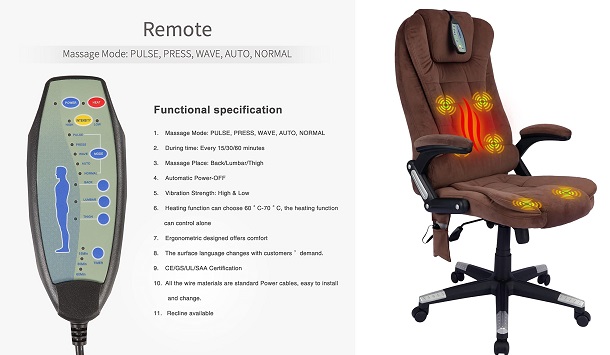 What Power Source do They Use?
All these chairs can be connected by a regular power supply. They are all corded and required to be plugged into an electrical socket to work. This is a common disadvantage among these chairs since it presents a tripping hazard. So are there cordless chairs? Yes, there are, but the most quality ones are still corded.
Massage Modes
Many massage chairs are designed to refabricate the techniques adopted by professional therapists. So these may include tapping, shiatsu, rolling, kneading, and other techniques. Also, you can choose intensity (high, medium, low) and duration (from 5 to 60 minutes).
Upholstery Material
The most common material for these chairs is faux/real leather. There are many different types of leather, so you can choose between full-grain, bonded, PU leather, and split-grain leather. Very popular is faux leather, since its low maintenance, affordability and comfort. Except for leather, you can find fabric upholstered office chairs, they are very soft, and comfortable and comes in unlimited colors and patterns.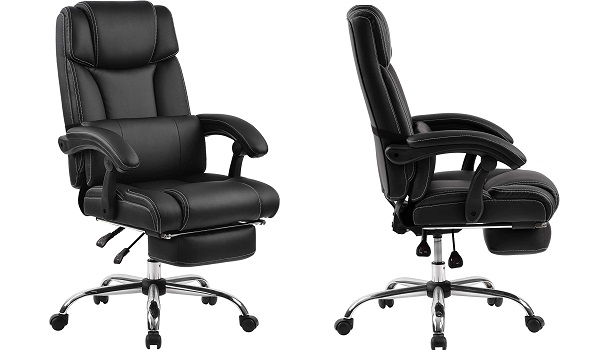 Reclining & Other Adjustments
We highly recommend choosing an ergonomic office chair with a reclining function. It will improve your relaxation since you can easily lean on the chair's backrest whiles enjoying the massage treatment. Apart from the reclining function, choose the chair with adjustable height, tilt, 360-degree swiveling, etc. These adjustments will make your seating comfier.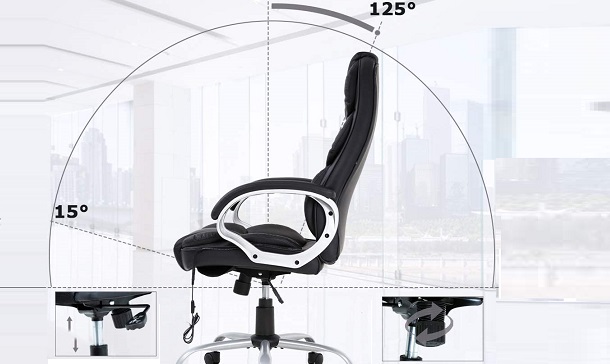 Ergonomic Support
Even though this chair can ease your aching back, prioritizing an ergonomic office chair that also has built-in lumbar support, especially if you are sitting for long periods. Well-padded armrests and headrests will offer relaxation to your whole body. Some models come with extendable footrest, so you can lean back and rest as you deserve.
Extra Feature – Heat Function
These office chairs have heating wires inside or they can be made with different heat pads located inside the upholstery material. It's very easy to use them, just press a heat button and the heating element inside the chair will activate cushion warming. There are many benefits you can gain by using heated office chairs – better muscle flexibility, increased blood circulation, pain reduction and many others.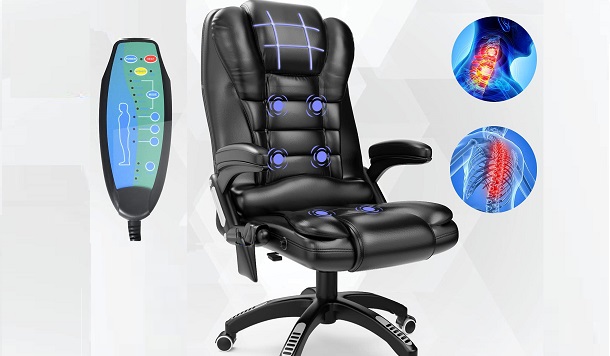 Ease Of Use
Last but not least, this feature will make your chair less frustrating. No one wants an office chair with a complicated controller or that is impossible to easily use. An office chair that comes with remote control is the ideal option, you can adjust it while you sitting. Some of the controllers are wireless, while some of them require batteries.
Best 6 Massage Desk Chairs
To create our list of the best office chairs we prioritize the following features – ease of use, adjustability, many massage modes, support, material quality and more. So check these models and find the one that will make your workday comfier.
Mecor High-back Office Chair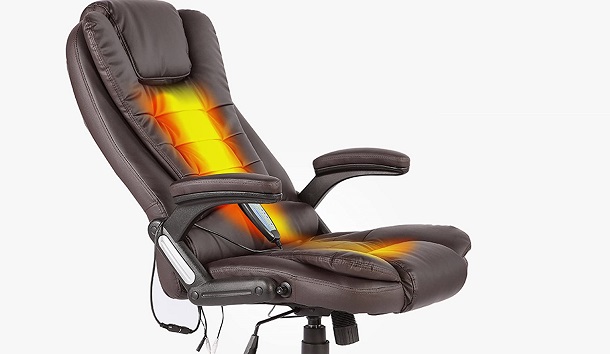 SPECIFICATION:
Material: PU leather, metal
Dimensions: 20.1" x 20.8" x 47.2"
Weight: 38.6

Capacity: 300 lbs
Vibrating Points: 6-point
Reclining: Yes
The Mecor ergonomic office chair is upholstered in comfortable and soft faux leather and filled with a high-density cushion. These characteristics ensure all-day comfort. Mecor supports a max weight of up to 300 pounds, so it suited the majority of people.
Also, this chair features massage and heating functions to soothe aching muscles and alleviate back pain. Choose between six vibration massage options for the upper back, lower back and buttock. The heating area is large, it covers from to top of your back to your lower back and buttock.
There is one pretty unique feature – Mecor comes with an automatic shutdown switch. This means, that if you leave the heating or massage on, you don't have to worry about it. The package contains a remote control, which allows you to control all the functions quickly.
Overall:
Support:
Ergonomic:
Comfort:
Capacity:
Functionality:
PRICE
approx:$160 – $330
determined by online offer (Amazon, Walmart) and seasonal sales
PROS
Automatic shutdown switch
6-point massage modes
Large heating area
Vinsetto Executive Office Chair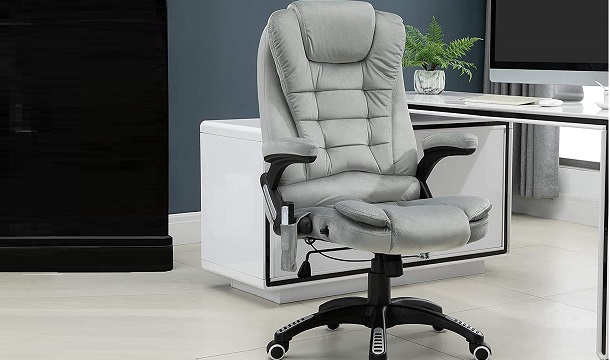 SPECIFICATION:
Material: Fabric, metal
Dimensions: 30" x 30" x 45.7"
Weight: 39 lbs

Capacity: 265 lbs
Vibrating Points: 6-point
Reclining: Yes
This is the modern grey office chair that requires assembly. Therefore, the package contains all info and hardware you'll need. The chair upholstery is made of velvet-feel fabric, which is soft, comfortable and elegant. The chair seat, armrest and headrest are filled with high-density sponges.
Vinsetto office chair is tested to withstand a weight of 265 pounds, so not ideal for heavier people. With a 360-degree swivel and durable five wheels, this chair offers great mobility and flexibility. You can adjust the chair backrest angle up to 130 degrees, and seat height.
Featuring six powerful vibration motors, Vinsetto offers almost a professional massage to your body. The heating function in the lumbar area will relax your back and alleviate pain. Wired remote control is provided to control the office chair settings.
Overall:
Support:
Ergonomic:
Comfort:
Capacity:
Functionality:
PRICE
approx:$230 – $260
determined by online offer (Amazon, Walmart) and seasonal sales
PROS
Soft velvet-like fabric upholstery
Equipped with six powerful motors
BestOffice Ergonomic Desk Chair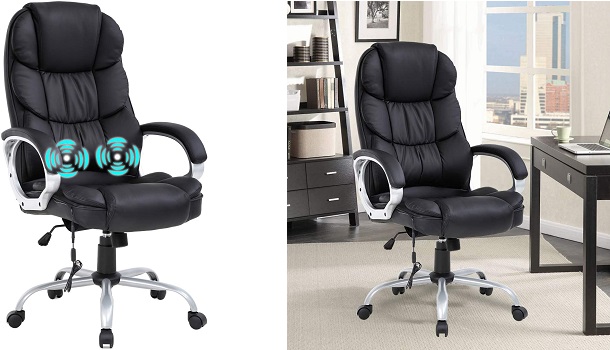 SPECIFICATION:
Material: PU leather, metal
Dimensions: 21" x 21" x 48"
Weight: 38 lbs

Capacity: 250 lbs
Vibrating Points: 2 points
Reclining: Yes
This massage ergonomic desk chair is budget-friendly and very easy to install. It comes with all the necessary hardware and tools that you need to put together. Just follow the instruction provided in the user manual for guidance. This chair is very soft and comfortable, upholstered in faux leather.
This chair has been designed to provide an armrest, lumbar support, and headrest. Its construction is human-oriented ergonomic and delivers you the best sitting experience. Besides, under the chair, you'll find a tilt tension knob that makes you rock back and forth.
BestOffice desk chair has vibration motors in the lumbar area, allowing your muscles to relax. Slight vibration will reduce fatigue caused by prolonged sitting. It's important to note that all chair parts are BIFMA certified, meaning the chair respects and complies with all the regulatory standards in force.
Overall:
Support:
Ergonomic:
Comfort:
Capacity:
Functionality:
PRICE
approx:$80
determined by online offer (Amazon) and seasonal sales
PROS
Budget-friendly office chair
BIFMA-certified parts
Comfortable PU leather upholstery
CONS
The massage could be much stronger
Mellcom Computer Desk Chair
SPECIFICATION:
Material: PU leather, metal
Dimensions: 21.3" x 21.6" x 47.3"
Weight: 59 lbs

Capacity: 250 lbs
Vibrating Points: 6
Reclining: Yes
Mellcom is an executive office chair available in elegant black and modern white colors. Ultra-quiet smooth-rolling casters for 360-degree rotation enhance your mobility in your office and leave scratches on your floor. SGS explosion-proof gas and heavy-duty nylon base provide superior stable support.
Its max weight capacity is 250 pounds, so if you're on the heavier side, maybe it isn't ideal for you. This chair offers strong lumbar support and seat height adjustment suitable for individual needs, regardless of your height. You don't have to worry about discomfort no matter how long you sit.
Mellcom office chair is equipped with 40-50 degrees heating and four-style mode vibrating. There are six different vibration points that support your back and 4 kneading points. Also, your back can be reclined and locked from 90 to 135 degrees. An extendable footrest ensures full-body relaxation.
Overall:
Support:
Ergonomic:
Comfort:
Capacity:
Functionality:
PRICE
approx:$290
determined by online offer (Amazon, Walmart) and seasonal sales
PROS
Features heat function
Extendable footrest
HomCom High-back Office Chair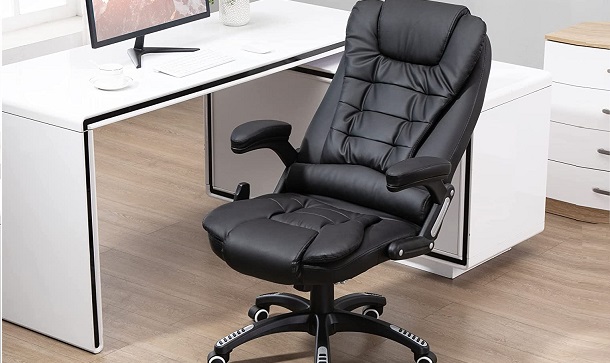 SPECIFICATION:
Material: Faux leather, metal
Dimensions: 26.7" x 24.5" x 43.7
Weight: 41 lbs

Capacity: 265 lbs
Vibrating Points: 6
Reclining: Yes
For people who look for a more professional office chair, this classic executive office chair could meet their needs. HomCom is available in several colors – red, black, brown and cream. Upholstered in extra-padded PU leather, it's very comfortable and easy to clean.
It has a padded body, from the seat, and backrest to the armrests. HomCom supports a weight of up to 265 pounds. The assembly process is simple and easy, you can complete the installation within 10 minutes. The backrest reclines, and its max reclining angle is 135 degrees.
HomCom has six vibrating massage modes and a heating option that you can use independently or can be combined. It comes with a wireless remote, so you can easily control settings. There is a timer that turns on the massage feature every 15, 30 or 60 minutes.
Overall:
Support:
Ergonomic:
Comfort:
Capacity:
Functionality:
PRICE
approx:$150 – $240
determined by online offer (Amazon, Walmart, eBay) and seasonal sales
PROS
Comes with wireless remote control
Upholstered in extra-padded PU leather
Six massage settings with heat function
Giantex Big and Tall Office Chair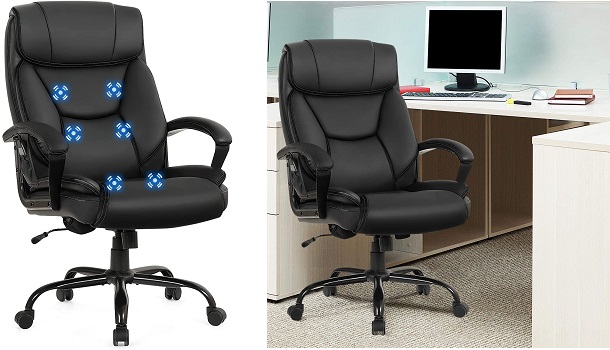 SPECIFICATION:
Material: Faux leather, metal
Dimensions: 30" x 28.5" x 46"
Weight: 49 lbs

Capacity: 500 lbs
Vibrating Points: 6
Reclining: Yes
This is a big and tall office chair suitable for a bit heavier people, Giantex is tested to withstand a max weight of up to 500 pounds. It conforms to ergonomic principle, reflected in the integrated headrest, humanized lumbar support, wide seat and padded armrest.
Giantex is equipped with a 5-claw base, so as to evenly disperse the pressure for higher stability. Besides, smooth-rolling casters enable you to move around for chatting with colleagues or taking something. The 360-degree swivel will enhance your movement.
It is designed with a rocking function, allowing you to relax completely. There are 6 vibration points distributed on the backrest and seat, so a comfortable massage experience can be easily realized. The chair seat is filled with a high-resilience sponge.
Overall:
Support:
Ergonomic:
Comfort:
Capacity:
Functionality:
PRICE
approx:$270
determined by online offer (Amazon) and seasonal sales
PROS
High loading capacity of up to 500 lbs
Features rocking function
Tips For Maintaining your Massage Chair
These chairs are typically expensive products, so it's logical for users to be looking for tips to guarantee their longevity. Below is some instruction you can follow:
Regularly clean the chair
Keep it away from direct sun
Keep the weight capacity in mind
Pay attention to the sounds
Let's say something about the last one. If the chair sounds differently from the last time you use it, has it lost some massaging power or does it make grinding sounds. These could be huge signs that something is wrong and the best you can do is contact some chair expert or manufacturer.
How Long Should You Use Massage?
The frequency of using it also depends on the lifespan of the massage chair. Every chair comes with instructions that include the info about how long to use the massage option at once. It's usually 15-20 minutes. The time of use is limited because the motors get hot. When it comes to your health, you should have limited massage time, too. It's recommended to use chair massage up to twice a day for 20 minutes.
Alternative For Massage At Work
Expect for a chair, a specialized pad also offers a massage option. It's another solution to purchase a chair pad that also massages the whole back area. It's a little cheaper than a chair but not too much, the difference is about 100 dollars.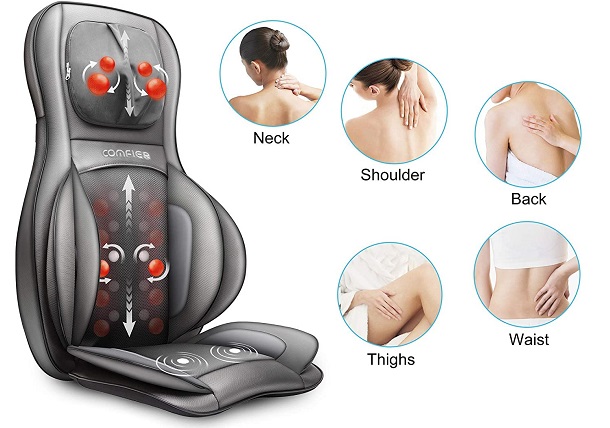 The main advantage of the pad is portability so you don't have to use it only in the office but also in the car, at home and more. So you can choose it if you're satisfied with your office chair but want to add a massage option.
Final Verdict
With all information here, we can conclude that Mecor ergonomic office chair is currently one of the best on the market. It features multiple massage points, a large heating area, many adjustments and ergonomic features. Each chair model is different, so check them to be sure you find the office chair that meets all your needs which may include heating, too. The best thing about this chair type is that you can adjust the massage to your preferences using the remote control.