Are you serching for a LED foosball table that will provide a magical experience and bring a cool atmosphere to any room?
If this is the case, then continue reading this post.
We have prepared a list of best lighted foosball tables that are available on the market at the moment. Pick a table based on your needs and desires – a black one, a cheap one, or maybe the best LED foosball table for home use. Here is the list:
Our Top Picks
Best 3 LED Foosball Tables
BEST OF BEST LED FOOSBALL TABLE
Warrior Table Soccer Professional Foosball Table
Variable Light With Remote Control
This classically designed LED foosball table features two teams of black and red players, 11 on each side, with a single goalie. The variable green, red and blue light on the edges of the green playfield comes with remote control. The table is made of MDF and covered with a high-quality laminate.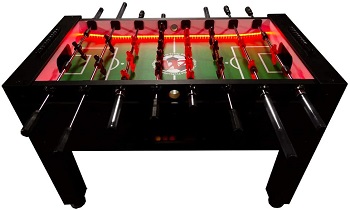 Counterbalanced Players & Pro Style Ball Return
Even though it looks like a standard soccer table, this is a pro-quality foosball table. It boasts counterbalanced players, that stay in the same position you leave it. It also has Pro Style ball return which removes the use of hoses and ensures a more consistent ball return.
Adjustable Swivel Legs For Stability
The construction of the table is solid and durable which means it can easily endure fierce competitive matches and tournaments. Swivel foot levelers enable stability on uneven surfaces thanks to 5″ rubber base that will prevent unwanted movement during the game. You can also adjust the table to your ideal playing height.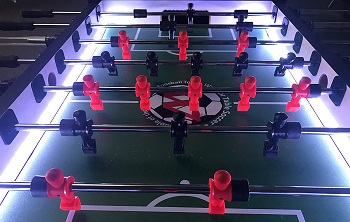 Tournament Certified Foosball Table
Warrior Table Soccer Professional Foosball Table is tournament certified and recognized by both USTSF and ITSF player organizations. It weighs approximately 200 lbs and measures 56″ L x 30″ W x 36″. Each table includes two Warrior Tournament balls, which are of official tournament size and weight.
Highlighted Points:
variable green, red and blue LED light
comes with a remote control
counterbalanced players and Pro Style ball return
swivel foot levelers with rubber base
official tournament foosball table
BEST FOR HOME LED FOOSBALL TABLE
Atomic Azure LED Light Up Foosball Table
Illuminating Blue LED Lighting
Turn off the lights and light up your room with illuminating blue lights while playing your favorite game of table football! This fully lighted table provides a cool atmosphere as a centerpiece in any room within your home. Its interactive blue LED lighting with cascading effects is paired with in-game music.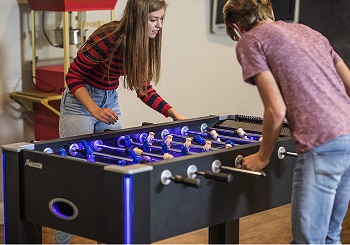 Automatic Electronic Scoring
This extremely durable arcade-level table features a 47" x 27" playfield and automatic scoring to keep track of the game. Modernly designed blue and white players on 15.8mm steel player rods provide precise control of the ball. The goalie rod comes with three foosball men.
USB Chargeable LED Foosball
Both the foosball and goal boxes are lit up with blue illuminating light and therefore enable playing in deep darkness. The table comes with a built-in USB charger for footballs. It takes 45 minutes to fully charge the ball and it will last up to six hours.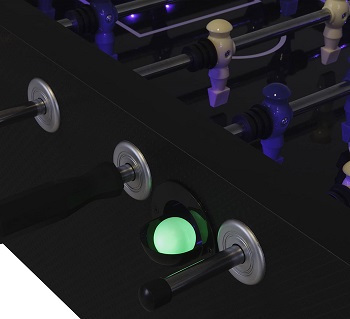 Simple And Easy Assembly
Keep in mind that you have to put this table close to the socket because it needs to be plugged into a wall outlet for power to light up, so find an appropriate place for it in your home. When it comes to assembly, it is simple and easy so you don't have to worry. With the table, you will also get two regular foosballs alongside with the LED one.
Highlighted Points:
illuminating blue LED interactive lights
in-game music for good atmosphere
in-built electronic automatic scoring
USB chargeable LED Foosball
simple and easy assembly
BEST BLACK LED FOOSBALL TABLE
Warrior Table Soccer 8 Man Foosball Table
Official Table of The Professional Foosball Tour
This top-caliber table is the official table of the Professional Foosball Tour. As can be seen from the title, it is made for 8 players, which means that there are 16 rods installed into it. The foosball rods are made of 14mm solid steel and don't require assembly. They are complete with foosball men, bumpers, handles and other foosball table parts.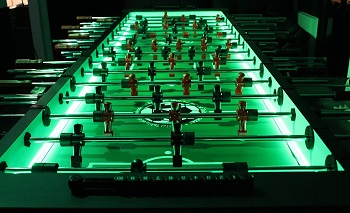 Ideal For Players Of All Ages
The table weighs approximately 200 lbs while the cabinet is 102 inches long by 30 wide and 36 inches high. These measurements make it ideal for players of all ages. The integrated swivel leg levelers are designed to ensure stability on uneven surfaces. They have a rubber base and a locking nut that prevent movement when playing.
Rod Guard System For Safety
Another great thing about this table is the Rod Guard System which prevents distracted players from being struck by a rod during a fierce game. This innovative system adds an additional level of safety for young children who may come close to watch the game.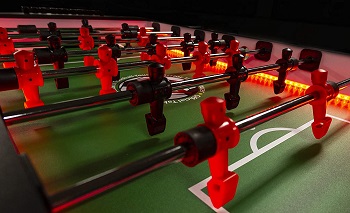 Foosball Men With Redesigned Foot
Pro Tournament black and red foosball men have a redesigned ridged foot for more precise ball control while high-performance split bearings ensure faster and powerful shots. What is more, this table comes with two Warrior Tournament balls which are of official tournament size and weight.
Highlighted Points:
official table of Professional Foosball Tour
made for eight players
integrated swivel leg levelers for stability
Rod Guard System for additional safety
Pro foosball men with redesigned foot
comes with official size foosball
BONUS LED FOOSBALL TABLE
TRIUMPH Sports 48″ Play N Stow
Illuminating LED Foosball
This foosball table is not fully lit with LED lights, however, you will be able to play it even in dimly lit rooms. How? Well, this soccer table made of medium-density fiberboard features an LED foosball which shines brightly in the dark and brings more magic and excitement to the game.
Foldable & Easy To Assemble
Apart from the battery-powered LED ball, this table offers other cool features. Firstly, it is foldable and compact, and folding foosball tables are very easy to install. The green and white foosball players are pre-assembled to the strong rods made of steel. What you need to do is unfold the legs, place the rods into the table, and voilà – the quickest assembly ever!
Two Manual Scorekeepers
The pre-assembled legs easily lock into playing position and provide enough stability for a more intense game of table soccer, so you don't have to worry about the table turning over. For keeping track of the score, there are two built-in manual scorekeepers.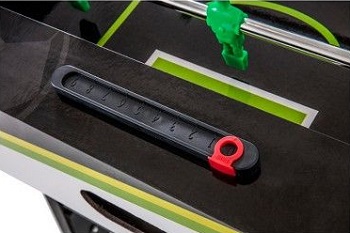 Very Affordable Price
The price of this table is very affordable and it would be an amazing birthday or Christmas gift for any kid. Children will especially love the LED ball. TRIUMPH Sports 48″ Play N Stow foosball table will be an amazing addition to kids' parties but also family gatherings. The suggested age for playing is 8 years and over.
Highlighted Points:
Battery-powered LED foosball
foldable, compact and easy to assemble
two built-in manual scorekeepers
very affordable price
cool gift for children aged 8 or older
THINGS TO KNOW ABOUT LED FOOSBALL TABLES
LED foosball tables bring a special kind of excitement and magic to a regular table soccer game. With their illuminating lightning, bright LED foosballs, and sound effects, they raise the atmosphere to a whole another level. When buying such a foosball table for home, you should first consider where you'll place it and what kind of features you would prefer. To help you choose a table you will be the most satisfied with, we are giving you a few tips below:
Wall Outlet For Power – Keep in mind that you need to have a socket next to your LED foosball table because it needs to be plugged in to light up. Of course, you can still play without LED lighting, however, the table loses its purpose in that case.
USB Chargeable LED Foosball – It is best that you go for a LED foosball because it will provide much better visibility and you will be able to play in the dark easily. Also, make sure your LED foosball is USB chargeable because it is the most economical option.
Automatic Electronic Scoring – Unlike standard scorekeepers, the built-in automatic electronic scorers will track the score by themselves and let you concentrate on the game only. Distracted players often forget to count the score which often leads to a wrong final score.
Adjustable Swivel Legs For Stability – The best and most stable foosball tables feature swivel foot levelers which enable maximum stability on uneven surfaces. If they have a rubber base, it is even better. Thanks to such table legs you will also have the possibility to adjust even a small foosball table to your ideal playing surface.