Thinking about which chair type is the best to equip your office waiting room?
Well, you can't go wrong with office lounge chairs!
Since these chairs come in a variety of styles, designs, materials and other characteristics, we made a selection of the best ones in this review. Plus, you'll learn what's the difference between this chair type and recliners. There are many misunderstandings about these terms. Let's take a look!
Our Top Picks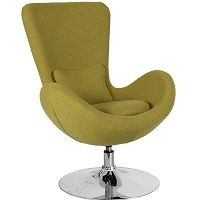 Flash Furniture Green Chair
OVERALL RATING: ★★★★★
This eye-catching hand-stitched chair comes available in many vivid colors and is equipped with an extra lumbar pillow.
Jump To Review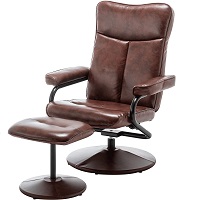 Mellcom Office Desk Chair
OVERALL RATING: ★★★★☆
The elegant office chair offers many useful features such as massage function, adjustable backrest angle and extra ottoman.
Jump To Review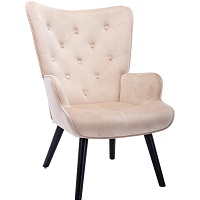 Dolonm Velvet Modern Chair
OVERALL RATING: ★★★★☆
This chair is upholstered in super-soft velvet and equipped with wooden legs for a more elegant look.
Jump To Review
Let's Clear it – What is Lounge Chair?
The lounge chair was long considered a modern interpretation of the club chair and was used in living rooms. But in the meantime, the lounge chair found its place in the waiting and reception areas of modern offices. This chair type refers to any long upholstered chair on which you can recline.
This chair will either have two or no armrests, an elongated seat and a back that may be adjustable to allow you to recline but mostly, it's a reclining style chair in a fixed position.
Then, What Is A Chaise Longue?
A combination of "chair" in French (chaise) and the verb "lounge" in English, becomes "chaise lounge". This is due to persistent mis-spelling among English speakers. Nowadays, the French for "chair", is dropped completely in favor of simply calling a chaise lounge a "lounge chair".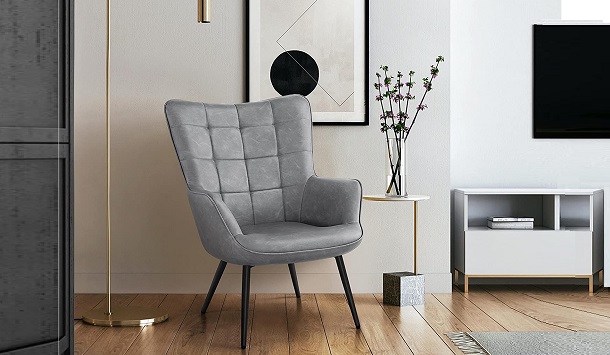 Are Lounge Chairs Good For Your Back?
Sitting in this chair is good for your back as long as the chair provides proper lumbar support. Therefore, people with persistent back problems should look for something not too squishy, yet not too firm. Too soft means it's too unstable and your muscles can't stop contracting to keep you upright. Too hard isn't good for your muscles, nerves and blood circulation.
Difference Between Lounge Chair And Recliner Chair
The lounge chairs typically have no footrests the way the recliner does, allowing users to lie back in a fixed position with their legs extended on an ottoman or with their feet on the ground. Recliners start upright but can recline backward. This gives the user an additional option for how to sit in a recliner versus the fixed position of a lounge chair.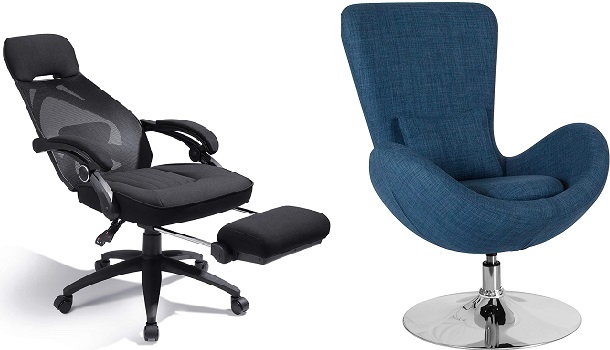 What Is The Purpose Of The Lounge Chair?
This chair allows you or your clients and guests to relax sitting and enjoy while waiting. As the name implies, this chair is used for lounging and leisure. Usually, they have modern and elegant designs that will upscale your workspace. When it comes to workspaces, these chairs aren't only for waiting areas, but also they are appropriate for some casual spaces in which you can hold a meeting, so can be used anywhere. It's also popular in the home offices.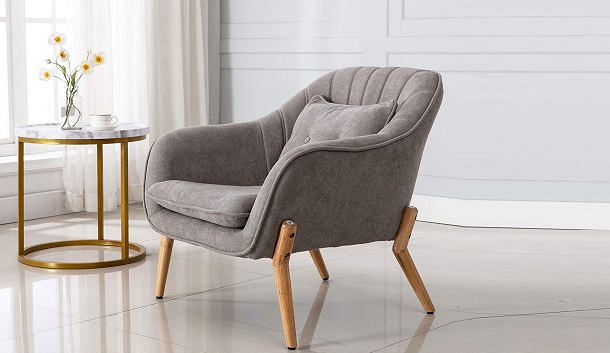 Few Features to Consider
There are several factors to consider when looking for a lounge chair. You'll want to choose one that fits the style and aesthetic of your space and that best suits your and your guests'/clients seating needs.
Chair Upholstery
If you searching for a chair with a traditional flare, look for options that are made of silk or velvet. If your taste leads more towards modern, look at linen or leather models.
Leather – Leather chairs are more sophisticated and classic, and pair well with a variety of design schemes. They usually come in neutral colors – black and brown. Choose between full-grain leather (the highest quality), bonded leather (more affordable) and faux leather (ideal for vegans).
Fabric/Microfiber – One of the most popular upholstery options, it's a soft, comfortable and hypoallergenic option that resists stains. Available in unlimited colors and textures.
Seat Comfort
You also want to pay attention to the thickness and plushness of the cushions of your chair. A thick cushion will be ideal for comfortable sitting. It supports body posture and doesn't cause fatigue or strain. Also, you can choose a model with slim padding, but keep in mind it isn't so comfy.
Durable Construction
It can be made from wood or metal/steel. Many lounge chairs are made from high-quality woods, such as walnut, oak, mahogany, maple, cherry, etc. That wooden frame can be finished with stains of lacquer to make it look vibrant and elegant. Modern designs often use a metal frame, base or feet. Metal can come in many finishes – antiqued, brushed, hammered, polished, satin and give an attractive look.
Weight Capacity
People tend to forget about this feature, but it's very important to consider, especially if you aren't an average size person. The standard chairs often support a weight of 250 pounds, so if you weigh 240 pounds, we recommend considering the chair that supports more than 250 lbs, for example, 265lbs. Don't exceed the weight limit, that will shorten the chair's lifespan.
Best 6 Office Lounge Chairs
They come in a variety of styles, materials and designs to match the decor of your office. Check out these chairs and pick the model that complements your existing decor. Choose between modern, mid-century, leather, fabric chairs with or without an ottoman.
Flash Furniture Green Chair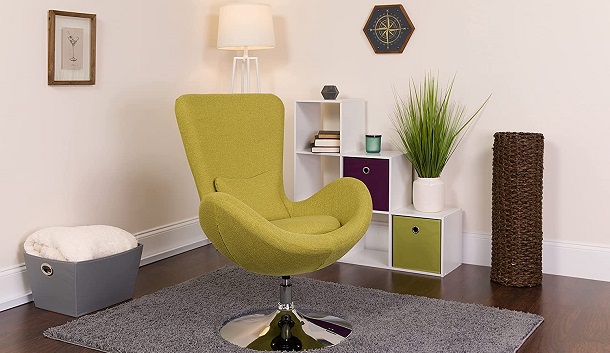 SPECIFICATION:
Material: Aluminum, fabric
Dimensions: 30" x 30" x 38"
Weight: 44 lbs

Capacity: 250 lbs
Base: Round
Footrest: No
Flash Furniture was inspired by the Egg chair when designing this office chair. It is a beautiful, attractive and quality chair available in a few vibrant colors – green, orange, red, purple, blue and other colors. its proven commercial quality will last for decades.
This chair features a sturdy aluminum base which makes the chair lightweight. Also, it can withstand an average size weight of up to 250 pounds. Flash Furniture has a 360-degree swivel feature, allowing you to rotate in any direction with ease.
It is ultra-comfortable office chair thanks to its soft padded seat and backrest. The manufacturer uses thick and quality foam, which function is to support your body. The package contains instructions, hardware and an additional pillow for added lumbar support.
Overall:
Support:
Comfort:
Sturdiness:
Capacity:
Functionality:
PRICE
approx:$340 – $450
determined by online offer (Amazon, Walmart, eBay) and seasonal sales
PROS
Comes with additional lumbar pillow
Available in attractive colors
Features 360-degree swivel funcion
CONS
Chair height isn' adjusable
Mellcom Office Desk Chair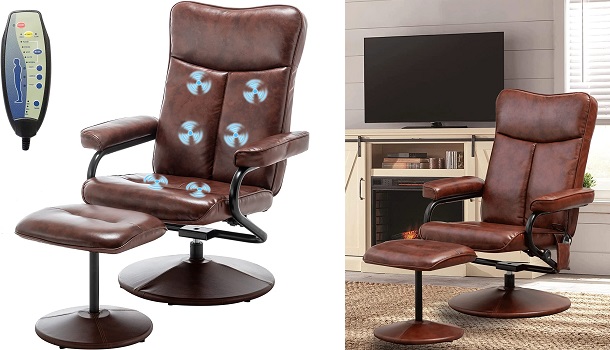 SPECIFICATION:
Material: Faux leather, steel
Dimensions: 29.5" x 26" x 48"
Weight: 30 lbs

Capacity: 350 lbs
Base: Round
Footrest: Ottoman
Mellcom is an elegant massage chair that comes with a matching ottoman. It requires assembly, so follow the included instructions. High-quality steel provides stability and supports up to 350 pounds. The chair upholstery is made from durable PU leather, it's soft and easy to maintain.
This modern chair has an ergonomic design, so once you find the right angle to sit down, the seat will automatically adjust to the most comfortable angle. There are soft and padded armrests that keep your forearms relaxed. The chair seat and backrest are also stuffed with a high-density sponge.
You can adjust the backrest angle from 90° to 135°, just use the knob. Mellcom 360-degree seat allows you to rotate and reach anything from your desk without getting up from your chair. Also, this is a massage chair that offers five massage modes.
Overall:
Support:
Comfort:
Sturdiness:
Capacity:
Functionality:
PRICE
approx:$200
determined by online offer (Amazon) and seasonal sales
PROS
Featuring massage function
Adjustable backrest angle
Dolonm Velvet Modern Chair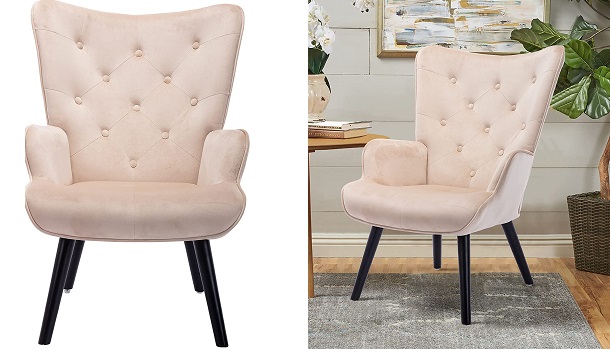 SPECIFICATION:
Material: Velvet, wood
Dimensions: 30" 24.4" x 37"
Weight: 23.9 lbs

Capacity: 300 lbs
Base: Four legs
Footrest: No
Dolonm is a modern tufted button chair available in multiple colors. Choose between beige, pink, brown, grey, blue and others. Also, you can choose its material. Pick leather for a more classy look or fabric if you prefer a softer surface.
The chair design is inspired by the mid-century style, making it ideal for complementing traditional and rustic-designed decors. Its weight capacity is rated from 250 to 300 pounds. The metal and wood frame along with wooden legs ensure excellent stability.
Dolonm chair features an armrest, allowing you to rest your forearms while waiting. It's very easy to put this chair together, you'll need approximately 15 minutes. The package includes instructions and all necessary hardware and tool. No extra equipment s needed.
Overall:
Support:
Comfort:
Sturdiness:
Capacity:
Funcionality:
PRICE
approx:$210 – $350
determined by online offer (Amazon, eBay) and seasonal sales
PROS
Soft and elegant velvet upholstery
Multiple colors available
Rimdoc Mid-century Chair With Ottoman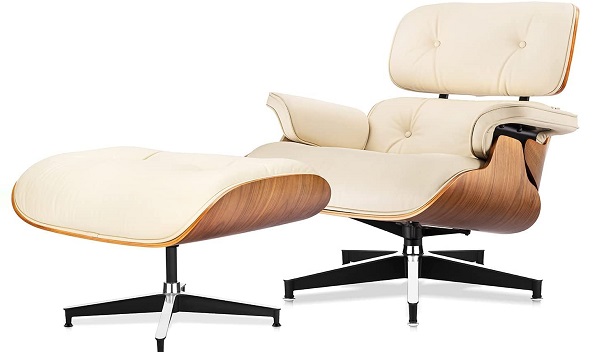 SPECIFICATION:
Material: Top-grain leather, wood
Dimensions: 37" x 33" x 32"
Weight: 43 lbs

Capacity: 330 lbs
Base: Four-claw base
Footrest: Ottoman
Rimdoc lounge chair and ottoman set provide a stunning appearance. hey perfectly fit modern and luxurious home offices and offices. For installation instructions, check the installation video or the installation guide. Keep this set away from high temperatures and don't expose it to the sun.
The chair's four-claw legs are made from durable and quality steel, while the frame is constructed from sturdy wood. These materials make the chair durable, easy to clean and sturdy enough to hold up to 330 pounds. That means it works for most people.
The chair upholstery is made from high-quality genuine leather which gives sophisticated look. Stuffed with a thick sponge, the chair armrests, backrest and seat provide max comfort during your break time. The backrest and seat are tilted, so it's easy to relax.
Overall:
Support:
Comfort:
Sturdiness:
Capacity:
Funcionality:
PRICE
approx:$700
determined by online offer (Amazon) and seasonal sales
PROS
Full genuine white leather
Premium walnut base
Padded armrests
Christopher Knight Hariata Chair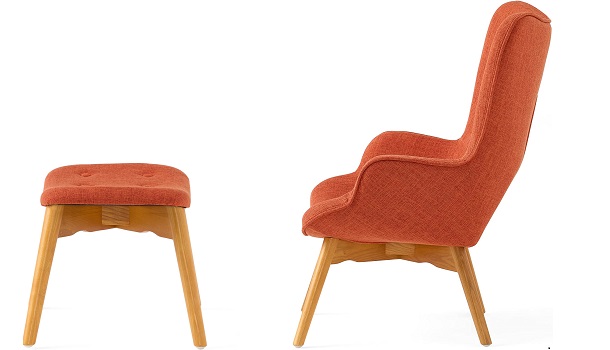 SPECIFICATION:
Material: Fabric, ash wood
Dimensions: 27.2" x 31.5" x 37"
Weight: 41.4 lbs

Capacity: 250 lbs
Base: Four legs
Footrest: Ottoman
Christopher Knight crafted this Hariata fabric contour chair and ottoman set. Available in a modern orange, this chair will enliven your workspace. The additional ottoman provides leg support, allowing you to rest after a long workday.
Blending together iconic splayed legs with a stunning wood frame, this chair offers a mid-century look. The button-tufted stitching in the chair and ottoman surface offers an extra touch of sophistication. Framed by two wings, the backrest allows for both style and functional comfort.
The ottoman dimensions are 21.5" W x 16.5" D x 15.2" H.  You can use it for a footrest, extra seat, or storage space – place some books or notebooks on it. Also, when not in use, tuck it under your desk. The Hariata is perfect for small spaces thanks to its dimensions.
Overall:
Support:
Comfort:
Sturdiness:
Capacity:
Funcionality:
PRICE
approx:$340 – $450
determined by online offer (Amazon, Walmart) and seasonal sales
PROS
Elegant mid-century design
Attractive wood frame and legs
Giantex Leather Lounge Chair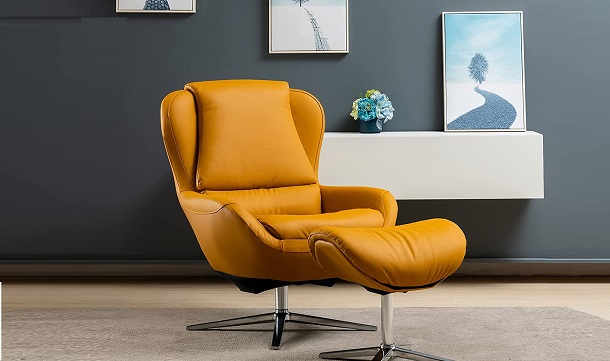 SPECIFICATION:
Material: Full-grain leather, aluminum
Dimensions: 29" x 33.5" x 40"
Weight: 51 lbs

Capacity: 330 lbs
Base: Four-claw base
Footrest: Ottoman
Giantex is a beautiful, high-quality chair inspired by a mid-century design. Except for this attractive yellow, it's available in green and black colors. The chair upholstery is made from top-quality top-grain cow leather. Also, it's stuffed with a great resilient sponge for comfortable support.
This comfy chair offers excellent balance and stability thanks to the durable steel frame and four claw aluminum bases. The anti-rust design helps to maintain an attractive chair appearance. It is tested to withstand the maximum weight of up to 330 lbs.
With both rocking motion and a full swivel option, this leather chair will take comfort to a new level. The package includes a matching ottoman, instructions and hardware. Giantex requires low maintenance thanks to the water-resistant leather surface.
Overall:
Support:
Comfort:
Sturdiness:
Capacity:
Functionality:
PRICE
approx:$630
determined by online offer (Amazon) and seasonal sales
PROS
Supports weight of 330 pounds
Premium full-grain leather
Comes with a matching ottoman
Can I Use It At Desk Or Computer?
It's not a kind of chair for a desk but you can use it for a computer if you place it on a desk designed for a laptop. This way you are in the half-lying position which is pretty comfortable and still practical for writing on the keyboard and using a mouse. It's more recommended for home offices where you can completely relax.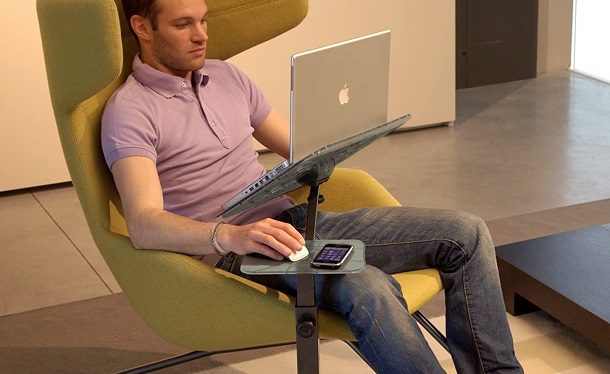 Lounge Chair Accessories
If you want to make your sitting even more comfortable, consider some additional equipment for your chair. Some models come with these accessories included. That could be an extra pillow and/or ottoman for your feet.
Lumbar Cushion – If your chair doesn't offer the lumbar support you need, you can always add a small pillow. It will support the natural curvature of your spine. The molded memory foam lumbar pillow will serve the purpose.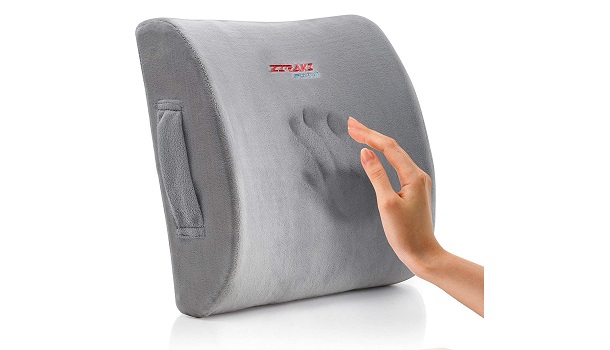 Ottoman – It is a separate and multipurpose piece of furniture. It can be used as a comfortable footrest, space-saving storage, and extra seating for one person. It is ideal for kicking your feet up at the end of a long day.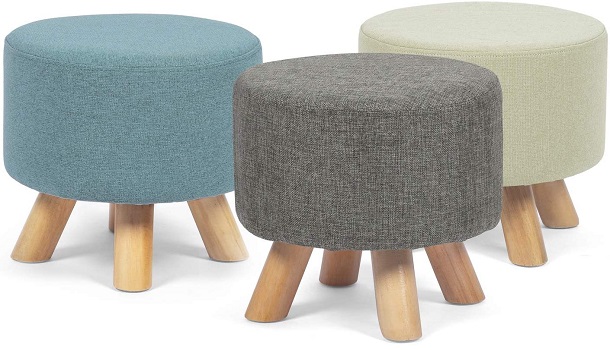 Final Verdict
Out of all reviewed models, we recommend the Flash Furniture reception chair. The beautiful chair design is inspired by the iconic egg chair. It is available in various colors, features a swivel function and comes with an additional lumbar pillow. These chairs will add a touch of elegance to your waiting room, reception or any other workspace.