Are you looking for a black foosball table that will fit into your home perfectly?
If that's the case, you definitely need to read this article.
We have found a number of black foosball tables for you to choose from. Pick a table based on your needs and wishes – a black tabletop foosball table, a foldable one, or maybe a coin-operated one.
Our Top Picks
Best 6 Black Foosball Tables
BEST OF BEST BLACK FOOSBALL TABLE
Kick Triumph 55″ Black Foosball Table
Full-Size Foosball Table
This sturdy black table which boasts a simple and elegant design is made in the USA by KICK, a company founded by a 25-year veteran of the sport and a recognized foosball enthusiast. Measuring at 55″ L X 30″ W X 36″ H, this table offers a spacious playing surface that will satisfy even the most demanding players.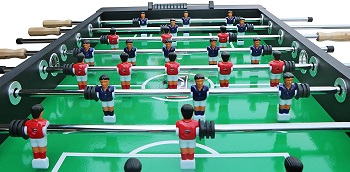 Leg Levelers With Rubber Bottom
The black square legs feature 5″ leg levelers with a rubber bottom which offer maximum stability and a balanced playing field on uneven surfaces. The table height is adjustable to players' height. The sleek playfield mimics a real soccer field – it is green with white lines.
Counterbalanced Foosball Men
You will get two sets of foosball men: a set of 13 red and 13 blue high-quality counterbalanced foosball men and a set of 26 uniformed men. Extremely durable playing rods are made of 5/8″ semi-solid stainless steel and they are chrome-plated. The no-slip handles are made of wood.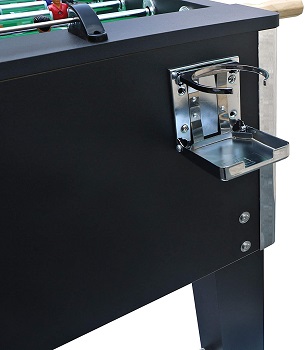 Dual Ball Return For Fast Game
KICK Triumph 55″ Black Foosball Table features a dual ball return and slide scoring units on each side of the table. It also comes with 2 chrome cup holders (optional installation), 2 KICK Premier balls and 2 soccer balls. This high-quality black table is definitely the best value for money.
Highlighted Points:
simple and elegant black design
full-size foosball table
5″ leg levelers with a rubber bottom
counterbalanced foosball men
no-slip handles made of wood
dual ball return for fast game
BEST TABLETOP BLACK FOOSBALL TABLE
Pochar 32" Foosball Table
Easy To Carry Around
This 32-inch table is a very elegant black small foosball table. Thanks to its compact dimensions, and weight of only 15.4 pounds, it is easy to carry around. You can bring it with you to parties, camping trips, family gatherings, etc.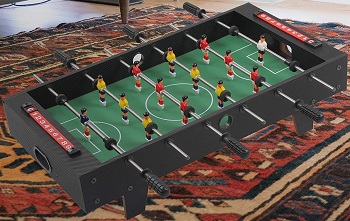 Suitable For Any Flat Surface
If you lack space at home, this table will be perfect for you. It is suitable for any flat surface like a kitchen table, dining table, office desk, or even floor. When you're done playing just store is somewhere until next use.  It requires some assembly but it is fast and hassle-free.
Made Of Eco-Friendly Material
POCHAR 32" Foosball Table is made of eco-friendly ABS plastic and 9mm medium-density fiberboard. Therefore, it is most definitely more durable than many other tabletops made of PVC. It can withstand competitive matches with friends on fun game nights.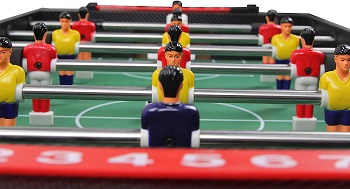 Anti-Slip Handles For Strong Grip
The ABS foosball men are easily controlled by chrome-plated steel rods with anti-slip handles which provide a strong grip. Two scoring units can be found on each side of the table, which is suitable for both kids and adults. It is also a great gift for any occasion.
Highlighted Points:
great if you have limited space
easy to store and carry around
suitable for flat surfaces
made of quality eco-friendly materials
chrome-plated steel rods
suitable for both kids and adults
BEST CHEAP BLACK FOOSBALL TABLE
EastPoint Sports Official 48″ inch Foosball Table
Great Value For Money
This black cheap foosball table with red and white details boast some great features for a low sum of money. The compact size makes it suitable for smaller spaces. However, it is spacious enough for four players to enjoy fun and exciting soccer table matches.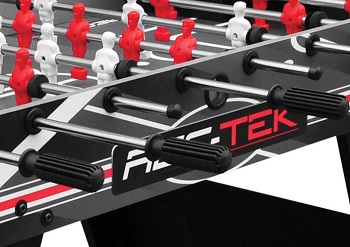 Ergonomically Designed Handles
Grey playfield with white lines features 26 white and red Robo-style foosball men with a 3-goalie configuration. They are attached to durable steel rods with ergonomically designed handles which provide comfort and a better grip during long and intense table soccer matches.
Integrated Leg Levelers
Integrated leg levelers ensure high stability on uneven surfaces and a balanced playing surface. Since this table is 48″ long,  32″ inch high and 24″ wide, the ideal room dimensions for it should be 8ft x 10ft. Always make sure you have enough space around the table because it is easier to play that way.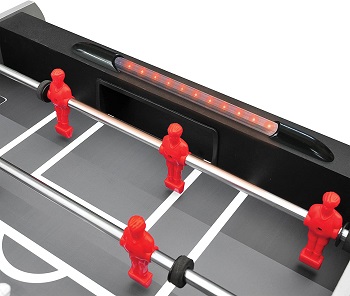 Automatic LED Scoring Units
What is cool about this table are automatic LED scoring units on each side of the table. Thanks to them, you will never lose track of the action. This affordable black foosball table comes complete with all accessories, including two soccer-style black and white foosballs.
Highlighted Points:
great value for price
size suitable for smaller spaces
Robo-style foosball players
ergonomically designed handles
integrated leg levelers
automatic LED scoring units
BEST FOLDABLE BLACK FOOSBALL TABLE
Kick Monarch 48″ in Folding Foosball Table
Space-Saving Features
This durable black table is a great idea if you want a foldable foosball table that is easy to store and saves spaces but at the same time has a spacious 1/4″ playing surface. Measuring at 48″ L X 24″ W X 32″ H, this table is slightly smaller than a full-size foosball table.
Leg Levelers With 3-Inch Wheels
What is great about this table is the fact it can be stored in several different ways, even upright! Its height when folded is 60 3/8″. Weighing, 90 lbs, this table is really easy to move around the house because if features leg levelers with 3-inch wheels.
No-Slip Handles With Screws
13 blue and 13 red realistically designed foosball men are controlled by 8 durable stainless steel chrome-plated foosball rods with no-slip handles with screws for a stronger grip. You can choose between 1-goalie and 3-goalie configuration.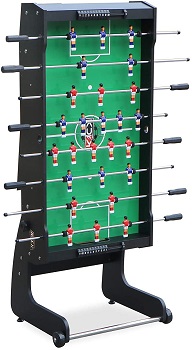 Dual Ball Return
KICK Monarch 48″ in Folding Foosball Table boasts a convenient dual ball return for a smooth and fast game and two scoring devices on each side of the table. It comes with two KICK soccer style foosballs. This table is suitable for kids, so it will make the whole family happy.
Highlighted Points:
spacious 1/4″ playing surface
easy to store & saves space
it can be stored upright
leg levelers with 3-inch wheels
stainless steel rods with no-slip handles
dual ball return for fast game
BEST FOR HOME BLACK FOOSBALL TABLE
René Pierre Match Foosball Table in Black
Beautiful & Stylish Design
This high-quality black foosball table made in France is probably the most stylish black foosball table ever. It will be a centerpiece in any room, bringing a dash of style and elegance to your home. However, apart from the beautiful design, it boasts some professional features.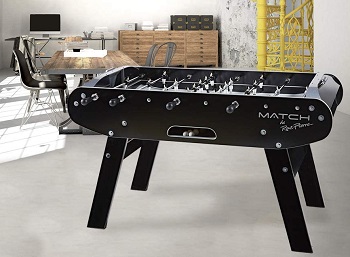 Sturdy & Solid Construction
Its construction of this foosball table for home is very solid and sturdy – it is constructed of thick fiber wood to withstand the toughest table soccer matches and everyday use. Maximum stability is ensured by its strong legs which stand at a 45-degree angle to ensure provide even more support.
Linoleum Playing Field
The playing field is covered with linoleum which allows the ball to glide smoothly and quickly across the surface. Silver and black die-cast foosball men with single man goalies boast a unique and stylish design. When it comes to foosballs, they are made of cork, and you'll get two free balls with the table.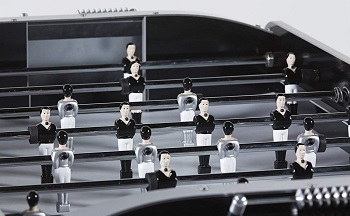 Telescopic Safety Rods
René Pierre Match Foosball Table in Black boasts foosball table telescopic rods that assure safety. They are designed to move in and out of the table without the danger of poking through the other side of the table, unlike solid rods. Two built-in abacus scoring units can be found on each side of the table, which requires assembly, but it is simple and fast.
Highlighted Points:
beautiful and stylish all-black design
solid and sturdy construction
playfield covered with linoleum
two free cork foosballs
telescopic safety rods
simple and fast assembly
BEST COIN-OPERATED BLACK FOOSBALL TABLE
Tornado Black T-3000 3 Goalie Coin-Op Foosball
Popular Among Tournament Players
This black coin-operated table made by Valley-Dynamo is very popular among tournament players and it is the coin-operated version of Tornado T-3000, which is the official game table of Tornado National Tour and Tornado National Foosball League, as well as the International Table Soccer Foundation.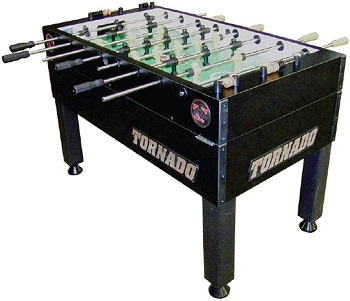 Designed For Commercial Establishments
This foosball table is specifically designed for use in hotels, bars, restaurants, and other commercial establishments. Thanks to its simple all-black design, it will easily fit into any interior. If you want a top-notch professional quality table for your bar or restaurant, which is also black, this is the best table for you.
Patented Tornado Foosball Men
Patented Tornado foosball men in two teams of yellow and black are improved with sharper corners and increased cross-section foot for more precise ball control. Three goalies guard the goal on each side of the table. The patented split bearing design is very durable, functional, and easy to remove for cleaning.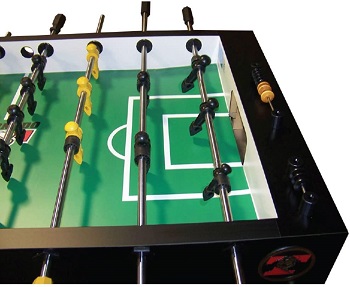 5-coin Puch Chute Mechanism
Tornado Black T-3000 3 Goalie Coin-Op Foosball Table features the 5-coin Push Chute mechanism. It is factory-set at $0.75 a play but it is easily adjustable to $1.25 a play or to a free play. It can also be adjusted to a variety of international coins or tokens.
Highlighted Points:
popular among tournament players
specifically designed for use in commercial establishments
patented Tornado Foosball Men with sharp corners
3-goalie configuration
5-coin Push Chute adjustable mechanism
THINGS TO KNOW ABOUT BLACK FOOSBALL TABLES
Black foosball tables are elegant and timeless. Therefore, they can easily fit into any interior. When buying a foosball table, you should first check what features it offers. Of course, you should also find the appropriate size for your home, especially if you have limited space. To help you choose the best table for your needs, we are giving you a few tips below:
Indoor/Outdoor Use –  Keep in mind that not all tables are meant for outdoor use. Specifically, all tables on this list are designed for indoor use. Foosball tables meant for outdoor use are made of weatherproof materials that prevent damage from the sun and rain. Tables that are not made of weatherproof materials should stay inside. Otherwise, they might get damaged in no time due to weather conditions.
Tabletop Version – Go for a tabletop version if you really lack space and you're not a very demanding foosball player. Such tables are pretty small and don't offer professional features. However, they offer something a full-size table can't – they are portable foosball tabels so you can carry them everywhere you go – from parties to family gatherings.
Foldable Version – The foldable version is somewhere in between classic foosball tables and tabletops. They offer a spacious playfield for more than two players, but they also save so much space. You can store them in several different ways after you're done playing.
Ergonomic Handles – No matter what size a foosball table is, you should look for tables that feature ergonomically designed handles. They will provide comfort and stress-free experience for your wrist. They are especially important if you play table soccer very often.
Adjustable Leg Levelers – If you're buying a regular foosball table, make sure it has adjustable leg levelers. They will ensure the highest level of stability on all kinds of surfaces. That way you'll have a balanced playing field which is extremely important for the quality of the game.
FINAL VERDICT
KICK Triumph 55″ Foosball Table is the best black foosball table because it is the best value for money. It boasts a simple and elegant design along with top-quality features like counterbalanced foosball men and adjustable leg levelers. It comes with 2 chrome cup holders which can be installed if necessary. If you'd rather buy a white foosball table, read our post on the best white foosball tables. If you don't find the table color such an important factor, but you're looking for a foosball table with professional quality features, check our post on professional foosball tables.