Do you want to digitalize your books for recreation, business, or educational purpose?
Then you should look for a good book scanner!
In this article, you'll learn everything you need to know about various scanners designed especially for book scanning. These devices use advanced technology that provides quality scans. Check out those reviews and pick the model that meets all your scanning needs.
Our Top Picks
Best 10 Book Scanners
BEST OF BEST BOOK SCANNER
Czur Aura-B Scanner
Premium Model
Czur Aura-B is a very popular and premium overhead scanner for books and documents. It is a portable scanner backed by a 1-year warranty. Supports both operating systems, Windows and Mac. Book Curve technology uses three precise lasers that provide accuracy, clarity and flat pages. Powered by USB.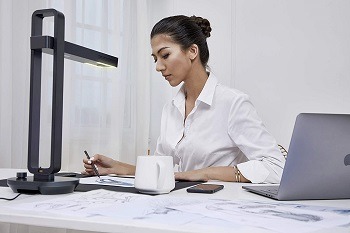 OCR Software
It is compatible with the Zoom app, meaning, you can instantly share the screen with your colleagues. Also, you can annotate, highlight and scroll or click on the screen. Czur supports SnapShot and Video Recording tools. It takes 2 seconds per page and comes with OCR software that turns scans into searchable files.
Highlighted Points:
premium scanner for books
supports Mac and Windows
Book Curve Flattening technology
works with Zoom app
scans 1 page per 2 seconds
OCR software included
BEST AUTOMATIC BOOK SCANNER
iCodis Professional Auto Scanner
Flattening Technology
iCodis is a high-quality scanner designed for books and documents. Also, it scans magazines, newspapers, blueprints, etc. The included software isn't compatible with Apple Mac OS. Flattening curve technology automatically detects bending pages and flattens the curve. This automatic book scanner works in a dim environment.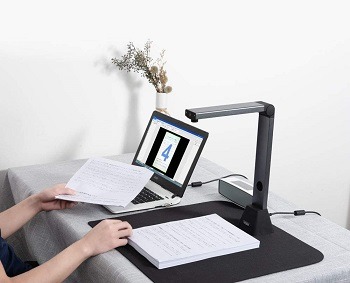 Advanced Features
Built-in 9 LED lights provide brightness during scanning. iCodis is equipped with advanced technologies and features, like multi-file scanning, background purification, automatic correction, finger-free cropping, and many others. This is a foldable and portable scanner with a user-friendly design.
Highlighted Points:
user-friendly design
foldable and portable scanner
scans books, newspapers, blueprints, magazines
multi-page scanning
automatic correction
built-in 9 LED lights
BEST LIBRARY BOOK SCANNER
IriScan Desk 5 Pro Scanner
Fast Scanner
IriScan Desk 5 Pro is a great portable book scanner that scans also receipts, documents, newspapers, and business cards. This is a USB-powered device compatible with Windows OS only. The maximum book or document size is 8.5 x 11 inches. IriScan takes 2 seconds to scan both pages of the book.

Intelligent Software
Book Curve Flattening technology provides scanning accuracy and image quality. Also, IriScan professional book scanner can scan multiple items and save them as individuals. Equipped with the desktop camera that detects page-turning and scans new pages automatically. Ideal for bookstores and libraries.
Highlighted Points:
fast scanning speed
compatible with Windows OS
Book Curve Flattening technology
auto-detect page turning
USB powered device
desktop camera scanner
BEST PORTABLE BOOK SCANNER
Eloam Portable Document Scanner
Up To A3 Scan Size
Eloam is an automatic scanner measuring 8.3 x 5.9 x 15.7 inches and weighing 5 pounds. It delivers a high resolution of 4898 x 3672 dpi. This scanner is able to meet almost all scanning needs from blueprint, magazine, book, to business cards and receipts. It supports various sizes – legal size, ledger and letter size.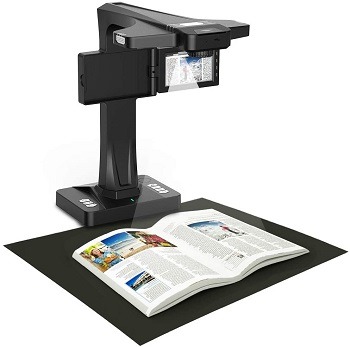 Intelligent Features
It is compatible with Windows OS only. This portable book scanner is equipped with an 18-megapixel CMOS image sensor that scans two pages in less than 2 seconds. Automated image processing functions are auto-flatten curved pages, crop and deskew, split facing pages, fingerprint erasing. Eloam features five scanning modes and an auto-scan feature.
Highlighted Points:
automatic book scanner
18-megapixel CMOS sensor
high scanning speed is < 2 seconds
scans standard and non-standard paper sizes
auto-flatten feature
five scanning modes
high resolution
BEST PROFESSIONAL BOOK SCANNER
Czur M3000 Pro Scanner
Reliable Device
Czur M3000 Pro is one of the best book scanners in the market. Suitable for libraries, bookstores, archives, banks and other places that require high-quality scans. This is a fast and reliable professional book scanner equipped with V-cradle at the base that protects books and documents from damage.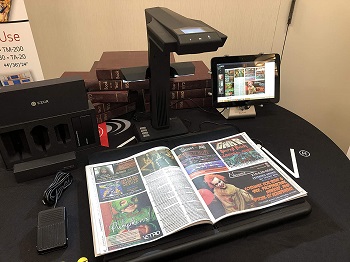 Advanced Features
It comes with a CMOS camera ensuring a very high resolution of 1000 dpi. To scan two pages, this scanner needs 1.2 seconds. ABBYY's OCR software turns your scans into searchable PDFs and editable World or Excel files – great for e-book making. Czur flattens book curves and removes scanned fingerprints.
Highlighted Points:
one of the best on the market
ideal for banks, offices, bookstores, libraries
scanning speed – 1.2 seconds for two pages
ABBYY OCR software
removes scanned fingerprints
CMOS camera
BEST A3 BOOK SCANNER
Plustek A3 Large Format Scanner
USB-powered Item
Plustek is a large format flatbed scanner that scans photos, books and documents. It measures 23.1 x 16 x 2.6 inches and weighs 9.5 pounds. This scanner is powered by USB and the box contains the user manual, instructions, CD with drivers and software, AC adapter and USB cable.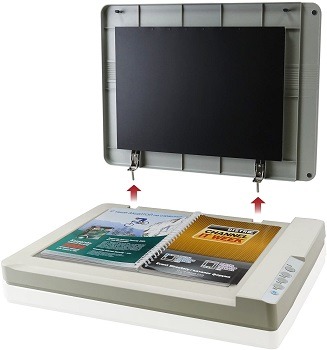 LED Light Source
It supports a large paper size of 11.69 x 17 inches. Plustek book scanning machine uses an LED light source, so warm-up time isn't needed. Works with Mac and Windows. Delivers a resolution of up to 1200 dpi and the color depth is 48-bit. The Control panel is equipped with four one-touch buttons – scan, OCR, PDF and email.
Highlighted Points:
large format scanner
ideal for books and A3 documents
comes with a USB cable and AC adapter
LED light source – ready-to-use device
optical resolution of up to 1200dpi
four one-touch buttons
BEST FLATBED BOOK SCANNER
Plustek OpticBook Scanner
Compact Design
Plustek Optic Book A300 is a silver flatbed scanner measuring 15.7 x 24.5 x 5.5 inches. Designed for books and documents of up to A3 size. Also, it scans business and plastic cards. Plustek takes 2.5 seconds for one page, if you scan a 200-page book, scanning will last 20 minutes.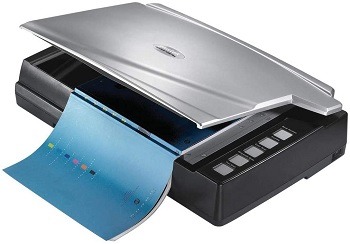 Book Pavilion Software
There is a special book edge design that scans books without visible spine shadow. This portable book scanner delivers a resolution of 600 dpi while the color depth is 48-bit. The Book Pavilion software automatically crops and rotates the pages. Save scans in PDF, EPUB, BMP, JPG, TIF formats.
Highlighted Points:
elegant flatbed scanner
scans books and A3 documents
takes 2.5 seconds per page
special book edge design
Book Pavilion software
save scans in multiple formats
BEST OVERHEAD BOOK SCANNER
Fujitsu ScanSnap SV600
Qualtiy Item
Fujitsu ScanSnap SV600 is a remarkable overhead scanner equipped with multiple useful features. It is easy to store it and move from one office to another. Comes with a USB cable for connection. Easy to set it up and use, there is a single scan button. Works with Windows only.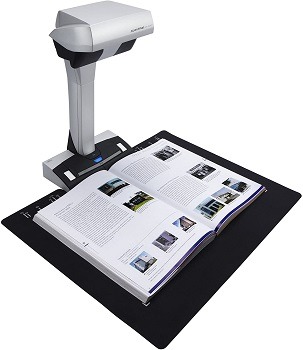 Page-turning Detection
This scanner is suitable for books, receipts, notebooks, magazines, business cards and A3 documents. Fujitsu scans up to ten individual items if you place them side by side. Integrated software will detect them and save as individual files. Page-turning detection technology automatically scans when a page is turned.
Highlighted Points:
high-quality scanner for books
powered by USB
easy to set it up and use
compatible with Windows
scans large formats
page-turning detection technology
BEST FAST BOOK SCANNER
Czur ET16 Plus Advanced Scanner
USB-powered
Czur ET16 is a compact overhead scanner with clean lines and a beautiful design. It features dual lamps on both sides of the head, they illuminate the whole scanning area. This professional book scanner is powered by a USB. Use it for books, notebooks, documents, drawings, artwork and even physical objects.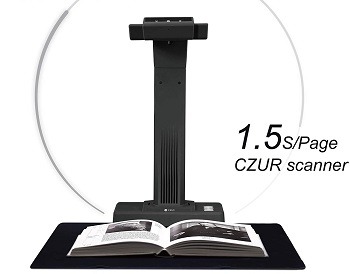 Edit Scans
Patented curve technology flattens the book pages. Czur ET16 professional book scanner takes 1.5 seconds to scan two pages. This scanner uses a 16MP camera that provides quality scans. This book scanning machine has OCR software that turns scans into searchable files. Edit scans right after scanning with image enhancement features.
Highlighted Points:
modern overhead scanner
patented curve technology
takes 1.5 seconds to scan two pages
16MP Sony camera
OCR software
two supplemental lights
BEST HANDHELD BOOK SCANNER
IriScan Wireless Portable Scanner
Compact Scanner
IriScan Book 3 is a handheld scanner powered by batteries. It requires 3 AAA batteries. This small and compact scanner measures 2.3 x 12.1 x 5.4 inches. When not in use, store it in a drawer, tray or on the shelf. It scans newspapers, magazines, documents and books.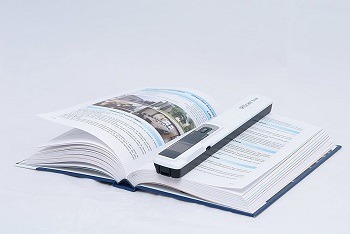 OCR Software
This portable book scanner is compatible with Mac and Windows OS. It scans 5 pages per minute. The batteries are included in the package and with one set of batteries, you can make 1000 scans. On the LCD screen, you can see previous scans. Also, this scanner comes with OCR software that converts scans into searchable files.
Highlighted Points:
small handheld scanner
powered by 3 AAA batteries
scans newspaper, magazines, books
small LCD screen
OCR software
compatible with Mac and Windows
Things To Know About Book Scanner
There are many various book scanners in the market, so it isn't easy to find the model that will suit all your scanning needs. Here, we prepared few guidelines about different scanner types, advanced features, speed and other characteristics that provide quality scans.
Scanner Types – There are few scanner types you can currently find in the market – overhead, handheld and flatbed scanners. If you need to scan many books on a daily basis, choose an overhead scanner, it is very easy to use. Handheld scanners are suitable for occasional use.
Scanning Speed – When scanning a book, speed is a very important factor. It indicates the number of pages that the device will process in the shortest time. A weak scanner scans a single page per 5 seconds, while the fast scanners take 1.5 to 2 seconds for both pages.
OCR Software – The Optical Character Recognition technology allows scanners to convert printed text into digital format. Quality OCR software will recognize different languages like English, Japanese, Chinese, etc. This software allows you to edit pages and images.
Book Curve Technology – Or auto-flatten technology. This is a pretty useful feature, you don't have to unbind the book before the scanning process. This technology uses special algorithms and precise lasers to flattens curved pages.
Price – There is a wide range of digital book scanners on the market ranging from $100 to $1000. But, don't focus on the price only. When choosing a scanner, find the model that meets your needs. The budget options offer basic features, while expensive items come with advanced features.
Final Verdict
To conclude, all of those models provide quality scans, so decide which options you want to have on your future book scanner. If you work with a large amount of paper, you can check multi-page scanners. The scanner with OCR allows turning scans into editable and searchable files. Read also the post about the