Are you looking for an antique or vintage foosball table that will add a touch of style and elegance to your home?
If that's the case, we recommend reading this article.
We have found a number of antique and vintage-looking foosball tables for you to choose from. Pick a retro foosball table based on your preferences – a black vintage foosball table, an antique-looking one that will fit your office, or maybe a coin-operated foosbal table, ideal for pubs and restaurants.
Our Top Picks
Best 6 Antique & Vintage Foosball Tables
BEST OF BEST ANTIQUE FOOSBALL TABLE
Tornado Venetian Mill Creek Foosball Table
Beautiful Antique Design
This beautiful antique-looking foosball table boasts top-notch features along with an elegant design. It is probably a dream table of every foosball enthusiast who also loves antique stuff. Made of high-quality, 1.5-inch thick MDF with dark brown wood finish, this soccer table guarantees durability and longevity.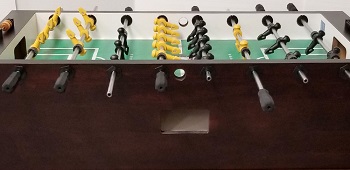 Built For Competitive Games
Built for intense and competitive games, this old school foosball table can endure everyday use for many years and it is a great choice if you plan to organize tournaments for your friends and family on a regular basis. This table will be a centerpiece in any room, and it will impress every single one of your guests.
Patented Tornado Foosball Men
The classic green 0.75-inch playfield mimics a real soccer field. It features patented Tornado foosball men which boast a new, improved design with a cross-hatch foot. Such a foot enables more precise control of the ball. Talking about balls, they are made of urethane to slide smoothly over the playfield. You will get two balls with the table.
Durable Steel Rods With Wooden Handles
Tornado Venetian Mill Creek Foosball Table features extremely durable steel rods that are hollow in the center, with handles made of natural wood. Solid wood legs provide high stability, while dual ball return keeps the game run smoothly and fast.
Highlighted Points:
beautiful antique design
built for intense and competitive games
patented Tornado men witch cross-hatch foot
urethane textured foosballs
handles made of natural wood
dual ball return
BEST FOR HOME VINTAGE FOOSBALL TABLE
Fairview Game Rooms Furniture Style Home Foosball Table
Made Of Natural Wood
This antique foosball table for home that looks like an expensive piece of furniture is available in two colors: Mahogany and Chestnut. Made of wood, it guarantees durability and longevity. It will withstand thousands of intense and competitive matches and last for many years.
Majestic Queen Anne Legs
The veneer inlay cabinet and Queen Anne Legs give the table a majestic look. Beautifully carved solid wood legs provide maximum stability. However, they don't feature levelers, so make sure you set up this table on a flat surface. It is very heavy (215 lbs) so there won't be unwanted movements while playing.
Sleek & Glossy Brown Playfield
The sleek and glossy brown playfield with white lines features unique foosball men with 3-goalies on each side of the table. They are attached to strong stainless steel foosball rods with nice and comfortable brown handles. Keep in mind that foosball men are not counterbalanced.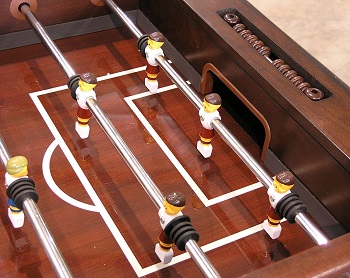 Assembly Is Required
Two score tracking units on each side are embedded into the table and make it really easy to track the action. Assembly is required, but don't worry, you will get simple and clear instructions. It is not complicated at all, but it takes some time.
Highlighted Points:
made of natural wood
beautifully carved legs
sleek & glossy brown playfield
3-goalie configuration
embedded score tracking units
assembly is required
BEST COMMERCIAL OLD FOOSBALL TABLE
Bilhares Carrinho Portuguese Foosball Table
Made Of Solid Wood
This unique commercial foosball table was made for tournaments and competitive matches. It is made of solid wood which guarantees maximum durability. Handmade in Portugal by Bilhares Carrinho, it is a special piece of art that makes any space look more luxurious and stylish.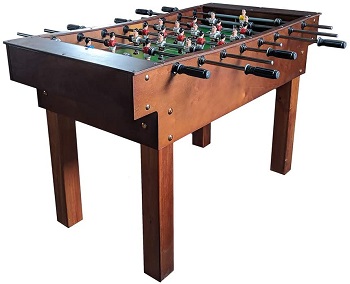 Slightly Curved Acrylic Playfield
It boasts professional top-quality features which make it one of the best antique-looking tables on the market. The legs are made of pinewood and they ensure a high level of stability. The playfield made of 8mm acrylic is slightly curved, which makes the ball always roll to the center.
Single-Goalie Configuration
Stainless steel foosball rods feature two teams of white and red foosball men which are made of aluminum. Single goalies guard goals on each side of the table, which comes with everything necessary for playing, including five high-quality foosballs.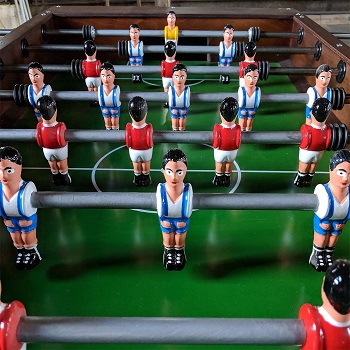 Assembly Is Required
Bilhares Carrinho Portuguese is the perfect table for commercial establishments like fancy bars and hotels, but also for home use. It requires assembly, and since it weighs approximately 375 pounds which is pretty heavy, make sure you have someone to help you assemble it.
Highlighted Points:
made of solid wood
pinewood legs provide maximum stability
slightly curved acrylic playfield
stainless steel foosball rods
aluminum foosball men
single-goalie configuration
BEST COIN-OPERATED ANTIQUE FOOSBALL TABLE
René Pierre Pro Coin Operated Foosball Table
Made Of Wood
Made in France, this one of a kind coin-operated foosball table boasts a wonderful vintage design. Its cabinet is made of light wood and stands on sturdy black wooden legs, which ensure the highest level of stability. It is built for tournaments and intense matches and it will withstand years and years of use.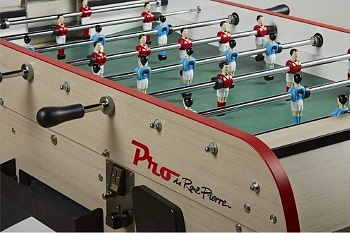 Hand-Painted Aluminum Foosball Men
The smooth linoleum playfield enables the foosballs made of cork to roll fast over it. Two teams of red and blue foosball men are hand-painted. They are made of aluminum which means that they are very durable. There is a single goalie on each side of the vintage coin-operated foosball table.
Chrome-Plated Telescopic Rods
The foosball men are preassembled to strong chrome-plated telescopic rods that don't poke through the other side of the table and therefore provide more safety than solid foosball rods. Round shaped ergonomically designed handles provide a stress-free experience for your wrists and a comfortable and strong grip.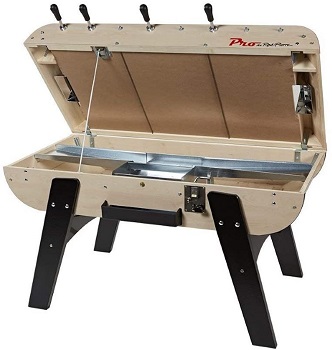 Adjustable Coin Mechanism
René Pierre Foosball Table in vintage style has an adjustable coin mechanism for US coins and different international coins. It is primarily intended for commercial establishments like hotels and bars. It requires assembly, but it is very simple and fast.
Highlighted Points:
made of wood
linoleum playfield & cork balls
built for competitive matches
hand-painted aluminum foosball men
chrome-plated telescopic rods with ergonomic handles
adjustable coin mechanism
BEST CHEAP ANTIQUE FOOSBALL TABLE
EastPoint Sports Hunter Foosball Table
Regulation Size Foosball Table
Measuring at 56.75″ L x 29.25″ W x 34.5″ H when fully assembled, this cheap foosball table with an elegant antique design is slightly bigger than a regulation size foosball table. It is constructed from beautiful dark wood which guarantees maximum durability and longevity.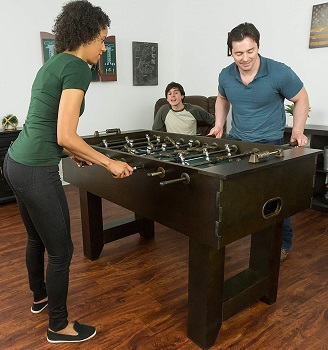 Counterbalanced Foosball Men
Its sturdy wooden cabinet features a dark green playfield with white lines. The professional-style counterbalanced and weighted foosball men in sliver and bronze boast a robotic design. They are attached to steel rods with a brushed bronze finish, that give this table a luxurious look. It doesn't look cheap at all.
Ergonomically Designed Handles
The ergonomically designed handles made of wood provide comfort and allow enjoying long-hour table soccer matches without hand pain. A classic bead style scoring system in a bronze color that matches the rods can be found on each side of the table and it makes score recording really easy.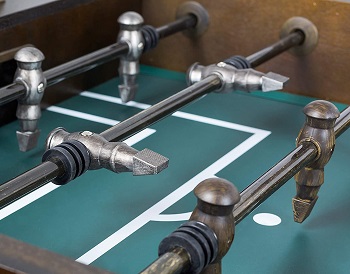 Assembly Is Required
EastPoint Sports Hunter Foosball Table comes complete with all the accessories for playing, including two textured foosballs. Assembly is required, but it is not complicated. You will get instructions that are simple and clear. If you want to buy an antique-looking foosball table without spending too much money, you can't go wrong with this one! It will be a centerpiece in any room but it will also provide a great playing experience.
Highlighted Points:
slightly bigger than regulation size table
counterbalanced and weighted foosball men
solid steel rods with brushed bronze finish
ergonomically designed wooden handles
complete with all accessories
assembly is required
BEST BLACK VINTAGE FOOSBALL TABLE
Garlando G-5000 Wenge Indoor Foosball Table
Maximum Durability & Longevity
This vintage-looking black foosball table offers top-notch features and a sophisticated Italian design. Its sturdy cabinet is made of 1+1/2″ thick multi-layer plywood coated with plastic laminate. These quality materials guarantee maximum durability and longevity.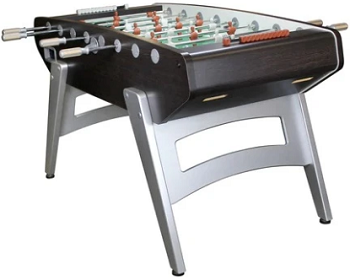 Thick Beachwood Legs With Levelers
The cabinet stands on 1+1/2″ thick slanting Beachwood legs with levelers that ensure high stability and a perfectly balanced playing field on all kinds of surfaces. Measuring 59 x 43.25 x 36.25 inches, this foosball table provides a spacious playing surface. It weighs 176 pounds.
Telescopic Steel Rods
Vintage Garlando Foosball Table features 2/3″diameter stress resistant steel telescopic rods coated with anti-rust chromium-plating. Steel roller bearings reduce the stress for players' wrists and improve the game speed.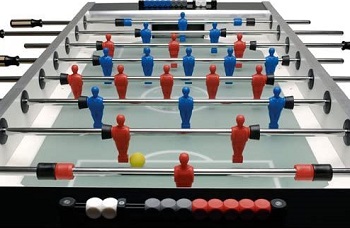 Plastic Handles With Wooden Inserts
Plastic handles with wooden inserts reduce perspiration and provide a strong grip. Foosball men are molded onto the bars and they are extremely durable. However, they are not counterbalanced which means they return to the upright position the moment you let the rod out of your hands.
Highlighted Points:
sophisticated Italian design
thick Beachwood legs with levelers
spacious playing surface
telescopic chrome-plated steel rods
steel roller bearings enhance game speed
plastic handles with wooden inserts
THINGS TO KNOW ABOUT ANTIQUE & VINTAGE FOOSBALL TABLES
Antique and vintage foosball tables look very sophisticated and stylish but that doesn't mean they are only showpieces. Such tables are pricey and will bring a touch of luxury to your home, but make sure they also have high-quality features. When buying an antique or vintage-looking soccer table, you should first consider where its size, quality and price. To help you choose the best table for your needs, we are giving you a few tips below:
Indoor Use – Most antique and vintage foosball tables are designed for indoor use only since they are mostly wooden foosball tables. There are some exceptions, however, none of the tables on this list should be placed outside or on the terrace. The reason is the fact that they aren't made of waterproof materials and they will certainly get damaged due to weather conditions. Also, it would be a shame not to place them inside because whey will make every interior more stylish and elegant.
Size – Antique and vintage foosball tables are usually full-size tables, as are all on this list. So, if you have limited space, such a table probably won't be a good idea. You have to make sure to find a good spot for it and also have plenty of space around it to be able to play properly. Antique and vintage foosball tables on this list are not space-savers like folding foosball tables.
Quality Features – Even though most antique and vintage soccer tables look like showpieces, they are not only that. Be sure to buy a table that not only has a beautiful design but also high-quality features like counterbalanced foosball men, telescopic steel rods, dual ball returns, ergonomically designed handles and leg levelers.
Price – Due to their unique and sophisticated design, such foosball tables usually have a pretty high price. This is because they are made of top-quality materials and pay special attention to detail. However, not all vintage or antique tables are worth that kind of money, because they sometimes only look good but lack quality features. So, always check their playing quality. On the other hand, there are also some pretty inexpensive vintage tables that boast good quality and are a great deal.
FINAL VERDICT
The Tornado Venetian Mill Creek Foosball Table is the best antique foosball table because it is a top-notch foosball table that is well worth its high price along with a beautiful antique design. Made by a renowned brand and offering high-quality features like counterbalanced foosball men with cross-hatch food and dual ball return, it is probably a dream soccer table of every foosball enthusiast who also loves antique stuff. However, if you're not into vintage and antique design, and would like to buy a more contemporary-looking table, check out our post on modern foosball tables. Also, if your main concern isn't the design but the professional quality of a table, read our post on professional foosball tables.