Are you are looking for an elegant wooden foosball table that is solid and durable?
If this is the case, then keep reading this article.
We have found a number of solid wood foosball tables for you to choose from. Pick one of the tables from our list based on your needs and desires – a tabletop wooden foosball table, a vintage-looking one, or maybe a cheap one that would fit your budget.
Our Top Picks
Best 5 Solid Wood Foosball Tables
BEST OF BEST SOLID WOOD FOOSBALL TABLES
Tornado Scottsdale Foosball Table
Beautiful Design & Maximum Durability
This beautifully designed foosball table features an American-built wooden finish that guarantees maximum quality and durability. It weighs 250 pounds and measures 59 L x 34 W x 17 H inches. Such a stylish and expensive looking table will perfectly fit in your office or elegant living room.
Wooden Handles For Good Grip
Steel rods that are hollow in the center have patented split bearings which allow fast movement. The handles are made of natural wood and have an octagonal shape to provide good grip and comfort. The uniquely designed cross-hatch feet make this table special and keep it extremely stable.
Urethane Foosballs & Abacus Scorers
The foosballs that come with this solid wood foosball table are made of urethane. Foosballs made from this material prevent scratches and can withstand intense foosball matches. When it comes to score tracking, it can be easily done thanks to abacus scoring units on each side of the table.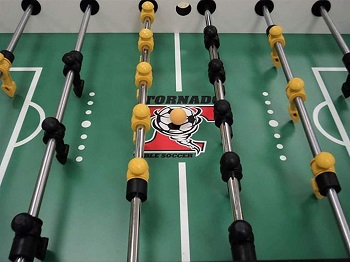 Redesigned Counterbalanced Foosball Men
The classic style black and blonde foosball men are counterbalanced and feature an improved design with sharper corners and cross-section for more precise ball control and passing. Tornado Scottsdale Foosball Table is the best choice for you if you want a high-end foosball table which, at the same time, looks like a fancy piece of furniture.
Highlighted Points:
beautiful design and American-built wooden finish
steel rods with patented split bearings for fast movement
comfortable natural wood handles for better grip
comes with urethane foosballs which prevent scratches
redesigned counterbalanced foosball men
BEST VINTAGE SOLID WOOD FOOSBALL TABLE
René Pierre Competition Foosball Table
Beech Wood Cabinet And Legs
Handmade and designed in France, this vintage-looking foosball table oozes style and sophistication. It measures 61″L x 41″W x 36.5″H and boasts a 0.78 inches thick cabinet which is made of natural beech wood. The same material is used for its thick legs which ensure maximum stability and durability.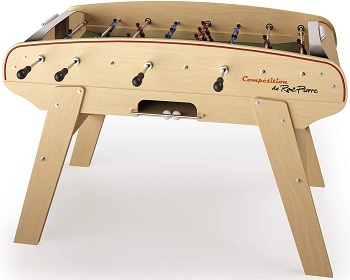 Chrome-Plated Steel Telescopic Rods
The 14mm chrome-plated steel foosball table telescopic rods have aluminum hand-painted foosball men preassembled onto them. It is good to know that telescopic rods add to safety because they won't poke through the other side of the table. The handles are ergonomically designed and therefore very comfortable.
Built-In Abacus Scoring Units
When it comes to the playfield, it is made of linoleum and provides a good playing experience. The built-in manual sliding scoring units are placed on each side of the table while the ball return is central. The foosballs are made of cork and therefore provide better ball control.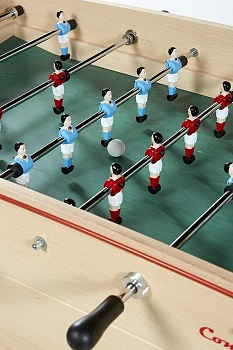 Touch Of Elegance To Any Space
The Rene Pierre company is known for manufacturing high-quality, sturdy and durable professional foosball tables which are inspired by the models made in the '70s. The uniqueness of René Pierre Competition Foosball Table will please any foosball enthusiast. Besides that, it will add a touch of elegance to any space.
Highlighted Points:
chrome-plated steel telescopic rods
comfortable ergonomically designed handles
linoleum playfield for good playing experience
built-in manual sliding scores
comes with cork foosballs that provide better control
BEST FOR HOME SOLID WOOD FOOSBALL TABLE
Barrington Collection Foosball Table
Available In 5 Different Styles
The Barrington Collection Foosball Table is available in five different styles: Allendale set, Richmond set, Tahoma set, Urban set and Webster set. The particular 56 inch professional quality table we recommend comes in Allendale set and it is the second expensive out of the five.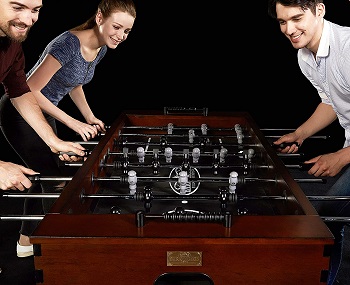 Sturdy Bronze Finished Hardware
This table boasts high-quality construction in combination with beautiful design. The sturdy bronze finished hardware enables maximum stability and durability together with the hidden leg levelers which guarantee a perfectly balanced game. All this characteristic make this table ideal for more intense matches.
Robot-Style Foosball Players
The strong and durable steel rods are easy to spin and feature ergonomically designed handles. The robot-style foosball men are designed to withstand the toughest games. To track your score, there are classic abacus-style scorers on each side of this stylish table.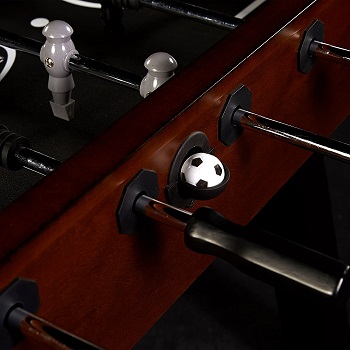 Oak Wood And Polished Fixtures
The Barrington Allendale Set Foosball Table will be the best foosball table for your home and it will fit in all kinds of interior styles thanks to oak wood and polished fixtures it features. With the table, you will also get two high-quality 36mm foosballs for fast and exciting games of table soccer.
Highlighted Points:
professional-quality foosball table
sturdy bronze finished hardware
strong easy-to-spin steel rods
ergonomically designed handles
durable robot-style foosball men
BEST COMMERCIAL SOLID WOOD FOOSBALL TABLE
Bilhares Carrinho Portuguese Foosball Table
Pine Legs For Stability
This exceptional and commercial foosball table is completely handmade in Portugal by Bilhares Carrinho, the largest manufacturer in the country. It is made of solid wood with pine legs which guarantee high durability and stability. The total weight of the table is approximately 375 pounds while it measures 36″ x 57″ x 28″.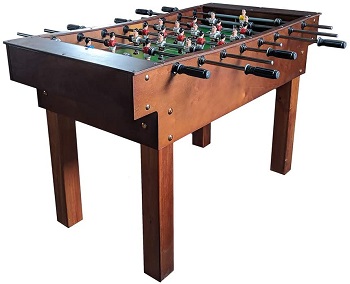 Curved Classic Green Playfield
The realistically designed aluminum foosball men are attached to strong stainless steel bars. The classic green playfield is made of 8mm acrylic. It is not flat but slightly curved so the foosball always rolls to the center. This way, the ball is always moving, which adds to the speed and excitement of the game.
Assembly Is Required
Keep in mind that some assembly is required. Most buyers can complete the assembly in ten minutes. Two people are required to do it together because since this table is pretty heavy. However, there is no need to worry because you will get instructions for assembly in the package.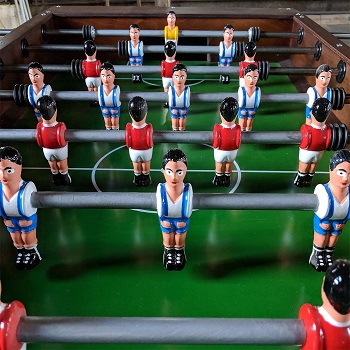 Designed To Withstand Intense Matches
Even though this table looks very special, unique and elegant, it is not a showpiece. Bilhares Carrinho Portuguese is a high-quality soccer table with professional features. It is designed to withstand intense matches and serve its purpose for many many years. We warmly recommend it!
Highlighted Points:
made of solid wood with pine legs
handpainted aluminum foosball men
acrylic curved 8mm green playfield
simple and easy assembly
perfect for intense table soccer matches
BEST CHEAP SOLID WOOD FOOSBALL TABLE
EastPoint Sports Durango Foosball Table
High Quality At An Affordable Price
We are all aware that wooden foosball tables are pretty expensive. However, we managed to find a model that is pretty affordable for a wooden table, and this is the EastPoint Sports Durango Foosball Table. This table boasts official foosball table competition size, and features an elegant classic design.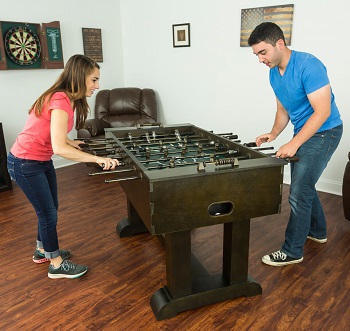 Steel Rods With Brushed Bronze Finish
Still, it looks expensive with its beautiful steel rods with a brushed bronze finish. They spin easily and offer maximum control and balance while playing. The rods have stylish bronze and silver foosball men attached to them. You will also get two high-quality foosballs in the package, along with one shim pack for leveling legs.
Ergonomically Designed Wooden Handles
The handles are made of wood but they are surprisingly comfortable due to their ergonomic design. They offer a good grip and therefore provide maximum control of the foosball. Talking about foosballs, you will get two foosballs with this table, to make sure you have a spare one if one goes missing.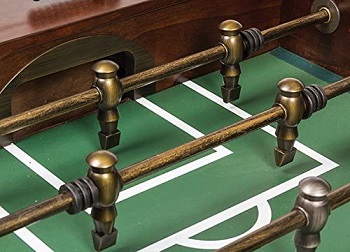 Built-In Classic Abacus Scorers
Constructed with sturdy wood, this table enables not only casual games but also competitive and intense matches. Built-in classic bead style scorers make it simple for everyone to keep track of the game. Therefore, this table is great for players of all ages and skill sets.
Highlighted Points:
high quality at affordable price
official competition size foosball table
nice brushed bronze finish steel rods
ergonomically designed wooden handles
Built-in classic bead style scoring units
THINGS TO KNOW ABOUT WOODEN FOOSBALL TABLES
Foosball tables made of solid wood are very sturdy, stable and durable. At the same time, they look very expensive and elegant, so they be a perfect addition to a sophisticated interior. When buying wooden foosball tables, you should first consider the type of wood you prefer, design and quality features. To help you choose the best wooden table for your desires, we are giving you a few tips below:
Quality Of Wood – We all know that the quality of wood is unsurpassable. Aside from its decorative qualities, it is constructed to provide durability, stability and longevity for many years to come. You surely can't go wrong with a brown or black foosball table made of solid wood.
Indoor Use – Foosball tables made of real natural wood mustn't be placed outside. They are not weatherproof and might get ruined very soon if they stand outside. Also, it would be such a shame to put such a beautiful piece of furniture outside of your house, because it brings a touch of elegance to any room it is placed in.
Playing Rods – We would always recommend buying a table with telescopic rods, especially if you have children. They are much safer because they won't poke through the other side of the table. You will be able to be more relaxed when playing due to this added safety measure.
Ergonomically Designed Handles – Wooden tables usually come with wooden handles that complete the look. However, look for wooden handles that are ergonomically designed. Such handles will be much more comfortable and your hands won't be sore after intense matches.
Assembly – Even though you may think that classic foosball tables made of solid wood don't require assembly, it is not always the case. However, the assembly is not complicated at all and is very fast. After all, you will always get instructions that can help you.
Final Verdict
The Tornado Scottsdale Foosball Table is the best wooden foosball table because it boasts high-quality features along with beautiful design. The featured redesigned counterbalanced foosball men offer a great playing experience. However, if a wooden foosball table isn't exactly what you're looking for, you may check out glass foosball tables. Also, if you're into a more modern design, check out our list of best modern foosball tables.