To control the speed of a game of foosball, rods will be of the utmost importance.
While you will usually get them with the table, sometimes they might not be the best quality.
Do not worry, though, because you can replace them. Even if they get damaged. So, what are foosball rods made of? How can you keep them maintained?
You can learn all about them in this article.
Our Top Picks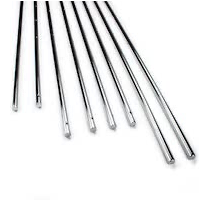 Brybelly Solid 5/8-Inch Steel Rods
OVERALL RATING: ★★★★★
These solid steel rods allow rough play, come in sets of 8, and fit most foosball tables.
Jump To Review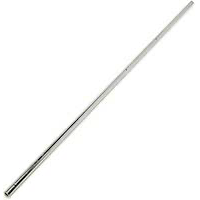 Tornado Foosball Rod Kit
OVERALL RATING: ★★★★☆
Great for any Tornado foosball table, these semi-hollow rods are easy to spin.
Jump To Review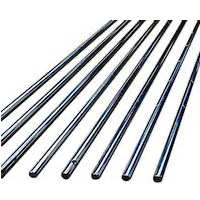 Generations Gameroom Solid Rod Set
OVERALL RATING: ★★★★☆
Solid rods are great for rough play, fit most tables, and include 8 pieces in the set.
Jump To Review
Foosball Rods: What Can I Expect?
Rods are an essential part of a table for foosball along with the player figures and the balls. They can be made from different materials (stainless steel, chrome, wood, plastic) and you get to choose between a few different types. Each type brings you different benefits and is suitable for different styles of play.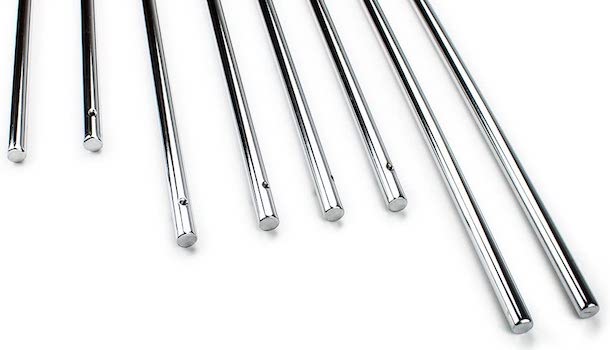 Types Of Rods
There are two different types of rods you can choose between.
The first type is non-telescopic rods. This means that the rods are visible on both sides of the table, both inside and outside the cabinet on both sides. These should usually be avoided if possible due to their safety problems. Their safety problem is that the rod can hurt the player on the opposite side of the table.
The second type is telescopic rods. They are a more advanced version as it is visible only on one side outside the cabinet. On that side, the rods also have handles. They are good for safety as the rods do not protrude on the other side of the table which means no one can get hurt.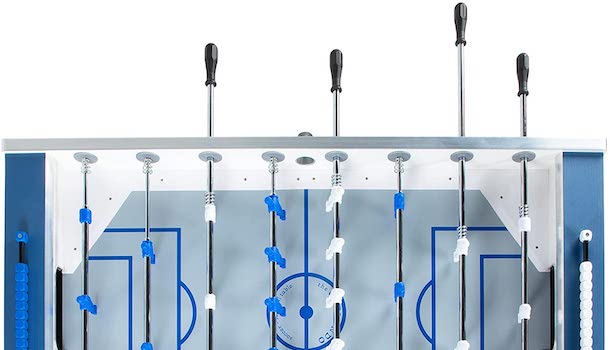 Solid Vs. Hollow Rods
The rods can be either solid or hollow inside. In different situations, one of the two will be more beneficial for the game:
Solid – long-lasting and more durable than hollow models, but might be too heavy for some players
Hollow – lightweight as they are hollow inside which makes them easier to push and spin, but will not be as durable
The Length
There are many different lengths rods come in, depending on the manufacturer, the size of the table, the number of players on the rods, etc. They can measure even as wide as 48 inches, which means that 18 inches are added to the standard width of the table (30 inches).
What Can Make Rods Safer?
If you are worried about hurting someone with the rods, then you should look for safety end cups. They will ensure that even the kids that are the same height as the table do not get hurt if they collide with the end of the rods.
Universal Vs. Branded Version
The market offers both rods that are universal and will fit most tables. They will usually be cheaper in price, but it is not always the case. However, branded versions might be a better choice for you if you trust one brand of foosball tables. In that case, you can buy replacement rods specifically made for the brand of a table that you have.
The Importance Of Rods
What do rods do? How do they affect the game of foosball?
Dedicate the speed of the game – depending on how easy it is to rotate the rods, the balls will travel faster or slower; with heavier rods, the game will be more sluggish, and for faster play, you will need rods lighter in weight
Control the ball – to control the ball and have a powerful shot, the rod will have to glide smoothly between the rod bearings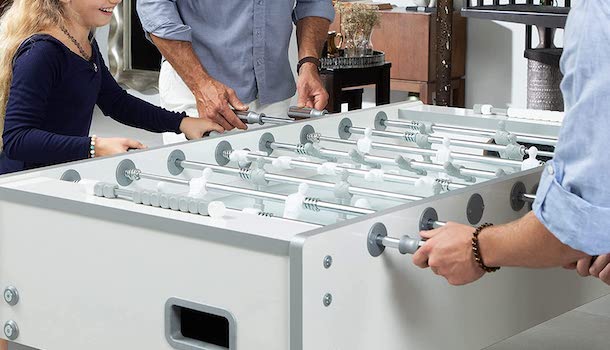 What Happens If The Rods Are Not The Best Quality?
If you have rods that are not made for quality play, your game will suffer in a few ways:
Tired hands – the hands, wrists, and arms will be tired if the rods are too heavy and the handles are uncomfortable
Bad game – it will be harder to control the ball, make precise shots, and in the end game if you choose the wrong set of rods
Keep These Details In Mind When Choosing
Before you purchase rods for your foosball table, we suggest you think about the following details and features.
The Size
Just like the length of the rods depends on the table and the manufacturer, so does the size of the rods. Some will have 5/8 inch diameter, while some will be bigger or smaller than that. The 5/8-inch ones usually fit most foosball tables. Before purchasing, make sure the diameter fits the foosball table you have.
Material
Rods can be made of wooden and metal materials. The most usual are stainless steel rods (and also your best option). They won't rust and will be long-lasting. Wooden models are less common and used to be more popular in the past.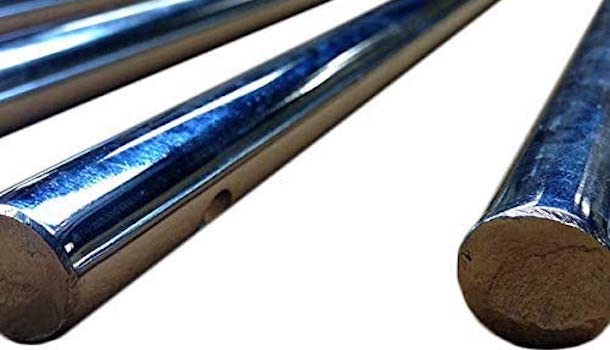 Hollow Or Solid?
We recommend hollow rods made from stainless steel. This means that they will be durable but not very heavy. Thus, the game will be fast and your wrists will appreciate it, too. It won't be too hard on your arms or hands and, at the same time, it will let you control the ball more easily than a solid version.
Telescopic Or Non-Telescopic?
If you are concerned about your safety, we suggest going for a telescopic version. They are especially recommended if you have kids who are going to be running around the foosball table or that might even play. Otherwise, non-telescopic can also be an option.
Ergonomic Grips
The grip on the rod handle should be ergonomically designed to give your hands and wrists the support they need during play, offering them a stress-free experience. This means that your wrists won't get injured and your hands won't be hurting for hours after playing. Look for wooden and rubber handles without a shiny finish, too, so that they are not slippery.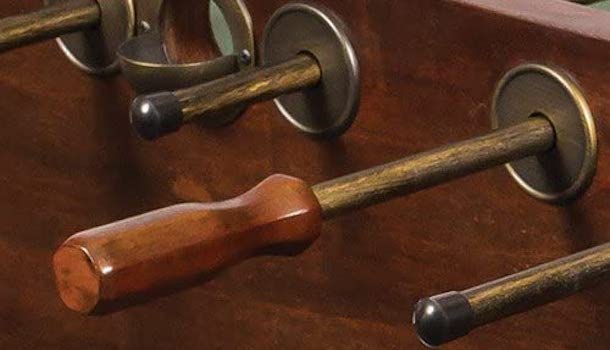 Bearings For Rods
Acting as a tampon zone between the rod and the table, bearings should be made from hard plastic material. They allow for lower friction between the table and the rod, making the rod glide more smoothly during play. Pick those of good quality to improve your skills and results.
Rod Bumpers
Look for rod bumpers made from dense black rubber to protect your table. How? By installing the bumpers at both ends of the rods inside the cabinet, you will protect the cabinet from getting hit by the figure men over and over again, resulting in damage of both the table and the figures.
Silicone
Another important detail is the silicone (in spray or liquid form) to maintain the rod in good condition. It keeps the rods clean and gives them a longer life, along with the bearings, too. For cleaning the rods, we suggest spraying silicone. However, for lubricating the rods, we recommend liquid silicone as a better choice. Sometimes, you will have to buy the lubricant separately and sometimes it will come with the table.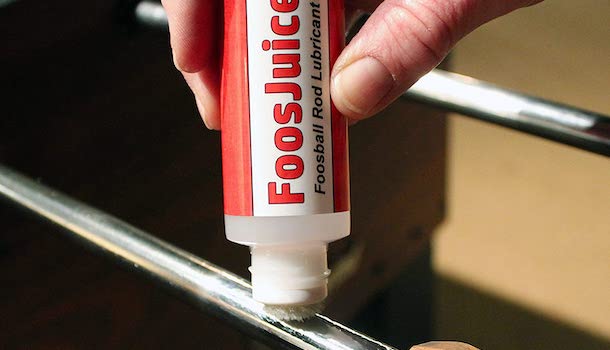 How Many Rods Come In A Set?
Usually, you will get 8 rods in a set when purchasing online. They will work for standard-size tables measuring 56 inches by 30 inches. If you have a table in a bigger size than standard, then you will have to purchase more than a set. However, usually, 8 rods are the norm.
Best 3 Foosball Rods
Brybelly Solid 5/8-Inch Steel Rods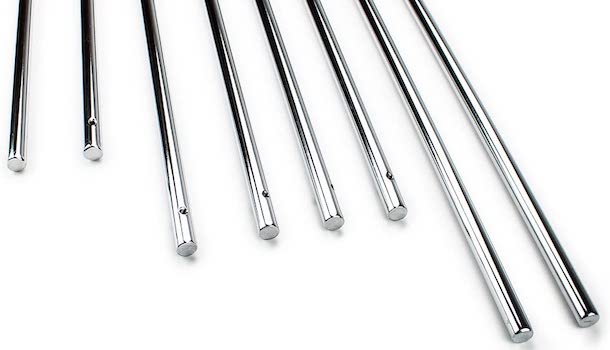 SPECIFICATION:
Material: Alloy steel
Diameter: 5/8 inches
Length: 49.5, 44.5, 40.25 inches

Package weight: 31.5 pounds
Style: Solid
Set Of: 8 rods
These heavy-duty rods are made from solid steel, which means they are not hollow inside. Moreover, they are made to fit most foosball tables designed by popular manufacturers. They are meant to last long thanks to their solid build.
In this set, you will get 8 rods. Two of them are two-man rods measuring 40.25 inches. Another two measure 49.5 inches and are five-man rods. Finally, the set also includes four 44.5-inch three-man rods. Their diameter is 5/8 inches.
These solid rods will be harder to warp, as they are heavy and more sturdy than hollow models. However, they will also be harder to push and rotate than hollow ones.
Overall:
Durability:
Size:
Weight:
Play:
Design:
PRICE
approx:$100 – $140
determined by online offer (Amazon, Walmart, eBay) and seasonal sales
REASONS TO BUY:
Very durable
Not too expensive
Tornado Foosball Rod Kit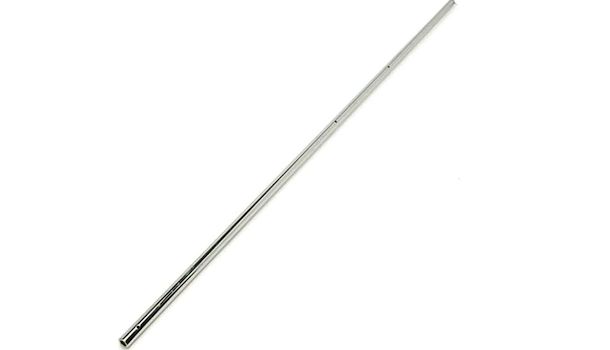 SPECIFICATION:
Material: Brushed steel
Diameter: 5/8 inches
Length: 48, 43, 41.5, 38 inches

Package weight: NL
Style: Hollow
Set Of: 8 rods
If you have a Tornado table for foosball made by Valley-Dynamo and you wish to change the rods, these will be your best choice. They are made exactly like the ones featured on a Tornado T3000 model. Furthermore, they will work on any Tornado model for table soccer.
In the set of eight rods, you will get two rods of each size included. The sizes are as follows: goalie rod (41.5 inches), two-man rod (48.375 inches), three-man rod (43.375 inches), and five-man rod (38.87 inches). Their diameter measures 5/8 inches.
This version of rods is heavy-duty made with commercial quality. They are hollow inside which makes them perfect for pushing, rotating, and playing with without causing stress to the arms, hands, or wrists.
Overall:
Durability:
Size:
Weight:
Play:
Design:
PRICE
approx:$202 – $315
determined by online offer (Amazon) and seasonal sales
REASONS TO BUY:
Comfortable play
Hollow brushed steel build
Great for Tornado foosball tables
REASONS TO AVOID:
Expensive
Not as durable as solid versions
Generations Gameroom Solid Rod Set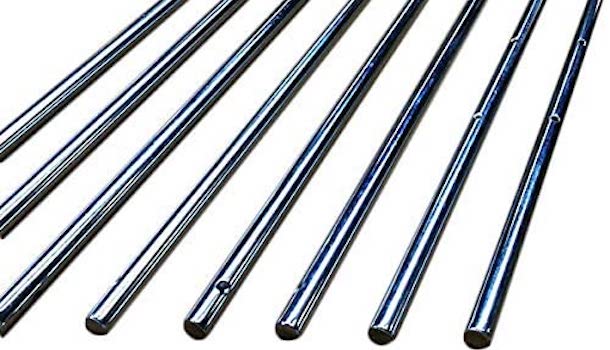 SPECIFICATION:
Material: Steel
Diameter: 5/8 inches
Length: 40.25, 44.5, 49.5 inches

Package weight: 31 pounds
Style: Solid
Set Of: 8 rods
This solid set of 8 rods is made from steel and has a standard 5/8 inches diameter. They are a good choice for replacing your old and bent rods worn out from a lot of playing.
These rods suit foosball tables with 3-goalie configurations, a standard for most tables nowadays. The eight solid steel models include two 40.25-inch rods (five-player), four 44.5-inch rods (three-player), and 49.5-inch rods (two-player).
Thanks to the solid build, these are great in commercial settings and can withstand rough play. They are durable and resistant to bends.
Overall:
Durability:
Size:
Weight:
Play:
Design:
PRICE
approx:$75 – $130
determined by online offer (Amazon, Walmart) and seasonal sales
REASONS TO BUY:
Fits triple-goalie tables
For commercial rough play
REASONS TO AVOID:
Difficult to spin for some
What Handles Do Rods Require?
The player can't use the rods if they don't have handles. These are one more necessary part you should purchase along with the rods. They need to be stable, comfortable and made of material that prevents slipping in case a player's hands get sweaty in the heat of the game.
Billiard Evolution 8 Dynamo Style Handles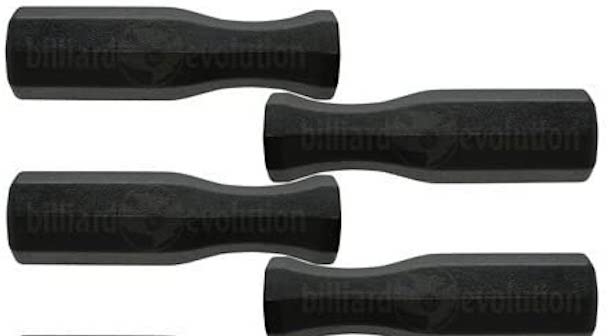 SPECIFICATION:
Material: Rubber
Diameter: 5/8 inches
Dimensions: 4.625 x 1.25 inches

Shape: Octagonal
Color: Black
Set Of: 8 handles
For rods to be comfortable, they need ergonomic handles installed on them. This model gives a firm grip to the players and prevents slipping. Great for replacing your worn-out handles or equipping newly purchased replacement rods.
They come in black color and octagonal shape for ergonomic comfort. The Dynamo Style handles are made from rubber and fit any 5/8-inch diameter rods.
When installing the handles, you won't need any screws. They slide onto the rods easily, with little effort needed.
Overall:
Durability:
Size:
Material:
Play:
Design:
PRICE
approx:$35 – $40
determined by online offer (Amazon) and seasonal sales
REASONS TO BUY:
Ergonomic design
Non-shiny handles for a slip-free grip
How To Install Them?
Installation of rods won't be a scary thing once you learn how the process should go. First, you need to know that you can either have 4 rods for each team with 26 players (these are normal for triple-goalie configurations) or with 22 players (for single-goalie configurations).
Steps For Installation
Take these steps and you will easily insert the rods or replace your old rods.
Line up all four rods on each side of the foosball table.
Follow this order for rods on each side of the table:

3- or 1-man goalie rod
2-man defensive rod
5-man midfielder rod
3-man offensive rod

Since the offensive and the three-goalie rod both have three-man configurations, do not swap them around. The offensive rod is longer than the goalie rod so keep that in mind.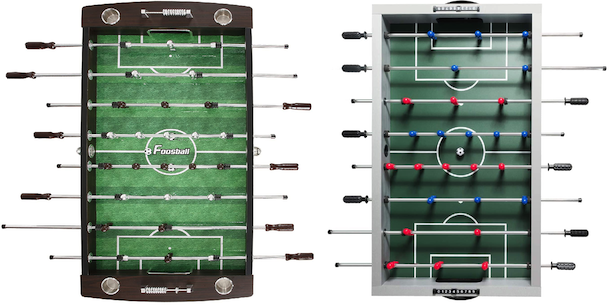 How To Maintain?
There are some things you need to know about the maintenance of the rods for the foosball table. While it is pretty straightforward, it is best to lay it all out.
Lubrications
By lubricating the rods, you will benefit both in:
keeping the rods clean
decreasing the friction between the rods and the bearings
increasing player performance
How To Lubricate?
Use a silicone spray to clean the rods. Then, use a silicone liquid and apply a thin layer of it onto the rods. This will make the rods spin more easily and help to prolong their life.
Spot On FoosJuice 100% Silicone Rod Lubricant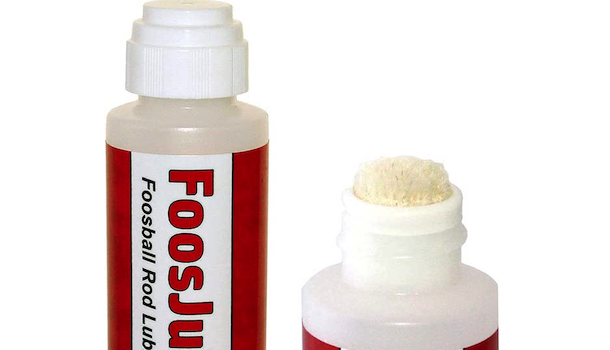 SPECIFICATION:
Material: 100% silicone
Volume: 0.06 liters
Weight: 2 ounces

Aplicator Style: Dauber top
Non-toxic: Yes
Odorless: Yes
Once you have both your rods and handles ready for use, you only miss the maintenance silicone. It is much preferred to oil lubricants as it cannot damage the rods, bumpers, or bearings.
This lubricant is made from 100% silicone so there is no dripping, no spraying, and no mess. All you have to do is spread the lubricant onto the rods with the help of the precision dauber top. Then, you will not encounter as much friction between the rods and the bearings.
Remove the cap and apply a thin layer of lubricant onto the rod with the precision top. You won't get your hands dirty or make a mess. However, you will protect and clean the rods to keep them in the best shape over the years and increase your performance.
Overall:
Application:
Size:
Material:
Volume:
Weight:
PRICE
approx:$12 – $21
determined by online offer (Amazon, Walmart, eBay) and seasonal sales
REASONS TO BUY:
Easy, mess-free application
Great for maintenance
Why Do Rods Get Bent?
Over time, rods tend to become bent as some players apply too much pressure during play, pushing down on them. It is also easy to bend the rod by pulling it out and then leaning on it during play. The rod will bow in the place where it goes into the table as the leverage of the person pressing down will weigh the rod down.
How To Straighten A Bent Rod?
If you have a bent rod, you can try straightening it before going the extra mile and purchasing a replacement. Firstly, you have to identify where the bend is. Then, place the bent spot where the rod meets the table. After that, spin the rod so that the bow in the bend is facing downwards and the handle is facing toward the ceiling. Then, apply the pressure down to straighten it out. Make sure not to apply too much pressure not to bend the rod in the opposite direction.
Final Verdict
To sum everything up, you can choose between either solid or hollow rods. The first kind is more usual for competitions and the second for smaller players. Moreover, when choosing, you will have to pay attention to the goalie configuration of your table, as well as the length and diameter of the rods. In our opinion, the Brybelly Solid 5/8-Inch Steel Rods are a great choice. They fit most tables thanks to the 5/8-inch diameter. They are solid and durable, thanks to the steel material built for rough play.