Are you looking for quality replacement foosball men for your foosball table?
If that's the case, continue reading this article.
We have made a list of the best figures for you to choose from. Pick a set of men based on your preferences – traditional men, robot-style men one or a cheap set of foosball guys that fits your budget.
Our Top Picks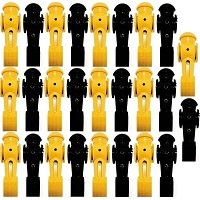 Tornado Foosball Counter Balanced Men
OVERALL RATING: ★★★★★
This professional set of patented Tornado replacement players consists of 26 black and yellow counterbalanced men.
Jump To Review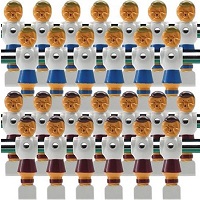 Billiard Evolution Foosball Players
OVERALL RATING: ★★★★☆
Featuring a traditional human design, this set consists of 13 red and 13 blue players that will fit 5/8″ foosball rods.
Jump To Review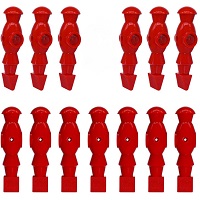 Rong Foosball Players 13 Men Set
OVERALL RATING: ★★★★☆
Made of high-quality solid plastic, this affordable set features counterbalanced players with a cross-hatched foot.
Jump To Review
Are Foosball Players Interchangeable?
Foosball players are one of the most important parts of the foosball table and one of the most used parts, too. By them, we mean the players that are attached to the rods and used to score a goal with the help of a small foosball. They are interchangeable thanks to the replacement parts you can get. You can either replace all of the players on the rods or just the selected few.
Other Names For Foosball Men
Thetare sometimes also referred to as foosball guys or foosball figures.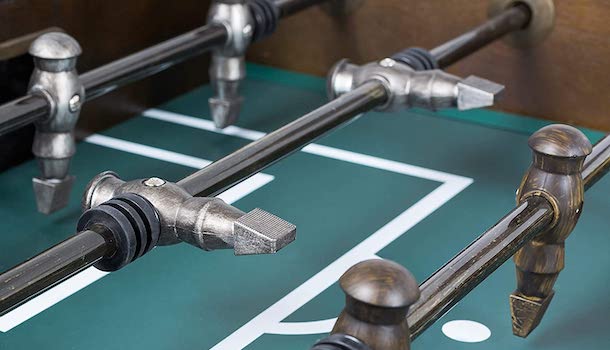 Why Not To Play With Broken Figures?
It is crucial to replace all the men on the rods that are cracked or broken. Once you do that, you will be able to control the game once again. With broken or cracked players, it is hard to enjoy the whole experience and pass properly, and have quality play overall.
How Many Players Are There On A Foosball Table?
The answer to the question depends on the system your foosball table has. In Europe, it is 22 players on the table. In America, it is common to have 26 of them on the playfield. Usually, you will get 26 replacement players in sold packs.
Which Way Do Players Have To Face?
When installing players, make sure that the players are facing the opposite team's goal. This means that the back of the player needs to face their own goal and their feet and head need to face the opponent's goal towards which they are going to shoot the ball. Make sure to install this properly from the first go as it might be a pain to have to reassemble if you do it wrong.
Why Should You Replace Them?
There are many reasons why you might want or need to replace the men on the rods of a foosball table:
you are a skilled player and your table's foos men are not of good quality
you are trying to become skilled at foosball and the foos men on your table are not of good quality
you have some damaged, chipped, or broken foos men and need to replace them so shots do not go astray
What To Keep In Mind Here?
For fiar play, you should always use the same quality players on both teams on your foosball table. Otherwise, the team with the better quality figures will be at an advantage and have better control. Also, make sure to choose the same style of figures if you are going to replace only some figures. For example, if your table features counterbalanced players, then choose the same for your replacement, too.
Choosing The Best Replacement Players
There are quite a few things to keep in mind when choosing the best for yourself as the market offers many different models and types.
The Right Size
It is important that the player's size fits your table and rods so that the players can turn 360 degrees without touching or scratching the playfield. The height of a standard player is 4.2 inches or 107 millimeters. Read the manual of your table to be sure this size fits you.
Which Foosball Replacement Players Are Good?
There are essentially two styles you can choose between and we decipher them with the shape of the toes on the figures. One is a rounded toe and one is cross-hatched toe. Read about them below to find out which is better.
Rounded Toe
A traditional man has toes that are rounded at the bottom, with a smooth surface, and without pointed toes. They are fixed to the rods with nuts and screws. This makes them just swish from one side to the other as they are also not counterbalanced. This is usually not the best type, especially for advanced play so if you want to play quality foosball we suggest not getting this style of foos man.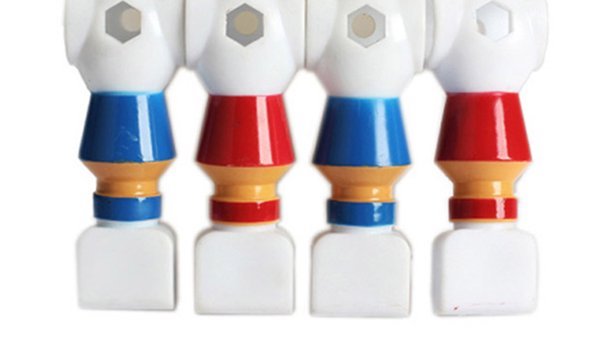 Cross-Hatched Toe
A man with cross-hatched toes is a better choice for quality play. Why? It has grip patterns on the toes. This is very important from proper passing, catching, controlling the ball, and pinning it against the table. This type even helps with snake and bank shots. Moreover, this style is counterbalanced.

Design
When it comes to the design of the players, there are a few different ones you can choose between:
Traditional design – this includes players with rounded toes (when hitting the ball with them, you won't know which direction it is going) and rectangular toes (improved design as the feet are no longer rounded but in a rectangular shape for easier ball control)
Tornado players – these are players introduced by the Tornado brand and considered the best type of replacement players for foosball, they are counterbalanced and have a cross-hatched feet design
Robotic design – made without detail, featuring a body, a leg, and a rectangular foot, very similar to the Tornado players but made by other brands, a cheaper version so great if you do not want to spend as much money
Counterbalanced Men
This is the style of men that affects the play the most. Counterbalanced means that the weight in their head and feet is the same, allowing the players to balance their men in a horizontal position where they will stay until the player decided to play with them.
Material
There are a few different materials you can choose between and here we will help you decide which one is the best:
Plastic – the most common material; you can choose between basic plastic (hard to hit the ball with force) and ABS plastic (made to especially withstand force); we recommend the latter for better play and more durability
Wood – mostly thing of the past as wood foos men were the most common before but are now replaced with plastic because it is the cheaper material, you can still find them in vintage models
Metal – this material on the players is tied to only specific designs, brands, and limited editions as they are pricey
Best 4 Foosball Table Men – Replacement Players
Tornado Counter Balanced Men
SPECIFICATION:
Material: Plastic
Dimensions: 1.3 x 1.25 x 4.3 inch
Color: Black/Yellow

Counterbalanced: Yes
Leg Type: Cross-hatched
Set Of: 26 Players
Redesigned Foot For Better Ball Control
This top-quality set of Tornado counterbalanced men made by Valley Dynamo consists of 26 players. You will get 13 black men and 13 yellow men. Tornado patented players boast an improved design with sharper edges and a redesigned rectangular foot for more precise ball control.
Pricey But Worth The Money
These players come with Tornado foosball tables including Tornado 3000 which is one of the best soccer tables on the market. It is the official foosball table of the Tornado National Tour and the International Table Soccer Foundation. They are pricey but worth the money.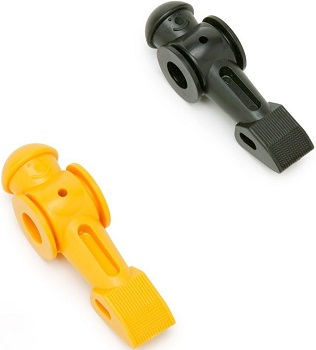 Robot-Style Modern Design
The players measure 1.3″D x 1.25″W x 4.3″H. The leg width is 7/8″ while the hole diameter is 9/16″. Keep in mind that this set doesn't include roll pins. If you have a professional foosball table, and pro-quality is very important to you, we recommend buying this set.
Overall:
Durability:
Size:
Color:
Play:
Design:
PRICE
approx:$115 – $120
determined by online offer (Amazon, eBay) and seasonal sales
Highlighted Points:
best ones on the market
13 yellow and 13 black players
improved design with rectangular foot
pricey but worth the money
roll pins not included
Billiard Evolution Old Style Foosball Players
SPECIFICATION:
Material: Plastic
Dimensions: 4.5 inches high
Color: Red/Blue

Counterbalanced: Yes
Leg Type: Cross-hatched
Set Of: 26 Players
Traditional Human Design
This set made by Billiard Evolution consists of 13 red and 13 blue traditional players. They feature a human design with different color hair and shorts. They will fit any foosball table with standard 5/8″ foosball rods.
Nuts And Bolts Not Included
The foosball guys are 4-1/2″ high. Round screw hole diameters are 1/4″ in the front and 3/16″ in the back. The nuts and bolts necessary to attach each one to foosball rods are not included.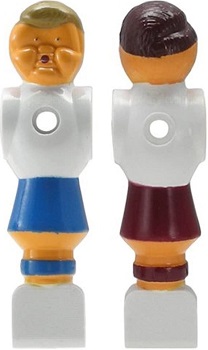 Made Of Durable Plastic
The players are made of durable plastic, so they will be able to withstand intense table soccer matches for many years. Unfortunately, they are not counterbalanced, which means they return to the upright position as soon you let the rod out of your hand. Such players would be a great fit for your vintage foosball table.
Overall:
Durability:
Size:
Color:
Play:
Design:
PRICE
approx:$80 – $90
determined by online offer (Amazon) and seasonal sales
Highlighted Points:
traditional human design
fit standard 5/8″ foosball rods
nuts and bolts not included
made of durable plastic
not counterbalanced
Rong Foosball Players 13 Men Set
SPECIFICATION:
Material: Plastic
Dimensions: 4-inch height
Color: Red/White

Counterbalanced: Yes
Leg Type: Cross-hatched
Set Of: 13 Players
Modern Robot-Style Design
This cheap set comes in two colors – red and white. In one set, you will get 13 replacement players. They boast a modern, robot-style design, great for home game. Keep in mind that screws and nuts are not included.
Made Of Solid Plastic
The foosball guys are made of high-quality solid plastic and they are durable and damage-resistant which means they should last for many years. Their height is 4″ and they will fit 1/2″ foosball rods.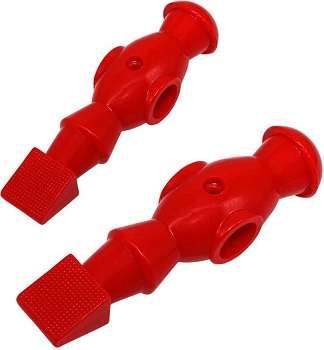 Counterbalanced With Cross-Hatched Foot
These foosball players are counterbalanced which means they stay in the same position as you leave them, and enable powerful shots. For comparison, normal foosball players return to the upright position when you leave the rod alone. These players also have a cross-hatched foot that allows more precise ball control for passing, catching and rotating of the ball.
Overall:
Durability:
Size:
Color:
Play:
Design:
PRICE
approx:$15 – $20
determined by online offer (Amazon) and seasonal sales
Highlighted Points:
set of 13 players in red or white
modern robot-style design
screws and nuts not included
made of quality solid plastic
they are counterbalanced
cross-hatched foot for better ball control
Shelti Foosball Players – Black & Red
SPECIFICATION:
Material: Plastic
Dimensions: 1.5 x 3. 4.3 inches
Color:Red/Black

Counterbalanced: Yes
Leg Type: Cross-hatched
Set Of: 26 Players
Official Shelti Replacement Men
This set of 26 black and red foosball players is made by Shelti, which is a popular top-quality manufacturer of commercial foosball tables. These are the official Shelti replacement men feature a robot-style design and measure 1.5″D x 2″W x 4.3″H.
Counterbalanced Foosball Players
Like all top-quality foosball guys, these are also counterbalanced which means they stay in the same position as you leave them. They fit any foosball table that features 5/8″ diameter foosball rods and they are secured to the rod with a roll pin.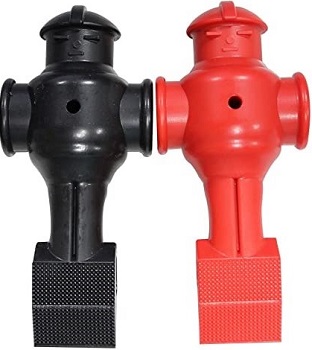 Roll Pins Not Included
We don't recommend using screws because roll pins work better. They are not included in the package but you can get them at most hardware stores or order Shelti pins separately. The distance from the middle of the hole to the bottom of the toe is exactly 3 inches.
Overall:
Durability:
Size:
Color:
Play:
Design:
PRICE
approx:$200 – $206
determined by online offer (Amazon, eBay) and seasonal sales
Highlighted Points:
official Shelti replacement men
modern robot-style design
counterbalanced players
fit 5/8″ diameter foosball rods
roll pins not included
How to Replace Foosball Players?
Here you can learn all about replacing foosball players easily.
What Do You Need To Replace Foosball Table Guys?
If you have never before had to replace them, you might think it is a hard job. However, here you can learn about all the items you will need to make it an easy job:
Replacement players
A pin punch (for replacing newer men models) or a hammer and a screwdriver (for replacing older men models)
A wooden bracer block
A cleaning rag of bigger size to fit under the rods
How to Do It?
To replace foosball players, you first have to assess the situation – you might want to replace only some players or all of them. If the player you want to remove is at the end of the rod, then your job will be easy. However, if he is in the middle of the rod, you will also have to remove all the players before him to be able to replace it. The steps you should follow are:
Put the cleaning rug under the rod where you have to replace the players. It will catch any little parts that might fall in the process of removing.
Place the bracer block on the rag under the rod. It will protect the rod from warping or bending during the hammering.
Remove the pins from the men. Slide them from the rod.
Insert the new replacement men and put in a new pin.
Put the other men back on after installing the replacement one.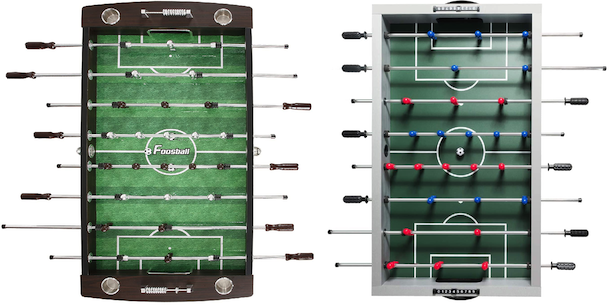 How Many Players Do You Need?
The answer to this question depends on the goalie configuration you want to use. If you want a single goalie configuration, you will need 22 players in total (11 for each team). If you want a triple-goalie configuration, each team will need two more players, 13 (as there are two goalies more on each goal), and 26 in total for both teams. If you want a faster pace of the game, choose the latter with triple goalies.
Do I Have To Get Replacement Figures?
If you want to upgrade the players on your table as you think they are not very durable, then it would be a good idea to get replacement parts. Another scenario would be if the ones you have on the table feature rounded feet which makes it hard for you to control the ball. Moreover, of course, you should get replacement ones if your featured players break and the table is still in a good condition so you do not invest in a new one completely.
How Do You Make A Foosball Player?
If you are more into DIY and want to make wooden players for foosball yourself, we suggest you check this out. For this type of DIY project, you will need a lathe so if that is something you use, this might be a great little project.