The right office chair is comfortable, helps you maintain proper body posture and minimize the adverse effects of staying sedentary for extended periods.
How to achieve this?
Well, there are memory foam office chairs that provide a superior level of customized comfort. Interested?
Then keep reading, here you'll learn much interesting info about this material and its types, how long it lasts, why it is good and more. Plus, we reviewed several models that provide not only comfortable sitting but sturdy construction and multiple adjustment features.
Our Top Picks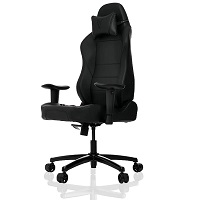 Vertagear Computer Desk Chair
OVERALL RATING: ★★★★★
This is a gaming-style desk chair equipped with ultra-premium foam support and an industrial-grade metal base.
Jump To Review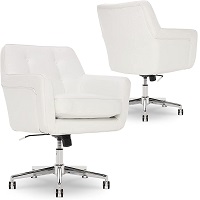 Serta Ashland Desk Chair
OVERALL RATING: ★★★★☆
The trendy office chair combined a modern chic design with many adjustment features for max comfort.
Jump To Review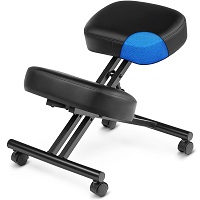 Luxton Ergonomic Kneeling Chair
OVERALL RATING: ★★★★☆
This is the ergonomic kneeling chair with a tilted seat that helps keep your spine in a natural position.
Jump To Review
Is Memory Foam Good For The Office Chair?
First, let's say what is it – Memory foam is a type of polyurethane substance that has been combined with an assortment of different chemicals that allow the memory foam seat cushion to naturally contour to your body. By combining viscosity and elasticity, this material naturally forms cells to be comfortable for various body types. It is a smart choice for people who sit for many hours in front of their computers. Therefore, the short answer is, yes, it's very good.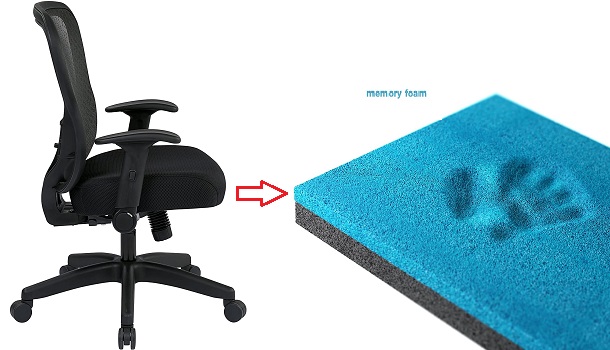 Which Foam is the Best For Office Chair?
There are three types – fabricated foam, molded and memory foam. Fabricated foam is one of the most common materials found in upholstered office chairs, it varies in density. Molded foam is made when a liquid foam material is poured into a mold, it holds its shape longer than fabricated foam. Memory foam retains more heat, so model the shape as the user moves.
How Long Does a Memory Foam Seat Last?
It is more durable than a regular pillow. High-quality memory foam will have an increased level of density over a regular pillow. It can easily last up to three years, but that depends on usage and a person's weight. You'll notice when the foam is recessed and doesn't support your body.
How Soft Memory Foam Is?
Speaking of softness, memory foam is often softer than average, but not too soft. This material is known for its comfortable feel and great pressure relief. The memory foam will use your body heat and pressure to contour to your exact shape. It's very good for your overall health.
The Benefits Of Memory Foam
Investing in a chair with a memory foam seat could do you a world of good, especially if you are prone to chronic back pain. Take a look at just a few of the benefits that memory foam chairs have to offer.
Relieve pressure on the back by providing body-hugging support
Allows the seat to adjust to your body temperature
Hypoallergenic material that is resistant to dust mites
Reduce muscle fatigue
Provides a superior level of customized comfort
Important Factors to Consider
Take our comprehensive guide to office chairs into consideration to help you narrow down your options and decide which kind of office chair will suits you the best.
Standard Chair Size
Standard size office chairs are suitable for the majority of people. A standard size office chair is designed to support people measuring 5'5" to 6'0" tall and weighing 250 pounds or less. Also, there are petite office chairs designed for smaller users and big & tall chairs that accommodate larger and heavier users.
Office Chair Types
You can choose between various office chair types to find the perfect chair for your needs. Here you'll learn more about ergonomic office chairs, executive chairs, kneeling chairs and accent chairs.
Ergonomic Chairs – Feature multiple ergonomic adjustments that enable the user to easily find his or her ideal seating position by adjusting the chair accordingly. They can conform to a wide range of body types.
Executive Chairs – This kind of office chair feature a high back and an elegant design. Upholstered in faux or real leather they provide a luxurious look. Usually, the headrest is built-in and the arms are fixed.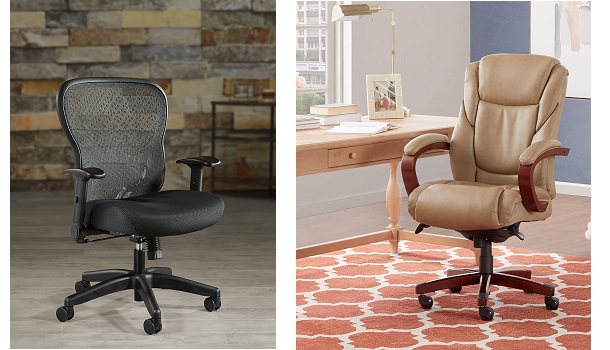 Kneeling Chairs – Ergonomic seating alternative designed to put users in an upright position by encouraging a kneel-like posture. These chairs maintain a natural spine position and reduce pressure on your buttock. There are models with/without wheels.
Accent Chairs – Very attractive and modern desk chairs that usually aren't designed for prolonged sitting. These chairs have low profile arms or armless design, mid-back and lack ergonomic features.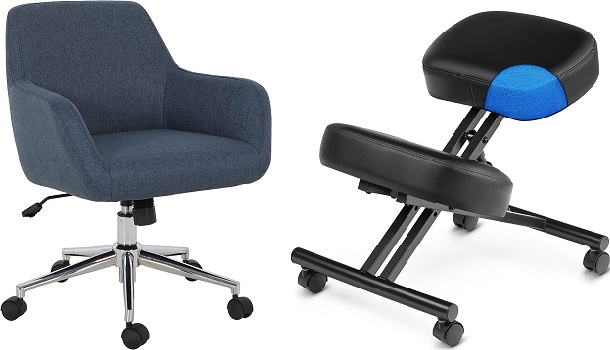 About Office Chair Upholstery
There are various office chair upholstery materials, such as faux/real leather, fabric and mesh. Fabric upholstery provides soft and comfortable sitting and comes in unlimited colors and patterns. Leather ensures a more elegant and sophisticated look, it's soft and easy-to-clean material. Finally, the mesh is breathable and elastic, so often used in office chairs.
Seat Comfort
Look for a seat that has plenty of padding to support your body. The height (16 to 21 inches is standard), as well as the width and depth (17 to 20 inches is standard), should be adjustable. Find the office chair seat that swivels easily to ensure complete mobility without straining.
Are Casters Necessary?
Well, many experts recommend buying an office chair with casters. They allow easy movement in any direction. You should decide between soft floor casters and hard floor casters. Soft floor casters are designed to roll effortlessly on soft flooring like carpet. On the other hand, hard floor casters are designed for tile and wooden floors.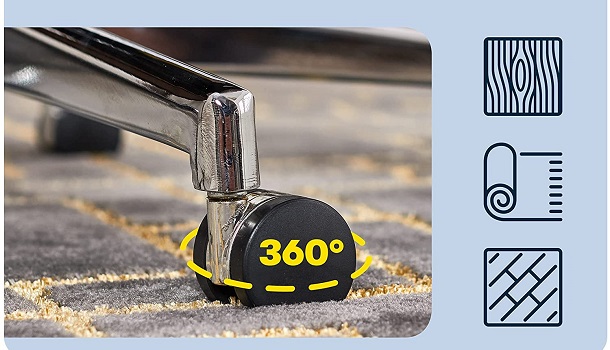 Backrest Support
It is important to look at the upper back support along with lumbar support. Look for a chair that has a good natural lumbar curve or adjustable lumbar support system. The office chair with good lumbar support will encourage natural spine position and prevent back pain and strain.
Best 5 Memory Foam Desk Chairs
The following models are all top-rated in this category and each one offers specific characteristics that make it a desirable choice. Here you can find ergonomic, executive, accent, kneeling and other chair types. Let's check them out!
Vertagear Computer Desk Chair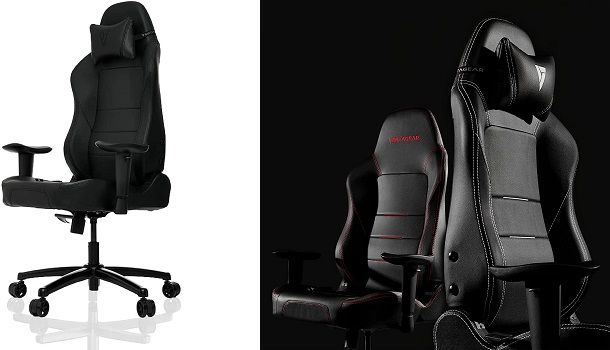 SPECIFICATION:
Material: PVC, faux leather, metal
Dimensions: 24" x 24" x 52"
Weight: 76 lbs

Capacity: 240 lbs
Armrest: Adjustable
Lumbar Support: Built-in
Vertagear is a gaming-style computer chair available in several colors. This chair can be assembled in seconds thanks to its patented Slide-in hardware, no equipment is needed. Vertagear is designed with a high backrest and industrial-grade metal base.
The PU-coated casters give a smooth glide on any surface. Vertagear desk chair features class-4 heavy-duty gas lift with an integrated steel frame. It's very durable and sturdy. Its high backrest can adjust 60 degrees, and the tilt tension let you choose the right resistance level to move back and forth.
Lumbar support is built-in, and the chair also has a detachable memory foam neck pillow for cushioning your neck and head a little more. The foam seat is cushy, but not too soft. The flip-up arms are another notable feature. Vertagear supports a weight of up to 240 pounds.
Overall:
Support:
Ergonomics:
Comfort:
Capacity:
Functionality:
PRICE
approx:$290 – $420
determined by online offer (Amazon, eBay) and seasonal sales
PROS
Features ultra-premium high resilience foam
Durable racing-style casters
Quick assembly
Serta Ashland Office Chair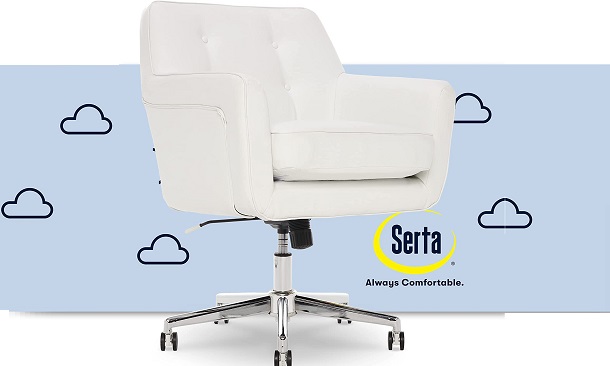 SPECIFICATION:
Material: PU leather, steel
Dimensions: 28.2" x 25.5" x 37.7"
Weight: 41 lbs

Capacity: 250 lbs
Armrest: Fixed
Lumbar Support: Integrated
Serta Ashland office chair combines chic modern design with enhanced comfort features. It comes in a variety of colors in bonded leather or fabric to upgrade the look of your office setting. The reviewed model comes in white bonded leather upholstery.
You can assemble it within 30 minutes and the extra tool isn't needed. Durable metal construction supports up to 250 pounds. The memory foam in the seat and arms keep you comfortable and supported during a long workday. A chrome-finished base offers a 360-degree swivel function.
Also, you can adjust the chair height to fit your needs. The manufacturer recommends this chair for people that fit into a height range of 5'5" to 6'4". The seat is stuffed with extra thick 3" non-recycled foam which is very comfortable. Ashland easily reclines up to 122-degree to ensure max comfort.
Overall:
Support:
Ergonomics:
Comfort:
Capacity:
Functionality:
PRICE
approx:$260 – $390
determined by online offer (Amazon, eBay) and seasonal sales
PROS
Modern chic design
Extra thick 3" foam in the seat and arms
Meets BIFMA standard
Luxton Ergonomic Kneeling Chair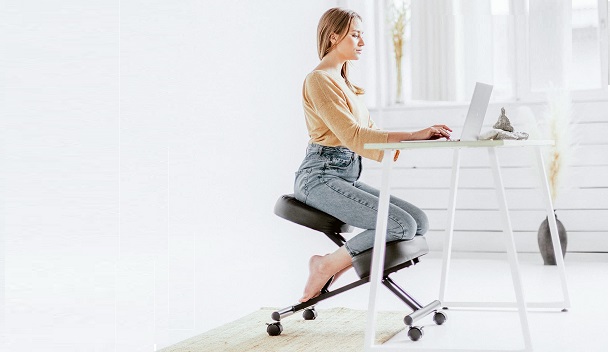 SPECIFICATION:
Material: Metal, PU leather
Dimensions: 23" x 18" x 28"
Weight: 20 lbs

Capacity: 390 lbs
Armrest: No
Lumbar Support: No
This office chair has a bit unusual design – it's a kneeling chair that could be a great alternative to standard office chairs. It is adjustable so you can try sitting at multiple angles and choose the one that best fits you. Luxton desk chair looks great in both home office and office settings.
The heavy-duty metal base is very durable and sturdy, supporting approximately 390 pounds. It's equipped with casters, but you can remove them and use it as a stationary chair. You can easily adjust the chair height by simply twisting the knob in the middle.
Luxton's kneeling chair features a 4" thick memory foam layer to enable the maximum level of comfort for your buttock and knees. Therefore, if you struggle with back pain, this ergonomic kneeling chair will keep your spine in a natural position to prevent slouching.
Overall:
Support:
Ergonomics:
Comfort:
Capacity:
Functionality:
PRICE
approx:$130
determined by online offer (Amazon) and seasonal sales
PROS
Great alternative to standard office chairs
Thick 4" memory foam seat and knee rest
CONS
Requires accommodation time
La-Z Boy Miramar Office Chair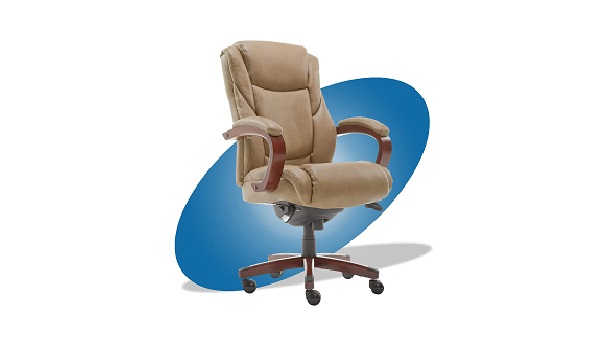 SPECIFICATION:
Material: Wood, leather
Dimensions: 32.5" x 26.5" x 46"
Weight: 58 lbs

Capacity: 250 lbs
Armrest: Fixed
Lumbar Support: Passive
La-Z Boy Miramar is a big and tall executive memory foam computer chair that delivers advanced comfort technology for exceptional support and comfort during your workday. This ergonomic office chair is customizable, you can control the height, tilt and lift to suit your needs.
Crafted with premium wood components, his high-back office chair with hand-sculpted arms is upholstered in soft bonded leather to create an elegant appearance. Also, it features a thicker plywood subcore and reinforced back bar that supports stability and durability.
The heavy-duty casters easily go in any direction. La-Z Boy Miramar uses ComfortCore Plus with memory foam advanced layering system that offers unique zone-based support. The padded headrest provides great neck support while the padded armrest reduces the tension on your shoulders.
Overall:
Support:
Ergonomics:
Comfort:
Capacity:
Functionality:
PRICE
approx:$380 – $430
determined by online offer (Amazon, Walmart) and seasonal sales
PROS
Advanced layering system for max comfort
Elegant leather upholstery combined with wooden parts
Space Seating SpaceGrid Desk Chair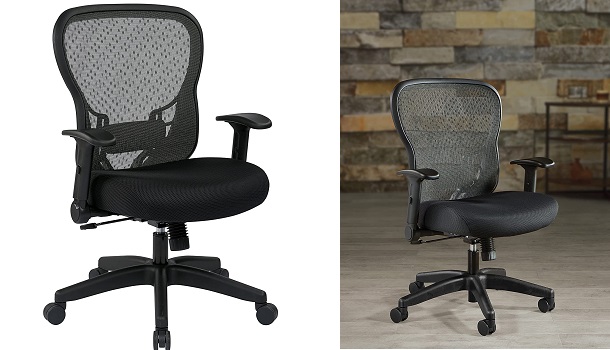 SPECIFICATION:
Material: Mesh, nylon
Dimensions: 24.5" x 25.7" x 42.7"
Weight: 35 lbs

Capacity: 250 lbs
Armrest: Adjustable
Lumbar Support: Built-in
Space Seating R2 Space Grid office chair comes in black color only, but you can choose the chair base – there are five-star wheeled base and sled base. The reviewed model features a heavy-duty nylon base with oversized dual-wheel casters that roll smoothly.
The manufacturer uses Greenguard certified materials, meaning this chair produces low chemical emissions for healthier indoor air quality. The breathable mesh mid-back with adjustable lumbar support will promote airflow and support your natural spine position.
The R2 Space Grid has a thick, padded, memory foam seat that contours to your body and provide comfortable sitting. You can customize this chair, there is a one-touch pneumatic seat height adjustment and 2-to-1 Synchro tilt with a three-position lock and seat slider. The armrest height is also adjustable.
Overall:
Support:
Ergonomics:
Comfort:
Capacity:
Functionality:
PRICE
approx:$210 – $415
determined by online offer (Amazon, Walmart, eBay) and seasonal sales
PROS
Heavy-duty nylon base
Uses Greenguard certified materials
Synchro tilt mechanism
Memory Foam Seat Cushion for Office Chair
Well, if you already have an office chair, there are some things you can buy to increase its comfort. First, you can add a memory foam seat cushion. There are many various cushion sizes and types on the market (for example, if you have coccyx pain, a u-shaped pillow might be right for you). The right cushion will provide enhanced, tailored support while improving weight distribution, circulation and more.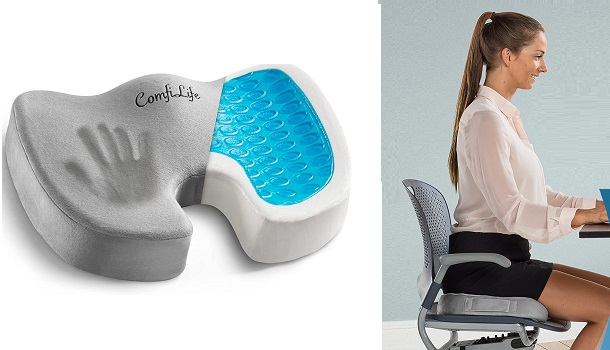 Can I Replace Memory Foam?
The foam tends to flatten and lose its shape and resiliency. When this happens, it's time for a change. Luckily, removing and replacing a worn office chair memory foam is a very easy and straightforward project. There are a few steps you need to follow and you'll reinvent the chair style and comfort.
Final Verdict
Out of all reviewed models, we would like to recommend purchasing the Vertagear gaming-style office chair. It is a very comfortable office chair that uses ultra-premium foam and an industrial-grade metal base that offers long-lasting firmness. These office chairs enhance the level of comfort, contour to your body type, and reduce pressure on your buttock and spine making your sitting much easier than before.