Do you want to buy some off white file cabinet?
The off white is an umbrella term for a variety of white shades, so we chose different off white models and described their features in these short reviews. We recommend you to read up the buying guide, it covered some basic file cabinet features.
Our Top Picks
Best 6 Off White File Cabinets
Best Of Best Off White File Cabinet
Bush Furniture File Cabinet
Key West Collection
Bush Furniture made the Key West collection. This model is tested and it meets some safety and quality standards, like ANSI/Soho. It comes with a year warranty. You can match this file cabinet's height with other Key West furniture, like a desk.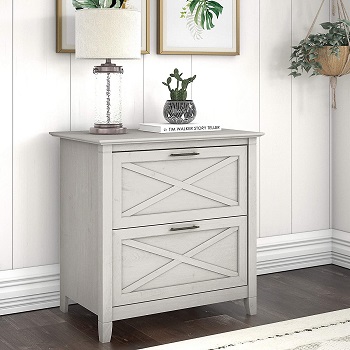 Weight Capacity
This off white file cabinet measures 30 inches in height, 30 inches in width and 19.88 inches in depth. It weighs 63 pounds. This lateral file cabinet is made of high quality engineered wood. Its maximum weight capacity is 50 pounds, don't exceed it.
Unique Pattern
Bush features a sturdy post leg design and attractive edge detailing. On the front panel is a unique X pattern. The model is equipped with two spacious drawers and contemporary metal handles. Both drawers accept legal and letter size file folders.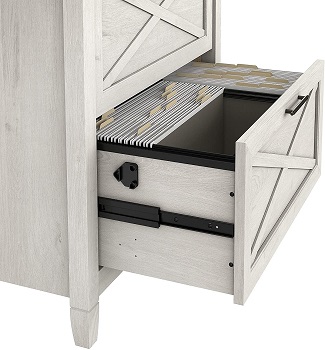 Easy To Clean
This solid wood lateral file cabinet features scratch resistant surface. Clean it with a damp towel, it isn't recommended to use an aggressive cleanser. Both drawers open on full-extension ball-bearing slides. You can easily reach any file folder.
Highlighted Points:
high quality engineered wood construction
unique X pattern on drawers
sturdy post leg design
it meets safety and quality standards
two drawers with plenty of storage space
full extension drawers glide on ball-bearing slides
Best Lateral Off White File Cabinet
Sauder Costa Filing Cabinet
Ready-to-Assembly Design
The Sauder Costa is a lateral file cabinet that is manufactured with recycled engineered wood. This is an environmentally responsible company. The Sauder requires some assembly but it features a ready-to-assembly design. The price is high.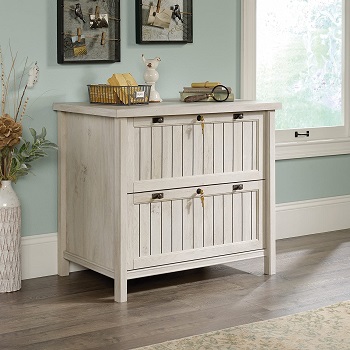 Thick Tabletop
There are two finishes – chalked chestnut finish and coffee oak finish. The Sauder Costa is 30 inches tall, 33.2 inches wide and 21.3 inches deep. It is detailed with framed, slat-front and a thick tabletop. The top is intended for office devices, like printer, scanner or fax machine.
Wide Drawers
This white 2-drawer lateral file cabinet weighs 119 pounds and it stands on sturdy legs. Sauder Costa features two wide and high-side drawers. They hold letter and legal size hanging file folders. Keep your important documents neatly organized.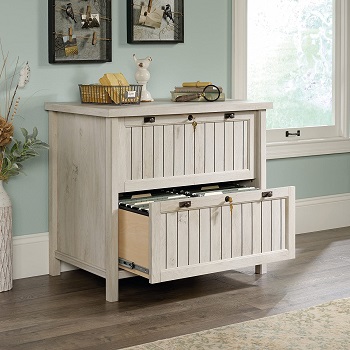 Patented Mechanism
The full-extension drawers provide total access to all your files. This off white file cabinet has a built-in lock on both drawers. Store your private and sensitive files in the file cabinet and lock them. The patented interlock system allows you to open one drawer at a time.
Highlighted Points:
constructed with recycled materials
framed, slat-front panel
durable and thick top for office devices
two drawers hold letter and legal files
both drawers are equipped with a lock
interlocking safety system prevents tipping
Best 2-drawer Off White File Cabinet
Bradley Collection File Cabinet
Small File Cabinet
This personal file cabinet comes from Bradley Collection. Choose between black and off white color. It is designed with quality engineered wood and durable metal handles. Because of its small size, this off white file cabinet fits anywhere, it's ideal for small offices.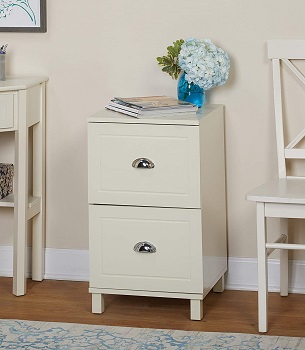 Elegant Design
This model features a modern and elegant design. The unit dimensions are 26.5 inches in height, 16.8 inches in width and 15.75 inches in depth. Both drawers have the same dimensions – 12.5 x 14.5 x 9.5 inches. The Bradley total weight is 40 pounds.
Hanging Rods
You need to assemble it, this file cabinet comes flat-packed. There are two drawers for your office essentials, files and documents. Both drawers are equipped with metal rods for hanging files. These drawers are able to accommodate both legal and letter size file folders.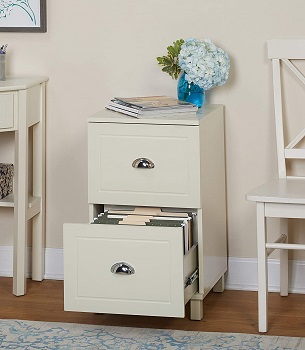 Long-lasting Item
Place some books, notebooks or other things on its top. This white wood 2 drawer file cabinet is a durable and long-lasting item. If you need more storage space, there is a version with four drawers that are designed for hanging file folders. Its price is affordable.
Highlighted Points:
small and compact file cabinet that fits anywhere
available in two colors
constructed with quality engineered wood
there are stylish metal handles on drawers
two drawers come with hanging rods
Best Home Office Off White File Cabinet
Quarters & Craft File Cabinet
Contemporary Design
The Quarters & Craft made this beautiful file cabinet. There are four available colors – brushed black, tanned cherry, vintage walnut and weathered white. It is a commercial-grade contemporary modern file cabinet that fits in any home office or office. The price is high.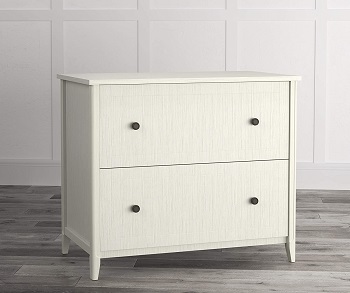 Solid Legs
It is made of quality engineered wood. This off white file cabinet has 33.5 inches in width, 18.3 inches in depth and 28.9 inches in height, weighs 73 pounds. The file cabinet is covered with a 5-year warranty. It features solid wood legs and accented hardware.
Full-extension Drawers
The assembly is required, but it isn't complicated. There are two knob handles on each drawer. This modern wood file cabinet features two roomy drawers, they have commercial grade full-extension ball-bearing slides. They provide smooth drawer movements.
Safety Mechanism
The slides are pre-assembled, so you don't have to assemble them. These two drawers accommodate letter and legal size hanging file folders, along with other office accessories. There is an anti-tilt safety mechanism, it ensures only one drawer to be opened.
Highlighted Points:
commercial grade contemporary design
constructed with quality wood
the warranty lasts 5 years
two drawers hold letter and legal files
full extension drawers glide on ball-bearing slides
interlock mechanism prevents tipping over
Best Small Off White File Cabinet
Ashley Dorrinson File Cabinet
Antique White
The Ashley Dorrinson file cabinet is available in three colors – antique white, grey and warm brown. It features a two-tone finish. The tabletop replicated grey wood. This file cabinet fits perfectly in any home office, it's ideal for personal use. The price is affordable.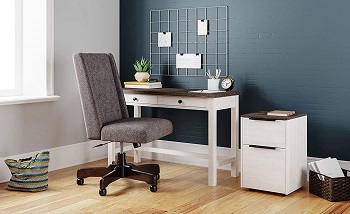 Assembly Required
The assembly is required, just follow the detailed instruction. The Ashley off white file cabinet weighs 47 pounds and measures 16 inches in width, 17 inches in depth and 24 inches in height. You can pair it with a desk or bookcase and complete your home office.
Engineered Wood
The Ashley small 2-drawer file cabinet doesn't require too much space, you can place it under your office desk or in the corner of the room. This small file cabinet is made of quality engineered wood and decorative laminate. The construction is stable and designed for long-term use.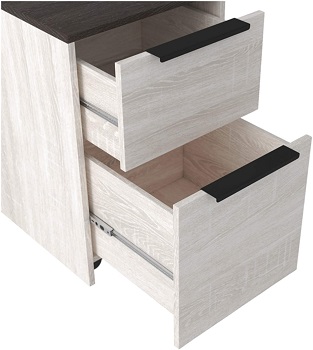 Two Drawers
There are two small drawers that glide on ball-bearing slides. You can easily pull them out. The upper drawer is smaller and you can use it for small office essentials. The bottom drawer is useful for files and documents. The top is suitable for an office device, like printer.
Highlighted Points:
available in three finishes
the price is affordable
ideal for personal use in home office
made of quality engineered wood
two drawers for office supplies and files
Best 4-drawer Off White File Cabinet
Pemberly Row File Cabinet
Recycled Material
The Pemberly Row is a tall, vertical file cabinet. This model is available in three colors – black, grey and putty. This off white file cabinet is made of heavy-duty steel. It is durable and sturdy. It is constructed with 30% total recycled material. It weighs 67 pounds.
Four Drawers
The product dimensions are 52 inches in height, 15 inches in width and 25 inches in depth. It features easy placement in confined spaces. There are four drawers with sturdy aluminum handles and label holders. You can easily identify your stored files.
Letter-size Files
This white vertical file cabinet features high-side drawers and they accommodate letter-size hanging file folders. There are adjustable metal follower bocks that keep the files in place. All drawers glide on precision steel ball bearings. They provide smooth drawer performance.
Core-removable Lock
The surface is resistant to rust and easy to clean. Use the soft soap and towel for cleaning. The Pemberly Row file cabinet features a core-removable lock. It ensures a one-key convenience option for multiple files. Store your private and confidential documents in this file cabinet.
Highlighted Points:
heavy duty steel construction made with recycled material
aluminum handles with label holders
four drawers that accommodate letter-size files
steel ball bearings for smooth drawer performance
drawers are equipped with an adjustable metal divider
Things To Know About Off White File Cabinet
The off white file cabinets come in different shades and sizes. So, this buying guide describes those types and that information should help you to choose the best model for your office. Read about construction, design, safety mechanisms and other characteristics.
Shades Of White – There are many shades of white you can find on the file cabinets. These are colors that differ slightly from pure white. You can choose from white smoke, ivory, cream, antique white, dutch white and others. They provide an antique look.
Vertical Or Lateral – These are the main file cabinet types. The vertical file cabinets don't take up too much floor space because of their upright design. The lateral file cabinet is wide and horizontal, ideal for storage of large size documents and file folders.
Laminate & Wood Veneers – The solid wood file cabinets feature a high-quality and high price. But there are more affordable options. The laminate file cabinets look like real wood, but they are made of particleboard. The wood veneer is made of a thin layer of real wood, it features a lower cost than solid wood.
Anti-tip Mechanism – If you need a large or tall file cabinet, you should consider some safety mechanism. The anti-tip system ensures only one drawer to be opened. That keeps the file cabinet balanced and prevents the file cabinet from falling forward.
Hanging Folder Rails – Some off white file cabinets come with hanging bars/rails/rods included. You can find them inside the file cabinet drawers. They accepting hanging files with metal hooks on both ends. Check out if the drawers are sized to fit letter/legal-size files.