Are you looking for an elegant white foosball table?
If this is the case, continue reading this article.
We have found a number of foosball tables in white color for you to choose from. Pick a table based on your needs and wishes – a white tabletop foosball table, a vintage-looking one, or maybe a cheap one that fits your budget.
Our Top Picks
Best 5 White Foosball Tables
BEST OF BEST WHITE FOOSBALL TABLE
Playcraft Extera Outdoor Foosball Table
Suitable For All Weather Conditions
This is the ideal white foosball table for your backyard or pool area because it is suitable for all weather conditions. Constructed using weatherproof composite materials with UV resistant PU coating, it won't get rusty even if it gets wet. Nevertheless, it comes with a foosball table cover and four balls.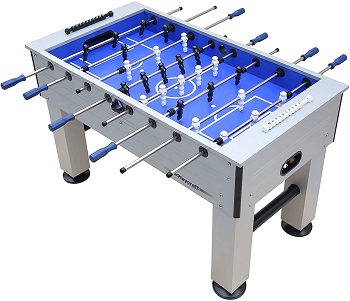 Heavyweight And Stable
Playcraft Extera foosball table is made of quality materials – it is heavyweight (225 pounds) and stable. It has a 12″ deep cabinet with 1 1/2″ thick walls as well as 5″ square legs with 6″ leg levelers, which provide a very stable base for such a heavy table.
High-Quality ABS Handles
Solid strikes are enabled by high-quality ABS handles which provide a comfortable grip. The handles are attached to 5/8″ high strength aluminum bars which spin smoothly. Abacus scorers are color coordinated and counterbalanced players can be positioned in place when making strategic shots.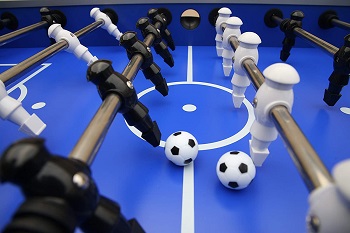 Simple And Quick Assembly
Assembling and disassembling is simple and quick – assembled dimensions are 56″ L x 36″ W. The only thing you need to do is to attach the legs, and you are ready to play! This foosball table will surely be a hit among older kids and adults because it offers the ultimate playing experience.
Highlighted Points:
Constructed using weatherproof materials
High-quality foosball table – heavyweight and stable
ABS handles provide a comfortable grip
Quick and simple assembling and disassembling
Comes with a table cover and 4 balls
BEST TABLETOP WHITE FOOSBALL TABLE
ZQY Foosball Double Machine Table
Portable And Suitable For Flat Surfaces
This white foosball tabletop is the perfect choice if you want a portable and compact table that you can bring to any party, family gathering, or camping trip. Put it on a table or any flat surface and let the fun begin! The table is made of aluminum alloy and therefore light, so the transport shouldn't be a problem.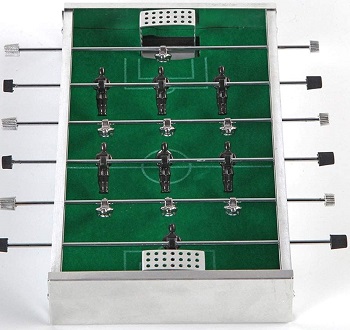 Small But Providing Enough space
Even though it is small in size with dimensions of 20.5×11.5x3cm, this tabletop provides enough space for standard table football. You can have the same amount of fun playing with this table as with a much bigger and expensive one. As a bonus, you won't take up much space
Suitable For Children
This small foosball table is suitable for children. Playing table football, they can exercise their motor skills and improve their logical skills. They can play in the safe surroundings of their home instead of a playroom. Since the table is pretty light, the older kids can assemble it by themselves.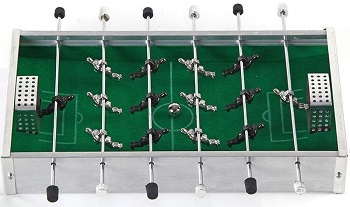 The Perfect Gift
ZQY Foosball Double Machine Table is a perfect present for any occasion. It fits into any interior because of its size and neutral white color. Both kids and adults will surely be delighted with a gift like this, so consider it as an option.
Highlighted Points:
Suitable for tabletops and flat surfaces
Portable and easy to store
Small but providing enough space
Great toy for children
Perfect gift for all generations
BEST VINTAGE WHITE FOOSBALL TABLE
René Pierre Color Blanc Foosball Table
Sleek And Vintage Looking Design
Designed and handmade in France, this stylish white vintage looking foosball table is probably on many table football lovers' wishlists. Aluminum die-cast players are hand-painted in silver and black. The playfield is made of white linoleum, allowing the ball to glide across the surface smoothly.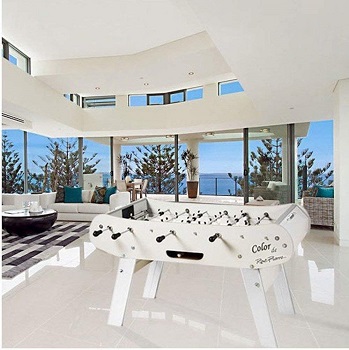 Ergonomic Play Handles
Chromed stainless steel telescopic bars with Teflon rings, dampening springs, and ergonomically designed handles all contribute to comfort when playing. This is very important if you play table football on a regular basis. The play handles also provide you the needed control for delicate passes and precision shots.
Players' Safety First
Apart from contributing to comfort, chrome-plated telescopic bars contribute to safety. Unlike solid bars, chromed bars were designed to move in and out of the cabinet without poking through the other side. Another advantage of this table is its maximum stability, which is enabled by its solid wooden legs. If you like fierce table foosball matches, high stability is what you need.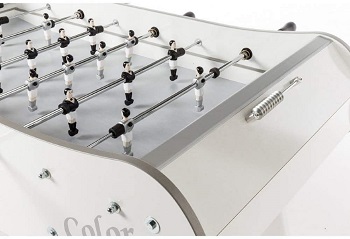 Amazing Features And Accessories
Each end of the table has built-in abacus scoring units that serve for keeping track of your points. René Pierre Color Blanc Foosball Table comes complete with die-cast players, single man goalies, two cork foosballs, and an instruction manual. The assembly is hassle-free.
Highlighted Points:
Vintage looking white foosball table
Designed and handmade in France
Chromed stainless steel telescopic bars
Ergonomically designed handles
Maximum stability enabled by solid wooden legs
Amazing features and hassle-free assembly
BEST FOR HOME WHITE FOOSBALL TABLE
Garlando G-500 Indoor Foosball Table
Ultramodern Pure White Design
This ultramodern and pure white foosball table features a 1-inch thick solid wood cabinet with beautiful black and silver edges. The white and grey players and the white playfield give a touch of elegance and style. This table is the perfect fit for any home and will bring extra fun at your house parties and family gatherings.
High Durability And Maximum Stability
Garlando G-500 white table is treated with melamine coating to ensure durability while silver varnished legs guarantee maximum stability when playing. Telescopic steel bars are rust-proof and the grips are ergonomic. The playing field is laminated and therefore ideal for smooth and fast movements.
Manufactured For Indoor Playing
Keep in mind that this table has been manufactured for indoor playing. We don't recommend leaving it outdoors because rain and snow may damage it. Extended exposure to the sun should also be avoided because the colors may fade. Nevertheless, it is advised to clean your table periodically with a damp cloth. If you are looking for a nice addition to your interior, a white Garlando G-500 is the best foosball table for home.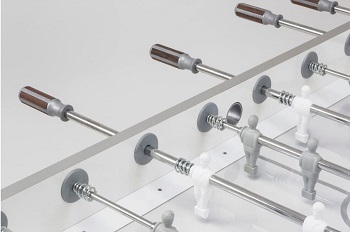 Packed With Accessories 
Together with the table, you will get everything you need for a great match of table football: two teams of gray and white foosball players, two 360-degree rotating goalies, and 10 standard orange balls. The only thing you'll have to do is assemble the table and get ready for a fun time.
Highlighted Points:
Ultramodern and stylish design
Maximum stability and ergonomic grips
Manufactured for indoor use only
Laminated field for smooth and fast movements
Comes with a complete set of accessories
BEST CHEAP WHITE FOOSBALL TABLE
KICK Fantasy 48″ Foosball Table
Great Quality For The Price
If you are looking for a cheap foosball table which won't be a blow to your budget, consider buying this table. The quality is great for the price and you will surely have the same amount of fun with this table as with a more expensive one. Price isn't always an indicator of quality.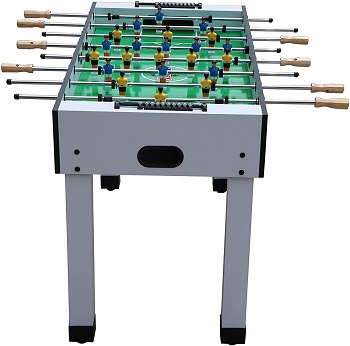 Option Of 1 or 3 Goalkeepers
The design of this table is simple and comfortable for playing. It boasts high stability thanks to sturdy leg levelers. Equipped with two teams of players and the option of 1 or 3 goalkeepers, this table provides precise control for the best price. This is the only table on this list that offers two options when it comes to goalkeepers.
Cool Gift For Kids
KICK Fantasy 48" Foosball Table is a great choice for a birthday or Christmas present, for both kids and adults. Children and teenagers will especially love this table because its dimensions of 48″ L X 24″ W X 31″ H will fit them perfectly. This table can be a great substitute for playing real soccer outside when weather conditions don't allow it.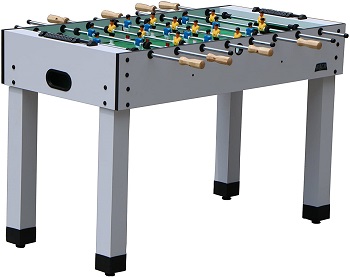 Best Choice For Limited Spaces
This table is manufactured for indoor use and its smaller size enables it to fit into smaller rooms and apartments. This is the best choice if you have limited space. The assembly is easy and does not require power tools.
Highlighted Points:
Great quality for a low price
High stability and comfort while playing
Option of 1 or 3 goalies
Great present for children
Best choice for limited spaces
THINGS TO KNOW ABOUT FOOSBALL TABLES
White foosball tables are neutral but at the same time very stylish and can easily fit into any interior or exterior. When buying it, you should first consider where you'll place it and who will use it. To help you choose the best table for your needs, we are giving you a few tips below:
Outdoor & indoor use – An outdoor foosball table has to be made of weatherproof materials to prevent damage from rain, snow, or sun. It is also advised to put a cover over it. You may put a table manufactured for outdoor use inside your house if you have enough space, however, you must not place the table for indoor use outside. A stylish white foosball table may bring loads of fun but also a dash of elegance to your home
Telescopic steel bars & ergonomic grips – Tables with telescopic bars are much safer than the ones with solid bars. They are designed to move in and out of the cabinet without poking through the other side. Also, if you plan to play table football on a regular basis, you should make sure that your table has ergonomically designed grips which will add to the comfort while playing and help prevent possible wrist injuries.
Different models of foosball players – Keep in mind that you can choose between different types of players. They can be counterbalanced (stay in the same position you leave it) and normal (return to the upright position). Also, traditional players have realistic human design and round feet while modern and redesigned ones have a robotic design with one rectangular foot which provides better ball control.
Tabletop version – This kind of portable foosball table is an excellent choice if you want to bring a good atmosphere and fun to family events, camping trips, or parties. Apart from dining and all kinds of tables, tabletop foosball tables are suitable for any flat surface. They are very light and easy to store. Kids love them too!
Replacement parts – If you play table soccer on a regular basis, you will eventually need to replace some of its parts due to wear and tear. There are two types of replacement parts – universal, that fit almost all tables on the market, and parts made by a particular brand for a particular table. Our advice is to choose a table with universal parts because such parts are cheaper and easier to get.
FINAL VERDICT
The Playcraft Extera Outdoor Foosball Table is the best white foosball table because it is suitable for all weather conditions and you can even place it inside your home if you have enough space. It is made of high-quality materials and boasts great ABS handles which provide a very comfortable grip. If you're not into white foosball tables, you may check out the black foosball table models. Also, if you are in search of a very modern-looking foosball table check out this modern foosball table post.