Do you need a color label printer for small business you start or already run but need a replacement printer?
Keep reading and see which of the best color label printers reviewed in the post meets your needs. See also what you need to consider while buying a printer for labels in color.
Our Top Picks
6 Best Color Label Printers For Small Business
Best Of Best Color Label Printer
Primera LX500 Color Label Printer
Full-Color System
The Primera label maker comes in a compact and small size. In accordance with its size, the machine makes small sticker labels in all vivid colors. The full-color system allows you to use this label maker for printing small photos as well. You can print also only in black color which is useful for barcode labels.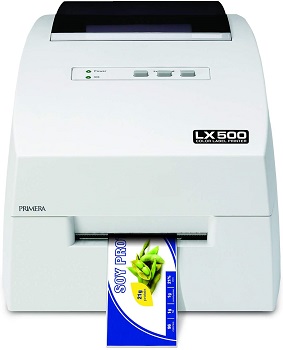 Easy Operating With Machine
This color label printer for small business has a simple operating system. There are 3 buttons and 2 indicator lights. You need to open the cover and add the tape roll to the label maker. You can use not only paper roll but also other materials. The machine supports about 20 different materials.
Labels With Different Dimensions
Some of the most common materials you can use are paper, synthetic, and polyester. You can make various product stickers. The label maker is small but big enough to support the tape roll of 4 inches of the width maximally. The minimal width of the tape is 0,5 inches so you can use it as an inkjet printer for stickers.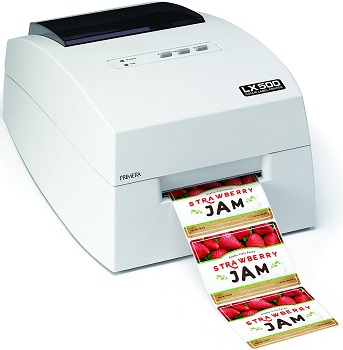 Suitable Computer Systems
The label maker connects to the computer. You can send the label templates for printing from Windows or Mac. When it comes to Windows, you can use Windows 7, 8, and 10 versions while Mac 10.6-10.10 versions are suitable for this label printer in color.
Highlighted Points:
supports the labels in 0,5-4 incehs widths
purposed for computer connection
suitable for Windows 7-10 and Mac 10.6-10.10
prints labels on 20 different materials
includes a full-color printing system
Best Laser Color Label Printer
HP Color LaserJet Pro Printer
One Printer For Many Tasks
In the variety of inkjet printers in color, this is the best color laser printer for labels. It's a standard paper printer that supports also the label paper. You can use it in the office for various purposes such as printing many things, copying, and scanning.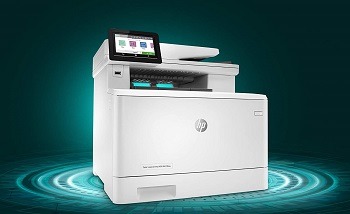 Safety System Included
With the touchscreen, it's easy to use this color label printer for small businesses. It includes the safety system so you can set a password to protect your printer from use without your presence. You can use the computer with Linux, Mac, Windows as well as iPhone and Android phones. It connects to the computers the way all the computer label makers do.
Two-Sided Printing/Scanning
This printer supports a lot of material. You can add about 250 paper sheets to the input tray. It has many useful functions such as 2-sided printing and scanning or faxing. The printer makes about 30 pages in a minute so it's ideal for business.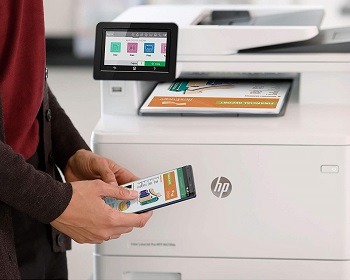 USB And Power Cable
This HP printer has a USB port but supports also a wireless connection. You can choose if you want to connect it with your computer using the cable or not. You will get the USB cable and power cable in the package. Some starter color cartridges are also included in the box.
Highlighted Points:
connects to all operating systems and smartphones
250 paper sheet input tray included
includes a safety system with password
copying, scanning, faxing, printing options
prints around 30 pages per minute
2-sided scanning and printing functions
Best Sticker Color Label Printer
Brady S3100 Label Maker
Computer Style Printer
The Brady label printer has an interesting design that makes the machine practical to use. This label maker includes a computer-style keyboard and screen. These parts give a computer look to this printer it's like the big label makers. On the left side, there is the input where the labels come out.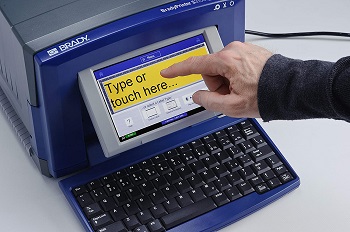 Various Colors And Sizes
It's the best color label printer for stickers since it includes the roll holder for tapes you can use to make product stickers. You can use the tapes in various colors and sizes, from extra thin 0,5 incehs to wide 4 inches. It's an ideal machine for making warning notes for products.
Realistic Touchscreen View
The label printer includes a touchscreen that makes it easy to create the labels. You can see the label in its realistic size and style. It's practical because you can correct some details you noticed. The printing lasts a few seconds since the speed is about 3 inches per second.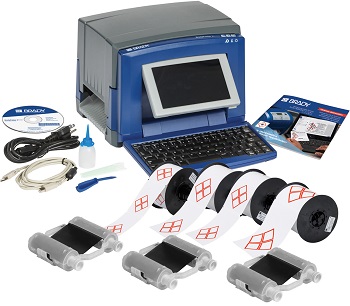 Keyboard Or PC
The resolution of the labels is 300 dpi so you can be sure the labels attached to the products will be clear. The keyboard includes a lot of symbols so you can create labels like with the computer. If you still want to use a PC, you can connect it with the printer using a USB cable.
Highlighted Points:
includes the keyboard and touchscreen
offers symbols for making labels
USB connectivity with a computer is available
supporters the tape rolls in various colors and dimensions
the resolution of the labels is 300 dpi
the pointing speed is 3 inches per second
Best Product Color Label Printer
Epson TM-C3500 Inkjet Printer
Control Panel With Display
Epson label printer is an inkjet type of color printer. The printer has a commercial-grade construction that includes a small display and control panel. The printer is not so big as standard wide-format printers but it's still a big label maker.  That means it can hold a big tape roll.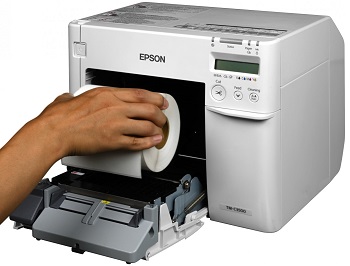 4-Color System
You can use the tape with a width of 1,2 incehs minimally. The maximal width of the tape is 4,4 incehs. The high speed of about 4 incehs per second makes this model the best product label printer for small businesses. You can print product labels in 4 colors.
Ethernet And USB Ports
The printer includes the USB port purposed for connecting the printer with the computer. You can use also Ethernet connectivity as well. To install the printer software to your computer, you can download the driver from the official Epson website. You can choose the driver suitable for the operating system of your PC.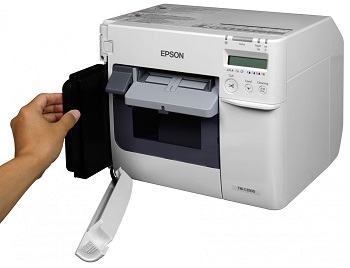 Specified For GHS Labels
With the main 4 colors, the printer is practical for making GHS labels you can stick on the products. The screen shows the ink capacity notifications. This color label printer for small businesses creates the labels for commercial purposes but it makes a different type of labels than the commercial label makers.
Highlighted Points:
control panel with 3 buttons and screen
the screen includes the ink capacity notifications
prints labels with 4 colors
about 4 incehs per second is the average speed
USB and Ethernet ports built-in
about 2-4 incehs wide labels supported
Best Cheap Color Label Printer
Brother VC-500W Printer
Purposed For ZINK Paper
The Brother printer is a small machine that makes labels in small formats. Since it prints in color, you can get high-quality photos as well as labels. It has inkjet ZINK technology. It ensures vivid color labels on adhesive ZINK paper. It's practical to make stickers for products as well as for personal things.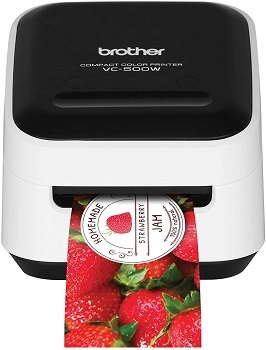 Smartphone Or Tablet
The size and price make this cheap color label printer for small business a useful label maker for home use. It's practical to use the machine in any place since it supports wireless connection. Therefore, you don't need a computer but a smartphone or tablet is enough.
P-touch Editor Available
Except for the smartphones and tablets, you can connect the printer also with computers that use Mac or Windows systems. You can download the P-touch editor for these two systems for free. In accordance with the size, the label maker creates labels that are 9-50 mm wide.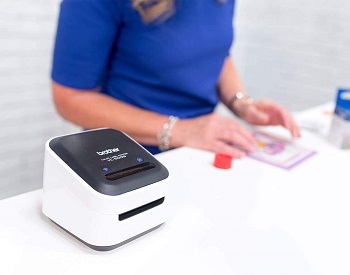 Long Tape Roll
While the maximal width is 50 mm which is about 2 inches, the maximal length of the tape roll you can use is 17 inches. You can print the labels directly from social medial if you use a smartphone. Connecting the printer with your phone, you can print also from your camera app directly.
Highlighted Points:
purposed for up to 17 inches long tapes
up to 2 incehs of the tape width supported
uses ZINK technology and resistant paper
compatible with Windows, Mac, smartphone, and tablets
supports the connection via a wireless network
Best Home Color Label Printer
Afinia L501 GHS Label Printer
Paper Roll Instead Of Plain Paper
Afinia is one of the best color label printers for different kinds of businesses. It has a black design and seems like a standard printer like the HP laser model I reviewed before. However, this model uses paper rolls instead of plain papers. It's best to use it with the sticker label templates.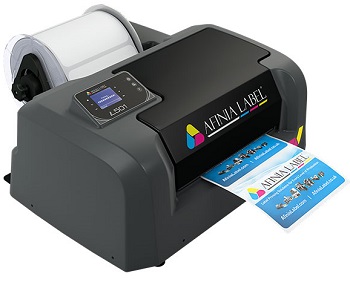 Creative Shipping Labels
The printer is wide enough to make shipping labels in color. It's a creative 4×6 shipping label maker. Not only standard shipping label size but this printer supports also the labels with the width of 8 incehs approximately. The roll holder supports the tape roll of about 8 incehs of the maximal diameter.
Medium Speed, High Resolution
The screen placed on the top helps you to set the options for printing. You need interchangeable pigment or dye ink to make creative labels. The printer includes cyan, magenta, yellow and black ink. The printing speed of this printer is medium and the resolution is 4800 dpi.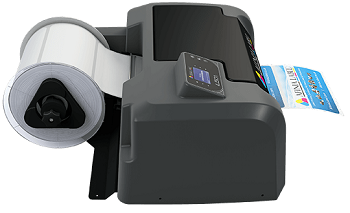 Many Suitable Materials
Not only paper but you can use also polyester, polypropylene, and vinyl label types. That means you can use it as the printer for vinyl decals. You can print the decals directly from the editor on your Windows computer. Windows 7 and newer are compatible with this printer.
Highlighted Points:
the printing resolution is 4800 dpi
maximal tape roll size is 8 inches
compatible with Windows 7 and newer
supports 4 colors of the dye/pigment ink
compatible with paper, polyester, and vinyl
Things To Know About Color Label Printer For Small Business
Unlike most label makers that print monochrome labels, the color printers make labels in multiple vivid colors. The color ink and resolution make this printer type specified also for photos and GHS labels. The color printer models differ from usual label makers for a big price as well.
Inkjet Technology Mostly – Most printers that make labels in color use inkjet technology. The printers include interchangeable ink cartridges. The number of cartridges and color of the ink varies from printer model to model. The minimal number of colors is 4 and they are black, red, blue, and yellow.
Labels And Photos – Most label makers you use for making labels in color are good also for printing photos. Not only colors but the high resolution also make these printers ideal for photos. The resolution of the wide-format printers is up to 4800 dpi. The small label makers have a resolution of 300 dpi on average.
Purposed For GHS Labels – The best color label printers have high resolution and support the main colors which are needed characteristics of the printer that make GHS labels. The colors are necessary for GHS labels used for commercial purposes. The printer needs to support the adhesive templates to be specified for GHS labels.
High Price – The advanced technology and color ink make this type of labor maker more expensive than usual. Unlike usual label makers that print monochrome labels and have the rice of 200-300 dollars, the color models reach the amount of 2000 dollars. However, there are also cheap 200-500 dollar models.
Buying Online With Delivery – The widest offer of these printers is on webshops. Buying online, you get the delivery at your address. The webshops such as Amazon provide free delivery for most products. All the webshops include the specifications and photos of the products.