Are you searching for a servo motor vinyl cutter for your business?
Search no more! Here you can read about the 6 best models and categories that suit you the most- cheap, professional, desktop, etc. In the buying guide, you can find a list of features to consider when buying the right model.
Our Top Picks
Best 6 Servo Motor Vinyl Cutters
BEST OF BEST SERVO MOTOR VINYL CUTTER
Graphtec CE7000-60 Plotter Cutter
Commercial-Grade Blades
This is a 24-inch vinyl cutter that's one of the best on the market for professional and industry usage. It has commercial-grade blades with high cutting speed and pressure. The maximum paper feed is 24", so you can make small to medium projects with it.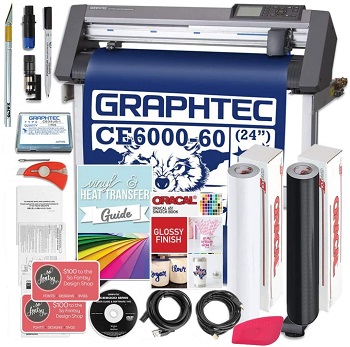 Software For Windows And Mac
It includes more than one software which is very user-friendly because you don't have to buy them separately. You'll get the Cutting Master 4 for Adobe Illustrator and CorelDraw plug-ins, Graphtec Pro Studio for Windows, Graphtec Studio for Mac, and Windows driver.
Smart System For Automation
The unique user-friendly function is datalink barcodes. This function allows the machine to automatically do many jobs without attendance. So, you just select the function on the control panel and then the machine connects to the barcode-linked data from the computer or USB. It opens the file, adjusts settings for cutting, and starts the project.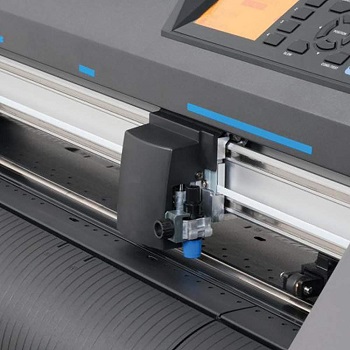 High Precision ARMS Contour Cutting
It's a smart system useful for big businesses. Also, this servo moto vinyl cutter has ARMS 8.0 (Advanced Registration Mark Sensing) system for contour cutting. The blades follow laser guidance and cut around the printed lines. The package includes a blade holder, pen holder, water-based fiber-tip pen, power cord, and USB cable.
Highlighted Points:
maximum paper feed is 24"
4 different software included
datalink barcodes for independent work
ARMS 8.0 system
strong and fast cutting
BEST CHEAP SERVO MOTOR VINYL CUTTER
USCutter 15" Titan Craft Cutter
Pinch And Grit Rollers
This is one of the cheapest servo motor vinyl cutters you will find on the market. It's a desktop version with a 15" maximum paper feed. The feed has high-quality pinch rollers and grit rollers that combine to maintain the material straight while cutting. Also, they allow you to adjust guide rails according to the paper width.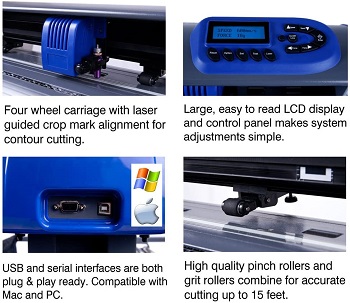 Laser Function
Besides an adjustable guide rail, this model has a four-wheel carriage that allows laser-guided contour cutting with ARMS. Therefore, you can out printed images in the unit and the blade will be guided by a laser to cut around the printed lines. This allows high precision in cutting.
Blades Cut Thick Materials
Servo motor ensures maximum cutting speed of 31.5 ips which is very high. Therefore, this model is ideal for doing a lot of work efficiently. Besides that, the maximum downforce of the blade is 18 ounces. Therefore, this servo motor vinyl cutter can work with adhesive vinyl, cardboard, stencil vinyl, mask, window film, leather, fabric, etc.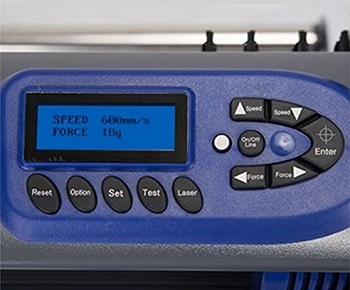 Three Blades
It features a large and easy-to-read LCD with a control panel so you can easily navigate the working process. The exterior of this contour vinyl cutter is made from aluminum alloy, and moving parts are made from metal. It had 60-degree, 45-degree, and 30-degree titan blades. The package includes VinylMaster Cut software, USB, and serial cable. Connects with USB interface to Mac and PCs.
Highlighted Points:
maximum paper feed is 15"
four-wheel carriage for ARMS
31.5 ips maximum cutting width
VinylMaster Cut software for Windows
USB interface for PC and Mac
BEST PROFESSIONAL SERVO MOTOR VINYL CUTTER
USCutter 28" Titan Contour Cutter
Sturdy Frame With Bin
This is a high-quality professional model that features aluminum frame construction, metal moving parts, and a big basket that's catching material that comes out of the feed. Therefore it's ideal for big businesses because it's long-lasting and protects the material from getting damaged on the ground.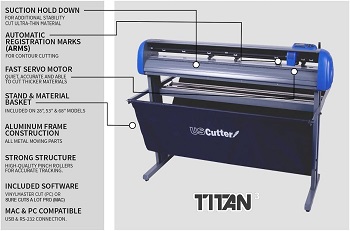 Works With PC And Mac
The machine can cut automatically. It includes VinylMaster Cut for PC and Sure Cuts A Lot Pro for Mac operating system. The machine has both a USB port and an RS-232 serial interface to connect to Mac and PC devices. The VinylMaster Cut software is compatible with HP-GL command sets.
Quiet And Fast Motor
In comparison to Titan 1 and Titan 2, this model has an upgraded motor that's more quiet and efficient. That makes it the best servo motor vinyl cutter for professionals use. The maximum paper feed is 28", while the maximum cutting width is 24". Feed width can be adjusted with 3 pinch rollers.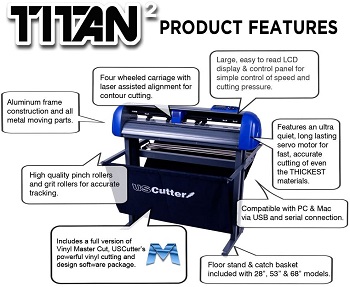 High Force And Precision
The package includes 3 Titan Roland compatible blades, a blade and pen holder, USB and serial cable, and a spare fuse. This Mac compatible vinyl cutter has a maximum cutting force of 26.45 ounces, while the maximum cutting speed is 37 ips. The cutting precision is 0.0003", which is less than some models that have 0.0004", but still very high.
Highlighted Points:
VinylMaster Cut software for Windows
Sure Cuts A Lot Pro for Mac
USB and RS-121 interface
24" maximum paper width
maximum cutting force is 26.45 ounces
BEST LARGE SERVO MOTOR VINYL CUTTER
Graphtec CE6000-120 Vinyl Cutter
Wide Cutting Width
The maximum cutting width of this servo motor vinyl cutter is 47.8", while the maximum paper feed is 53". The is a large model that's ideal for a business that works with both small and big projects such a logos, stickers, big and small signs. The machine has a commercial-grade blade that is fast and strong.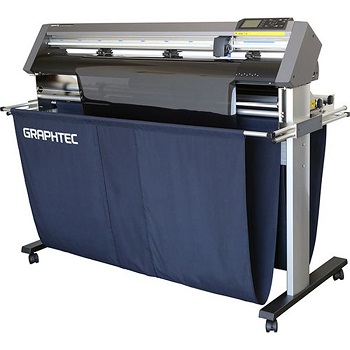 High Cutting Speed
The maximum cutting speed is 40 ips which really fast. The cutting pressure ranges from 0.7 ounces up to 15.87 ounces. Therefore blades can cut different materials such as vinyl, self-adhesive vinyl, light-reflective film, paint-masking film, heat-transfer vinyl, card stock up to 10 pt, etc.
ARMS With High Precision
The blades work with the ARMS contour cutting system for high precision. The laser vinyl cutter comes with a tangential control enhanced precision and 4-point dual-axis skew correction. The included software is Grphtec Studio that works both on Mac and PC.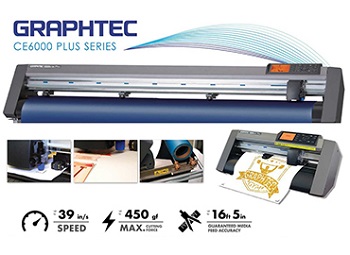 LCD With Backlight
Besides software, the machine comes with plug-ins for Adobe Illustrator and CorelDraw. Both speed and pressure can be controlled with a control panel that has many settings. Also, it has a large LCD with a backlight that makes it easy to navigate the workflow. All parts are covered with a 1-year limited warranty.
Highlighted Points:
the maximum cutting width is 47.8"
53" is the maximum paper feed
15.87 ounces maximum cutting force
40 ips maximum cutting speed
1-year limited warranty
BEST DESKTOP SERVO MOTOR VINYL CUTTER
Graphtec CE-50 Desktop Cutter
Desktop 20" Paper Feed
Unlike the previous model, this is a desktop vinyl cutter. It's ideal for having it on a working surface because it's compact and space-saving. Although smaller, it has high-tech functions that are suitable for creating professional images. The maximum paper feed is 20".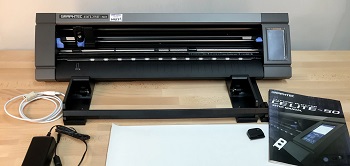 High Cutting Force
This servo motor vinyl cutter comes with high-quality industrial blades. The maximum cutting downforce is 7.41 ounces. Therefore this model can cut a variety of materials besides vinyl such as leather, fabric, wood, cardboard, craft paper, etc. It also features a pen with a holder for drawing.
Software With Licences
The package includes 3 licenses to Pro Studio. Also, you'll get the Graphtec Studio software that's suitable for both Mac and Windows systems so you can use it with any device. It also features a serial and USB interface to connect to Mac or PC.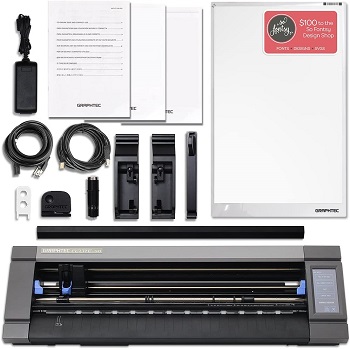 ARMS And Accessories
It can take images from different printers and cut around the printed lines with the laser-guided blade that's part of the ARMS system contour cutting. The model also includes an 11.5" wide and 16.5" long cutting mat, vinyl trimmer, premium replacement blade, roller feeder, and $100 to Fontsy Design store. The software has plug-ins for Cutting Master 4.
Highlighted Points:
desktop space-saving model
maximum cutting force is 7.41 ounces
serial and USB interface
plug-in for Cutting Master 4
high-quality industrial blades
BEST COMMERCIAL SERVO MOTOR VINYL CUTTER
Roland CAMM-1 Pro GX 300 Machine
Fast And Strong Blade
This Servo motor vinyl cutter comes with a metal frame with caster wheels so you can easily move it throughout the room. The motor allows high speed and force in cutting. Blades are high-quality made and the maximum cutting speed is 33", while maximum cutting pressure is 12.34 ounces.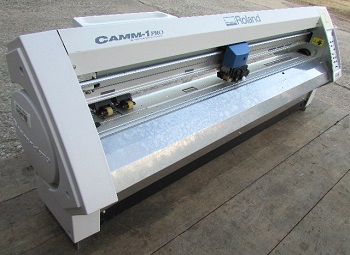 Contour Cutting
Because of these settings, the blade can cut a variety of materials, included thick ones. Therefore you can create with a vinyl stencil, wood, fabric, leather, cardstock, and much more. Like some previous models, it has an optical registration system that allows contour cutting.
Software For Windows
You can put pre-printed images into the machine, and blades will cut around the registered printed lines. Also, it connects to any device with a USB and serial interface. It includes the Roland CutStudio software that's suitable for Windows 98/Me/2000/XP/Vista 32-bit. The driver for XP, Vista-64-bit, and Windows 7 is available online.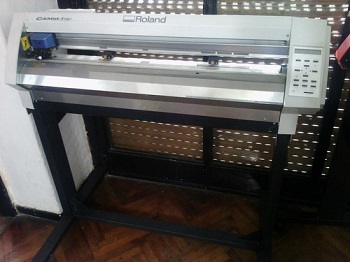 Plug-In Needed For Mac
You'll also get plug-ins for Adobe Illustrator and CorelDraw. This commercial vinyl cutter machine can also work with Mac OS 10.7-10.10, but you must have Adobe Illustrator and install their plug-in to run Cut Studio. All parts of this device are covered with a 3-year limited warranty which is a guarantee for longevity and high-quality made structure.
Highlighted Points:
maximum cutting speed is 33"
cutting pressure is 12.34 ounces
Roland CutStudio for Windows
Plug-In for Mac OS
3-year limited warranty
Things To Know About Servo Motor Vinyl Cutters
Servo motor vinyl cutters are much faster and stronger in comparison to models that run on Stepper motor. Therefore they're often used in industry and business, and often cost more. Here I'll give you information on features you should consider when searching for the best model.
Blade Force And Speed – Servo motors allow fast and strong cutting. However, that also depends on the blade. Titan blades will cut much thicker materials in comparison to Standard types. So if you want to work with thick materials, check the blade speed and force that should be above 20 ips and 15 ounces.
Precision In Cutting – This is another very important feature to consider. If you're run a business of making small logos and stickers, you need a machine that can make clear cuts around details. So check if the unit has a cutting precision of 0.0004" or less. Also, laser function is very useful for accurate cutting.
The Material Feed – Besides having a fast motor, it's important how wide the paper feed is. If you want to make diverse projects, both small and large, and from different materials- buy a large format printer cutter. The feed should have adjustable pinch rollers so you can set the feed according to material width.
Desktop Vs Stand – This choice will depend on the materials you use. If you're running a big business and use an automatic feed of vinyl rolls, buy models that come with the stand and catch basket that allow unattended automatic workflow. However, if you're doing smaller projects from vinyl sheets, it's enough to buy a desktop model.
Software Compatibility – When choosing the right servo motor vinyl cutter, check if its software is suitable for the operating system on your computer. Brands like Graphtec can work on both Mac and Windows. Other brands will mostly work on Windows only unless you buy a plug-in for software that allows it to function on the Mac system.