Are you searching for small inkjet printers?
Then search no more!
In this article, you'll find out all you need to know about the 6 best models on the market. In case you need more info on practical features you can read the buying guide. Compare these models and find the best one for yourself.
Our Top Picks
Best 6 Small Inkjet Printers
BEST OF BEST SMALL INKJET PRINTER
HP DeskJet 3755 Small Inkjet Printer
This is the best small inkjet printer you can find on the market that's multifunctional so you can copy, scan, and fax. The AirPrint app is available for Apple mobile phones and other devices so you can print directly from them without having to install the software.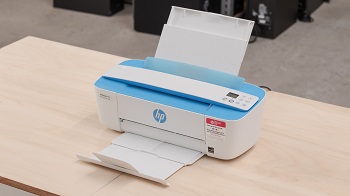 HP Instant Ink And Smart App
The HP Instant Ink is a very user-friendly feature that tracks the ink levels and orders new ink when necessary. It also includes HP Smart App that allows you to set up the system, scan from the smartphone, order new ink, and directly print from and scan to cloud services such as iCloud, Dropbox, and Google Drive.
Suitable Size
The model can connect to any device wirelessly with WiFi and Bluetooth. The model is compact and it's 15.86" long, 6.97" wide, and 5.5" high. The Bluetooth inkjet printer can work on media of different sizes: 3×5" to 8×14" including letter, legal, 4×6", 5×7", 8×10" and no 10 envelopes.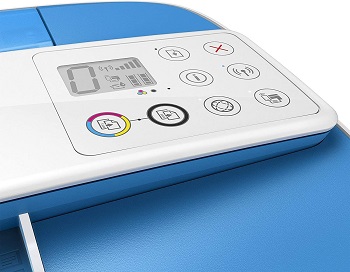 Page Capacity
All parts of this model are covered by 1-year limited warranty. The input tray has a capacity of 60 sheets, while the output tray has a capacity of 25 sheets. The printing speed is 8 ppm for black and 5.5 ppm for color. It works with Mac, Windows, Android, and iOS. Also, it features an icon LCD for settings control.
Highlighted Points:
HP Instant Ink
HP Smart App
15.86" long, 6.97" wide, and 5.5" high
input tray with 60-page capacity
connects to cloud services
BEST WIRELESS SMALL INKJET PRINTER
Brother MFC-J895DW Printer Wireless
Mobile Printing
It's one of the inkjet printers that can connect to the mobile phone or another device with WiFi, Ethernet cable, or locally with a USB interface. A unique function of this model is mobile printing that you can do with AirPrint, Google Cloud Print, Brother iPrint and Scan, Mopria, or Wi-Fi direct. AirPrint technology is suitable for Apple only.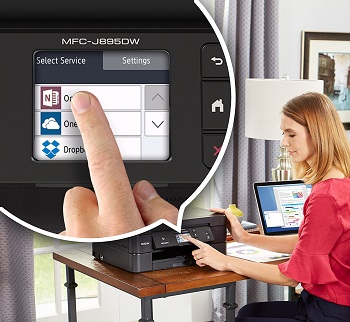 Near Field Communication
Another user-friendly feature of this refillable inkjet printer is Near Field Communication (NFC). It's a tag on the machine and when you place your mobile phone above it, you can print directly from the phone. Scanning with NFC is also available.  This model is 6.80" long, 13.40" wide, and 15.70" high.
Dash Replenishment
If you buy this small inkjet printer wireless, you can use it with specifically designed ink for that unit- LC3011BK, LC3011C, LC3011M, LC3011Y, LC3013BK, LC3013C, LC3013M, and LC3013Y cartridges. Also, this unit features Dash Replenishment that tracks ink levels in the cartridge and orders more ink from Amazon when needed, so you don't run out of ink.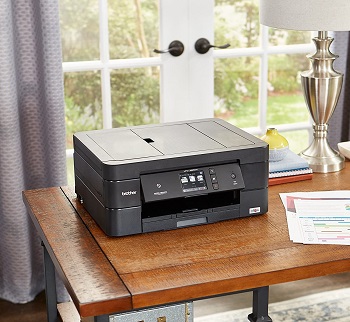 Page Capacity
The machine features an automatic document feeder (ADF) and auto-duplex printing for a fast workflow. The input tray has a capacity of 150 sheets, while ADF has a capacity of 20 sheets. All settings can be tracked and adjusted with the 2.7" color touchscreen. The black printing speed is 12 ppm, while the color printing speed is 10 ppm.
Highlighted Points:
WiFi, Ethernet, and USB connectivity
scan and print with NFC
Amazon Dash replenishment
20 page capacity for ADF
black and color speeds are 12 ppm and 10 ppm
BEST OFFICE SMALL INKJET PRINTER
HP Tango Small Office Inkjet Printer
Smart App For Phone
This is a great model for the office because it's all in one model that is able to print, copy, and scan. You can do all these operations from your mobile phone using HP Smart app which is very user-friendly if you want to work from anywhere in the office.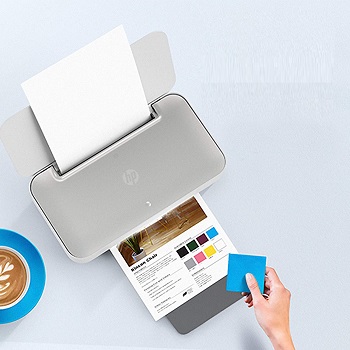 Warranty And WiFi
All parts are covered with a 1-year limited warranty, and the machine is energy-efficient. Its design meets the HP Sustainable Impact policies. This small inkjet printer has dual-band WiFi to connect with a mobile phone, PC, or tablet. The WiFi has a self-healing feature which means it automatically detects and resolves internet connection issues.
Alexa And Bordless Printing
Another practical function of this best small office inkjet printer is borderless printing that ensures images without a white margin. This model can make borderless photos up to 5" wide and 7" long, while standard prints are 8.5" wide and 14" long.  This wifi inkjet printer can receive voice commands from Alexa.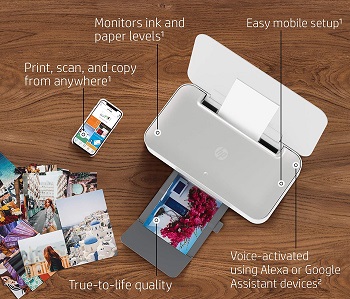 Instant Ink And Printing Speed
The Instant Ink function is tracking ink levels and ordering new ink bottles when the level is low. The package includes HP 64 Setup Ink Cartridges in black and tri-color and a power cable. The model is 8.11" long, 14.84" wide, and 3.58" high. The maximum printing speed for the black color is 11 ppm.
Highlighted Points:
11 ppm printing speed
8.11" long, 14.84" wide and 3.58" high
Alexa voice commands
dual-band WiFi
11 ppm of maximum printing speed
BEST COLOR SMALL INKJET PRINTER
HP Office Jet 200 Small Inkjet Printer
Dimensions And Tray Capacity
This is one of the small inkjet printers that are very compact and portable. The model is 14.3" long, 7.32" wide, and 2.7" high. Therefore you can hold it in your hands and transport it anywhere. The maximum capacity for the input tray is 50 sheets.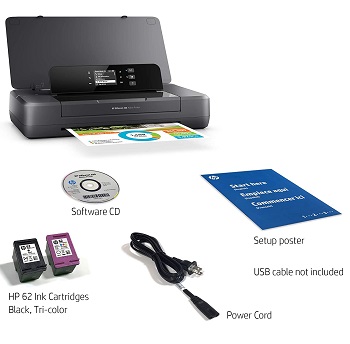 Suitable Media Size
The model does the printing and can create photos that are up to 4" wide and 6" long. Also, This commercial inkjet printer has a bordless printing function for media up to 5" wide and 7" long. The wireless connection is available for easy work on smartphones, PC, or tablets.  The HP Smart App is included so you can print on the go from your phone.
Printing Speed
All features are easily set and adjusted with the large and interactive control panel with a 2" touchscreen. The battery charges really fast and it's fully charged in 90 minutes.  All parts are covered with a 1-year limited warranty. The maximum color printing speed is 7 ppm, and the black color printing speed is 10 ppm.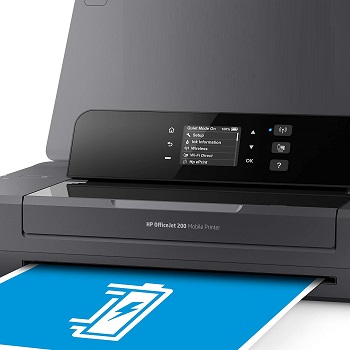 Energy-Efficient Unit
The unit is automatically connecting to the device when it's turned on. Other user-friendly functions are mono displays, optional high-yield cartridges, and an Energy Start certificate for the efficiency of the system. The package includes HP 62 standard and XL cartridges in black color and tri-color. The unit works on Mac, Linux, Windows, iOS, and Android.
Highlighted Points:
14.3" long, 7.32" wide and 2.7" high
50-page input tray capacity
10 ppm maximum printing speed
Energy Star unit
suitable for Mac, Linux, Windows, iOS, and Android
BEST FOR MAC SMALL INKJET PRINTER
Canon Pixma TR150 Inkjet Printer
Anti-Theft Lock
This mini inkjet printer is 12.7" long, 7.3" wide, and 2.5" high. The machine weighs only 4.5 pounds. It's very compact and features an input tray page capacity of 50 sheets. A very unique feature is the anti-theft locking slot that keeps your work protected.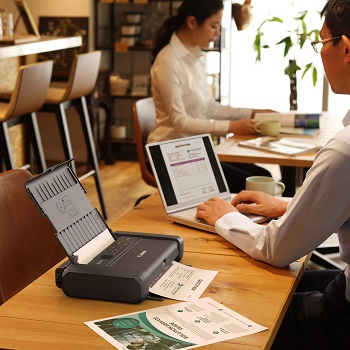 Direct Mobile Printing
It's a great model to use with the Mac operating system but it can also be used with Windows, iOS, and Android. The model can connect wirelessly with a PC or mobile phone. You can print directly from your phone with Canon Print App, Apple AirPrint, Mopria, and Google Cloud Print.
Cloud Sharing
The digital inkjet printer connects to the phone so it can print directly from the cloud services such as Google Disk, OneDrive, or Dropbox. It prints media that is up to 8.5" wide and 11" long. All settings can be easily tracked and adjusted on the 1.44" mono OLED display.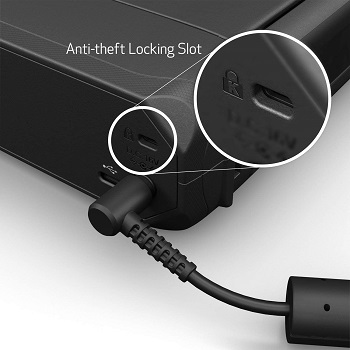 Weight And Speed
The small inkjet printers don't include Dash Replenishment, ADF, or automatic duplex printing. However, it's very lightweight, portable, and creates good-quality prints for the price. The model has a maximum printing speed of 9 ppm.
Highlighted Points:
12.7" long, 7.3" wide and 2.5" high
50 sheets tray capacity
9 ppm black printing speed
1.44" mono OLED display
 prints with AirPrint
BEST HANDHELD SMALL INKJET PRINTER
Selpic S1 Mini Inkjet Printer
Printing Area And Battery Capacity
It's 4.7" long, 1.8" wide, and 4.3" high. Therefore, this portable inkjet printer will easily fit into your pocket and you can carry it anywhere. The maximal printing area is 0.5" wide and 19.69" long.  It works on an 1100 mAh battery with 6 hours runtime and 72 hours of standby capacity.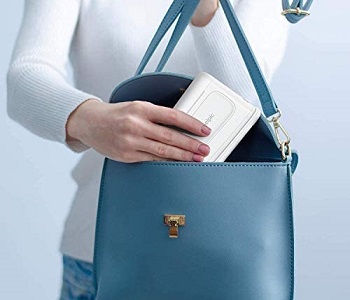 Ergonomic Design And Cleaning Cotton
It includes 40 mL of quick-drying ink for wide applications. Also, you'll get Selpic premium cotton rounds for cleaning the ink from the nozzles for the next projects, which is important to prevent overheating and damage. The machine has an ergonomic design for comfortable holding.
Thermal Process
Unlike other models, this unit is a thermal inkjet printer which means the nozzles are heated and created bubbles around the ink droplets before applying to the surface. The printing is fast and it can be applied to a variety of surfaces- horizontal, vertical, or curved. The printing speed ranges from 1.18 to 11.8 inches/s.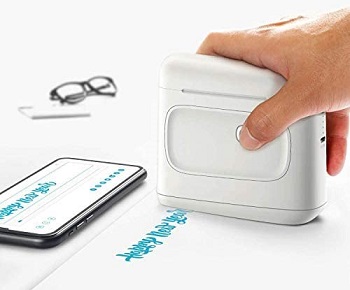 Warranty And System Requirements
All parts are covered with a 1-year limited warranty. The mini inkjet printer supports JPG, GIF, BNP, and PNG file formats, and it can be used with Android 5.0 and above, and iOS 8.0 and above operating systems. The package also includes a printer dock, black ink cartridge, and micro USB cable.
Highlighted Points:
4.7" long, 1.8" wide and 4.3" high
6 hours battery capacity
quick-drying ink
1.18-11.8 inches/seconds printing speed
1-year limited warranty
Things To Know About Small Inkjet Printers
Best small inkjet printers are space-saving and they can be both applied for business and home use. When searching for the right model, you should consider many different features. Mini inkjet printer should be high-quality made and have the right printing speed, additional functions such as AirPrint technology.
Printing Speed – If you want to use the machine for business, you need the model with high speed, which is above 10 ppm for black, white, and color printing. In that way, you can use the office inkjet printer to make a lot of documents in less time, which is efficient.
AirPrint Technology – It's a technology that allows you to print directly from Apple devices or Mac PC. It's very user-friendly because you don't need to install the software in order to work with the printer. All you need is the app and AirPrint technology.
Instant Ink – When buying an all-in-one color inkjet printer, you should consider the Instant Ink feature. It's very user-friendly and practical because it allows you to empty the whole ink cartridge, without ending up with no ink. When ink levels are low, the cartridge automatically delivers more from Amazon.
User-Friendly Functions – Other great functions you can find with small inkjet printers are the automatic feeder, safety auto-theft lock function, borderless printing, Alexa voice commands, and much more. It's great when ink cartridges are included with the model so you don't have to buy them separately.