Do you want to buy a 24-inch vinyl cutter?
Then you're at the right place! Here I'll describe the 4 best models from different categories: best, desktop, commercial, and professional. Find out which cutter suits you the most. For more info on specifications, check out the buying guide.
Our Top Picks
6 Best 24-inch vinyl cutter
BEST OF BEST 24 INCH VINYL CUTTER
Roland GS-24 Cutting Machine
Speed And Force Range
The GX24 Roland machine runs on a servo motor that's much stronger and faster in comparison to Stepper. Because of that, it features high cutting speed and force. The speed range is from 0.4 ips to 19.69 ips, while the downforce range is from 1.05 ounces to 12.34 ounces.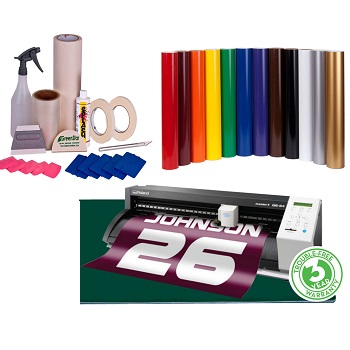 Precise Cutting
Therefore this commercial vinyl cutter machine can cut a variety of materials, especially since having a special blade of CAMM-1 series. The maximum cutting width is 22.9", while the maximum cutting thickness is up to 0.04". The cutting precision is 0.0005" of repetition accuracy.
High Cutting Precision
Therefore, this Roland CAMM 1 servo model has high precision to make detailed images with straight cut edges. This model is 33.9" long, 12.56" wide and 19.17" high. It weighs 51 pounds. The machine has desktop dimensions, and it can fit on any working surface. All parts are covered with a 3-year warranty.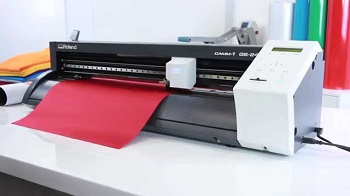 Low Noise Level
The 24-inch vinyl cutter comes with a USB interface to connect with the computer. The acoustic noise level during standby is 40 dB, while an operation is 70 dB. The optimal working temperature range is between 41°F and 104°F, while the optimal humidity range is between 35% and 80%.
Highlighted Points:
12.34 ounces maximum cutting force
the maximum cutting speed is 19.69 ips
0.0005" repetition accuracy
70 dB maximum noise level
optimal working temperature range 41-104°F
BEST DEKSTOP 24 VINYL CUTTER
USCutter SC Series Table Cutter
Software For Windows
This cad vinyl cutter includes VinylMaster Cut software that's suitable for Windows operating systems only. If you want to use it with Mac OS, you need to install the Sure Cuts A Lot Pro plug-in. You can connect it to the computer through the USB interface.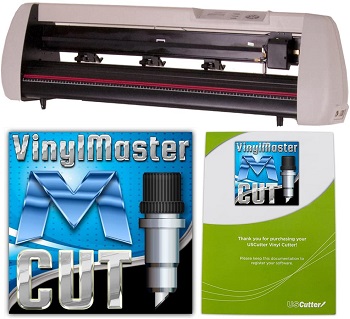 Roland Blades Included
The model includes three Roland blades- two 45-degree and one 60-degree blade. You'll also get a pen with an adapter, USB cable, serial cable, and a 1-year limited warranty. All blade settings such as cutting and speed can be adjusted with the control panel with LCD.
Save Contour Cuts On Machine
The backlight on LCD allows for easier navigation during the work. Another user-friendly feature of this 24-inch vinyl cutter is the internal RAM so you can save up to 99 copies of the job on your machine. The laser guides the blade around the printed image so this model can do contour cutting.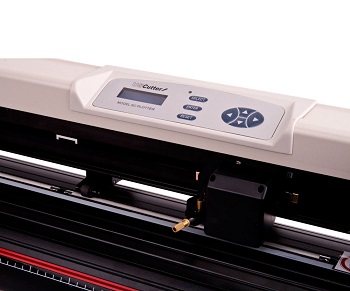 Auto-Memory Function
Also, all the settings of the blade force and speed can be saved automatically with the auto-memory function so you don't have to manually set them before every new project. All parts are covered with a 1-year limited warranty. The 24-inch vinyl cutter has a Roland blade holder and ink adapter.
Highlighted Points:
VinylMaster Cut for Windows
internal RAM
laser contour cutting
auto-memory
1-year limited warranty
BEST COMMERCIAL 24 INCH VINYL CUTTER
Diginex Expert 24 LX II Vinyl Cutter
High-Precision Contour Cutting
This GCC expert ii 24 lx vinyl cutter has a unique feature called AAS II- Aligning System. This system allows auto detecting of the registration marks on digital images and ensures precise contour cutting. With this 24-inch vinyl cutter, you'll get a full bundle- both tool and materials.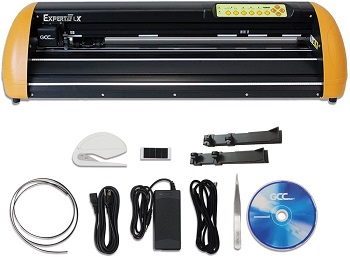 Other Functions
The contour cutting vinyl cutter has other user-friendly functions such as first-mark auto-detection, 4-point positioning, segmental positioning, and multiple copies. The optimal working temperature range is 50-86°F, while the optimal operation humidity range is 25-75%.
Blade Settings
The maximum cutting widths is 23.6", and the blade will cut materials up to 0.03". The vinyl cutter has a maximum cutting speed of 15.7 ips and a maximum cutting downforce of 8.82 ounces. It's great for cutting many materials, except very thick ones such as leather.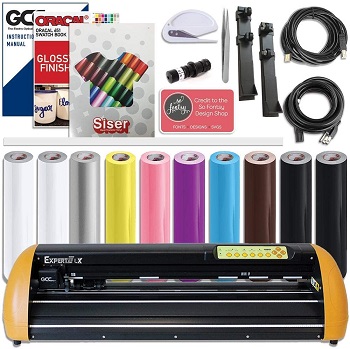 Software Requirements
All settings can be adjusted with the control panel that features six LED lights and 10 keys. The GCC expert 24 lx cutter can connect with the computer with USB 2.0 and RS-232C serial interface. The package includes plug-ins for CorelDraw and Adobe Illustrator CS suitable with Windows XP and Newer.
Highlighted Points:
AAS II laser aligning system
segmental positioning
15.7 ips maximum cutting speed
8.82 ounces maximum cutting force
CorelDraw and Adobe Illustrator plug-ins
BEST PROFESSIONAL 24 VINYL CUTTER
Graphtec CE7000-60 Cutter Plotter
Advanced Laser System 
This servo motor vinyl cutter is a professional model with high cutting speed and force. It features industrial-grade blades that can cut different materials. The system features a new and upgraded ARMS 8.0 or Advanced Registration Mark Sensing System.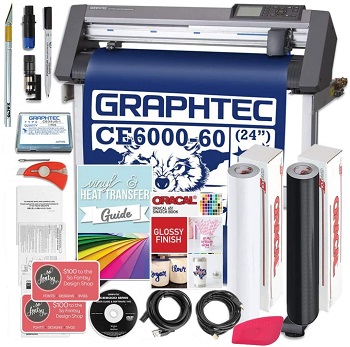 Software Is Included
The blades are following laser marks to cut around printed lines with high precision. Therefore, this vinyl cutter it's great for making detailed images out of vinyl or any other material. With it, you'll get a Graphtec Pro Studio for Windows, Graphtec Studio for Mac, and Cutting Master 4 plug-in.
Datalink Connection
Another unique function is the datalink barcodes. It allows automation in the working process since it's detecting data barcodes from the files that are on the PC or USB flash memory. It opens the file that needs to be cut and start the operation automatically.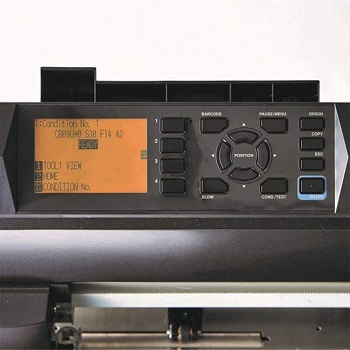 Package Content
The contour and die-cutting tool positions are separated which ensures blades' longevity. The machine has a control panel with an LCD for easy navigation and settings control. With this 24-inch vinyl cutter, you'll get a stand with media rollers, blade holder, loupe, a fiber-tip pen with a holder, power cord, and USB cable.
Highlighted Points:
ARMS system
Graphtec Pro Studio for Windows
Graphtec Studio for Mac
datalink barcodes
control panel with LCD
Things To Know About 24-inch vinyl cutter
When buying a 24-inch vinyl cutting machine, you should consider other features such as blade strength, feed settings, and additional functions such as autoblade, emergency stop, laser cutting, etc. These functions are very user-friendly, especially if you want to use the machine for business.
Adjustable Feed – Search for models that have pinch-rollers, or even better, grit-rollers. These are firm parts that are holding the material in the feed, keeping it stable, straight, and easy to navigate. Also, they ensure you adjust the guide rail according to the material width.
Right Software – Not all software will work with all computers. If you have Mac OS on your computer, you should buy Mac compatible vinyl cutter that has Cricut Design Space, Silhouette Studio,vSure Cuts A Lot Pro, or Graphtec Studio software. VinylMaster Cut and Signmaster are suitable for Windows only. 
Additional Functions – High-tech functions you can find with 24-inch vinyl cutters are the auto blade and laser cutting. The auto blade allows you to do work with different materials, without manually adjusting the cutting speed and force. The laser is guiding the blade around the printed lines so the machine can do very precise contour cutting.
User-Friendly Accessories – The model should include a software and tool kit. Great optional accessories are materials such as cutting mat, vinyl sheets, and rolls. Also, it's great if the machine has a catching basket and metal stand so you can easily use vinyl rolls and live the work unattended while the finished job is stored in the basket.
Speed And Force – If you want to use the model for professional or commercial use, you need an industrial vinyl cutter with strong blades. When a blade has a wide cutting speed and downforce, it can cut a variety of materials. To cut thicker materials than vinyl, the minimum cutting speed and force should be 20 ips and 10 ounces.