Are you looking for a color label maker that will help you to make colored stickers quickly?
Then this post is right for you. Keep reading and explore the best makers worth buying. See which characteristics make them practical and why you should have this machine in your office.
Our Top Picks
Best 5 Color Sticker Printers
Best Of Best Color Sticker Printer
Brother VC-500W Printer
Black-While Design
The Brother color label maker comes in a white and black color design that makes it look attractive. The printer has a compact size so it's lightweight and doesn't take a lot of space at your office desk. The machine prints labels and stickers in vivid colors thanks to ZINK technology.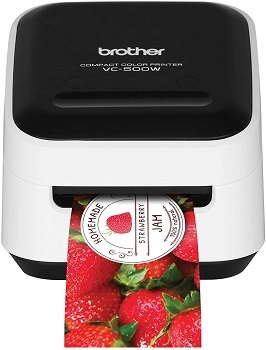 Comes With Roll
Not only the stickers and labels but this printer is purposed also for photo printing. You need to use ZINK paper to get high-quality products. The printer is purposed for the labels 9-50 mm wide. This label maker comes with a 25 mm roll. The cleaning cassette is also included.
Edit App Available
It's easy to use the machine using a simple one-button system. The switch on/off button is placed on one side of this small and cute label maker. Before printing, you can edit your labels in the free editor available for Windows and Mac.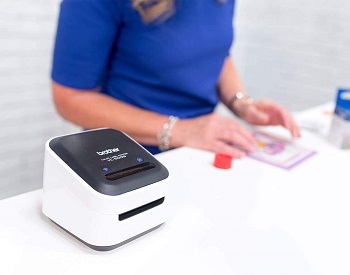 Wireless Connection System
After editing, the machine is ready to print. You can connect your PC, mobile phone, or tablet with the printer using a wireless network. This system is similar to the system of Bluetooth label makers. That means you don't need a lot of cables that would make your desk messy. The wireless connection is a simple way to send the sticker scheme to the printer.
Highlighted Points:
zero ink technology provides vivid colors
connectable with PC using a wireless network
a compact black and white design
free color editor app available
compatible with Windows and Mac
paper roll included in the package
Best Handheld Color Sticker Printer
Dymo Color Label Printer
Cool Purple Exterior
The Dymo color label maker printer is also small and the size makes it a cheap shipping label printer. It's even smaller than the previous model since it's practical for carrying in the pocket or a bag. The exterior of the printer is purple which makes it look cool. If you want a neutral printer, the black design is also in the offer.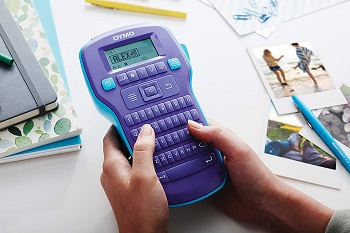 From Office To Home
Since it's a handheld label printer, you need to hold it in your hand and operate with it using the keyboard and programmable buttons. It's lightweight so you can carry it in your hand for a long. It has a portable design so you can carry the machine from the office to home. 4
Emoji Available For Printing
This printer functions differently than usual label printers. You need to write the content of the label using the keyboard. You can create small labels with a maximum font of 20. The emoji are available on the keyboard as well as various symbols. You will get the blue tape and you can create the white print.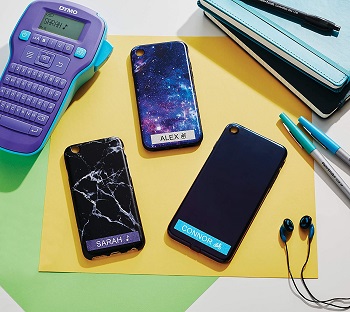 Batteries Or Adapter
This machine requires batteries but they are not included in the package. You can use it also with an AC adapter. The printed label comes out from the opening on the top of this purple printer. You don't need a PC and similar devices which makes the usage simpler.
Highlighted Points:
handheld battery-powered label printer
purple design in the wide color design offer
lightweight and portable model
comes with blue tape for making the small label
the keyboard includes the 20 font and emojis
the batteries are not included in the package
the battery changeable for the AC adapter
Best Full Color Sticker Printer
Primera LX500 Color Label Printer
All Colors Available
This Primera model is a full-color sticker printing machine which means it includes all the colors in the system. You can print labels and stickers in all colors. For that reason, it's practical for printing also small photos and graphics. You don't need to use all the colors so you can print also barcodes.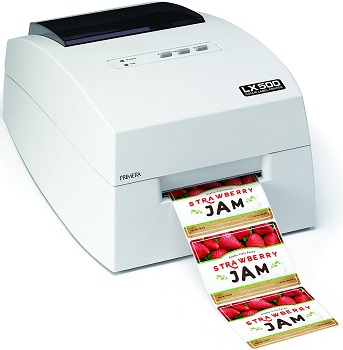 Indicator Light And Buttons
The Primera label printer comes in a compact design which makes it a cute label maker. It includes a few buttons you can use to operate the printer. There are also two indicator lights that signify power and ink. The printer has a roll-fed system. You can use more than 20 different materials such as paper, synthetic, polyester, and more.
Roll, Ink, Cable
Depending on the material you use, you can use this printer to make labels purposed for promotional products, medicals, food packages, and more. You will get one package of roll and ink. The roll has dimensions of 4×3 inches. You will get the cable in the package as well.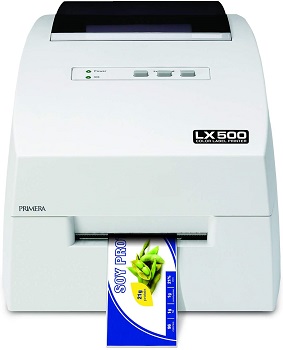 Windows Or Mac
You can connect this label printer with the PC with Windows or Mac operating systems. The printer supports Windows 7/8/10 as well as Mac OS X 10.6-10.10. The printer can crater the levels with a minimal size of 0,5×0,5 inches and the maximal size of 4×24 inches.
Highlighted Points:
printer makes labels, photos, and graphics in all the colors
0,5-24 inches of the label size
connectable with PC of Windows or Mac systems
the printer supports 20 and more materials
simple design with 3 buttons and 2 indicator lights
Best Commercial Color Sticker Printer
Epson TM-C3500 Printer
Wide Range Of Application
The Epson color label maker has a wide range of applications since it can create labels, tickets, and tags. It's useful for any kind of business. Its strong construction proves the effectiveness of the commercial use of this printer. This printer is a little bigger than other label makers.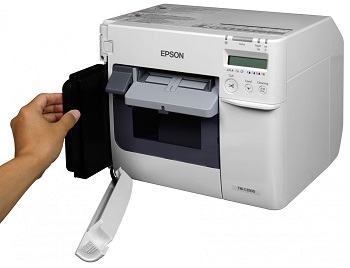 Big Roll Saves Time
The high speed shows the commercial constriction of this label printer. It prints with a speed of 103 mm per second. You will get the power supply but the cable is not included in the package. This model holds a big tape roll so you don't change it often which can save your time on work.
Four Colors Available
The printer is connectable to the PC using the USB port and cable. Ethernet connectivity is also supported. With this printer, you can make the labels with a width of 1,2 to 4,4 inches. Unlike the previous full-color model, this one supports 4 colors. You need to use individual ink cartridges.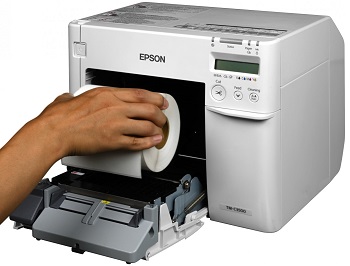 Control Panel With Display
This commercial model is certified for use as a GHS label printer. It includes the main colors used for this type of label. The printer includes a control panel with a display. It can help you to adjust the printing settings the way you want.
Highlighted Points:
commercial-grade printer
prints labels in 4 main colors
it's certified for GHS labels as well
the label width 1,5-4,4 inches supported
USB and Ethernet connectivity available
power supply included, the cable is not included
Best Small Color Sticker Printer
ClariSafe Color Label Printer
Portable White Design
The ClariSafe color label maker printer comes in a white color which makes the simple design of this printer. It's small so you can carry it easily from one office to another. You can also use it as a home printer since it's practical also for personal purposes.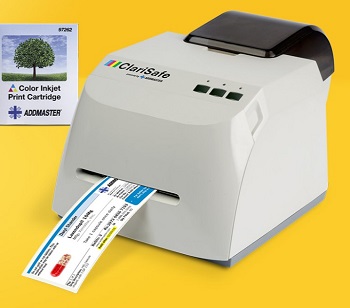 Simple Operation Ensured
This printer is about 11 inches long and 7 inches wide and high. You can enter it in any office. A small space on your desk is enough to place this printer. It has a simple operating system that includes 3 buttons. You need to operate with the buttons by following the instructions.
Digital Catalog With Labels
The printer functions with label ink. You can check the digital catalog that this model includes to get the schemes for standard warning labels. You can also use Google Drawings to create the schemes that this label maker with print. It's designed to use it as a commercial label printer for making labels on demand.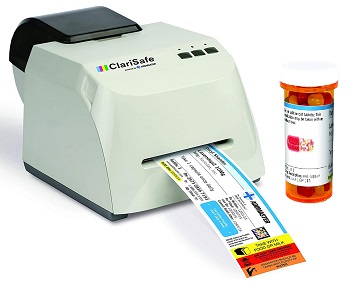 Ideal For Medical Labels
You can make the levels in the size suitable for medical bottles. You can make a lot of labels with different content for a short time. You can print the labels with small photos as well as text. The labels can be in standard colors.
Highlighted Points:
compact size and white design
about 11 inches long and 7 inches high
includes the catalog with over 100 warning labels
prints the labels in size ideal for medicament bottles
the printer supports standard color ink
Things To Know About Color Label Printer Machine
The ink in multiple colors is the main part of this type of label printer and it makes them different than standard label printers. The multiple color printing makes these label makers multifunctional. That means you can print various materials and you can use it for various purposes. These models have different prices and are available online.
Color Specter – The color specter depends from model to model. While some models include the main 4 colors, other models include a full-color specter or almost all the colors. The tapes the printer supports also come in various colors that come in ink cassettes.
Photos Also Supportable – Since multiple colors are available for use, the printer can make not only labels but also photos, graphics, and more. The photos have a small size according to the size of the printer insert. The average size of the labels and photos is 5 inches.
Purposed For Many Places – The vivid color inks included in the printer make this label printer type convenient for business and personal needs. The small size which makes it portable contributes to the multi-place usage of this printer. In general, most color printers for labels are both office and home.
Various Price Range – The color label makers have different prices since there are many types of color printers. The printers have similar sizes so it doesn't have an influence on the price but the price depends on the color options and printing mechanism. The commercial models cost around 1000 dollars while the standard office/home printers cost around 100 dollars.
Delivery At Adress – The widest offer of these printers is on the webshops such as Amazon. These stores offer delivery. On Amazon, most label printers include free shipping. The delivery comes at your address for a few days, depending on the number of the items in stock and your living place.