Are you interested in buying a flatbed inkjet printer for your business?
Then you should read this article! I'll describe the 6 best models, and divide them into different categories- large, desktop, digital, etc. Compare them and also research more info in the guide to buying the right UV inkjet printer for yourself.
Our Top Picks
6 Best Flatbed UV Inkjet Printer
BEST OF BEST FLATBED INKJET PRINTER
Other 1 Inkjet Printer
Cold LED Technology
This UV inkjet printer features the latest LED cold light technology which is very user-friendly because there's no radiation, the surface temperature of printing material is low and any deformations are prevented. It's delivered in shock-proof and anti-moisture box wooden box packaging.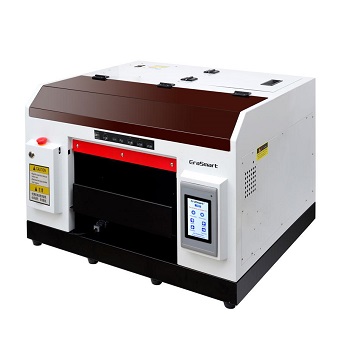 Fast Applying
Another great feature is the large touchscreen display that allows you to navigate and adjust any settings. The printing speed is fast since the material can be applied within 2-5 minutes on the surface when using UV technology. The control system is efficient with advanced processing, fast printing tasks, and algorithm optimization.
Auto Height Correction
There's no need for steaming or post-treatment processes such as washing. The very user-friendly feature is automatic height correction. The industrial inkjet printer automatically adjusts the height of the nozzle to the material thickness to achieve the best effect. It also features automatic flash spray that prevents nozzle blocking. It's delivered with six-color ink.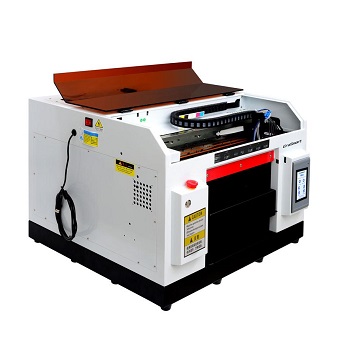 Warranty And Cooling System
The flatbed inkjet printer is CE certified which means it's safe to use. Also, all parts of this machine are covered with a 3-year limited warranty which approves the quality of the structure. The triple cooling system consists of air cooling, water cooling, and a cooling fin which prolongs the lifetime of the UV lamp.
Highlighted Points:
without deformation or radiation
large LCD control panel
automatic height correction and flash spray
efficient control system
3-year limited warranty
BEST DESKTOP UV INKJET PRINTER
A3-19N Desktop UV Inkjet Printer
Flatbed Dimensions
This model is using strong UV light to cure the ink on the surface. Because of these properties, it can print on a variety of surfaces: PVC, card, cellphone case, glass, wood, metal, vinyl, etc. The platform for placing the surface for printing (or flatbed surface) is 16.5" wide and 11.8" long.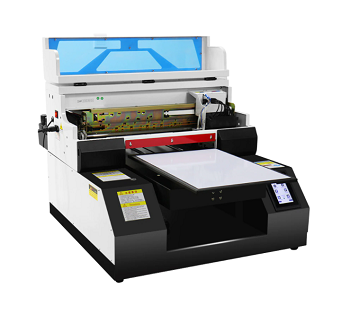 Desktop Heavy Structure
A large touchscreen makes it easy to control the settings and adjust them according to material and thickness. The desktop UV inkjet printer is 25.98" long and wide, and 21.65" high so it fits on the larger working surface. It weighs 230 pounds and needs to be placed on a durable surface.
Resolution And System Requirements
The maximum printing resolution is 5760 x 1440 dpi so it creates sharp and clear images. The printing height can be automatically adjusted up to 4.7" in height. The included printing software is AcroRIP that can work with Windows XP, 7, and 10. This inkjet PVC card printer doesn't work with Mac operating systems.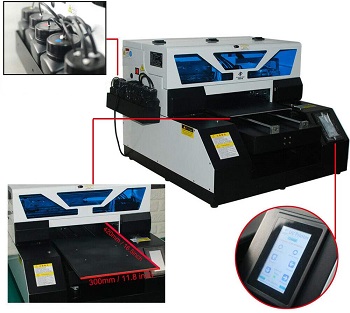 Power And Cooling System
The cooling system combines water and air cooling which elongates the lifetime of the system. The UV lamp power is between 50W and 60W. The UV inkjet printer includes software, cleaning material, glass primer, cables, and accessories set.  Also, it features nozzle protection with an infrared anti-collision system and ink-absorbing pad.
Highlighted Points:
16.5" wide and 11.8" long flatbed
the printer is 25.98" long and wide, and 21.65" high
5760 x 1440 dpi printing resolution
automatic height correction
works with Windows XP, 7 and 10
BEST COMMERCIAL FLATBED INKJET PRINTER
Refretonic MT-TS1325 UV Printer
Dimensions And Weight
This UV inkjet printer is very large and heavy and suitable for industrial applications. Since it's very big, it's ideal for making large prints. The model is 148.03" long, 63.78" wide, and 52.36" high. It weighs 1470 pounds, so you'll need assistance during delivery and assembly.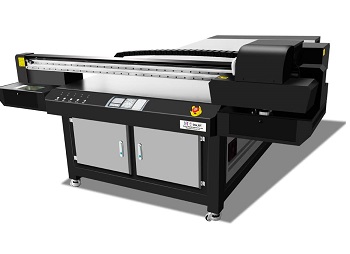 Durable Steel Frame
The brand of this model is providing you with customized production and packing, free printing and training, and a lifetime warranty with continuous ink orders.  The structure of this flatbed inkjet printer is completely made from steel.  UV lamp energy can be adjusted. The system uses RIP software.
Motor And Printhead Features
It uses Epson DX5 printhead and it's suitable to work with Epson UV curable inkjet ink. The printer has an anti-collision system that protects the printhead and nozzle from clogging with ink and damaging. The system runs on servo motors, therefore the processing and printing are fast and ideal for large businesses.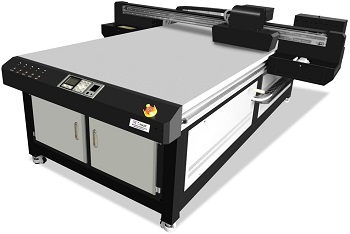 Auto-Correction And Large LCD
The machine has a large LCD with a control panel so you can navigate the printing process and adjust certain functions. Another user-friendly feature is the auto-control and auto-detect system for media thickness. In that way, the printhead is automatically positioned at a certain height depending on the material.
Highlighted Points:
148.03" long, 63.78" wide, and 52.36" high
weighs 1470 pounds
lifetime warranty included
anti-collision system for printhead
auto-detect system for height adjustments
BEST LED UV INKJET PRINTER
Refretonic 0609 UV LED Inkjet Printer
Weight And Surface Compatibility
Unlike previous models, this UV inkjet printer is very heavy. It weighs 3960 pounds so it's suitable for industrial use in businesses that create large-format projects of different materials such as metal, glass, leather, wood, plastic, PVC, vinyl, etc.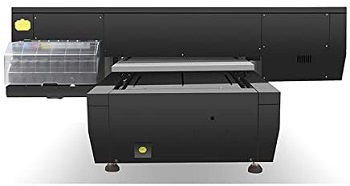 Auto-Correction System
Since it's so big, the delivery and installation are provided by the manufacturer. This commercial inkjet printer enables mass production and has a high-quality Xaar1201 printhead. The auto-correction system allows the machine to adjust the printhead up to 5.12" in height.
Image Resolution And Ink Properties
This UV inkjet printer can be used with both economical and environmental UV curable ink. It creates high-resolution images with up to 2880 dpi. The UV lamp has an advanced LED light that prevents any damage or radiation on the surface.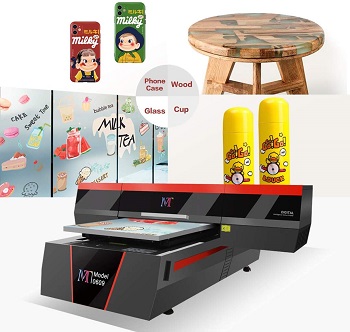 Rotary System And Warranty
The machine includes the rotary system so you can print on cylinder objects. Control all the settings on the control panel with buttons and an LCD screen for tracking the settings. The structure is high-quality made and covered with a 5-year limited warranty. Besides the warranty, you'll get free samples and training from the manufacturer.
Highlighted Points:
weighs 3960 pounds
adjusting up to 5.12" in height
image resolution up to 2880 dpi
LCD screen with control panel
5-year limited warranty
BEST FOR PHOTOS FLATBED INKJET PRINTER
Yan's YDS-A4BK Label Printer
Efficient Positioning And Precision
This UV inkjet printer creates images with a resolution of 1440 x 1440 dpi, therefore the print is clear and sharp. The model features accurate material positioning and scratch resistance. That's enabled with original EPSN printhead and independent grating decoder system that increases position and print precision.
Smart Sensor Technology
Another user-friendly feature is the smart height adjustment sensor. The smart sensor detects flatbed really fast, while the height detection sensor is registering the material surface. In that way, the machine can adjust the printhead according to the material thickness. The sensors on the printhead are preventing it from being hit and damaged.
Ink System Properties
The unique function of this flatbed inkjet printer is the UV ink dry instant system that is quickly applied on any surface and features high-quality adhesion. Also, ink is approved for having 3-years durability and anti-scratch properties. Independent continuous ink pump system has refillable ink containers.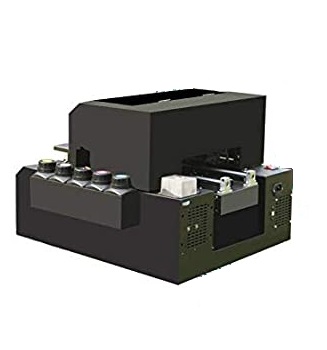 UV Lamp And Warranty
All settings can be easily adjusted with the touchscreen LCD that's updated and easy to use. The UV lamp has a water and fan cooling system that prevents it from overheating. It comes with color-separation software. This best inkjet printer for photos is covered with a 2-year limited warranty.
Highlighted Points:
1440×1440 dpi resolution
EPSN printhead and grating decoder
auto height correction
3-years durable ink
fan and water cooling system
BEST DIGITAL UV INKJET PRINTER
Refretonic MT-TS2513E Printer
Heavy And Large
This UV inkjet printer is very large and heavy. It's 174.8" long, 92.91" wide, and 68.9" high, and weighs 2750 pounds. The structure has an IGUS drag chain and high-performance steel belts. The whole exterior is made from steel that holds a heavy and expensive structure.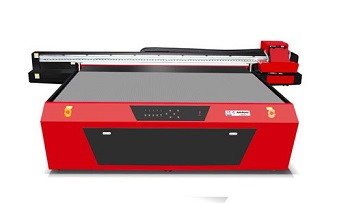 Adjustable Settings And Auto-Correction
The manufacturer offers customized production and packing, delivery, installation, free printing samples, and free training. All settings can be easily tracked and adjusted on the big LCD with a control panel. Auto height correction is using sensors to automatically adjust to material thickness.
Printhead With Anti-Collision System
The digital inkjet printer uses DX5/DX7 printhead that's high-quality made and features an anti-collision system so it can't hit the printing surface and the nozzle won't get damaged during the printing process. The Servo motors are running the system and enabling high-precision printing.

Automatic Flash-Spray
Also, this model features an advanced auto-lifting ink stack and advanced UV lamps with adjustable energy levels. The automatic flash-spray is crucial for the longevity of the nozzle. It sprays ink even when the printer isn't working to keep moisture on the printhead and prevent the nozzle from clogging.
Highlighted Points:
174.8" long, 92.91" wide and 68.9" high
it weighs 2750 pounds
servo motor
anti-clogging system
automatic height adjustments
Things To Know About Flatbed UV Inkjet Printer
This type of inkjet printer is using the light from the UV light for applying the ink to a surface made of different materials. It's often used in industry to make different projects. When buying the one for your business, you should consider different functions such as lamp power, cooling system, auto-correction, etc.
UV Lamp Power – The system can have different power which depends on the UV lamp power. The most used with high-resolution inkjet printers are white LED lights with power of 5000-6000W.  The lamp should be high-quality made so it doesn't overheat fast.
Cooling System – To prevent overheating, the machine must have a cooling system. The best is a triple system with water cooling, air cooling, and fan cooling. It circulates the cold air around the UV lamp so it prevents damages to the printer by stopping the lamp from overheating.
Flatbed Size – The flatbed is the surface on the UV printer that can be used with a wide variety of materials. Depending on the size, you'll be able to make small to big projects. If you want to make big projects, it's desirable to have a flatbed printing surface that's at least 60" long and wide and above.
Auto-Correction – The printhead can be automatically adjusted in a way that the nozzle doesn't hit the surface. A flatbed inkjet printer with automatic height correction is adjusting according to the material thickness. To work with high materials, it's desirable that the printhead can be adjusted up to 5" in height.
User-Friendly Functions – Another great function to have is an automatic flash-spray that is spraying the ink even when the UV inkjet isn't working. In that way, the nozzle won't be clogged by dry ink. The anti-collision function is also practical. It's made from sensors that prevent the nozzle to hit the printing surface and get damaged.