Are you searching for the best vinyl cutter for a small business?
Search no more! Here you can find 6 models on the market within different categories: small, commercial, professional, etc. Find the right one for yourself and in the buying guide is additional info on many practical features.
Our Top Picks
6 Best Vinyl Cutter For Small Business
BEST OF BEST VINYL CUTTER FOR SMALL BUSINESS
Cricut Maker Vinyl Cutter
Many Functions
This desktopvinyl monogram machine is the ideal choice if you want to cut different materials. The machine can cut over 300 materials and it features more than 12 functions including writing, scoring, cutting, etc. It has two different blades.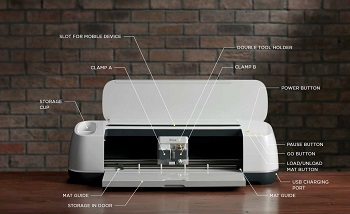 Knife vs Rotary Blade
The knife blade is suitable for cutting wood and other very thick materials, while the rotary blade is better for fabric. This best vinyl cutter for small businesses has a maximum cutting width of 12", therefore it's suitable for making small logos, stickers, and other similar projects.
For Windows And Mac
The Bluetooth technology allows wireless connection to any computer, tablet, or phone. The included software is Cricut Design Space that can work with both Mac and Windows operating systems. The model also has a USB interface and a USB cable for charging.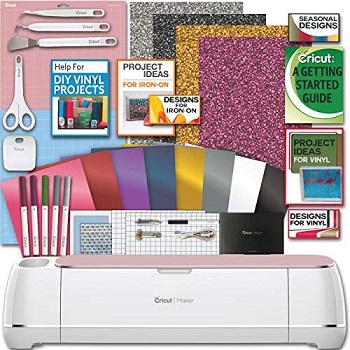 Access To Many Designs
Tools and materials for this model are sold separately. In case you want to download already created designs, you can pay membership to Cricut Access with over 100 000 already made designs, fonts, images, etc. Some designs are already included for free.
Highlighted Points:
12" maximum cutting width
rotary blade for fabric
knife blade for wood
Cricut Design Space software for Mac and Windows
cuts over 300 materials
BEST SMALL VINYL CUTTER FOR SMALL BUSINESS
Silhouette Cameo 4 Cutting Machine
Tool Sensor Technology
Type detection is a feature that's very practical for any business. It's based on smart technology and sensors that detect the tool you're using and then sends information to the software to automatically adjust settings. Silhouette software is suitable for both Mac and Windows operating systems.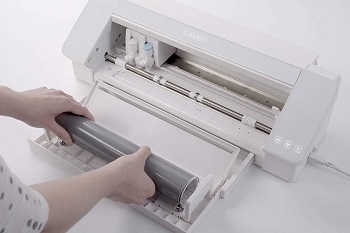 Dual-Motor Carriage System
The system of this best vinyl cutter for small businesses is running on a dual-motor system. That means that each tool carriage has its own motor. The first carriage runs on solenoid motor type and does smooth cuts, while the second carriage has a different motor that makes strong, fast, and precise cuts on thick materials.
Tangential Technology And Matless Cutting
This model has a smart tangential technology that allows the blade to cut very thick and precise cuts on thick materials such as leather, fabric, vellum, stencil vinyl, etc. Besides that, another unique function is matless cutting so you don't have to use a mat when cutting cardstock, paper, or other thin materials.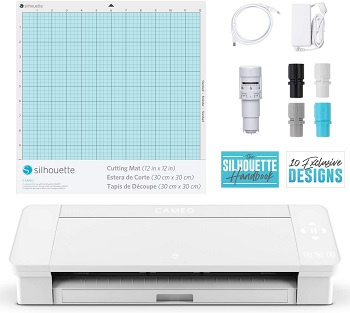 Upgraded Autoblade
The autoblade is another great feature of this mini vinyl cutter. It automatically adjusts blade settings according to the material thickness, so you don't have to do it manually. Also, the function is upgraded with a single-tap reset that reduces the time to prepare the blade for the next project.
Highlighted Points:
Silhouette Studio software for Mac and Windows
autoblade and tool type detection
smart tangential technology for thick cutting
two different motors
matless cutting
BEST COMMERCIAL VINYL CUTTER FOR SMALL BUSINESS
Vevor 34" Cutter Machine
Speed And Force
This is the best vinyl cutter for small businesses with wide cutting speed and downforce so it can be used with many materials. The cutting speed ranges between 0.4 ips and 31.5 ips while the cutting downforce ranges between 0.4 ounces and 17.6 ounces. All settings can be adjusted on the control panel with LCD.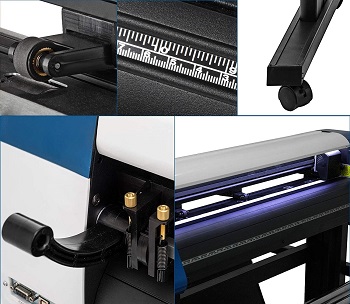 Wide Adjustable Feed
The maximum cutting width is 30.7". The maximum paper feed is 34". The guide rail on the feed can be adjusted to different paper widths because it has double-spring pinch-rollers and aluminum knurling sticks. Also, these structures keep the material straight and stable in the feed without deviation.
Efficient System
Like other best commercial vinyl cutters, this unit has high efficient system has 128K-2M high-speed cache memory, and a D-typed motherboard. It includes Signmster software. Therefore this is the best small business vinyl cutter for computers that have Windows XP/Vista/7/8/10 operating systems.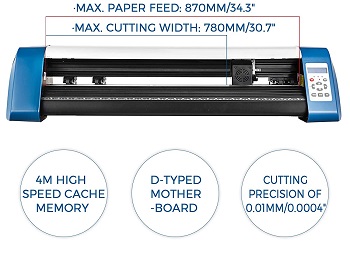 Interface And Package Content
It works on both 32-bit and 64-bit processors, and it's suitable for both DM-PL and HP-GL command sets. The machine connects to the computer with the UBS interface or serial COMPIM port. The machine comes with a metal stand, power cord, USB cable, USB flash disk, blades with a holder, and a pen with a holder.
Highlighted Points:
0.4-31.5 ips speed range
0.4-17.6 ounces cutting range
Signmaster software for Windows
34" maximum cutting width
pinch-rollers for adjusting feed
BEST LARGE VINYL CUTTER FOR SMALL BUSINESS
USCutter 28" Titan 2 Cutting Machine
High Cutting Force
Similar to vinyl stencil cutters, this machine has very durable blades with high cutting downforce that can cut very thick materials such as vellum, leather, fabric, stencil vinyl, adhesive vinyl, etc. The model includes three different blades made from Titan. The maximum cutting force is 26.45 ounces.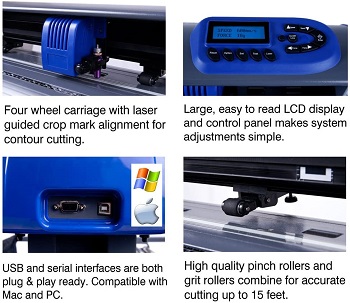 Contour Cutting With Titan Blades
So you'll get 30-degree, 45-degree, and 60-degree Titan blades with a holder. A model also includes a tool-carriage with 4 wheels and a laser. That means the blades can follow the laser and cut around the printed lines with high precision. That's called contour cutting and it's a very user-friendly feature for business.
Adjustable And Stable Feed
The maximum paper feed is 28",  so it's large enough for doing both big and small projects. The feed features the high-quality pinch-rollers and grit-rollers that adjust the guide rail according to the material width. Also, they're keeping the material straight while in the feed.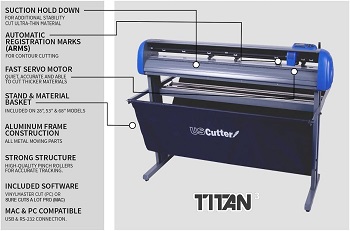 Windows Software
The best vinyl cutter for small businesses comes with a true USB interface and you can send files directly to the cutter from the Adobe software and other apps that support Vector Graphics. The model has VinylMaster Cut suitable for Windows only. The machine also has a serial RS-232 interface.
Highlighted Points:
26.45 ounces maximum cutting force
VinylMaster Cut software for Windows
28" maximum paper feed
three Titan blades
the feed has pinch-rollers and grit-rollers
BEST PROFESSIONAL VINYL CUTTER FOR SMALL BUSINESS
Graphtec CE6000-60 Vinyl Cutter
Barcode System
Great professional 24-inch vinyl cutter that has industrial-grade blades and many high-tech functions that are very practical for any business. The best function is the DataLink Barcode system. The machine has the ability to connect with the data on the computer with the barcodes.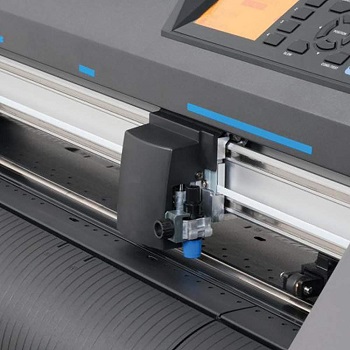 ARMS Contour Cutting
Therefore you can set the files you need to cut, add barcodes and the machine will connect them to the software and automatically start to cut. Another great feature of this best vinyl cutter for small businesses is the Auto Registration Mark Sensor System (ARMS) with a laser that guides blades around the printed lines.
Increased Productivity
So you can import printed images and cut them. The machine will cut detailed and small projects with high precision. Also, this ARMS system is increasing production efficiency by reducing media waste and expanding print and cut areas. The model comes with the rear media roller brake.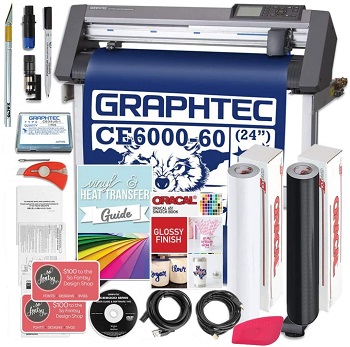 For Mac And Windows
It features Graphtec Studio software for Windows and Graphtec Studio Pro software for Mac OS. So you can use it with any computer or phone. The machine connects to the computer with the USB 2.0 port or serial RS232C serial interface. The has high cutting speed and force. The package comes with full material and tool kit.
Highlighted Points:
24" maximum paper feed
data barcoding for automated workflow
Graphtec Studio and Graphtec Studio Pro
material bundle and tool kit
ARMS contour cutting system
BEST FOR CRAFT VINYL CUTTER FOR SMALL BUSINESS
Brother ScanNCut DX Vinyl Cutter
Autoblade Function
This is a great model for the craft that can be used as a vinyl sign cutter. It has an autoblade function that uses sensor technology to adjust the blade settings to a material thickness so you don't have to do that manually.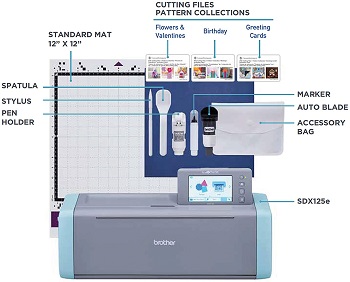 Built-In Scanner
It's the best vinyl cutting machine for small business that can cut up to 0.1" thick materials. Another unique function of this model is the built-in 600 dpi scanner. Therefore you can scan different designs and images and cut them.
Pre-Installed Designs
The includes software comes with 682 built-in designs that are ready to use, which is ideal for business if you want to save time or money on creating certain designs. The package also includes a blade, and sewing mat that's 12" long and wide.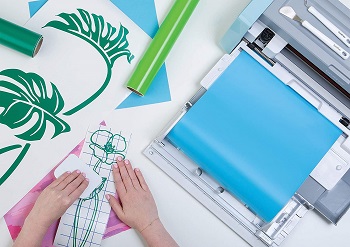 Easy Settings Adjusting
The tool storage at the side of the paper feed can be used to organize blades, pens, and other tools. Besides cutting, this model can also sketch different images. All settings can be tracked and adjusted on a 5" LCD touchscreen.
Highlighted Points:
autoblade function
built-in scanner
can cut up to 0.1" thick materials
features 5" LCD touchscreen
cutting and sketching function
Things To Know About Best Vinyl Cutter For Small Business
Many models are available, but there's only one best vinyl cutter for your small business. You have to know what your business requires, and then search for the most suitable model. Here you can find out more about important features such as cutting width, software, high-tech functions, etc.
Software Requirements – If you buy a model with software that doesn't work on your computer, you won't be able to do any project. Vinyl cutter for Mac and Windows has Cricut Design Space, Silhouette Studio, Sure Cuts A Lot Pro or Graphtec Studio Pro software. VinylMaster Cut and Signmaster work on Windows only.
Cutting Width – If you're in business with making stickers, logos for clothes, small windows signage, and car decal, then you can buy the machine with a cutting width of up to 20". But if your business requires cutting big projects, then buy a machine with paper feed above 20" in width.
Blade Settings – The blade should have a wide cutting speed and force range because to work with both thick and thin materials. The cutting speed and force above 20 ips and 10 ounces will cut leather, fabric, vellum, etc. The knife blade is the best for wood, while Titan blades are the most durable.
High-Tech Function – The best small business vinyl cutter will have functions such as auto-memory, auto blade, or laser. Contour vinyl cutter is the best is if you want to make detailed and precise projects. The autoblade function automatically adjusts the settings to material thickness.
Automation – When having many projects, it's great to have a machine that will do most of the work for you. An automatic feed with a built-in cross-cutter will speed the process of switching from one to another project. Datalink barcodes allow automatic cutting directly from the PC. Catching basket prevents finished jobs from damage.