Do you need 1-inch wide labels so you're searching for the right 1-inch label maker?
Then this post might be useful for you. First, check the summary of the best models. See which model is the best for you and check details about this model in reviews. Finally, read the buying guide with the main information.
Our Top Picks
5 Best 1-Inch Label Makers
Best Of Best 1-Inch Label Maker
Dymo MobileLabeler Printer
Cube-Shaped Design
The Dymo label maker has a cube shape which makes it practical for carrying. There is a little metal handle you can use while carrying the label maker. In the middle, there is the input that holds the labels up to 1 inch wide. The minimal width is 0,4 inches.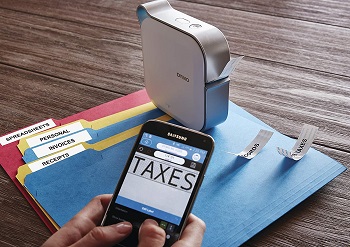 Wireless Connectivity And Portability
Dymo 1-inch label maker is completely portable. Not only the compact size but the Bluetooth connectivity is also the specifications that make this label maker portable. You can carry this Bluetooth label printer out of the office so it's practical for professional organizers who travel from place to place every day.
Mobile App Available
Since it's a Bluetooth printer, you can use the Dymo mobile app to edit the labels and operate with them. You can download the mobile app no matter if you use iPhone or Android smartphone. You can carry the label maker anywhere thanks to the battery that replaces the cable.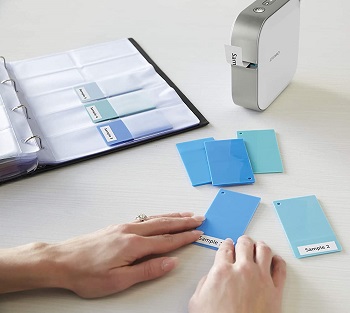 Windows Or Mac
Not only with smartphones but you can connect this label maker also with computer operating systems such as Windows and Mac. When it comes to Windows, Windows 7 version and later ones are compatible. You can use also Mac 10.9 and later versions. You need rechargeable batteries instead of AA batteries.
Highlighted Points:
Bluetooth connectivity with mobile devices
connects to Windows and Mac computers
uses chargeable batteries that make it portable
0,4-1 inch of the supported labels
mobile app for Android or iPhone
Best Handheld 1-Inch Label Maker
Puqu Label Printer
Blue Or White Small Design
The Puqu label maker stands out for the small design that makes it a cute label maker. This label maker comes in a blue color design but you can choose also a white design if you don't like blu. The printer is so small that you can place it in your hand and carry it easily.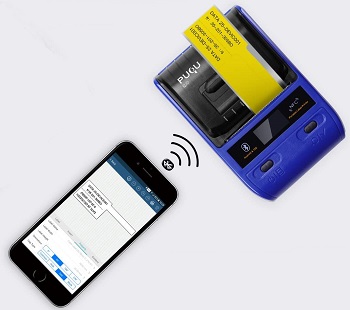 1-Inch Diameter
This 1-inch label maker has the input that supports the labels up to 2 incehs of the width. You can make jewelry, address, cable, and similar labels. The roll with a 1-inch diameter is the optimal choice for this label maker. You need to insert the roll into the label maker.
Lithium-Ion Battery
This label maker is also connectable with a smartphone via Bluetooth. It's supported for iOS and Android. The lithium-ion battery is included. You can charge the battery every time when it gets empty which decreases your costs. You will get the battery as well as the adapter for charging.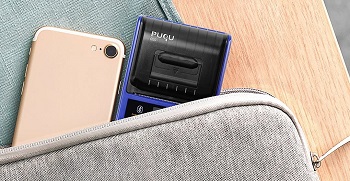 Two-Dimensional Barcodes
The printing speed is 35 mm per second which is enough to make 1-inch labels for a few seconds. The resolution of 203 dpi makes the small labels clear. If you print the barcodes, you can print both one and two-dimensional barcodes. You can make various types of labels.
Highlighted Points:
up to 2 incehs of the label width
lithium-ion chargeable battery required
compatible with iOS and Android devices
the resolution is 203 dpi on average
the average speed is 35 mm per second
Bluetooth connectivity available
Best Commercial 1-Inch Label Maker
Zebra ZD410 Direct Label Maker
No Matter The Computer Position
The Zebra label maker is bigger than the previous model so it's not so practical for carrying. However, it has Bluetooth connectivity so you can use it anywhere no matter the position of the computer. The label maker has a big place purposed for the tape roll.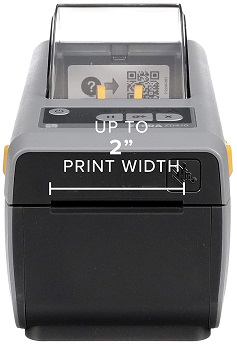 Up To 2 Inches
With this 1-inch label maker, you can use the roll that has a diameter of 5 inches maximally. The maximal width of the tape is 2 incehs so the input is optimal for 1-inch tape. You can make labels in black color only since it's monochrome printer type with a direct thermal printing system.
A Few Connection Options
Not only Bluetooth but you can connect this label maker with a computer using a USB cable or wireless network connection. This label printer provides a lot of options for connecting with a PC, so it's one of the best computer label makers. It's practical, especially for small price tags.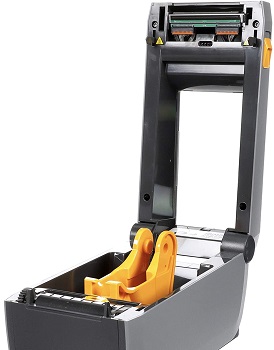 Ordinary Resolution
With a printing speed of about 6 inches per second, this machine is time-saving. You finish your job for short time. The resolution is the same as most label makers for small formats which means it's 203 dpi. The label maker uses a thermal printing method so it doesn't need ink.
Highlighted Points:
holds the label roll up to 5 inches of diameter
USB, Bluetooth, and Wifi connection
the average resolution is 203 dpi
the average speed is 6 inches per second
with thermal printing method makes monochrome labels
the tape roll holder built-in
Best Home 1-Inch Label Maker
Phomemo-M110 Label Printer
Attractive Small Design
The Phomemo label maker has an interesting design thanks to the color and size. It's a pocket-size machine with a pink color design. If you don't like this color, you can choose also neutral black or white design as well as an orange exterior.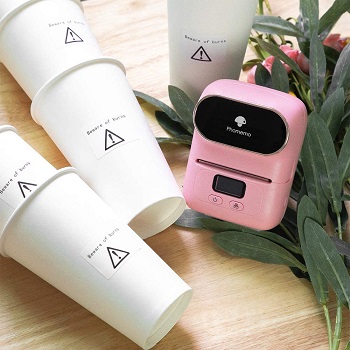 No Ink, Black Only
Just like the previous model, this one also uses the thermal printing method. That means you don't have to buy ink and you can print n black color only. The label maker supports the labels with a width of up to 30 mm which is around 1 inch. It's practical to use as a home label maker.
Smart Technology
This 1-inch label maker also uses Bluetooth connection for smartphones such as Android and iOS. The label maker has a simple operating system based on two programmable buttons and a screen. It has smart technology which means it recognizes text on images.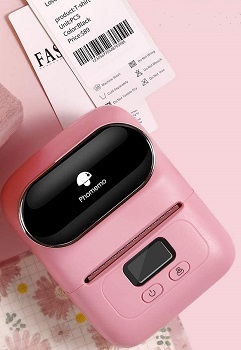 Distanced From Your Device
The Phomemo label maker uses a 1500 mAh battery that you can charge from time to time. With the full charge, the label maker works for up to a week. You can use it at a distance of 33 ft maximally from your device thanks to the Bluetooth 4.0 connection.
Highlighted Points:
Bluetooth connectivity option offered
works connected with a device on up to 33 ft distance
includes 1500 mAh battery ready for charging
supports devices with Android and iOS
option for recognizing text on the image
2 programmable buttons and little screen
Best Barcode 1-Inch Label Maker
Losrecal Thermal Label Maker
Blue Indicator Lights
This 1-inch label maker comes also in small size practical for carrying. You can place it even in your pocket and carry it anywhere. On the top of the label maker, there are 2 programmable buttons and 3 indicator lights that illuminate blue. The input is wide enough to support the 1-inch wide labels.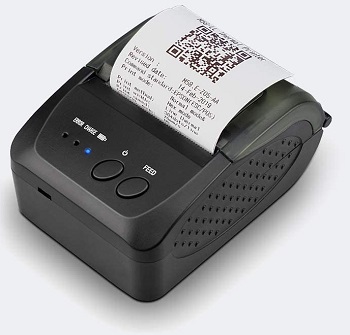 At Least 7 Days
This is the thermal label maker that uses batteries that make the machine completely portable. You will get a 2000 mAh battery you can charge. At least 7 days is the standby time. You can use this small label maker for up to 5 hours in continuity. The indicator light shows the battery capacity.
Maximal Width And Speed
You need to insert a small roll into the label printer. This label printer supports the roll with a diameter of 43 mm maximally. The maximal paper width is 58 mm so you can print 1-inch labels easily. The print speed is from 70 to 90 mm in a second.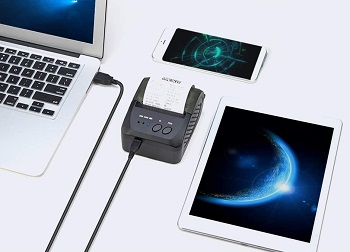 Linux And Android
This model has a resolution of 203 dpi just like most printers for small labels like 1-inch labels. This model is compatible also with computers. You can connect the printer to the computer no matter you use Windows or Linux systems. It's also compatible with the Andoird device.
Highlighted Points:
small construction for up to 43 mm diameter roll
maximal paper width is 58 mm
the printing speed is 70-90 mm/sec
compatible with Linux, Windows, and Android
prints with the resolution of 203 dpi
Bluetooth connectivity ensured
uses a chargeable battery with 5 hours of continuous use
Things To Know About 1-inch Label Maker
A label maker with small dimensions that make it portable is big enough to make 1-inch wide labels. You can choose the label maker that supports 1-inch width maximally or minimally. While buying, you need to see also millimeter measures that replace the inches in some cases.
1 Inch Of The Width – This label maker type prints text on the label that is 1 inch wide. Therefore, you need to purchase 1-inch wide tape while the length is not so important. You should consider the roll diameter to find the tape that fits the interior of the label maker.
Small Input – Since you want to make 1-inch wide labels, the printer with small input is the most suitable for you. You need a printer with a minimal input length of 1,5 inches. 4 inches is the maximal width of the input of the label maker that is practical for printing 1-inch labels.
Smaller Than 1 Inch – Some label makers purposed for 1-inch wide tape supports also the tapes with smaller widths. The minimal width is about 0,4 inches. The width of 1 inch is the maximal width some label printers support while some else printers with bigger input support 1-inch wide tape minimally.
Dimensions In Mm – Because of very small dimensions, descriptions of some label makers include the width information shown in millimeters. The minimal width of 0,4 inches is about 9 mm. You need to check that the label maker supports the width of 30 mm which is 1 inch.
Compact And Portable – Since you don't need wide labels but only 1 inch, the printer you choose doesn't have to be large but compact and handheld. The size of about 5 incehs is the average size of these label printers. The 1-inch label maker fits a bag, hand, or even a pocket.