Do you need the best printer for vinyl decals to make templates for your cutter?
Then you are in the right place. If you're not sure which printers are suitable for printing on vinyl paper, here is the list. The reviewed models are the best-rated on the market. Choose the one for yourself considering our evaluation.
Our Top Picks
6 Best Printer For Vinyl Stickers
Best Of Best Printer For Vinyl Stickers
HP Laserjet Pro M252DW Printer
Foldable Touchscreen
This HP printer model has a design as a standard printer. However, it doesn't have all the functions of the standard printer. That means you can print primarily but the scanning is not available. The printer includes an LCD screen that shows all the options you can select. When you don't use this touchscreen, you can fold it.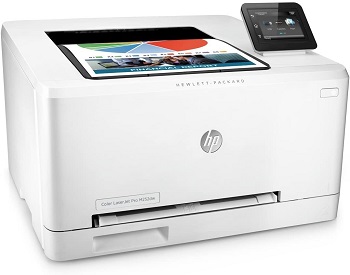 Increases The Creativity
It's the best printer for vinyl decals with laser technology. It prints in color so you can make creative vinyl decals. Not only vinyl glossy paper, but you can use also plain paper and envelopes for printing. The input of this printer is wide enough to hold A4 paper so it's ideal for vinyl stickers.
Sleep Mode Available
The printer has a 2-sided printing option that activates automatically. When you don't use it for some time, it goes into sleep mode. It's quick to wake it up from sleep mode. The printer gets ready again for a few seconds. You need to use original HP toner cartridges for this model.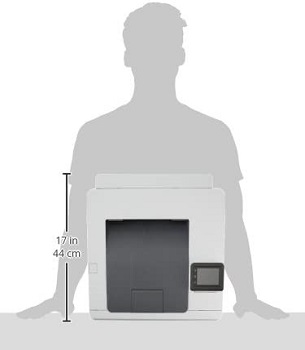 Only New Windows
It might be a problem for users who have Windows 7 or XP version because this model supports only Windows 10. You can print vinyl decal templates from the editing program directly. The resolution is 600×600 so the decals are clear no matter the color.
Highlighted Points:
includes laser printing technology
supports HP toner cartridges
scanning option is not available
compatible with Windows 10
includes a touchscreen with a foldable design
automatic 2-sided printing and sleep mode
Best Inkjet Printer For Vinyl Stickers
Canon Pixma Pro-100 Printer
Eight Different Colors
The Canon Pixma printer is also practical for making vinyl decals but unlike the previous laser printer, this one is the best inkjet printer for vinyl stickers. You can make decals in different colors. There is space for 8 inks. The printer has a simple operating system so it's practical for home or office use.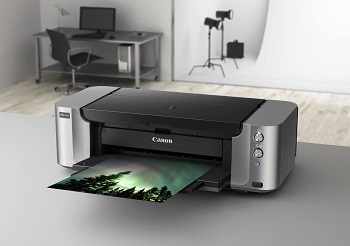 Big Size, Big Resolution
The printer tray has the capacity to store up to 150 sheets of paper. You can use also photo paper or letter sheets. It supports also a material size of 13×19 inches maximally. This printer has a high resolution of 4800 dpi so you can get clear vinyl stickers no matter their size.
Compatibility With Many Systems
You can connect the printer with the computer using a wireless network connection. Windows and Mac are suitable operating systems, just like most printers. This model supports more Windows versions, unlike the previous model I reviewed. It's compatible with Windows 7, Vista, XP as well as Mac 10.5.8, 10.6, and 10.7 versions.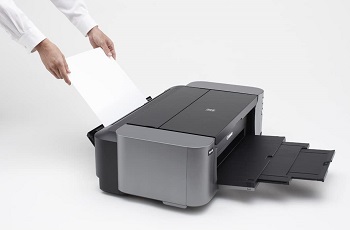 Any Office Or Home
You can make not only vinyl decal templates but also laminated documents. It's useful to protect printed photos or documents with an office laminator. The printer is suitable for any office or home. Its technology is high enough to allow you to use this printer for commercial purposes as well.
Highlighted Points:
8 colors in the cartridges
supports paper, photo, and letter sheets
high resolution of 4800 dpi
maximal vinyl decal size is 13×19
wireless connectivity with Windows and Mac
Best Small Printer For Vinyl Stickers
Kodak HERO 7.1 Printer
Practical Touchscreen Built-In
Kodak is a small vinyl sticker printer with an inkjet printing system. It's purposed for printing on paper as well as vinyl paper. On the front side, there is a touchscreen. It makes operating with this printer simple. You can choose not only print but also scan and copy options.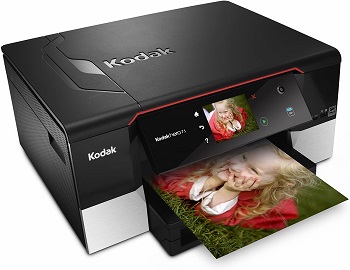 Separate Photo Tray
Thanks to the practical wireless connection that provides flexibility in your office, this is the best printer for vinyl decals and other creative things. The wide offer of color inks enables high-quality photo printing. The printer includes also a separate tray purposed only for photos.
Many Options Available
Wireless connectivity is available. You can connect the printer not only with the computer but the iPhone, iPad, and iPod are also compatible. Not only iOS but Android is also compatible with this machine. You can download the Kodak pic app and use it for making templates.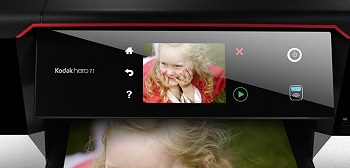 Space-Saving And Practical
Connected to some of these devices, you can print, copy, or scan. The 2-sided printing option is available so you can save your paper. If you print templates for vinyl decals, you need to use special glossy paper just like the standard one. The compact design makes this printer space-saving.
Highlighted Points:
with inkjet technology prints in a color
compact design with touchscreen
wireless connection with iOS and Android
includes an additional input tray only for photos
two-sided automatic printing function
Best Large Printer For Vinyl Stickers
Epson WorkForce WF-7710 Printer
Standard And Creative Work
Epson printer takes more space than the previous model and prints wide-format materials. It's practical for office use because it's multifunctional. You can use it for standard printing, scanning, and copying functions as well as for making vinyl decals and other creative work.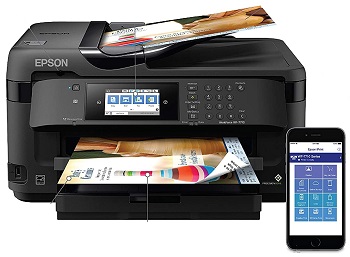 250 Sheet Tray
This best printer for vinyl stickers includes a wide control panel. It includes a touchscreen and many programmable buttons. The 250 sheet paper tray is also included. The tray supports also up to 20 sheets of photo papers and up to 10 envelopes. You can use various types of papers including vinyl paper.
Wide-Format Materials
Just like most printers, this one has a 2-sided printing option so you can save the paper. The maximum size of the material you can use for printing is 19×13 inches. You will get the Epson ink cartridges, power cord, and CD with software in the box.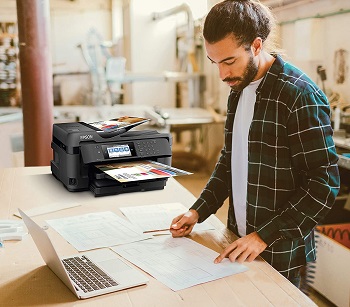 iPhone Or Android
The USB cable is not included but you don't need it if you prefer wireless connectivity. You can connect the printer with iPhone and Android smartphones as well as with tablets. If you want to print from the computer, you have to purchase the USB cable separately.
Highlighted Points:
large construction and wide-format input
suitable for printing with plain paper, envelopes, glossy paper
touchscreen, and buttons on the control panel
connects with iPhone and Android smartphones and tablets
power cord and cartridges in the package
13×19 inches is the maximal paper format
Best Commercial Printer For Vinyl Stickers
Xerox Phaser 6510 Printer
Color Laser Type
The Xerox printer model is a laser type like the HP printer I reviewed first. Using this printer, you can make vinyl stickers in multiple colors. The printer is about 20 inches long and 16 inches wide. The weight of the printer is about 52 lbs.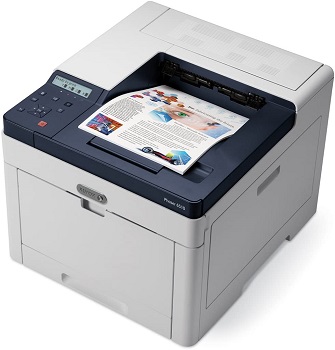 Clear Stickers And Photos
The resolution of 1200 x 2400 dpi makes this model the best printer for vinyl decals. Not only vinyl stickers but all the materials you print are clear including the photos. You can use the 2-sided printing function which is a standard function of printers.
Short Printing Time
Thanks to the high speed, this model is the best for commercial purposes. Printing in color takes a little more time than monochrome printing. While the color printing is about 9 seconds and the black and white printing time is about 7 seconds. In all cases, the paper is printed for less than a minute.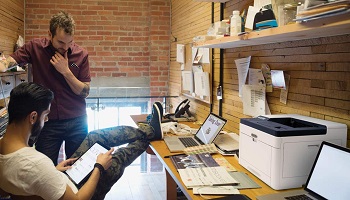 Big Paper Capacity
The tray holds 300 sheets of paper minimally and 850 pieces maximally. It's practical if you use it for your work because you don't have to add more papers often. It's designed for usage by 2-7 people. You can use it as an office printer for all the employees.
Highlighted Points:
about 20 inches long and 16 inches wide machine
uses laser technology and prints in color
the printing resolution is 1200×2400 dpi
average printing speed is 8 seconds
up to 850 paper sheet tray included
Best Home Printer For Vinyl Stickers
Brother MFC-J805DW Printer
Ideal For The Whole Family
The Brother printer is one more inkjet technology model. It provides a lot of options but it's simple to use so it's ideal for the whole family just like the home label printers. You can make the vinyl decals with your kids and friends easily.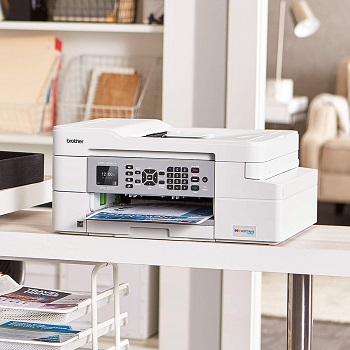 Various Paper Size
The cartridges are durable so you can print about 150 pages with one cartridge. This best printer for vinyl stickers supports the papers with a minimum width of 4 inches and a maximum width of 8 inches. The minimal length is 6 inches and the maximal length is 14 inches.
LCD Screen On The Control Panel
The control panel includes programmable buttons and an LCD screen. You can check the screen to see if the wireless network is activated. There are the buttons purposed for copying, scanning, and printing. The fax is also available so this model provides you the full service.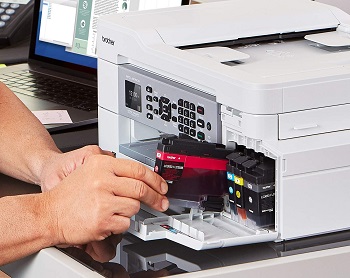 Duplex Printing Saves Paper
The printer includes a tray that supports up to 150 paper sheets. If you use standard paper, you can use duplex printing to save paper. You can set 2-sided printing to be automatic. It's possible to print directly from a smartphone using a wireless connection as well as from a computer.
Highlighted Points:
150 pages with one cartridge
4-8 inches of the paper width
6-14 inches of the paper length
print, scan, copy, and fax functions
150 sheet tray built-in
wireless connectivity to smartphone and PC
Things To Know About Best Vinyl Decal Printers
The vinyl decal printer is the standard inkjet printer that supports paper purposed for vinyl decals. The printer is functional for inkjet decal creating since it supports vinyl editor programs. The vinyl decal models have a typical range of prices and are included in the webshop offers.
Inkjet Printer Type – In general, all the inkjet printers are specified for printing templates for vinyl decals. The laser printers are also good for vinyl stickers if they are color printers. The printing process is the same as standard document printing except for the material.
Supports Vinyl Paper – The inkjet and laser printers for vinyl decals support self-adhesive glossy paper purposed for vinyl stickers. Since these are printers with standard functions, they support also plain paper, envelopes, cardstock, and more. The suitable materials vary from model to model.
Compatible With Programs – Printing is one of the steps in the vinyl decal creation process. The printer for vinyl decals is compatible with vinyl decal programs. You can print the templates from these programs directly. The printer makes templates ready for a vinyl cutter that finishes the vinyl making process.
200-400 Dollars – These printers have the price of standard printers since they in fact are standard print-copy-scan printers. The price is between 200 and 400 dollars mostly. The price is in accordance with the technology of each printer. The color function also has a role in determining the price.
Included In Online Offer – The best printer for vinyl stickers are available online as well as in almost all technology store. The online offer is available on Amazon, e-Bay, Walmart, and other webshops with an all-assortment offer. Most webshops include delivery which is free on some webshops such as Amazon.