Are you interested in buying a wide-format inkjet printer?
Then you should read this article! I'll describe the 6 best models currently available on the market so you can compare them between different categories and choose the right model. You can also read more about specifications for more help with buying the best model.
Our Top Picks
Best Wide Format Inkjet Printer
BEST OF BEST WIDE-FORMAT INKJET PRINTER
Epson WF-7210 Inkjet Printer
Media Size And Fast Printing
With this model, you should use specific Epson ink for the best quality printing experience. If you're not using the genuine Epson ink, you could damage the printer. A great user-friendly feature is borderless printing on materials that are up to 13" wide and 19" long. The printing is fast with 18 ISO ppm for black color and 10 ISO ppm for color printing.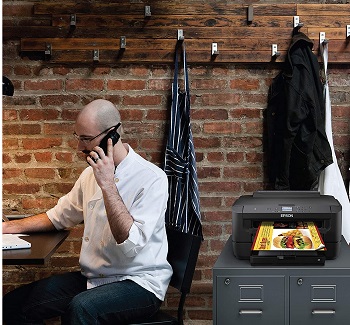 Energy Efficiency And Ink Tracking
This printer has a very economical system because it uses up to 80% less power in comparison to other models. Another user-friendly feature of this wide-format inkjet printer 13×19 is the Dash Replenishment. It's a function that tracks the ink usage and when the level it's low, it orders more.
Sheet Capacity And ADF
The sheet capacity is 500 pages which are very large. The machine also has a rear feed and dual trays with a 125 sheet output tray capacity. Also, this best wireless inkjet printer features an automatic document feeder (ADF) which allows you to print, scan, or copy multi-page documents with ease without manual interference.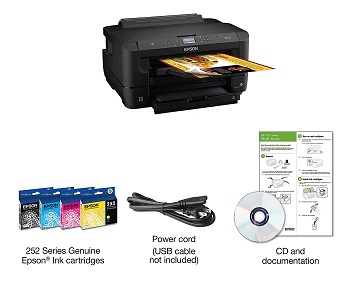 NFC With Phone
You can connect with a computer and phone by the wireless connection that includes Wi-Fi, Ethernet, and NFC (Near Field Communication)- a feature that allows you to directly print from your phone while holding the phone over the NFC tag on the printer. All functions can be easily navigated with the 2.2" LCD display.
Highlighted Points:
for 13" wide and 19" long media
black color printing speed is 18 ISO ppm
color printing speed is 10 ISO ppm
NFC connectivity
automatic document feeder
BEST DIGITAL WIDE-FORMAT INKJET PRINTER
Canon Pixma Inkjet Printer
Alex Voice Commands
This Canon Pixma wide-format inkjet printer comes with the Canon Print App that you can use on your smartphone for easy work with your printer. You can do work from anywhere in your home or office. Another unique feature is the Alexa voice function.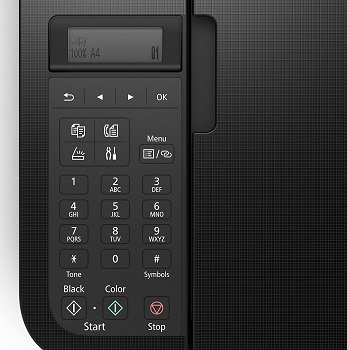 Print Without Software
You can give voice commands to detect ink levels, print certain images, and much more. The model also features AirPrint technology so you can print the images from the mobile phone without using the software. The system connects to the phone and computer via WiFi or USB cable.
Dash Replenishment Function
The Dash Replenishment is another user-friendly function that ensures automatic order of the ink when the cartridge is at a low level. This printer ensures an automatic document feeder for a fast workflow. A high-quality control panel and LCD allow you to easily track the working process and adjust a variety of settings.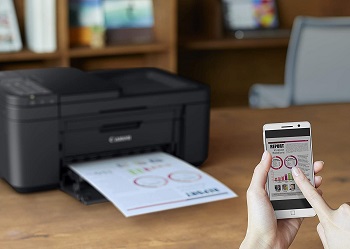 Duplex Printing And Speed
Besides, it features automatic two-sided printing so you don't have to manually turn each page which saves you a lot of time. The digital inkjet printer is very compact- 17.2" long, 11.7" wide, and 7.5" high. The maximum color printing speed is 4.4 ppm, and for black ink is 8.8 ppm.
Highlighted Points:
4.4 ppm color printing speed
8.8 ppm black printing speed
automatic tw0-sided printing
automatic document feeder
AirPrint technology
BEST COMMERCIAL WIDE-FORMAT INKJET PRINTER
HP OfficeJet Pro 7720 Printer
Suitable Printing Size
This best wide-format inkjet printer is having a maximum media size of 11" wide and 17" long. The maximum scan size is 8.5" wide and 14" long. The fax resolution is up to 300×300 dpi (dot per inch). User-friendly functions included are borderless and double-sided printing.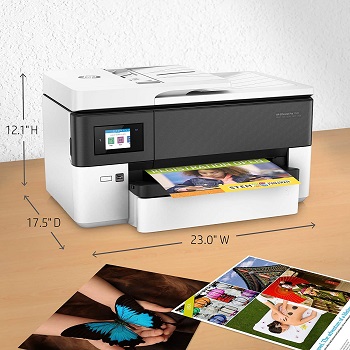 Borderless And Duplex Printing
The borderless printing allows to do graphics without white margins, and double-sided printing is automatic so you don't have to turn paper manually. This HP OfficeJet Pro 7720 can be used with HP 952 and HP 952XL ink cartridges for the best printing results. The volume is enough for 30 000 pages.
ADF And AirPrint
This commercial inkjet printer can connect with iOS and Android phones with Wi-Fi or AirPrint- technology that allows you to print from your Mac, iPhone, iPad, or iPod without installing any software. The automatic document feeder has a capacity of 35 sheets. All features can be adjusted and tracked with a 2.65" touchscreen, and with the HP Smart app.
Speed And Capacity
The input tray has a capacity of 250 sheets. The printing speed for color ink is 18 ppm and the maximum printing speed for black ink is 22 ppm. The model comes with HP 952 standard/XL and HP956XL ink cartridges in 4 different colors: black, cyan, magenta, and yellow.
Highlighted Points:
works with 11" wide and 17" long media size
the automatic document feeder is 35 sheets
AirPrint technology
includes two ink cartridges with 4 colors
2.65 touchscreen display
BEST COLOR WIDE-FORMAT INKJET PRINTER
Naslov modela
Great For Business
It's ideal for any type of business since it can work on a wide range of media sizes- from 3" wide and 5" long, to 13" wide and 19" long. User-friendly features that are included with this best wide-format inkjet printer are borderless printing that allows you to create documents without white margins.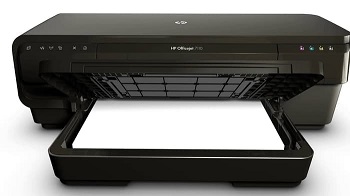 High-Volume Ink
The ink included with this HP OfficeJet 7110 wide-format eprinter is drying very fast and it's water-resistant so these documents can be used outdoors and remain their quality for a long time. Therefore, this is one of the small inkjet printers that are suitable for doing high-quality professional jobs.
Compact Design
Another practical feature is the ink cartridges of high-volume so you don't have to refill them often and it's enough for up to 800 pages per month. The model is 27.9" long, 23" wide, and 7.5" high. Therefore it's the best desktop model that's compact, space-saving, and easy to fit anywhere in the office.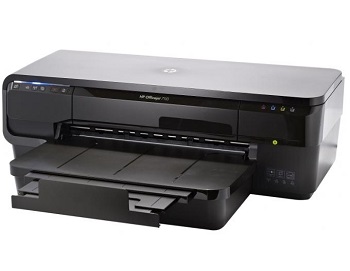 Energy-Efficient With Duplex Printing
Also, it's energy-efficient which is approved with an Energy Star certificate. So you can save up to 50% on paper cost and ink. The model features automatic duplex printing which also allows you to save a lot of paper and time because you don't have to manually turn the pages. The machine connects wirelessly to the mobile phone with WiFi or Ethernet.
Highlighted Points:
for 3×5" and 13×19" media size
water-resistant ink
ink capacity for 800 pages per month
Energy Star certificate
automatic duplex printing
BEST ALL-IN-ONE WIDE-FORMAT INKJET PRINTER
HP OfficeJet 7500A Inkjet Printer
Smart App For Phones
You can print from anywhere with HP Smart App that connects with the mobile phone and PC with WiFi and Ethernet. It also features a USB high-speed interface. The app allows you to create on the go, so you can print, scan, or fax from your mobile phone or cloud services such as One Drive and Google Disk.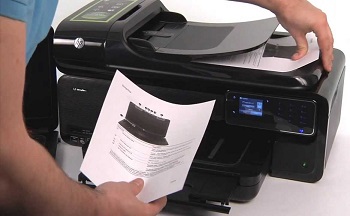 Compact For Variety Media Size
The model is 23.86" long, 16.7" wide, and 11.54" high. It's compact and space-saving so it will easily fit any working space. The wide-format inkjet printer is suitable for 3×5" and 13×19" media size, therefore it can do a variety of projects. It's a multifunctional unit that can fax, copy, and scan.
Touchscreen And Memory Card Slot
The machine has memory card slots so you can save documents on the machine.  All settings can be adjusted on the 2.36" touchscreen that allows you to also track the settings. You can also use the settings to print the images from a memory card, without a phone or PC.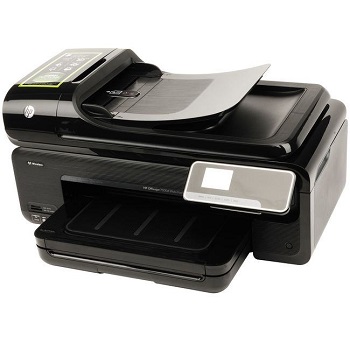 Speed And Capacity
The printing speed for black ink is 33 ppm and for colored ink is 32 ppm. Therefore it's one of the fastest inkjet printers. The system is using 40% less energy in comparison to other products which is very eco-friendly. The automatic document feeder (ADF) has a capacity of 35 pages while the input tray has 150 pages capacity.
Highlighted Points:
smart HP app for phones
23.86" long, 16.7" wide, and 11.54" high
2.36" touchscreen
33 ppm black printing speed
32 ppm color printing speed
BEST FOR PHOTO WIDE-FORMAT INKJET PRINTER
Epson P400 Inkjet Printer
Automatic Feeder And Operating Systems
This model has a top-loading automatic document feeder, front fine-art media feed, and built-in roll media feed. It's versatile and suitable for many types of media. It can print up to 13" wide and 129" long materials. The machine can work with Windows 10, 8.1, 8, and 7 operating systems and Mac 10.11x, 10.10x, 10.9x, 10.8x, and 10.7x operating systems.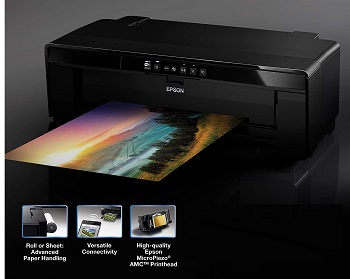 Working Temperature And Ink
The optimal operating temperature ranges between 50°F and 95°F. The Epson Surecolor P400 wide-format inkjet printer. The office inkjet printer comes with ink cartridges that are suitable for 8-color UltraChrome HG2 pigment inks that are waterproof and long-lasting.
Connectivity To Device
A great user-friendly feature is BorderFree printing for professional photos without white margins. Also, it's the best inkjet printer for easy connection to the tablet, smartphone, and laptop. You can use a wireless connection, USB 2.0 interface, and 100 Mbit Ethernet support.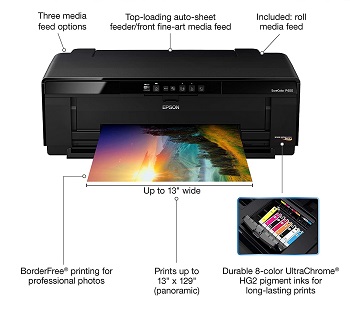 Professional Images And Duplex Printing
The package includes 8 ink bottles with 14 mL capacity, USB cable, and power cord. The high-resolution inkjet printer has a unique Gloss Optimizer that gives photography a professional look. Also, it features automatic two-sided printing that allows you fast workflow without having to manually turn each page.
Highlighted Points:
13" wide and 129" long panoramic materials
50-95°F optimal working temperature
wireless connectivity to devices
Gloss Optimizer for a professional look
automatic two-sided printing
Things To Know About Wide Format Inkjet Printer
Wide-format inkjet printers are used in business or at home for creating panoramic photographs or other designs out of vinyl that can later be applied on clothes, or other surfaces such as windows, ceramic, cars, etc. To buy the right model, you need to know more about the features I'll explain now.
Printing Speed – The industrial inkjet printer should have a high printing speed because that enables fast workflow and ensures that you can print, scan, fax, or copy multiple pages of documents with ease. The machine for business should have at least 15 ppm printing speed for both colors.
Connectivity With Phone – Another desirable feature is simple connectivity to the phone, PC, or tablet with a wireless connection, such as Wi-Fi, Bluetooth, or NFC. The NFC allows you to print directly from the phone when you place the phone above the NFC tag. Also, you can connect with the Ethernet or USB cable.
Automatic Printing – Any inkjet multifunctional printer should have auto duplex printing and an automatic document feeder.  This ensures a faster workflow but also saves a lot of paper. It's much more simple to do the work because you don't have to set the papers manually.
AirPrint Technology – Similar to NFC, this function ensures easier work with the mobile phone when you install this app on Apple devices only. It allows you to print directly from your mobile phone without using any software, therefore you can print on the go from anywhere you are.
Ink Level Track – The Dash Replenishment or any other system that can track your ink level is very user-friendly. It's especially desirable if the system can automatically order the ink from Amazon or other online retailers when the ink is low. That ensures you never end up without the ink.