Does your business require a 4×6 shipping label printer?
In this post, you can 6 printers ideal for warehouses, stores, or offices. Read their reviews to be sure which model will be useful for your online store. The guide below the reviews can also help you while shopping.
Our Top Picks
6 Best 4×6 Shipping Label Printers
Best Of Best 4×6 Shipping Label Printer
Dymo 1755120 Label Maker
4XL Model Requires Space
The Dymo 4×6 label printer has an interesting design that makes it decorative in an office. This is a 4XL Dymo model so it's one of the big label makers so you should ensure enough space for it on your office desk. You can make 4×6 labels and smaller ones.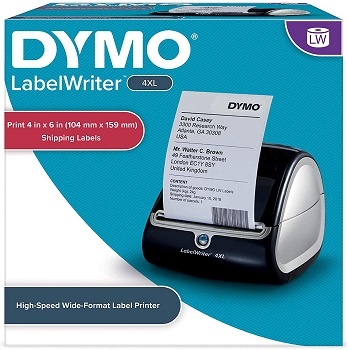 4-Inch Thermal Paper
The input is around 4 incehs long so it supports the thermal paper with a maximal width of 4 incehs. You have to use thermal paper since it's a thermal printer. That means it doesn't use ink but heat. The result is black print instead of color.
Ideal For Online Sellers
You can connect this 4×6 shipping label printer with a computer and print directly from shipping platforms. You can use platforms such as Amazon, eBay, Etsy, and more. This specification makes this label maker ideal for online sellers. For printing shipping labels, you can use Windows or Mac operating systems.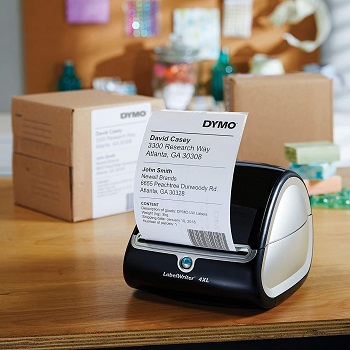 Clear Graphics And Text
You can make about 50 standard labels with 4 lines in a minute. With the thermal printing method, you can make clear barcodes and graphics as well as text with address information. It's practical to use and doesn't require a lot of costs since no ink is needed.
Highlighted Points:
large-format label maker model
up to 4 incehs of the label width supported
connectable with PC with Windows or Mac OS
makes about 50 standard shipping labels per minute
uses the thermal printing method
Best Commercial 4×6 Shipping Label Printer
Zebra GK420d Label Printer
Compact And Practical
The Zebra 4×6 label printer is one more 4×6 label printer which means it includes all the characteristics needed for printing clear shipping labels of a standard size. The label maker has an average size which means it's compact. It takes less space on the desk than the previous label printer I reviewed.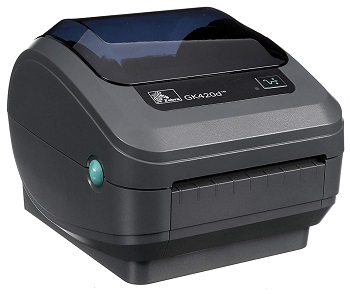 Direct Thermal Method
The Zebra label maker uses a direct thermal printing system to make monochrome labels. The black color is enough for shipping labels so a thermal printer is an optimal choice because you don't need any toner or ink. The printer has an input that supports up to 4 inches wide papers.
Printing Receipts Also
The label printer supports the tape roll. You can place it inside the label maker and print the shipping labels in continuity. It's also useful for printing receipts so it's a practical commercial label maker for stores, restaurants, and more. The quality of the labels is average since the resolution is 203 dpi.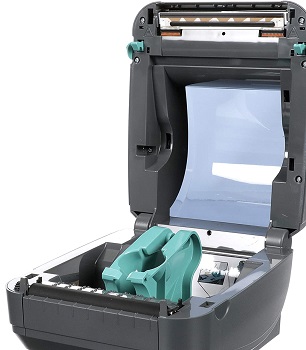 3 Options For Connection
The label printer makes shipping labels with a speed of 5 incehs per second. On the backside of the printer, there are 3 ports you can use to connect the machine to your computer. You can choose if you want to connect it with a USB cable, serial, or parallel.
Highlighted Points:
works based on direct thermal technology
makes labels with the speed of 5 in/sec
includes USB, serial, and parallel ports for connection
the label resolution is 203 dpi
prints the labels up to 4 incehs wide
supports the tape roll placed on the holder
Best Wireless 4×6 Shipping Label Printer
Brother QL-1110NWB Label Maker
Monochrome Print
The Brother model is the 4×6 shipping label printer that also prints in black color only. It uses a thermal printing method so the print is always monochrome. The design of this model is also compact like most label printers. On the top, there are 6 programmable buttons with useful functions.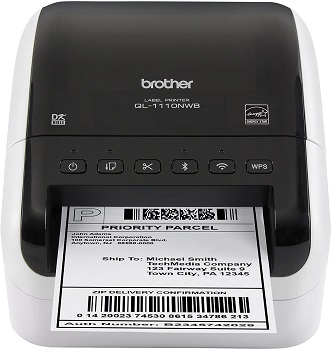 Rare Wireless Model
The monochrome print and thermal method make this model the same as other shipping label printers. However, it's a rare shipping label printer with wireless connections. This wireless thermal label printer 4×6 connects to the computer or smartphone without the need for a cable. You can use both Android and iPhone.
Bluetooth Or Ethernet
If you use the smartphone to send the label templates to this label maker, the machine functions as the usual Bluetooth label maker. If you use a computer, the printer supports a wi-fi connection with Windows. There is also an Ethernet port you can use to maintain the connection.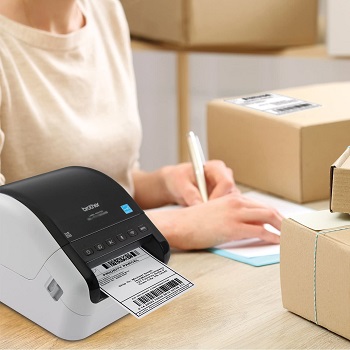 Compatibility With 2 OS
When it comes to compatibility with computers, you can use Windows Vista and Windows 7/8/10. The printer is compatible also with Mac 10.11-10.13 operating systems. You can switch on the wireless or Bluetooth options by pressing the right button placed next to the input.
Highlighted Points:
4 inches wide label format maximally
Bluetooth, wireless, and Ethernet connectivity
supports Windows Vista and 7-10 operating systems
Mac 10.11-10.13., Android and iPhone also supported
6 programmable buttons placed on the top
Best Small 4×6 Shipping Label Printer
Immuson Label Printer
Windows XP And Newer
The Immuson label maker has a compact black design.  This 4 x 6 shipping label printer is also a computer label maker that connects to Windows XP and newer operating systems. It's not portable like the previous label maker I reviewed because it needs a USB cable for connection.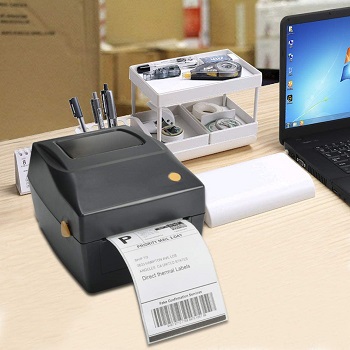 Standard Resolution
Just like most label makes, this model also has a resolution of 203 dpi. The machine prints monochrome shipping labels with a maximal width of 4 inches. That means it's ideal for 4×6 labels. You can print the labels from shopping platforms such as Amazon, eBay, and others.
Full Package Ensured
You can place the thermal paper roll into the label maker or you can use also the paper sheets. You will get the full package which means you will get a cable for connection with computer, adapter, ad CD with installation software. The instructions are also included but the label printer is simple to use so instructions might be no needed.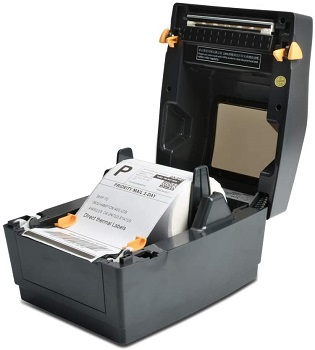 Minimal Size Of Labels
The printing speed of this model is 4 incehs per second. Not only the shipping labels but you can print also smaller labels. The minimal width of the labels is around 2 inches. You can use the label templates from shipping platforms such as Shopify, Stamps, Etsy, Paypal, and more.
Highlighted Points:
the resolution of the shipping labels is 203 dpi
connects to various shipping platforms
the printing speed is 4 incehs per second
minimal label width is 2 incehs and maximal is 4 inches
USB connection with PC Windows XP and newer
needed cables and installation software included in the box
Best Barcode 4×6 Shipping Label Printer
Phomemo Label Printer
Ideal For Desk
The Phomemo 4×6 shipping label printer has a white design with a blacktop surface. You can place this small machine on the desk in every office. Just like the previous models, this label maker is also compatible with shipping platforms such as Amazon, eBay, Etsy, Shopify, and more.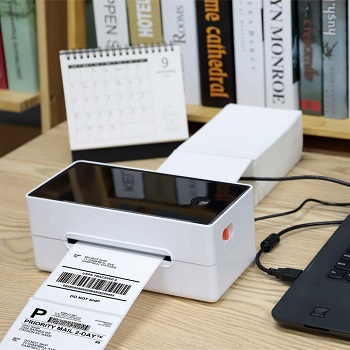 Thermal Print Head
It's the best label printer for small businesses since the printing speed is 6 inches per second maximally. You can make a lot of shipping labels for a short time. The label maker is thermal so you can print only in black color. The machine uses the thermal print head that heats and make the paper black.
USB Cable Needed
This label printer is similar to other models for the connectivity with the computer. That means you will get the USB cable you can use to connect the printer with the PC. it's compatible with your PC if you use Mac or Windows operating systems.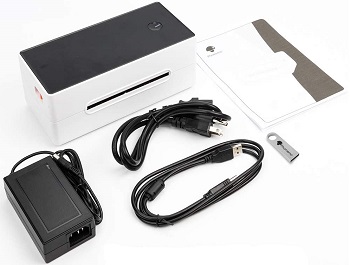 Automatic Identification Option
The label maker has an automatic label identification function. That means the machine catches the label and feeds it automatically into the printer. You can use the thermal paper with a minimum width of 2 incehs and a maximum width of 4 incehs. You can purchase the paper holder separately and make the printing more practical.
Highlighted Points:
supports the thermal paper 2-4 inches wide
the printing speed is 6 inches/sec on average
compatible with Windows and Mac
identifies the labels and adjusts options automatically
uses thermal print head for monochrome printing
paper holder sold separately
Best Clear 4×6 Shipping Label Printer
Besteasy Direct Thermal Printer
Black And Compact
The Besteasy label maker comes in a compact design. Its exterior is black and has green details. The input is around 4 incehs wide so the printer is perfect for standard shipping labels that have the dimensions of 4×6 inches. This label maker has all the functions you need for printing clear shipping labels.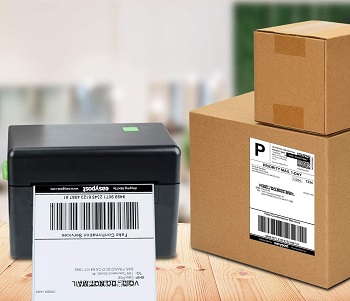 Finish All Tasks On Time
It's one more thermal label printer which means you can print only in black. However, for shipping labels, the colors are not needed. Thanks to the speed of about 6 incehs per second you will finish all your tasks fastly. The printer supports the paper that is about 2 inches wide minimally and 4 inches maximally.
Only One Operating System
Unlike other 4 x 6 shipping label printers, this model is not supported for the Mac operating system. You can use it with all the Winodes versions including Windows Vista, Windows 7, 8, and 10. To connect the printer with your computer, you need a USB cable like usual.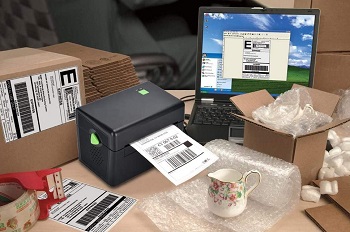 Time And Money-Saving
This label maker has a suction function that activates automatically. That makes the printing with this label maker time-saving. It's also a money-saving product since it doesn't require the additional frequent investments like inkjet label printers. You can print graphics in black color only, so the printer is ideal for barcodes.
Highlighted Points:
printing resolution is 203 dpi on average
maximal printing speed is 5 incehs per second
automatic suction function included
supports shipping platforms ideal for online sellers
supported for Windows only
maximal label width is 4 inches
Things To Know About 4 x 6 Shipping Label Printers
It's easy to find the label maker that prints 4×6 labels since these are dimensions of standard shipping labels. These label makers are profitable for buying since you don't need ink. Thermal printing method, monochrome print, and compatibility with shipping platforms are the main specifications of this printer type that requires a small investment.
Standard Shipping Label Format – 4 incehs of the width and 6 inches of the length are standard dimensions of the shipping labels. The printer for these shipping labels needs to have an input that is 4 inches long minimally. The input size doesn't have a big influence on the maximal length of the label.
Thermal Printing Method –  The label printers with thermal printing systems make the labels in black and white. Colors are not included since there is not ink that is sprayed on the paper but the print head heats the paper making it black. However, you can use the papers in color.
Monochrome Print – Black print is the result of the thermal printing method. You need to use thermal paper to get optimal results. Thermal paper is chemically coated with an alloy sensitive to heat. The print on the thermal paper fades after some time. Fading is accelerated with sunlight and heat.
Shipping Platforms – To be specified for shopping labels completely, the 4 x 6 shipping label printers meet the compatibility with the shipping platforms. Almost all the platforms are suitable for every label printer 4×6. The most common platforms are Etsy, eBay, Amazon, Shopify, and more.
Cheap Models – The shipping label makers are pretty cheap in combination with some inkjet color models that cost up to 2000 dollars. The 4×6 label makers are cheap shipping label printers thanks to the monochrome thermal system primarily. The small is a secondary factor on the price.