Are you looking for a large bed scanner that provides quick and smooth operation?
If you are, then you are in the right place.
Here we talk about quality scanners that scan oversized documents. If you not sure which features will ensure smooth scanning for your documents, read our buying guide. There is some basic information. Furthermore, we pick the best models on the market, review them and put on our list.
Our Top Picks
Best 6 Large Bed Scanners
Best Of Best Large Bed Scanner
Epson DS-50000 Large Bed Scanner
Pricey Item
The Epson DS-50000 is a great large bed scanner, its main disadvantage is the high price. It measures 25.2 inches in length, 6.2 inches in height and 18.5 inches in width. The warranty lasts three years and the manufacturer offers Advanced Exchange with free next-business-day replacement.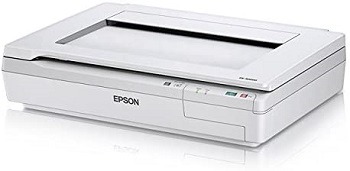 For Large Documents
This is a large document scanner, it has 32 pounds. Epson uses a USB cable to connect with your PC. It is compatible with Mac and Windows operating systems. This scanner is able to scan a document of 11 inches in width and 17 inches in length, which is ledger-size paper.
Charge-Coupled Device
The image resolution is 600 dots per inch, which is pretty enough for everyday requirements. This large bed scanner has 4-line CCD or Charge-coupled Device sensor. This sensor will make your images sharper and brings more vivid RGB colors.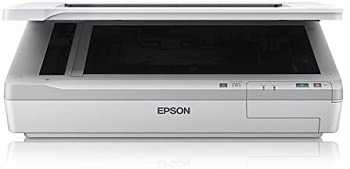 ABBYY FineReader
The Epson large bed scanner is equipped with ABBYY FineReader. It provides automatic cropping, deskews and you can use other enhancement for scanned images. The OCR software is also included, you can generate searchable Word and Excel files and editable PDF files.
Highlighted Points:
heavy flatbed scanner with a 3-year warranty
it scans large documents of 11 x 17 inches
USB powered scanner, compatible with Mac and Windows
the optical resolution is 600 dots per inch
bundled TWAIN and ISIS drivers
integrated ABBYY and OCR software
Best Automatic Large Bed Scanner
Xerox DocuMate Large Scanner
Great Value
The Xerox DocuMate 4700 provides a great balance between price and specifications. The box contains a scanner, power supply, USB cable, installation guide, technical support guide, DVD with user's manual and drivers. The item dimensions are 22.8 x 19.5 x 4.5 inches.
Fast Scanner
This scanner weighs 15 pounds. The Xerox high speed scanner needs 2.5 seconds per document at 300 dots per inch. The optical resolution is 600 dpi. But it isn't designed for photos, but for documents. The resolution is provided by Contact Image Sensor.
High Daily Duty Cycle
The recommended daily duty cycle is 10,000 pages per day. So this scanner is good for schools, offices, libraries and so on. You can scan non-stop and it won't get damaged. With the Xerox, you can scan the documents of 11 x 17  inches, 8.5 x 14", 11 x 14", 9 x 12".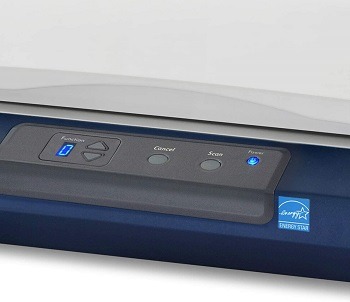 Acuity Image Software
This A3 flatbed scanner works with Mac and Windows OS. You can connect this scanner with other Xerox scanner with an automatic document feeder and use them as one device. It is easy to use this device, there are buttons for OCR, PDF, Scan to Email, etc. Acuity software automatically improves image quality.
Highlighted Points:
perfect for legal size, ledger size and larger documents
it takes 2.5 seconds per single page
the daily duty cycle of 10,000 documents
integrated Optical Character Recognition
automatic image enhancement with Acuity software
Best Office Large Scale Scanner
Plustek 1180 Oversized Scanner
Elegant Design
Designed for schools, offices, libraries and other places that need a more powerful scanner. It features an elegant design so it will fit in any office. This scanner has 23.18 x 16.02 x 2.67 inches and it weighs 9.5 pounds. The box includes an installation CD, power cord, USB cable and installation guide.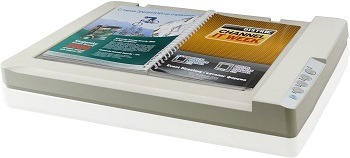 48-bit Color Depth
The LED light source allows you to use the scanner whenever you need it. The device doesn't require warm-up time. The max resolution is 1200 dots per inch and the color depth is 48-bit. You will have quality and accurate images. The max paper size is 11.69 x 17 inches or A3 format.
Four One-touch Buttons
You can scan art, scrapbooks, photographers, newspapers, documents, etc. The color scan speed is 15 seconds and the greyscale speed is 9 seconds. There are four one-touch buttons on the interface. Use them for scan, email, OCR and PDF files creating.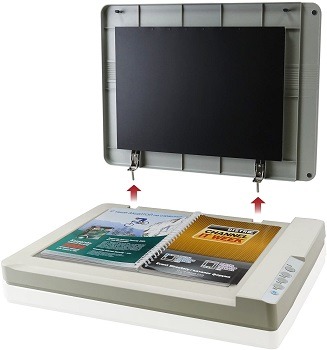 Correction Function
The Plustek photo scanner supports Mac, Windows and TWAIN / WIA drivers. Download the latest version driver from Plustek official website. The intelligent scan correction functions permit image enhancement. Use auto-rotate, auto-crop, background removal, denoise and character enhancement.
Highlighted Points:
elegant design for office large scale scanner
the device doesn't require warm-up time
color scan speed is 15 seconds
user-friendly interface with four buttons
it scans the documents of 11.69 x 17 inches
TWAIN and WIA drivers are integrated
Best Photo Large Scale Scanner
Canon CanoScan Large Bed Scanner
Affordable Scanner
The full name of this model is Canon CanoScan Lide 400. It features a stylish black design and it is compact. There are 1.7 x 14.5 x 9.9 inches. So, it is a space-saving item. You can easily carry it with you, it has 3.6 pounds. There is a pedestal that holds the flatbed scanner upright.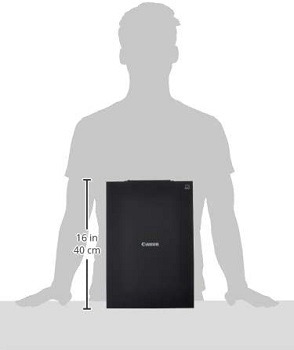 Control Panel
On the front edge, there is a five-button control panel, you can operate with the scanner easily. Use these buttons for Start, Finish, Auto-scan, Copy and Send. Auto-scan detects the document, scans it and saves it to the appropriate file. The USB cable is included in the box, so you can connect it with only one device.
USB Type-C Cable
The USB Type-C cable is useful for data transfer and power. The Canon Lide 400 scans the document in 8 seconds. This large scale scanner is great choice for a high resolution photo scanner. It delivers 4800 x 4800 dpi resolution. Also, you can use image enhancement, like color restoration and dust removal.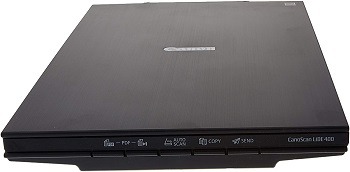 Send to Cloud
The paper sizes you can insert into this scanner are 8.27 x 11.69 and 8.50 x 11.69 inches. After you scan photos or documents, you can easily upload them to different cloud services, like Google Drive, Microsoft OneDrive, Dropbox and others.
Highlighted Points:
affordable and space-saving design
five buttons for start, finish, auto-scan, copy and send
designed for different photo sizes
the resolution is 4800 dots per inch
image optimization increase photo quality
Best 2-sided Large Bed Scanner
HP ScanJet Enterprise Scanner
Hi-speed USB 2.0
The HP ScanJet Enterprise Flow 7500 is USB powered scanner intended for papers, photos and business cards. It uses a Hi-speed USB 2.0 port. The dimensions are 8.3 inches in height, 16.7 inches in length and 20.3 inches in width. It weighs 23 pounds.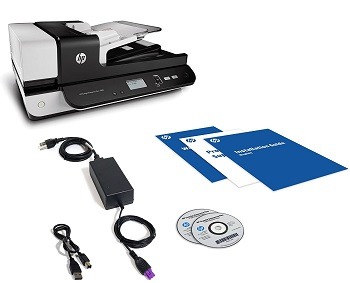 Duplex Scanning
This office scanner is intended for legal and letter size papers. It uses 50 watts during the scanning process. The scan speed is up to 50 pages per minute and 100 images per minute. The daily duty cycle is 3000 pages. The Enterprise provides duplex scanning for higher productivity.
Auto-document Feeder
Load the document feeder with a max of 100 pages. You can scan papers, photos, plastic cards, business cards, etc. It handles paper sizes up to 34 inches. There is minimal chance to misfeed. Use the software function and optimize your documents with auto-orient, auto-crop, brightness, contrast and more.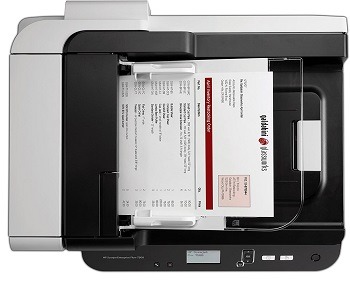 Energy Star Certificate
This large bed scanner has low power consumption, it owns Energy Star Certificate. After scanning, send you documents to email, SharePoint, Dropbox, FTP, Google Drive and other multiple destinations. The Optical Character Recognition software is included.
Highlighted Points:
USB-powered flatbed scanner
the automatic document feeder accepts 100 pages
fast scanning speed – 50 pages per minute
it scans both sides of the document at the same time
low power consumption
image enhancement optimization
Best Portable Large Bed Scanner
Fujitsu ScanSnap Scanner
Lightweight Item
The Fujitsu ScanSnap S1300i is a portable large bed scanner. It measures 11.18 inches in length, 3.9 inches in width and 3 inches in height. The item weighs 3 pounds only. You can easily carry it or transport wherever you need. Use the USB cable for connection.
One Button Operation
This large scale scanner is compatible with Linux, Mac and Windows. The box includes a USB cable, AC adapter, installation guide and set-up DVD and scanner. You can scan documents, receipts and business cards. The user-friendly design offers a single button for scan and save.

600 Dots Per Inch
The Fujitsu is able to scan different paper sizes, from business cards to legal-sized papers. The optical resolution of this legal size scanner is up to 600 dots per inch for color pages. You can insert 10 pages into an automatic document feeder. The scan speed of up to 12 double-sided documents per minute.
Editable Files
After you scan the documents, you can create a searchable PDF file or editable Word or Excel files. OCR technology is included. With Intelligent Scan Correction functions, you can optimize your documents. Use auto-crop, auto-color detection, deskew, blank page removal and others.
Highlighted Points:
compact and lightweight large scale scanner
use Intelligent Scan Correction to improves images
automatic document feeder has 10 pages
it is able to scan simplex and duplex
Optical Character Recognition is integrated
Things To Know About Large Bed Scanners
If you need a large scale scanner, you probably don't work with standard-sized papers. Learn more about different paper sizes, large bed scanner's speed, resolution, connectivity and other essential features.
Document Size – The standard document size is A4 or letter-sized paper that has 8.5 x 11 inches. But some scanners have the ability to scan legal (8.5 x 14 inches) or even ledger (11 x 17 inches) paper sizes. They have a large scan area to accepts bigger documents.
Scan Speed – The speed is measured in ppm or pages per minute. The fast scanner scans 35 or more pages per minute. It is important to note that there are simplex and duplex scanners. Duplex scanners are able to scan both sides of documents at the same time, which increases productivity.
Optical Resolution – Most common resolution that multi-page scanners deliver is 600 dots per inch. That is the optimal resolution for everyday needs. But if you want to scan photos, artwork or work as a professional photographer, you should consider a high resolution.
Connectivity – There are wireless, USB powered or even battery-operated document scanners. You can scan your documents first, then transfer it to your PC, laptop or tablet. The WiFi connection is ideal for an office where multiple people use the scanner.
Additional Features -It is very useful if your scanner has bundled software. Then you can optimize and enhance your documents or photos. Optical Character Recognition is a very popular function. It allows you to convert your scans into searchable and editable files.