Are you looking for a compact, handy and easy-to-use scanner?
This item allows you to digitalize your documents wherever you are!
Interested? In our review, we'll tell you the essential information you need to know before buying a handheld document scanner. Plus, we searched the market and found the best six models. Check them out.
Our Top Picks
6 Best Handheld Document Scanner Reviews
Best Of Best Handheld Document Scanner
iScan Portable Scanner
Colorful Scanning
The iScan handheld scanner is compact and fits anywhere. It measures 1.06 inches in height, 10.11 inches in length and 1.57 inches in depth. It's a lightweight device, there are 11 ounces. You won't even notice that it's in your bag. It has the ability to monochrome scanning and colorful scanning.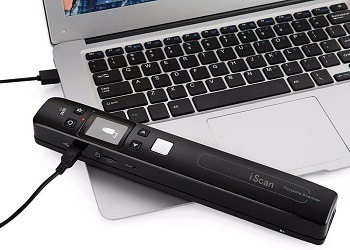 Scans Everything
So, you can use this portable photo scanner for color and mono images, books, magazines, documents, business cards, newspapers and more. It can be useful for students, teachers, business people, layers and so on. The box includes a user manual, software DVD, clean cloth, carry bag, USB line, calibration card.
Colorful Screen
This handheld scanner is powered by rechargeable batteries or USB. You can scan your documents and save them on a microSD card. Then you can transfer it later on your PC. The iScan is equipped with a screen. It is a colorful screen, use it for preview. You can see the scan after two seconds.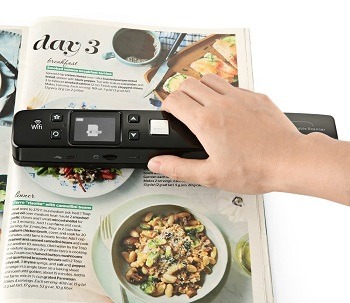 OCR Software
The iScan handheld scanner has built-in Optical Character Recognition software. That means you can convert your scans into searchable and editable files. It is able to scan letter-sized documents. The minimal scanning resolution is 300 dpi and the max resolution is 1050 dots per inch. It's compatible with Mac and Windows.
Highlighted Points:
handheld portable document scanner with OCR software
it's able to scan letter-sized documents
colorful screen for scan preview
it scans books, magazines, newspaper, etc
powered by batteries, WiFi or USB
Best Photo Handheld Document Scanner
Oninaa Portable Handheld Scanner
Easy-to-use
The Oninaa produces this portable handheld portable picture scanner. If you decide to order this product, you'll get a scanner, user manual, USB cable, pocket, cleaning cloth and disk. It's easy to use a scanner – put the right position on the scanning document, hold the scanner and press iScan to start. After scanning, press iScan to stop.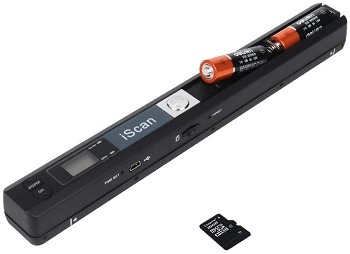 AA Batteries
It is an extremely compact handheld photo scanner that fits into your laptop pocket. You can carry it anywhere. The dimensions of this scanner are 10.04 x 1.18 x 1.18 inches. Use this scanner for photo, receipt and documents. It is a battery-operated device and requires two AA batteries.
900 Dots Per Inch
The Oninaa works with Windows and Mac operating systems. This handheld scanner supports a memory card of up to 32G. You can scan and store large capacity photos easily. The highest resolution that this scanner delivers is 900 dots per inch.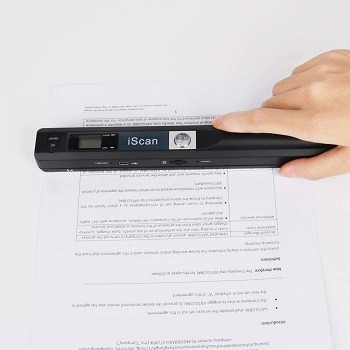 Indicating Lights
There are two indicating lights which help you with scanning. The green light means scanning and if the red light turns on, that means you are scanning too quickly. The Oninaa scans A4 format easily and needs 10 seconds for scanning color documents at the high resolution.
Highlighted Points:
great handheld photo scanner
it delivers a resolution of 900 dots per inch
two indicating lights for easy control
scanning speed – 3 seconds at low resolution
battery operated scanner
it supports a 32G memory card
Best Portable Handheld Document Scanner
TaoTronics Document Scanner
Wireless Scanner
The TaoTronics handheld mobile scanner is useful for receipts, photos, documents and business card scanning. This is a very popular portable scanner. It is suitable for travelers, students, businessmen and others. The wireless handheld scanner provides instantly scanning.

Quick Instruction
It is important to note that this portable receipt scanner isn't compatible with Mac and Windows OS. So, there are two ways to use it – after you scan the documents on the SD card, insert the card into a computer or plug the USB cable into the scanner and PC and copy the scans from the SD card.
Convert Your Files
With this scanner, you can scan anything that is flat, which includes paintings, posters and fragile books. The Oninaa offers three resolution modes: 300, 600 and 900 dots per inch. The Optical Character Recognition is integrated, so you can scan and convert your documents into editable files.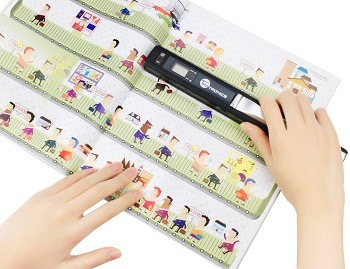 Reliable Product
Before you upload your scans to the computer, you can choose the format. There are two available formats – JPEG and PDF. The warranty for this handheld portable document scanner lasts 12 months. Also, the manufacturer offers a 30-day money-back guarantee.
Highlighted Points:
wireless handheld document scanner
choose the format – JPEG and PDF
three resolution modes – 300, 600 and 900 dpi
bundled Optical Character Recognition software
it scans receipts, books, photos and documents
Best Book Handheld Document Scanner
Aibecy Handheld Document Scanner
Rechargeable Batteries
This white handheld portable book scanner measures 10 x 1.6 x 1.1 inches. It weighs 7.2 ounces. This item supports Windows 2000 and above, Mac 10.4 or above, iOS and Android devices. It uses rechargeable built-in 850mAh lithium-polymer batteries.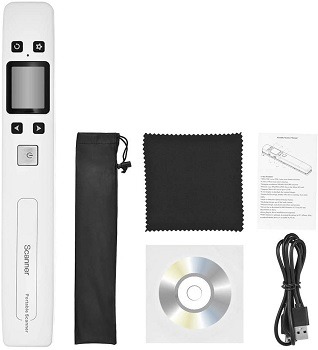 Zero-Margin Design
Charge the scanner with a USB 2.0 cable. The charge time lasts 2 hours. This is an energy-efficient device, it features an automatic shut off when it isn't in use for 3 minutes. The Zero-Margin design provides no distortion or content loss. This hand scanner for documents also scans photos, artworks, books, receipts, etc.
1050 Dots Per Inch
Choose the resolution depends on image quality, there are 300 dpi, 600 dpi and 1050 dots per inch. The allowed scan sizes are A4, A5, 5R, 4R, 3R and below. The scan width is 225 mm. The Aibecy is able to scan monochrome, color and black and white documents.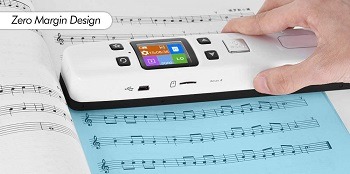 Contact Image Sensor
The Aibecy portable handheld document scanner is equipped with an LCD screen of 1.8 inches. Moreover, it supports a memory card of up to 32G. Select the format you want – JPEG or PDF. The contact image sensor is integrated into this scanner, so it provides HD scanning.
Highlighted Points:
it uses rechargeable batteries
Zero-Margin Design for the whole content
it scans monochrome, color and black and white papers
three possible resolutions, the max is 1050 dpi
turns off automatically to save the power
max charging time is 2 hours
Best Receipt Handheld Document Scanner
Honsdom Portable Scanner
Supports Multiple Systems
The Honsdom handheld personal document scanner measures 12.3 x 1.9 x 4 inches and it weighs 0.6 pounds. Use it for receipts, photos and documents. It is compatible with the different operating systems. The box includes a scanner, user manual, USB cable, pocket, CD software and a cleaning cloth.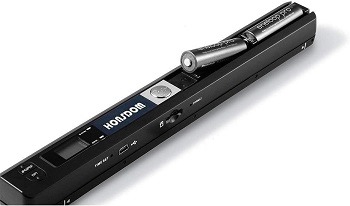 Mini USB 2.0
It requires two AA batteries as a power source. Also, there is a mini USB 2.0 port. You can buy a microSD card up to 32G to store the scans. The Honsdom is able to scan A4 sized paper. It stores the files in JPEG and PDF formats and you can choose the resolution – 300, 600 or 900 dpi. Ideal for students, travelers and home use.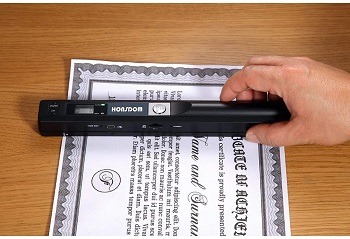 Saves Power
The Honsdom handheld receipt scanner saves energy consumption. It will automatically turn off if it's not in use for 3 minutes. At the high resolution, it scans the color document in under 10 seconds. For medium resolution, it requires 6 seconds and for low resolution, the scanning process lasts 3 seconds.
Highlighted Points:
automatically turns off after three minutes
it saves the scans in JPEG or PDF files
scans the paper at high resolution under 10 seconds
select the resolution with the DPI button
compatible with different operating systems
Best Paper Handheld Document Scanner
IriScan Portable Handheld Scanner
Mac & Windows Compatible
The IriScan is a very fast and efficient handheld scanner. It measures 10.2 inches in length, 1.5 inches in width and 0.9 inches in height. This lightweight product has 0.34 pounds. You can carry it with you and store it anywhere. The IriScan works with Windows and Mac.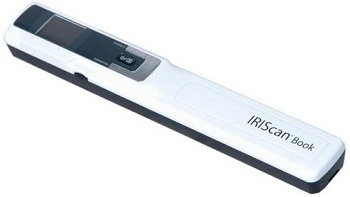 Pricey Item
It uses rechargeable lithium-ion batteries as a power source. You can choose between three colors – white, red and blue. Connect it to the computer through the USB port. Use it for A4 formats, newspapers, books, contracts, receipts and magazines. Its price is high.
Fast Scanner
There are three resolution modes: 300, 600 and 1200 dots per inch. With that high resolution, you can have really quality scans. The scanning speed of this photo scanner for Mac and Windows for the black and white documents is 1 second. It needs 2 seconds for color documents. Moreover, you can scan directly to PDF and JPEG formats.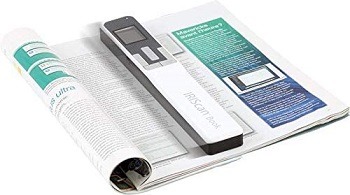 Editable Files
The Optical Character Recognition software allows you to convert any scanned document into searchable and editable files, like Word, Excel, etc. When the battery is fully charged, this handheld document scanner has the ability to scan 250 pages.
Highlighted Points:
lithium battery-powered hand scanner for documents
three resolution modes: 300, 600 and 1200 dpi
fast scanning speed – it takes a second per page
Optical Character Recognition software
save your scans on a memory card (32G)
Things To Know About Handheld Document Scanner
The handheld document scanners differ from regular scanners. They are small, have different power supply, resolution and capabilities. But, if you want to pick the best one, read this short guide.
Space-saving Design – The handheld document scanners are perfect for people who travel a lot, business people and everyone who requires portable tools and devices. They come in small dimensions, so it's easy to store them in drawers, shelves, briefcases, etc.
Power Supply – The portable handheld scanner can be powered by batteries or USB. The last option is more cost-efficient because you don't have to spend more money on batteries. Otherwise, the USB-powered scanners should be connected to the computer.
Scanner Resolution – If you require minimal scanning accuracy, you should look for 300 dots per inch. But if you buy a scanner with 600 dots per inch, you'll get a more detailed image. This resolution is enough if you need to scan documents, for handheld photo scanners choose the higher resolution.
2-sided Scanning – Usually, the handheld document scanners don't have the capability to scan the documents from both sides at the same time. The battery-operated scanners can't scan double-sided documents. But the USB scanners have this possibility.
User-friendly Design – The handheld document scanners have a simple interface. There are usually two buttons, one button for scanning the documents and another is for sending the documents to your PC, email, different cloud services like Google Drive, OneDrive, Dropbox, etc.
Final Verdict
What do you think about these handheld documents scanners? They have good features and they are pretty practical. We recommend the iScan handheld scanner. This scanner uses rechargeable batteries, comes with OCR software and scans books, newspapers, business cards and more. If you need to scan the photos mostly, consider the review of the best portable photo scanners. Or check out more about document camera scanners right here.