Do you want to buy an office inkjet printer?
Then you should read this article! Here I'll describe 6 different models divided into categories such as small office, home office, commercial, etc. You can compare them and choose which one suits you the most. For more info, you can read the buying guide.
Our Top Picks
6 Best Office Inkjet Printers
BEST OF BEST OFFICE INKJET PRINTER
HP OfficeJet 6978 Inkjet Printer
Compact And Multifunctional
This model is 18.26" long, 15.35" wide, and 9" high. It's compact and space-saving so it will easily fit on any working surface. The machine is suitable for copying, scanning, faxing, and printing, therefore it's multifunctional and ideal for business. This inkjet multifunction printer does borderless printing so you can create photos without white margins.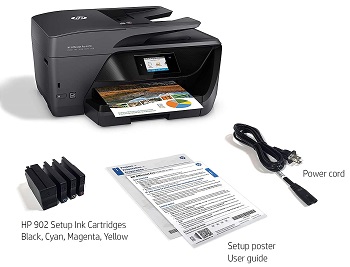 Automatic Functions
Another great user-friendly feature that makes it great for business is the automatic document feeder with a capacity of 35 sheets. Therefore it can take print at once multiple documents, and for those with more than 35 pages, there's an auto-duplex function. All settings can be adjusted on a 2.65" touchscreen.
Instant Ink Feature
The office inkjet printer automatically turns the paper for double-sided printing which saves a lot of paper and time. Another practical feature is the Instant Ink that prevents the possibility that you run out of ink. So it tracks the ink level, and when it's low, the function automatically orders more ink.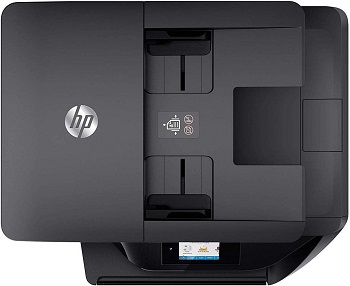 Sheet Capacity And Printing Speed
The input tray capacity is 225 sheets, while the output tray capacity is 60 sheets. The system uses the HP Smart app to control the settings from the mobile phone, computer, or tablet. All parts are covered with a 1-year limited warranty. The maximum printing speed is 20 ppm for black ink, and 11 ppm for color.
Highlighted Points:
20 ppm printing speed in black
11 ppm printing speed in color
automatic feeder with 35 sheets capacity
2.65" touchscreen panel
borderless printing
BEST ALL-IN-ONE OFFICE INKJET PRINTER
Canon TR8520 Inkjet For Home Office
Wireless And Bluetooth Connectivity
This office inkjet printer has a high memory capacity. The modem is very fast with a speed up to 33.6 Kbps. The all-in-one wireless inkjet printer comes with wireless technology so you can easily connect to cloud services, social media, mobile phones, computers, etc. It also features Bluetooth technology.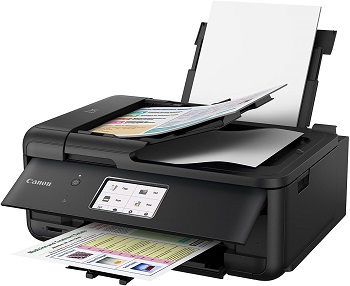 Individual Cartridges And High Resolution
Another user-friendly feature of this best all-in-one inkjet printer for a home office is the 5-color individual ink system for high-quality images that have a print resolution up to 4800 x 1200 DPI. It includes setup CD-ROM, power cable, and telephone cord. All settings can be adjusted on the 4.3" LCD touchscreen.
Sheet Capacity
The system has an automatic document feeder with a capacity of 20 sheets, and an input tray can hold up to 250 pages. It's less in comparison to the previous model but it's still big enough to speed up the working flow. It's one of the best office inkjet all-in-one printers with front and rear paper support.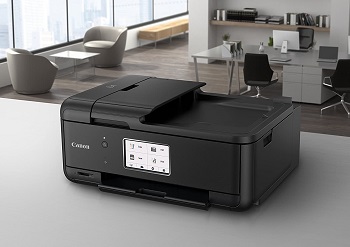 AirPrint Technology
The model also comes with the AirPrint technology for Apple devices with iOS because you can print directly from the phone or PC. The structure is 7.3" long, 13.8" wide, and 7.5" high.  The printing area is suitable for different media sizes: 4×6", 5×5", 5×7", 8×10", letter, legal and #10 envelopes.
Highlighted Points:
AirPrint technology
7.3" long, 13.8" wide and 7.5" high
wireless connectivity
5 individual cartridges
20 sheet ADF capacity
BEST FOR SMALL OFFICE INKJET OFFICE PRINTER
Canon Pixma iX6820 Small Printer
Compact And Fast
This best small office inkjet printer is 23" long, 12.30" wide, and 6.30" high, and it will fit any working surface. It weighs only 17.9 pounds so it's also very lightweight. The black printing speed is 14.5 ppm, and the colored ink speed is 10.4 ppm. It features fast borderless printing.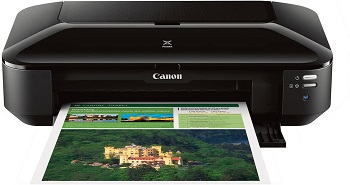 Software Requirements
It can print a 4×6" photo in 36 seconds. The system is compatible with Windows 8, 8.1, 7. 7 SP1, Vista SP1, and SP2, and XP SP3, and with Mac OS 10.6.8- 10.913. Therefore you can use it with any computer, tablet, and smartphone since it's also compatible with both iOS and Android.
Printing Resolution And Organization
The automatic document feeder has a capacity of 150 sheets, which means it's ideal for printing documents with many pages. It has fine printhead technology for creating images with a high print resolution of 9600 x 2400 DPI. My Image Garden software ensures easy organization of documents for printing.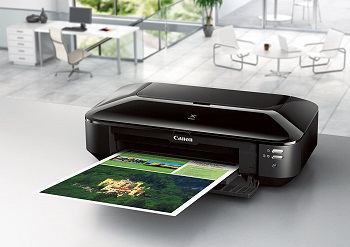 Easy Connection To Any Device
It comes with 5 individual ink-tank systems and the package includes the ink bottles. This compact inkjet printer has AirPrint, Google Cloud Print, and Pixma Printing Solutions (PPS) that enable direct printing from Apple devices, cloud services, or any other mobile or computer device. Ethernet and Hi-Speed USB are also included.
Highlighted Points:
23" long, 12.3" wide and 6.30" high
works with both Windows and Mac
AirPrint, PPS, Google Cloud Print
My Image Garden software
9600 x 2400 DPI printing resolution
BEST FOR HOME OFFICE INKJET PRINTER
HP OfficeJet 7740 Home Office Printer
Wide-Format Printing
This is the best home office inkjet printer for wide-format printing. The media can be up to 11" long and 17" wide, which is very user-friendly. Besides that, this model has many other user-friendly features such as AirPrint technology for direct mobile printing for Apple devices, automated workflow, easy-to-use control panel.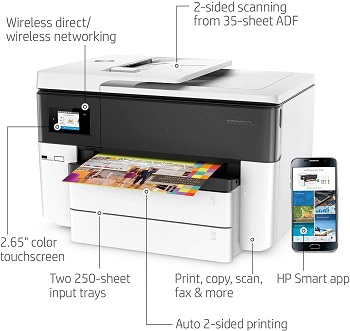 Color Touchscreen And Auto-Duplex
The system has an automatic document feeder with a capacity of 35 sheets for a fast working process. Also, this wide-format inkjet printer does automatic double-sided printing so you don't have to turn the pages manually. The 2.65" color touchscreen ensures easy settings adjustments. You can also use it for scanning, copying, and faxing.
Functions For Direct Printing
The HP Smart app is included and you can use it on both Android and iOS mobile phones. You can print directly from the phone, or cloud services such as iCloud, Google Drive, OneDrive, or Dropbox. The model features 2 input trays with an individual capacity of 250 sheets.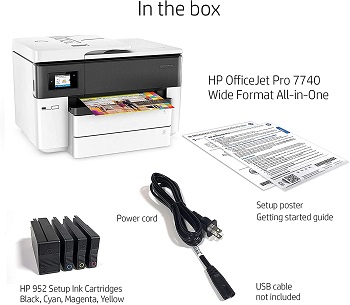 Dimensions And Printing Speed
The output tray has a capacity of 75 sheets. The maximum printing speed in black ink is 22 ppm, while the color printing speed is 18 ppm. This digital inkjet printer has Wireless and Ethernet connectivity. The model is 23" long, 18.38" wide, and 15.10" high. It comes with original HP 952 and HP952XL cartridges.
Highlighted Points:
500 sheet capacity
automatic feeder and auto-duplex
23" long, 18.38" wide and 15.10" high
22 ppm maximum black printing speed
2.65" color touchscreen
BEST COLOR OFFICE INKJET PRINTER
Canon IP7720 Inkjet Printer
High-Quality Color Images
This the best office inkjet printer for creating high-quality colored images with high print resolution. The system has 5 individual bank systems with high-quality ink that creates superior 9600 x 2400 DPI photos. The printhead is compatible with both individual and combo ink cartridges.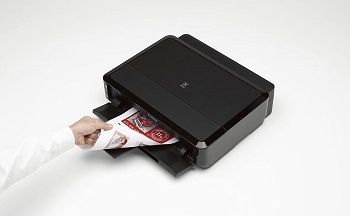 Windows And Mac
In this package, you'll get CLI-251 XL ink tanks in cyan, magenta, yellow and black color, and PGI-250 XL pigment black ink tanks. This model is compatible with Windows 8, RT, 7, 7 SP1, Vista SP1, Vista SP2, Windows XP SP3 on 32-bit processor, and Mac OS X from version 10.5.8 to version 10.9.
Easy Control And Direct Printing
The machine has auto-duplex printing for automatic print on both sides of the page without having to turn it manually. All settings and software can be adjusted and installed from the included CD-ROM. The touchscreen panel allows you to track the printing process. The Easy-WebPrint EX functions allow direct printing from the web.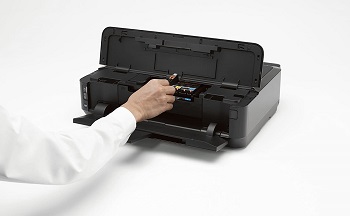 AirPrint Technology And Borderless Printing
The AirPrint technology supports direct mobile printing from iPhone, iPad, and iPod, while My Image Garden Software is great for organizing photos. This best inkjet printer for photos has borderless printing for media that's 4×6" up to 8.5×11" big. The two-way paper feed allows you to load sheets from both front and rear trays.
Highlighted Points:
two-way paper feed
Easy-WebPrint EX function
auto-duplex printing
maximum resolution is 9600 x 2400 DPI
for both Mac and Windows
BEST COMMERCIAL OFFICE INKJET PRINTER
Kodak ESP 2150 Inkjet Printer For Office
Compact And Lightweight
The system is multifunctional, so you can use this office inkjet printer for printing, copying, scanning, and faxing. The commercial inkjet printer has both front and rear feed, and it's compact so it easily fits on any working surface. It's 10.27" long, 18.5" wide, and 19.29" high. It weighs 16.8 pounds.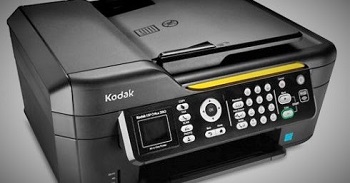 Advanced Control Panel
At the front of the machine is a user-friendly control panel with an LCD display and many buttons so you can easily track the printing process and adjust the right settings. Another user-friendly feature of this black inkjet printer is the high-capacity paper tray and intelligent sensors that detect the paper type.
Automatic Document Feeder
The machine also has an automatic document feeder that makes the printing process easy and fast, especially when working with multiple-paged documents. The unit is wireless so it can connect to any device in the room.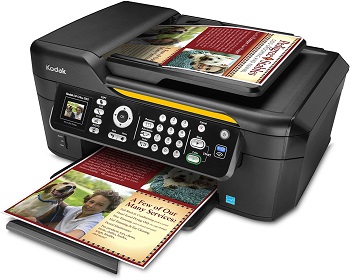 Printing Resolution
The machine printing resolution is up to 1200×1200 DPI for black print and up to 4800×1200 DPI for colored images. Its structure saves a lot of energy and paper, therefore it's energy-efficient and approved with an Energy Star certificate. It has a memory card slot for memory cards and a USB interface.
Highlighted Points:
4800×1200 dpi printing resolution
10.27" long, 18.5" wide and 19.29" high
wireless connectivity
approved with Energy Star
multifunctional machine
Things To Know About Office Inkjet Printers
When buying the model for the office, you must know the right features such as printing speed, sheet capacity, automation in feed and printing, etc. They should have functions that make the work automated while creating professional high-quality prints.
Printing Speed – The machines with printing speeds up to 15 ppm for both black and color ink are more suitable for home use or home office because they don't support fast workflow. If you need a printer for a company that requires fast printing, you should buy the model with at least 22 ppm (pages per minute) speed.
Media Size – In case you want to create large posters and other prints, you should buy a large-format inkjet printer with a printing area wider than 40". For small to medium projects, you should buy small or wide-format models. The wide-format printers are between 20 and 40" wide, and small models are up to 20" wide.
Software Requirements – When choosing the right model, make sure it has compatible software for the computers in your company. Some models can work with both Mac and Windows, while others are more specific. It's also user-friendly when the model can connect with both iOS and Android mobile devices.
Automatic Functions – To ensure fast and easy workflow without manual interference, the office inkjet printers such asthe inkjet label printer should have automated functions such as an automatic feeder that can easily print documents with many pages and an auto-duplex function that supports printing on both sides of the paper without you having to turn each paper.
Direct Printing – The AirPrint, Google Cloud Print, NFC, and PPS technologies allow direct printing from the phone without software. That's very practical, especially if you're having a lot to do and you can print from anywhere in your office. AirPrint is suitable for Apple devices only, while others can be used on any operating system.