Are you looking for a suitable large flatbed scanner?
There aren't many of them on the market, but we pick the best six models. We'll describe their features, so you can make a decision easier. Also, we complete the buying guide with all information you need to know before the purchase.
Our Top Picks
6 Best Large Format Flatbed Scanners
Best Of Best Large Format Flatbed Scanner
Epson Perfection V600 Scanner
Positive Reviews
The Epson Perfection V600 scanner has many positive reviews, it's one of the best large bed scanners on the market. This is a large scanner with a big footprint, so it isn't really portable. The dimensions are 19 inches in length, 11 inches in width and 4.6 inches in height.
High Resolution
The maximum scan area is 8.5 x 11.7 inches. It creates extraordinary scans from photos, slides, documents, a film with a resolution of 6400 x 9600 dots per inch. The Digital ICE technology removes the dust and scratches from film and prints. Also, it removes tears and creases from photos.
Color Restoration
The Photo Fix technology restores faded color photos and ensures their original quality. The Transparency Unit allows you to scan slides, negatives and medium-sized panoramic film. And that's not all, you can scan 3D objects, like sculptures.
OCR Software
The Optical Character Recognition function provides scans converting into searchable and editable files. It is easy to use the scanner, there are four buttons for scan, copy, scan to email and create PDF files. The ReadyScan LED light source increases productivity, the warm-up time isn't needed.
Highlighted Points:
outstanding scans quality with 6400 x 9600 dpi
Digital ICE technology removes creases, dust and scratches
Photo Fix feature restore photo quality
great for film, slides, photos, negatives and documents
convert documents into editable files
LED light source provides no warm-up time
Best Artwork Large Bed Scanner
Canon CanoScan Lide220 Scanner
USB-powered
The Canon CanoScan Lide220 scanner is intended for photo and document scanning. Its dimensions are 9.9 in length, 14.4 in width and 1.6 in height. It is a portable and lightweight product with 3.4 pounds. It is powered by USB. The price is affordable.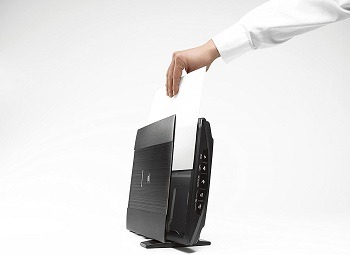 Auto-Scan Mode
The auto-scan mode automatically adjusts the settings depends on document/photo types and size. The Auto-document fix feature corrects the documents and delivers high-quality scans. The Canon  Lide220 isn't the fastest scanner in the world, it takes 10 seconds for scanning.
Multiple Photos
You can scan multiple photos at the same time with this large scanner for artwork. The software will recognize the two photos and scan them into individual files. You just need to leave some free space between them. The resolution is 4800 x 4800 dots per inch, so it is a great choice for scanning and uploading your artwork.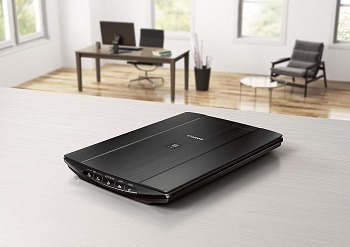 Five Buttons
This large flatbed scanner for artwork provides scan to cloud directly. The color depth is 48-bit, therefore this device produces over 281 trillion colors. The five buttons allow you to scan, copy, send to the cloud, create a single or multiple PDF files. The max power consumption is 2.5W.
Highlighted Points:
portable large bed scanner
it is powered through the USB
the optical resolution is 4800 x 4800 dpi
it produces over 280 trillion colors
able to scan multiple pages at the same time
Best Oversize Large Bed Scanner
Plustek Flatbed Scanner
For Any Environment
The Plustek OS 1180 scanner can be used in libraries, schools, homes and offices. It features an elegant white design that fits in any environment. Its dimensions are 23.18 inches in length, 16.02 inches in width and 2.67 inches in height. It is a portable device because it weighs 9 pounds only.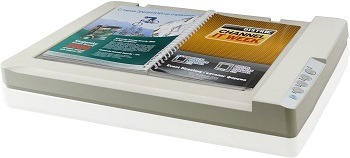 Best 11×17 Flatbed Scanner
It is USB powered item. The Plustek flatbed scanner works with large format scanning of A3 sizes. It is able to scan the document of 11.69 x 17 inches. Use it for blueprints, too. The LED light source improves scanner speed, it doesn't need warm-up time. It is important to note that it's compatible with Mac and Windows.
Four Buttons
Plustek delivers an optical resolution of up to 1200 dots per inch. For grayscale, it takes 9 seconds and for color, the scanning time lasts 15 seconds. It is easy to use this large format flatbed scanner, there are four one-touch scan buttons for scan, email, PDF and OCR.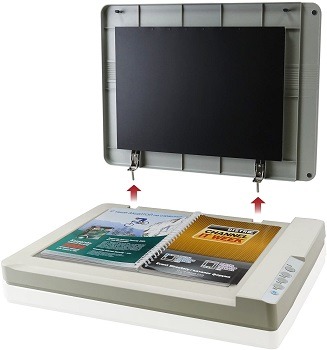 Bundled Software
The software is integrated into this A3 document scanner. You can use document management tools, PDF conversion, image organizer, accurate OCR software and other useful functions. The Optical Character Recognition allows you to save and easily search your files.
Highlighted Points:
great large bed scanner for large documents, like blueprints
user-friendy design with four buttons
convert your files into editable formats
LED light source increases productivity
optical resolution of up to 1200 dots per inch
Best Large Flatbed Scanner
Xerox DocuMate Flatbed Scanner
11 x 17 Scanner
The Xerox DocuMate 4700 flatbed scanner is perfect for legal size, large size documents and artwork. The maximum paper size is 11 x 17 inches. The minimum paper size is 0.15 x 0.15 inches. The dimensions of this large bed scanner are 22.8 x 19.5 x 4.5 inches.
Automatic Feeder Optional
The Xerox weighs 15 pounds. The box includes a scanner, USB cable, installation guide, DVD with drivers and power supply. The scanner is fast, it takes 2.5 seconds per single page at 300 dpi. You can have an automatic feeder if you connect this scanner with Xerox ADF scanners.
Visioneer OneTouch Technology
With this technology, you can scan documents to any application or folder. The Acuity software automatically improves the quality of the scans. You can easily convert scanned documents into editable and searchable PDF files. Therefore you can organize your documents and photos.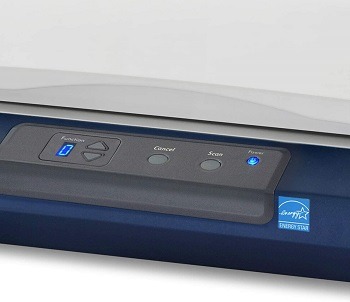 Scan To Cloud
When you scan your documents, you can easily send them to the cloud, which includes Google Drive, Dropbox or OneDrive. Then you can easily share it with your friends or employees. It is important to mention that the Xerox scanner is compatible with Windows operating system only.
Highlighted Points:
the Acuity software automatically improves scans quality
send your scanned files to the cloud easily
compatible with Windows only
converts documents into editable files
the scanning speed is 2.5 seconds per page
connect it with an automatic document feeder
Best Office Large Flatbed Scanner
HP ScanJet 2500 Scanner
Portable Scanner
The HP ScanJet Pro 2500 is an affordable large flatbed scanner with a one-year warranty. It comes in white color and has 13.8 inches in length, 17.8 inches in width and 4.8 inches in height. This item is portable because it weighs 9 pounds only. Use it in your small office.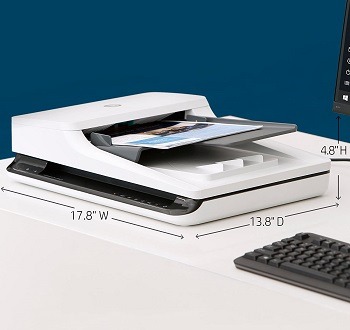 Error LED Button
This large format flatbed scanner is USB powered. The box includes a scanner, 2 software CDs, a power cord with adapter and USB cable. On one side of the scanner, there are a power button, error LED light, cancel button, scan shortcut toggle button, custom shortcuts, scan and simplex/duplex button.
20 Pages Per minute
The HP ScanJet office scanner has an automatic document feeder with a 50-page capacity. The daily duty cycle is about 1500 pages. It is a fast scanner, so it's able to scan 20 pages per minute or 40 images per minute. Use duplex scanning for more productivity.

Software Features
You can use this scanner for long documents, the max paper length is 122 inches and the max width is 8.5 inches. After you scan the documents or photos, you can send them to multiple destinations. The integrated software allows you to automatic crop, exposure, orient, page size detection, background removal and more.
Highlighted Points:
USB-powered portable scanner
the automatic document feeder has a 50-page capacity
simplex and duplex scanning options
use the software features for document optimization
it scans 20 pages/40 images per minute
Best Professional Large Format Flatbed Scanner
Epson Expression 12000XL-GA Scanner
12.2 x 17.2-inch Paper
The Epson Perfection 12000XL-GA professional photo scanner is intended for professional large format scanning. It is able to scan the document of 12.2 inches in width and 17.2 inches in length. Its dimensions are 25.8 x 18 x 6.2 (L x W x H). It's not so lightweight, there are 31 pounds.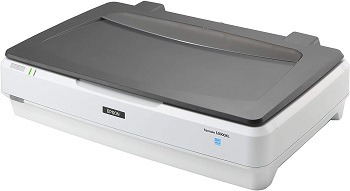 Batch Scanning
This large bed scanner delivers extraordinary image quality, the resolution is 2400 x 4800 dots per inch. The micro-step drive technology and 3.8 DMD provide clarity and detailed photos. Epson offers easy batch scanning which increases productivity. It's ideal for graphic art applications.
Fix Technology
The LED light ensures a fast warm-up, so you can scan anytime. Use the Photo Fix technology to restore the quality of old and faded photos. Also, there is automatic dust removal. The Matrix CCD technology is intended for enhanced photos. The LaserSoft Imaging SilverFast software is also included.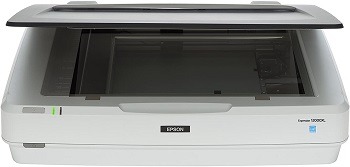 Removable Lid
The Epson wide format flatbed scanner is compatible with Windows and Mac operating systems. You can use this flatbed scanner for artwork, like pastels, watercolors, etc. The lid is removable, so you can easily insert any document, photo or drawings.
Highlighted Points:
it is intended for professional large format scanning
perfect for large documents of 12.2 x 17.2 inches
it delivers a resolution of 2400 x 4800 dpi
increase your productivity with batch scanning
Matrix CCD technology and LaserSoft technology
LED light improves fast warm-up time
Things To Know About Large Bed Scanners
The large flatbed scanners are intended for large document formats. Check out their maximal document size and the other most important features.
Scanner Design – The flatbed scanners aren't high, they are long devices. Some of these scanners are lightweight, so you can move it easily. The portable flatbed scanners have a removable lid, so before you insert the document or photo, lift the lid and place the paper in the glass. They are intended for large documents of max 12.2 x 17.2 inches.
Optical Resolution – Whether you need a scanner just for documents or photos, the resolution is a very important feature. The scanners which offer 600 dpi are very good for document scanning. But if you need to scan photos or stamps, consider the resolution of 4800 dpi.
Compatibility – Many people forget about this part, but it's necessary to check it. Not all scanners are compatible with each operating system or driver. Mostly flatbed scanners are able to work with Windows and Mac systems, few of them are compatible with Linux.
Scanner Sensors – There are two main types of sensors, CCD or Charge-coupled device and CIS or Contact image sensor. The CCD sensors provide better image quality, it's useful if you need to scan photos. The CIS scanners are more compact and durable.
Duplex Scanning – If you work with high scans volume, speed and efficiency are features you need to look for. Some scanners offer simplex scanning only, but many of them offer both – simplex and duplex scanning. Duplex means you can scan both sides of the paper at the same time.