Are you digitalize your artwork already?
If you aren't, you definitely should do it. Nowadays, there are a lot of large scanners for artwork on the market which have amazing features and high resolution. We'll explain to you what you need to pay attention to. After you learn some basic information, check out the best 6 models we found.
Our Top Picks
Best 6 Large Scanners For Artwork
Best Of Best Large Scanner For Artwork
Epson Expression 12000XL-GA Scanner
Tabloid Format
The Epson Expression 12000XL-GA is a flatbed color scanner and it is considered one of the best large scanner for art and artists. Its size makes a great fit for scanning fine art and drawings. The scanning area can accommodate the artwork of 12 x 17 inches.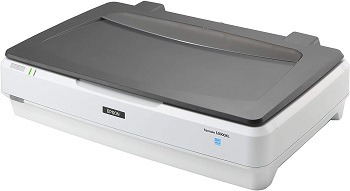 2400 x 4800 DPI
The optical resolution is 2400 dots per inch and the hardware resolution is 2400 x 4800 dpi. Connect this professional photo scanner via HiSpeed USB 2.0. Also, it uses TWAIN drivers, so almost any scanning app will be compatible. You can import the scanning artworks into Adobe Illustrator via the TWAIN interface.
ReadyScan LED Lamp
The optical density is 3.8 Dmax, this feature tells you how deep the blacks can be on a film. Scan your artworks whenever you need it, the ReadyScan LED lamp features no warm-up time. This device uses Silverfast Al Software which creates an HDR image with 48-bit color depth.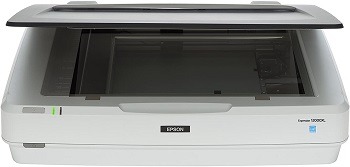 CCD Technology
This large scanner for art is able to digitalize film negatives, also it has dust and scratch removal technology. The Matrix CCD technology ensures bold, vibrant scans. The color restoration button restores the original quality of faded photos. With batch scanning, you can scan multiple images at the same time.
Highlighted Points:
perfect device for scanning large artwork
the resolution is 2400 x 4800 dpi
it accommodates 12.2 x 17.2" formats
dust and scratch removal technology
OneTouch color restoration technology
use batch scanning for multiple images
Best Flatbed Large Scanner For Artwork
Canon CanoScan Lide 400 Scanner
Budget-friendly Option
The Canon CanoScan Lide 400 is a slim and elegant scanner. It measures 14.5 inches in length, 99. inches in width and 1.7 inches in height. It's a compact and stylish flatbed scanner that weighs 3.6 pounds. The Canon is powered by USB and has an affordable price.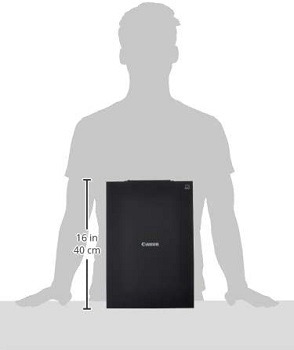 Energy Star Certificate
The 4800 dpi resolution ensures that all details on your artwork look perfect. The color bite rate is 48 bits. It is important to note that this is Energy Star certified product, so it won't have high power consumption. It's a quality and portable device.
Mac Compatible
The CanoScan Lide 400 takes 8 seconds to scan large artwork. The USB Type-C cable is included in the package, use it for data transfer and power at the same time. The image enhancement includes color restoration and dust removal, your artworks will look great. This large scanner for artwork is compatible with Mac.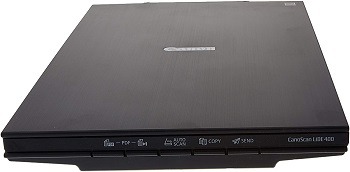 Scan & Send
You can scan multiple artworks at one time and the Canon flatbed scanner will separate them as individual files. The maximal paper size is 8.5 inches in width and 11.7 inches in length. You can scan and send your artworks to cloud services like Google Drive, OneDrive or Dropbox.
Highlighted Points:
elegant and portable large flatbed scanner for artwork
it provides high 48-bit color depth
Energy Star certified large flatbed scanner
the resolution is 4800 x 4800 dpi
it's able to scan multiple pages at once
USB Type-C for data transfer and power at the same time
Best 2-sided Large Scanner For Art
Fujitsu Fi-7160 Scanner
Compact, But Powerful
The Fujitsu Fi-7160 is a color scanner that is powered by USB. Its dimensions are 17.7 inches in length, 9.5 inches in width and 11.2 inches in height. The weight is 9 pounds. It is small enough to fit on any desk, but it's able to scan up to 4000 scans per day.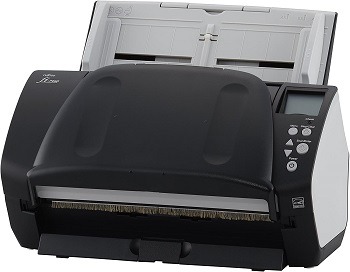 Duplex Scanning
For faster scanning, use duplex scanning. This large scanner for art will scan both sides of the paper at the same time. You can rely on its speed and accuracy. The Fujitsu is able to scan 60 pages per minute and 120 images per minute. The resolution is 300 dpi in color, greyscale and monochrome.
For Long Scans
The automatic document feeder scanner handles 80 pages per single pass. It scans ID cards, receipts, sticky notes, documents, photos, artwork and other delicate things. The maximal document size is 8.5 in width and 220 inches in length. It's great for blueprints, too.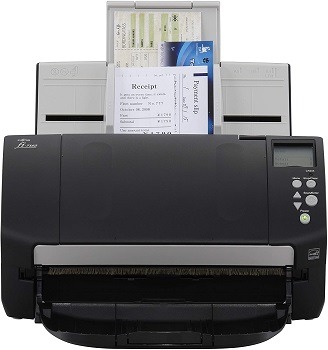 Protect Your Artworks
The optical resolution is up to 600 dpi. ISIS and TWAIN drivers are included, so this large-format art scanner is compatible with almost any software. If there is a misfeed in the machine, the Fujitsu will automatically stop working and save your artworks from damage.
Highlighted Points:
this scanner scans 60 pages per minute
the automatic document feeder has an 80-page capacity
the daily duty cycle is 4000 pages
the maximal paper size is 8.5 x 220 inches
auto-stop if a misfeed occurs
it scans paper on both sides at the same time
Best Office Large Scanner For Art
Plustek A3 Flatbed Scanner
Elegant Design
The Plustek OS 1180 scanner is one of the best affordable scanners for artwork. This scanner is available in elegant white color, so it will fit in any office. The box includes a quick installation guide, power cord, USB cable, setup CD and scanner. It supports Mac.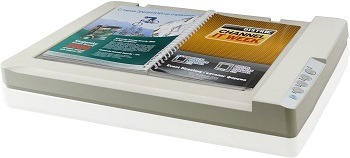 Lightweight & Portable
The dimensions of this office scanner are 23.18 inches in length, 16.02 inches in width and 2.67 inches in height. It's a lightweight device, there are 9.5 pounds only. This is an A3 format scanner, so it's able to scan large artwork. Max size is 11.7 x 17 inches.
15 Seconds For Color
The Plustek delivers an optical resolution of up to 1200 dots per inch. It uses an LED light source, so the warm-up time isn't needed, use it whenever you need to scan. The color depth is 48-bit and the greyscale depth is 16-bit. For greyscale, it takes 9 seconds and for color 15 seconds.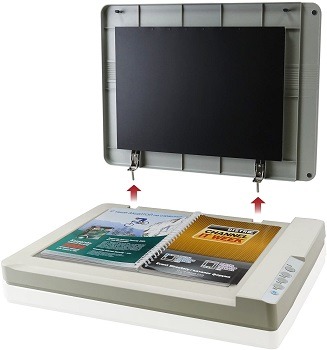 User-friendly Design
It is easy to use this large scanner for artwork, it has a user-friendly interface. There are four one-touch buttons for scan, OCR, PDF and email. You can send scans to email, create searchable and editable PDF files, etc. The correction function allows you to rotate, remove background, denoise and character enhancement.
Highlighted Points:
elegant flatbed tabloid sized scanner for artwork
USB-powered large scanner
it's able to scan A3 formats – 11.7 x 17 inches
LED light source for fast scanning
the optical resolution is 1200 dots per inch
the color depth is 48-bit
Best Professional Large Scanner For Artwork
Czur Aura-B Scanner
Stylish And Foldable
The Czur Aura-B is an overhead stylish scanner type. This is a compact device with 7.08 x 5.11 x 17.44 inches. Moreover, it weighs 3 pounds only. It uses an LED light source, so you don't have to wait for the device to warm-up. The warranty lasts 1-year and it is good for Mac users. You can fold it after use.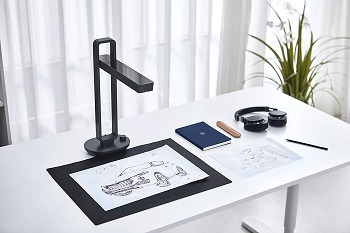 Ultra-fast Scanning
This large scanner for artwork is pretty fast, it takes 2 seconds per page. You can save your digital files in different formats, like JPG, Word, PDF and TIFF. Aura scanner for large artwork delivers a high resolution, it's 4320 x 3240 dots per inch. Your artwork will be clear and detailed.
Book Curve Flattening
You can use this overhead scanner for books, too. It features Book Curve Flattering, the technology with three precise lasers for accurate scans. Use this scanner for remote working and learning, it is compatible with the Zoom app. It supports Snapshot and Video Recording.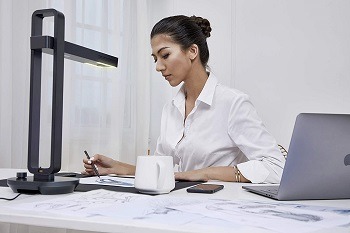 High Performance
The Aura-B is a large format art scanner that scans anything up to A3 in size. Scan your drawings, artworks, newspapers and others. The integrated camera has 14 megapixels and delivers excellent quality. With Optical Character Recognition you can convert your files into editable Excel, Word or PDF files.
Highlighted Points:
compact and portable overhead scanner
Book Curve Flattering for unbind book scanning
Optical Character Recognition for converting files
it scans artworks of up to A3 size
the camera of 14 megapixels is integrated
the resolution is 4320 x 3240 dpi
Best Automatic Large Scanner For Artwork
Xerox DocuMate 4700 Scanner
USB Connection
The Xerox DocuMate 4700 scanner is a flatbed automatic scanner. It doesn't take much space on your desk. Its dimensions are 22.8 inches in length, 19.5 inches in width and 4.5 inches in height. This item weighs 15 pounds. It is a USB powered scanner.
Fast Scanning
It features a large scanning area, so you can scan the artwork of up to 11.7 x 17 inches. That is the A3 format. There is a minimal paper size, too, it's 0.15 x 0.15 inches. This large scanner for artwork is able to scan the page at a rate of 2.5 seconds. This is pretty fast. The resolution is 300 dpi.
Visioneer One Touch Technology
You can connect this large bed scanner with Xenox DocuMate automatic document feeder scanners. This large flatbed scanner uses Visioneer OneTouch technology, you can scan your artworks to any applications. The Acuity software automatically improves the visual clarity of your scans.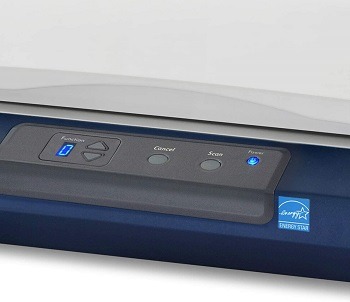 Convert Your Files
The Xenox has software that allows you to converts scanned documents into searchable PDF files. It is able to scan in color, greyscale, black and white. There is batch scanning if you want to scan multiple pages at the same time, that feature increase productivity.
Highlighted Points:
USB-powered flatbed large scanner
wide format scanning surface
automatic image enhancement option
send your scans wherever you want
Visioneer OneTouch technology for sending scans
convert your files into searchable PDF files
Things To Know About Large Scanner For Artwork
In this short buying guide, we'll tell you something about the most important scanner features for artwork. That includes the scanner's resolution, compatibility, allowable scan size and other specifications for the professional-look scans.
Resolution – If you want to scan your artwork in high quality, you need to know that scanners with higher DPI deliver more realistic images. the minimal resolution you need to consider is 600 dpi. The scanning at 1200 dots per inch will ensure archival-quality scans.
Mac Compatibility – Most artists and designers use Macbook for their work. The Mac is able to read fine art. So before you make a purchase, check out if your desired scanner is Mac-friendly. Some scanners have Mac drivers integrated or you can download it from their website.
Artwork Size – If you work with smaller formats, you don't have to buy a large scanner. Many scanners accommodate A4 format easily. The flatbed scanners are designed for larger formats. In the reviews above, we pick the large scanners, some items are for A3 formats.
Dirt Removal – You want your scanned artwork to look clear and detailed. There are some large scanners for the artwork which features integrated software for dirt and dust removal. They are able to delete dust, dirt, fingertips and shadows from your artwork.
Optical Character Recognition – The OCR software allows you to convert printed characters into digital files. Also, you can easily search and edit your artworks. That is very useful if you upload your artworks on social media or sell them.
Final Verdict
Do you find your favorite model? If you can't decide, we would recommend the Epson Expression 12000XL-GA Scanner. This scanner is designed for professional large artwork scanning, it delivers a resolution of 2400 x 4800 dpi and offers a color restoration feature. Moreover, you can check our post about the best photo scanners for Mac, if you work with photos and artworks. For those who use blueprints, the review of large format flatbed scanners will teach you how to find the best model for your requirements.