Do you work with documents or photos larger than A4 and looking for a scanner?
We find the best models on the market which have the ability to scan large documents. First, we described the features of large document scanners, that will help you to find a suitable model. Then read the reviews of the best six scanners.
Our Top Picks
Best 6 Large Document Scanners
Best Of Best Large Document Scanner
Xerox DocuMate Flatbed Scanner
Flatbed Scanner
The Xerox DocuMate 470o is a flatbed scanner that provides decent specs and prices. It is available in elegant design and measures 22.8 inches in length, 19.5 inches in width and 4.5 inches in height. It weighs 19.4 pounds. You can connect it to the Xerox DocuMate ADF scanner.
High Speed
This is one of the fastest flatbed scanners on the market. For a single document, it needs 2.5 seconds and it delivers a resolution of 300 dpi. The optical resolution isn't so high, it's 600 dots per inch. This large document scanner can achieve a daily duty cycle of 10,000 sheets.
Office Use
Because of these features, Xerox is great for small and medium-sized offices. You can scan plastic cards, books, magazines, passports, paper documents, receipts, photos, etc. Connect the Xerox to your Windows or Mac via a Hi-speed USB 2.0 port.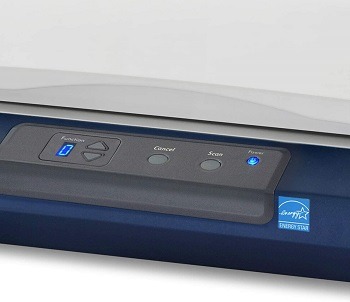 Ledger-sized Paper
The Xerox scanner is ideal for legal size and large format documents, so the maximal paper size is 11.7 x 17 inches. The minimal paper size is 0.15 y 0.15 inches. The Acuity software provides automatic image enhancement, so the photos have high quality. For quick organization, create searchable files.
Highlighted Points:
the elegant flatbed scanner at an affordable price
it scans ledger-sized paper of 11.7 x 17 inches
compatible with Windows and Mac systems
it takes 2.5 seconds per single document
the optical resolution is 600 dots per inch
you can create searchable PDF files
Best Multi-page Large Document Scanner
IriScan 5 Pro Scanner
Portable Scanner
The IriScan Desk 5 Pro is an overhead scanner that measures 14.76 inches in length, 3.4 inches in width and 2.95 inches in height. It weighs 3.7 pounds, so it's a lightweight and portable scanner. This device is made of quality plastic and steel material.

Record The Data
This is a USB-powereddocument camera scanner. During scanning, the IriScan captures everything on video. Therefore you can record the image from the scanner, the image from your webcam and the sound. That is a pretty useful feature, use it for video tutorials, courses and e-learning.
Automatic Scanning
Moreover, you can export the video to multiple formats, like MP4, AVI, FLV, and share it. You can scan books, receipts, A4 drawings, passports and ledger-sized documents. There are more amazing features, it features automatic scanning when the sensors detect hand movement.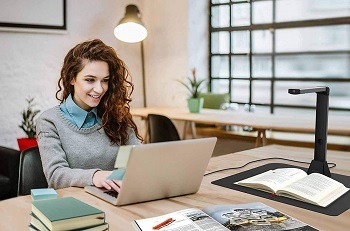 Book Curve Flattening Technology
It takes 2 seconds per single paper and A3 double page books. Besides the large document sizes, it scans small-sized materials, too. The intelligent software automatically detects page-turning and scan the paper. The IrisScan has OCR and Book Curve Flattening software integrated.
Highlighted Points:
lightweight and a portable overhead scanner
it features a camera and records your scans
automatic scanning when you move your hands
the scanning speed is 2 seconds per page
Book Curve Flattening technology
Best Automatic Oversized Scanner
Fujitsu ScanSnap SV600 Scanner
Lightweight Item
The Fujitsu ScanSnap SV600 is an overhead scanner with 8.3 inches in length, 15.1 inches in width and 6.1 inches in height. It weighs 6 pounds, so you can easily move it wherever you need to scan something. The price is higher and it doesn't come with a background pad.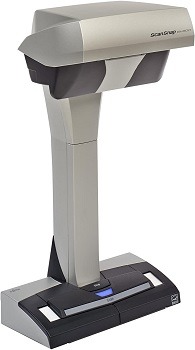 Quality CCD Optics
This scanner is able to scan journals, books, delicate papers, etc. You can easily digitalize bound books. For a single page, it needs less than 3 seconds. Also, it is able to scan several files at the same time. The high-quality CCD optics and LED illumination maximize the field of depth.
Page-turning Detection
The Fujitsu scans the document automatically when you turn the page. You don't have to hit the button each time. The image flattering technology corrects the curves at a book's spine. Moreover, the software removes scanned fingertips.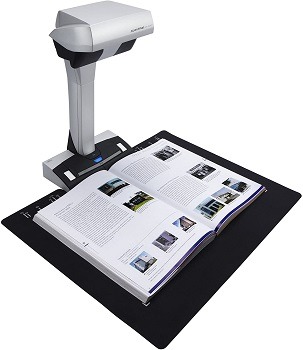 Multiple-page Scanning
The software detects multiple-pages and crops them automatically. That means you can scan several papers at once. You can use Optical Character Recognition and easily save and search your scanned files. This large document scanner is compatible with Windows operating system only.
Highlighted Points:
lightweight overhead scanner
it scans the books and documents in less than 3 seconds
the scanner uses high-quality CCD optics
page-turning detection improves productivity
remove scanned fingertips with software
it scans several papers at the same time
Best Book Large Document Scanner
Czur ET16 Document Scanner
Pricey Scanner
The Czur ET16 document scanner has multiple advanced features. It is an overhead scanner that is lightweight and portable. The dimensions are 14.26 inches in length x 13.83 inches in width x 5.87 inches in height and it weighs 4.4 pounds. It's a pricey item.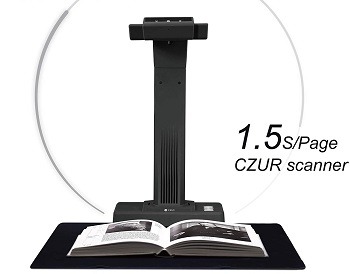 1.5 Seconds Per Page
This professional book scanner uses an LED light source and CMOS optical sensor technology. Furthermore, it uses patented flattening curved book technology. You can scan books, magazines, contracts, drawings and other large documents. It takes 1.5 seconds per page. The max paper size is 11.7 x 16.5 inches.
3D Objects
Besides the documents, you can scan 3D objects, like sculptures. The Optical Character Recognition software allows you to convert all of the scanned documents into editable Word, PDF, TIF or JPG formats. Also, you can scan color, white and black and greyscale documents.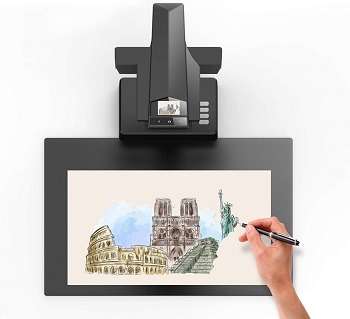 Side Lighting
The Czur is compatible with the Zoom app, it allows you to share the screen instantly. This device has integrated sidelights, so you can scan the documents more precisely and eliminate the glare from glossy pages. It is powered by ABBYY technology which recognizes 187 languages.
Highlighted Points:
it uses an LED light source and CMOS technology
patented flattening curved book technology
fast scanning – 1.5 seconds per page
max document size is 11.7 x 16.5 inches
it is able to scan 3D objects
convert your scans into multiple formats
Best Professional Large Document Scanner
Epson Expression 12000X Scanner
Large Formats
The Epson Expression 12000XL-GA scanner is a flatbed scanner that weighs 31.5 pounds and has 25.8 inches in length, 18 inches in width and 6.2 inches in height. This is a professional large format scanner, it scans oversized documents of up to 12.2 x 17.2 inches.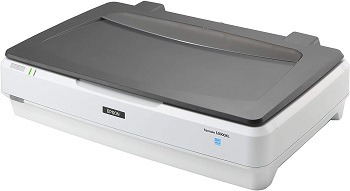 Image Quality
It is able to scan photos and images, too. The resolution is 2400 x 4800 dpi, to it delivers extraordinary quality. The lid is removable, so you can scan artwork, drawings, large documents. The micro step-drive and 3.8 Dmax ensure brilliant clarity.
Color Restoration
The enhanced color with the colorful imaging system provides superior image processing and fast warm-up LED light. Epson uses photo fix technology which restores faded color photos. Also, this feature removes the dust automatically.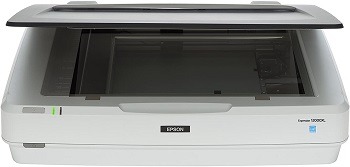 Batch Scanning
Use the batch scanning and save your time. This oversized professional photo scanner is able to scan multiple pages at one time and save them on PC or Mac. It supports Mac and Windows operating systems. This large format document scanner is ideal for graphic art applications.
Highlighted Points:
this is a professional flatbed scanner
one-touch color restoration for faded photos
the batch scanning increases productivity
the resolution is 2400 x 4800 dpi
it is able to scan paper of 12.2 x 17.2 inches
Best Blueprint Oversized Scanner
Plustek Large Paper Scanner
Small Offices
The Plustek OS 1180 scanner is a large format flatbed scanner. Its dimensions are 23.18 inches in length, 16.02 inches in width and 2.67 inches in height. It weighs 9.5 pounds. You can place it on your desk, it is designed for small or medium-sized offices, schools and libraries.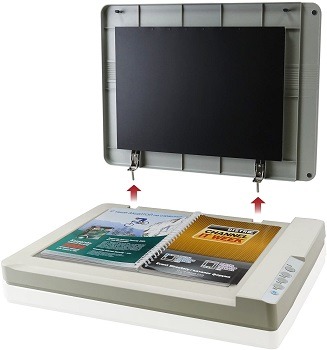 A3 Format
This office scanner is intended for large format scanning, it supports A3 format or 11.69 x 17 inches. The scanner is compatible with Mac and Windows users. You can download the latest Plustek driver from its official web site. The optical resolution is up to 1200 dots per inch.
LED Light Source
The Plustek is able to scan two pages of the spread book, large-sized magazines, legal-sized documents, scrapbooks, newspapers and even blueprints. It has an LED light source, so you can scan the papers immediately. The warm-up time isn't needed.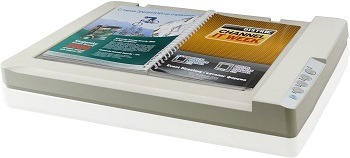 4 One-touch Buttons
That LED light improves document and photo quality. The Plustek needs 9 seconds for grayscale and 15 seconds for color. The user-friendly design features four one-touch buttons. They are intended for scan, OCR, PDF and email. The correction function automatically optimizes your scans.
Highlighted Points:
the max document scan size is 11.69 x 17 inches
you can scan art, scrapbooks, newspapers, photos, etc
the optical resolution is 1200 dots per inch
four one-touch buttons for easy control
LED light source provides immediately scanning
Things To Know About Large Document Scanners
Many document scanners are intended for the A4 size format. These models feature larger dimensions and have multiple advanced features. Check them out.
Large Formats – These documents scanners have large scan areas so they can accommodate large formats. Here we use the USA paper sizes standard. The biggest format is ledger tabloid paper size, it has 11 x 17 inches and it is similar to A3 format (11.7 x 16.5 inches).
Optical Resolution – The resolution is a very important feature, the scanner quality is proportional to its resolution. The optical resolution measures the intensity of the light that is reflected from the image. The resolution of 600 dots per inch is enough for everyday use.
Software Tools – Here you can find an oversized scanner with multiple advanced features. They use Optical Character Recognition for converting printed characters into digital files, you can easily search and edit your files. The image enhancement technology improves scans quality.
Scanning Speed – If you have a lot of scans every day, you need to look for faster scanners. The fastest available scanners are able to scan the page for up to 2 or even 1 seconds. Some models need more time for color documents or photo scanning.
Connectivity – The most common scanners connectivity comes with a traditional USB 2.0 port. But nowadays, there are more and more scanners which are wireless or use Bluetooth connection. Also, there are battery operated scanners. The oversized scanners usually have a USB connection.
Final Verdict
After all research we did, we think that Xerox DocuMate 4700 scanner is the best scanner for large documents. It is a flatbed scanner that needs 2.5 seconds for a single document, it is able to scan the paper of 11.7 x 17 inches and use software for document enhancement. If you need a scanner for artwork, check out the post about large scanners for artwork. For those who are interested in flatbed scanners, there is a review of large format flatbed scanners which contains useful information and models.