Do you constantly need to scan books?
Then you need a professional book scanner.
Here you can read about the professional book scanners that are the best on the market. We will introduce the 5 pro book scanners, so you can compare them and decide which one is the most suitable for you. Read about their designs, characteristics and functions.
Our Top Picks
Best 6 Professional Book Scanners
Best Of Best Professional Book Scanner
Czur M3000 Pro Book Scanner
Reliable Overhead Scanner
The Czur M3000 Pro book scanner is one of the best book scanners on the market. It is great for libraries, archives, banks and other places that require high-quality scanning. It is a fast and reliable overhead scanner. There is V-cradle at the base, it helps to protect documents and books.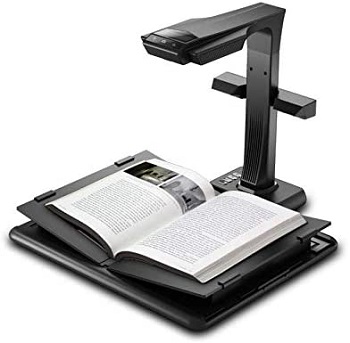 20-megapixels
This Czur's book scanner has the highest resolution of all their scanners intended for books. The CMOS camera delivers a scanning resolution of up to 1000 dots per inch. Your scans will look outstanding. Moreover, it is really fast, for two pages this scanner needs 1.2 seconds.
ABBYY OCR Software
The Czur uses ABBYY's OCR software. You can convert your scans into searchable PDFs and editable Word or Excel files. That is great for e-book making. The maximal paper size you can scan is A3 size or 11 x 17 inches. The warranty for this scanner last two years.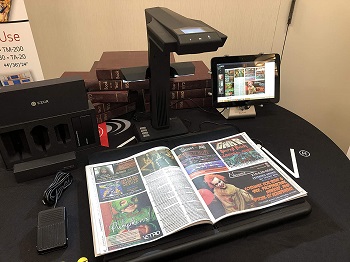 Image Processing Software
This professional book scanner uses many advanced features. It automatically recognizes the book edge for smart tilt correction, flatten the book curves and removes your scanned fingertips. You can scan multiple pages and the Czur will recognize them as individual pages. It offers 5 color modes and has an LCD screen for scan preview.
Highlighted Points:
fast book scanner – it needs 1.2 seconds for 2 pages
the delivered resolution is 1000 dpi
it scans up to A3 size papers and books
built-in Optical Character Recognition software
smart tilt correction and auto-cropping
automatic flatten the book curves
Best Office Professional Book Scanner
IriScan Desk 5 Book Scanner
Powered By USB
The IriScan Desk 5 is an amazing personal and portable book scanner. It measures 10.5 x 3.34 x 2.95 inches. This scanner is great for books, receipts, documents, newspapers and business cards. It is a USB powered device, you don't have to use an AC adapter. This model isn't compatible with Mac, but Windows only.

A4 Format
You can place the book and documents of up to 8.5 inches in width and 11 inches in length. The Book Curve Flattening technology delivers the individual flat pages of curved books. The IriScan needs 2 seconds to scan both pages of the book.
Barcode Scanning
This professional book scanner is able to scan multiple documents and save them in separate files. Also, it scans the barcode to MS Excel. The desktop camera scanner detects the page-turning and scans new pages automatically. It automatically removes fingerprints.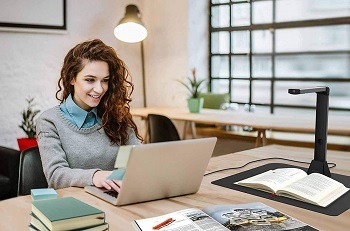 Programmable Timer
Use this book scanner in your office or at home. Set the programmable timer to perform scans at regular intervals. The OCR software is integrated and it has the ability to recognize more than 130 languages. It exports files to JPG, PDF, TXT, Word and XLS formats. The IriScan features video recording, too.
Highlighted Points:
portable USB-powered book scanner
it scans both pages for 2 seconds
smart image flattening and edge correction
it is able to export scans to multiple formats
convert your files with OCR software
Best Automatic Professional Book Scanner
iCodis Book Scanner
Bundled Software
The iCodis X7 book scanner uses software that isn't compatible with Apple Mac operating system. The software is included in the package, but if your computer or laptop doesn't have a CD-ROM drive, you can download the software from iCodis website.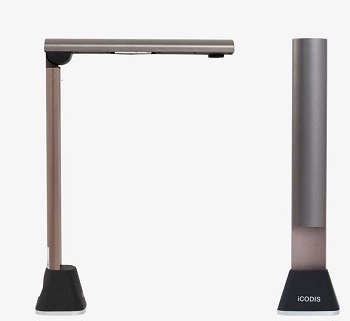 LED Lights
The installation process is simple and it is pretty easy to use this book scanner. It is a lightweight item, so you can carry it with you with ease. On top of the iCodis, there are nine HD LED lights. Use these lights if you need to scan books in a dark room.
Continuous Scanning
Use the external shutter button and set the specified time interval to scan more pages. The iCodis provides automatic continuous scanning, so you can increase the efficiency of scanning. This professional book scanner scans almost anything, even A3 format books.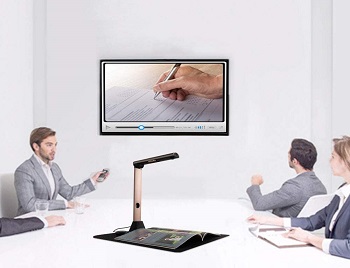 Curve Technology
There is a bundled OCR software, use it in only one click and convert your scans into multiple formats, like searchable PDFs and editable files. This software recognizes multiple languages. The scanner's camera delivers 15 megapixels so you can use it as a professional photo scanner too. The Flattening Curve technology is integrated.
Highlighted Points:
powerful book scanning for A3 books and documents
the camera delivers 15 megapixels
OCR software is integrated into the scanner
the flattening curve technology provides flat pages
it ensures automatic continuous scanning
Best Cheap Professional Book Scanner
Aibecy Foldable Book Scanner
Affordable Item
The Aibecy book scanner has a foldable and portable design. You can store almost anywhere and carry it with you easily. There is a metal appearance, so it is a durable item. The package includes a scanner, plastic mat and USB cable. The price is affordable.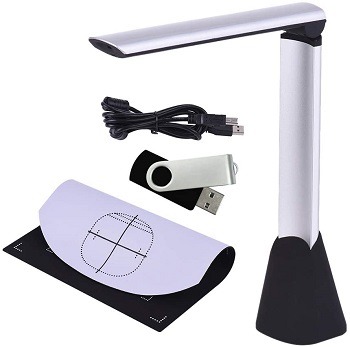 Multiple Scanning Modes
This professional book scanner supports multiple scanning modes, that includes color, greyscale and black and white scanning. Furthermore, it is a very efficient scanner, it takes 1 second only to scan a page. The camera features 15 megapixels. You'll have high-quality scans so you can consider it a portable photo scanner too.
Accurate Scans
This scanner is perfect for use in schools, libraries, banks, offices, etc. The maximal scan size is up to A3, which increases the types of books and documents that need to be scanned. The LED light is integrated, so your scans will be more accurate.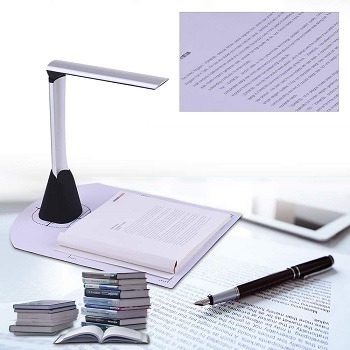 Intelligent Corrections
The Aibecy supports photo-taking and scans conversion. The supported formats are JPEG, PDF, TIF, BMP, GIF and others. The intelligent corrections improve scan quality. There are crease removal, finger removal, flatten technology, page merging and so on.
Highlighted Points:
the affordable pro book scanner
it supports photo-taking and scan conversion
the resolution is 4472 x 3354 dots per inch
scanning speed is 1 second only
it supports the various size of books
three LED light modes for accurate scanning
Best High-speed Professional Book Scanner
Czur ET16 Book Scanner
Beautiful Design
The Czur ET16 scanner features a beautiful design with clean lines. It has dual lamps on both sides of the head, they deliver lights on the whole scanning area. The item dimensions are 14.26 x 13.83 x 5.87 inches. This professional book scanner is powered by USB.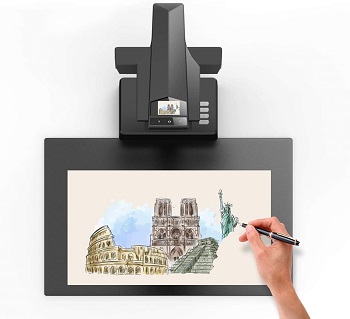 1.5 Seconds Per 2 Pages
Use it for books, documents, drawings, passports, business cards and even physical objects. This speed scanner needs just 1.5 seconds to scan two pages. It scans 300 pages within 10 minutes. The patented curve technology flattens the 3D curved surface and delivers flat page scans.
Free Software
The scans are very quality because of the 16MP camera. You'll get free Optical Character Recognition software which is able to read more than 180 languages. Also, it allows you to convert your scans into multiple formats. It supports PDF, Word, TIFF and other formats.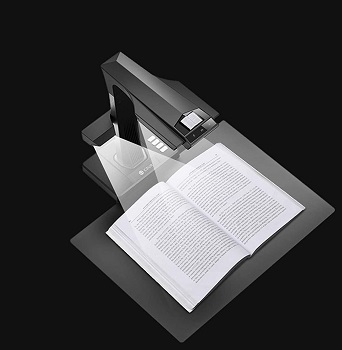 Auto-adjustments
After scanning files, edit them immediately. There are auto-crop, sharpness, contrast, thickness and other adjustments. When you scan an open book, the software is able to automatically combine or separate two pages right after scanning. The warranty for this scanner last 1 year.
Highlighted Points:
elegant designed book scanner
it is capable to scan multiple items
the scanning speed is 1.5 seconds for two pages
the scanner camera features 16 megapixels
OCR permits scans conversions
edit your scans with multiple functions
Best Multi-page Professional Book Scanner
Fujitsu ScanSnap Book Scanner
Lightweight Scanner
The Fujitsu ScanSnap SV600 is an overhead book scanner. Its size is 8.3 x 15.1 x 6.1 and it is lightweight. Use it for books, journals, photos, receipts and delicate papers. This scanner is powered by USB, so connect it to your laptop or computer.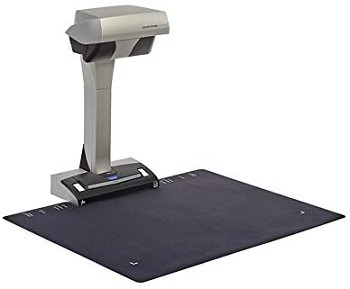 Continuous Scanning
This scanner is intended for high volume scanning. It delivers crisp accuracy in text and color. It is easy to use it – place the book or document on the pad and press the scan button. The multi-page document scanner takes under three seconds for scanning. Then turn the page and the Fujitsu will automatically keep scanning.
Page Turning Detection
The Fujitsu professional book scanner uses three advanced technologies. The page-turning detection – the scanner scans automatically when you turn the page. The image flattening software corrects book curves and removes scanned fingertips.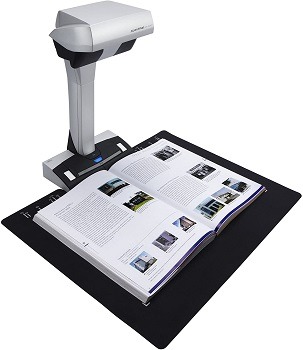 LED Illumination
The multiple document detection allows you to scan multiple pages at once and save them as individual files. The scanner will automatically crop the pages and remove blank spaces. The Fujitsu uses high-quality CCD optics and advanced LED illumination.
Highlighted Points:
the lightweight and stable book scanner
it features page-turning detection
scan multiple items at the same time
simple user interface with one button for scanning
image flattening software for books
Things To Know About Professional Book Scanner
Find out which is the most common book scanner type, which resolution it delivers and which advanced features it provides. Then it will be easier for you to pick the best professional book scanner.
Scanning Speed – If you need to scan a high volume of books, the scanning speed is essential features. All of these scanners on the list above are pretty fast. They are able to scan two pages of a book at 1.5 to 2 seconds. That is approximately 300 pages within 10 minutes.
Scanner's Resolution – The professional book scanner should be able to scan pages at high resolution. The minimal scanning resolution is 300 dots per inch. The 400 dpi and higher resolution, like 600 dpi or even 1000 dpi,  provide high-quality images.
Book Flattening Technology – The book curve technology is intended for bound books. It isn't easy to scan thick books, so this technology is crucial. The lasers will capture the book pages and flatten them automatically. You'll get clear and quality scans.
Page Turning Detection – This is one more useful techniques that should be integrated into automatic book scanners. This technology automatically detects when you turn the page and keep scanning. You don't have to press the scan button each time. That increases productivity.
Book Size – Not all book scanners are suitable for all book sizes. The most common book size is A4 or 8.5 x 11 inches per page. If you decide to buy a quality scanner, consider the model that is able to scan various book sizes, from small to large sizes, like A3 format.
Final Verdict
To conclude, we think that the Czur M3000 pro book scanner is currently the best on the market. It is a perfect choice for libraries, schools, it offers a high resolution of 1000 dpi and many automatic and smart features. If you want to check other scanners with a camera function, read the post about document camera scanners. For more affordable scanners with good features, consider cheap document scanners.