Are you interested in the best printer for scanning and printing photos?
Then keep reading.
Here we talk about the scanner and printer combo. You can have an all-in-one device. That provides a lot of benefits. If you want to check which are those and how to pick the best model, jump on our buying guide.
Our Top Picks
6 Best Photo Scanner And Printers
Best Of Best Photo Scanner And Printer
Canon Pixma MG3620 Scanner
Space-saving Design
The Canon Pixma MG3620 is an elegant all in one printer for scanning photos. Its dimensions are 12 x 17.7 x 6 inches and it weighs 11 pounds. It is compact and features a space-saving design. The box includes the printer, manual, set-up CD-ROM, set up fine cartridges and power cord.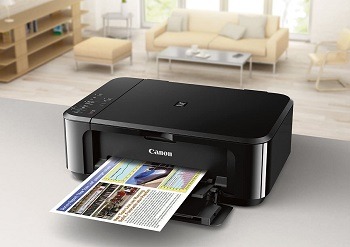 Wireless Device
This copier, photo scanner printer combo is compatible with Windows and Mac operating systems. It delivers a resolution of 4800 x 1200 dots per inch. It is a wireless printer with a scanner and copier. It can print and scan from anywhere because it has a wireless capability.
Print App
You can print wirelessly in multiple ways. For example, you can use the Canon app and print and scan photos directly from your smartphone or iPad. It is easy to set up the WiFi connection in few clicks. The Canon delivers professional-quality prints.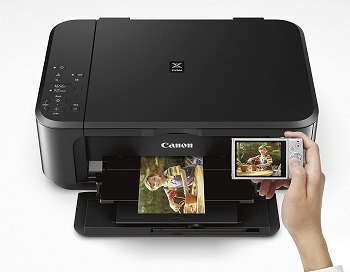 Auto-duplex Printing
With this feature, you can quickly print pages. The Canon is able to print both sides of a document at the same time. That saves time. The printing speed is 9.9 images per minute for black and 5.7 images per minute for color. The maximum paper size is a legal-size or 8.5 x 14 inches.
Highlighted Points:
wireless all-in-one printer and scanner
the maximal paper size is legal size, 8.5 x 14"
use the Canon app for mobile printing
the resolution is 4800 x 1200 dots per inch
print from your iPad, iPhone, Android or tablet
Best Photo Scanner Printer
HP Envy 4500 Print Scan Copy Photo
Windows & Mac Compatible
The HP Envy 4500 is a wireless all-in-one color photo printer. Its dimensions are 17.52 inches in width, 13.17 inches in depth and 5.04 inches in height. It doesn't require much space, so it will fit on every desk. It can be used by both, Mac and Windows users.
Borderless Prints
This is one of the best photo printer and scanner, it produces borderless, professional-quality photos and clear documents. You can print borderless 4 x 6 inches of photos and 8.5 x 11 inches of documents. Print your documents and photos directly from your smartphone or tablet.
Optical Resolution
Scan your documents of photos and send them directly to your email. This scanner and printer provide automatic 2-sided printing. You don't have to flip the paper over. The optical scan resolution is 1200 dots per inch. The recommended monthly page volume is from 100 to 400 pages.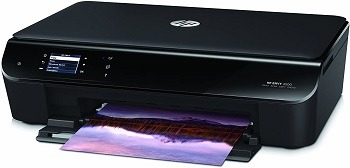 Energy Star Certificate
The print speed for black is 8.8 pages per minute, for color, it's 5.2 pages per minute. The maximal paper size you can insert into this machine is8.5 x 14 inches, as known as legal-sized paper. The LCD display has 2 inches. The Energy Star certificate ensures low power consumption.
Highlighted Points:
great photo printer and scanner
the optical resolution si 1200 dpi
the maximal print speed is 8.8 pages per minute
the max monthly paper volume is 400 pages
it features duplex scanning and printing
Best Professional Photo Scanner And Printer
Epson Photo Printer Scanner
Affordable Price
The Epson WorkForce WF-2830 measures 14.8 inches in width, 11.8 inches in depth and 8.6 inches in height. The package includes an installation CD, power cord, cartridges and the device. The USB cable isn't included. The price is affordable.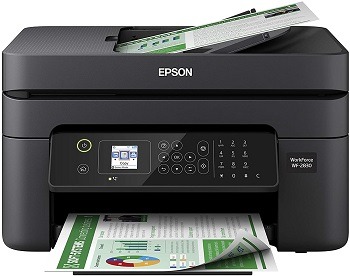 Automatic Feeder
You need to use this photo printer and scanner with Epson cartridges only. The Epson features 2-sided printing and scanning, which saves time and paper. The automatic document feeder can handle up to 30 pages. This reliable scanner provides jam-free printing.
Fast Printing
The Epson provides fast printing, it prints 10 black pages per minute and 4.5 colored pages per minute. You can print directly from the iPad, iPhone, Android tablets and smartphones. The color 1.4" LCD screen allows you to control the device with ease.
Voice Operated
You can copy, scan, print and fax with the Epson WorkForce printer and scanner. It is compatible with Mac and Windows operating systems. The printed photos and documents have a professional look. The hands-free voice-operated scanner ensures easy printing.
Highlighted Points:
automatic document feeder with 30-page capacity
hand-free voice-activated printer and scanner
compatible with Windows and Mac systems
the maximum printing speed is 10 pages per minute
it delivers professional look photos
print the photos directly from your mobile phone
Best Office Photo Scanner And Printer
HP LaserJet All-in-one Printer
Pricey Device
The HP LaserJet Pro M479FDW is a multifunctional device. It is equipped to meet all of your office needs, which include scanning, copying, fax and other features. It is a bit bigger item, it measures 16.4 x 18.6 x 15.7 inches. The touchscreen is colored and has 4.3 inches.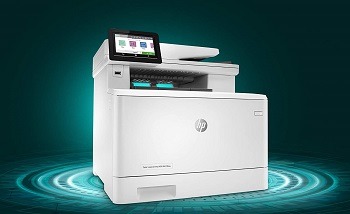 Max Media Size
This photo scanner printer combo is compatible with multiple systems, like Linux, Mac, Windows, iOS and Android. The maximum media size is 8.5 inches in width and 14 inches in length. The HP is able to print envelopes, papers, labels, glossy photo paper and high-resolution paper.
28 Pages Per Minute
The HP offers automatic duplex printing, which is a great feature for office use. The automatic paper feeder can handle up to 50 pages. The printing speed is 28 pages per minute. The HP printer and scanner some security features to protect your sensitive data.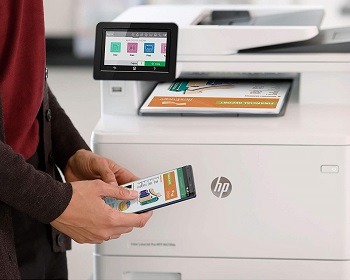 Input Page Capacity
The recommended monthly page volume is up to 4000 pages. This HP photo scanner printer is Energy Star certified, so it has low power consumption. The input sheet capacity is 300 pages and the output capacity is 150 sheets. The manufacturer recommends original HP toner cartridges only.
Highlighted Points:
an ideal choice for small business
it is able to scan, print, copy and fax
the print speed is 28 pages per minutes
the automatic document feeder handles up to 50 sheets
the color touchscreen has 4,3 inches
energy efficient photo scanner printer
Best Home Photo Scanner Printer
Canon MX922 Wireless Printer
Stylish Design
The Canon MX922 all-in-one printer is a compact product with a pretty stylish design. Its dimensions are 19.4 inches in width, 15.6 inches in depth and 9.1 inches in height. It weighs 25 pounds. The WiFi is integrated into this device, it makes printing and scanning easier.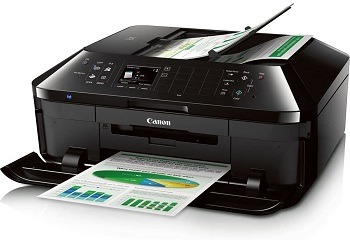 Expandable Tray
You can wirelessly print from your iPad, iPhone, iPod touch devices. Control the photo scanner printer combo with an LCD touchscreen of 5 inches. Also, you can print from the cloud and through Bluetooth. This printer features an auto expandable output tray.
Auto Duplex Printing
There is a handy memory card slot. It includes CD/DVD and Blu-ray Disc printing. You can plug the cable into a PC and have a very fast connection for your data transfer. The auto document feeder can handle 35 pages. The auto duplex printing allows you to print on both sides of the paper.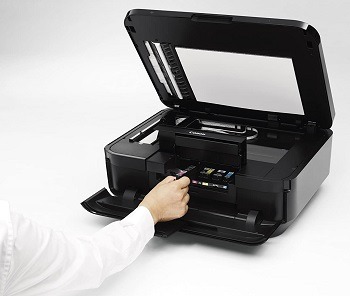 Borderless Photos
This home or home office photo scanner and printer owns an Energy Star certificate for low energy consumption. It prints in black and white at 15 images per minute, in color at 10 ipm. Moreover, it can output a borderless photo of 4 x 6 inches in 21 seconds. The resolution is 9600 x 2400 dpi.
Highlighted Points:
it copies, scans, prints and faxes multiple documents
the auto duplex printing is integrated
auto document feed handles up to 35 sheets
the auto expandable output tray
connect your smartphone and tablet with this item
Best Compact Photo Scanner And Printer
Brother MFCL2710DW Printer
Affordable Product
The Brother MFCL2710DW is a compact printer and scanner which fits on every desk. It is good for small office use or home use. This device measures 15.7 x 16.1 x 12.5 inches. The Brother photo scanner printer weighs 25 pounds. Its price is affordable.
Monochrome Printer
It is important to note that this printer output type is monochrome, which means it can only print in white and black. But if you put the color photo into the scanner, it is able to scan a color photo in a file. If you want to print that photo, you'll get white and black photo.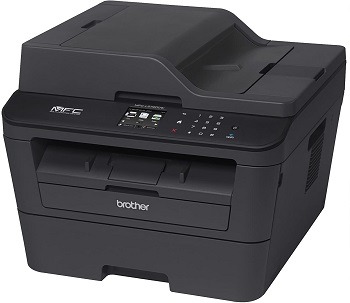 Wired & Wireless Option
The Brother photo printer and scanner features fast printing and copying. It can print 30 pages per minute. It provides wireless and wired networking. Also, you can connect locally via USB. Control the device via a color touchscreen of 2 inches.
Capacity Of 250 Pages
This all-in-one device features an auto document feeder, you can insert 35 pages. The manufacturer recommends the monthly print volume from 200 to maximally 2000 pages. This machine produces low noise during copying, it is 50dB. The tray capacity is 250 sheets. It scans pages to different locations and features duplex printing.
Highlighted Points:
affordable printer and scanner
it is a monochrome laser printer
the max monthly volume is 2000 pages
automatic duplex printing improves productivity
auto document feeder holds 35 pages
Things To Know About Photo Scanner Printers
These all-in-one photo printer and scanners are multifunctional devices. With one item, you can scan, print, copy and fax documents and photos. Check out more about their abilities.
Scanner & Printer Resolution – The resolution is measured in dots per inch. The 300 dpi is enough for many people. but if you require high quality, consider the product with 1200 dpi. If you want to enlarge the digital scans, choose the 3200 dpi. For those who want to post photos on the internet, the 150 dpi is enough.
Bit Depth – The bit depth feature means the accuracy of colors from a photo when you want to translate it to digital images. The 24-bit is enough for everyday use. If you want a higher quality, the 30-bit will cover that requirement. If you have a monochrome device, choose the higher bit depth.
2-sided Printing – If you use the photo printer and scanner for your work, this feature will make your job much easier. When you insert the document or the photo, it will scan or print it on both sides. So, you don't have to turn it in manually, which saves your time.
Photo Size – Do you need to scan and print small and large photos? That is an important question before you buy a printer scanner combo. Many people prefer a certain photo size, like 4 x 6 or 8 x 10 pictures. If you have large photos, the flatbed scanner and printer is a perfect choice.
Automatic Feeder – Many Printers and scanner have auto document feeder. These devices are digitizers that use optical scanning abilities, they help you to save photos on PC and provide sharing. The auto feeder takes a stack of photos, pass one photo into the scanning bed, scan it, store it, eject it and pull another photo in.