Do you want to avoid wasting time during the scanning?
We have a perfect solution for you!
We will talk about high-speed photo scanners in this review. With these devices, you don't have to stand next to the scanner and wait. We gathered some useful information in the buying guide and pick the fastest photo scanners which are available on the market.
Our Top Picks
Best 6 High-Speed Photo Scanners
Best Of Best High-Speed Photo Scanner
Epson FastFoto Scanner
Wireless Scanner
The Epson FastFoto scanner is a compact device, it fits on every desk. Its dimensions are 8.7 inches in length, 11.8 inches in width and 8.1 inches in height. It weighs 8.8 pounds, so you can easily move it wherever you want. It is compatible with Windows and Mac operating systems.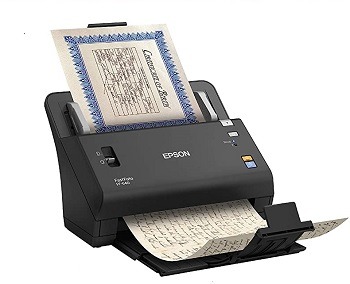 Fastest In The World
This model is the fastest photo scanner in the world. It has the ability to scan a photo per single second. You can scan thousands of photos and the scanner will keep its speed. Also, it delivers high resolution for your photos, there are 600 dots per inch.
Single-Step Technology
The package includes a photo scanner, Hi-speed USB 2.0 cable, AC adapter with power cable, carrier sheet and a cleaning cloth. This scanner uses Single-Step technology that provides 2-sided scanning. If you have some handwritten notes on the back of the photo, it will scan that, too.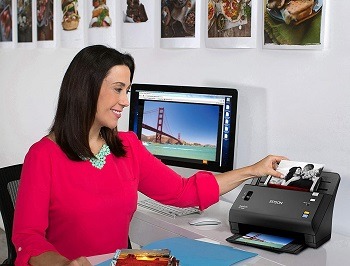 Integrated Software
The Epson high-speed photo scanner also restores old photos and ensures their original quality. Then you can upload the high-quality photos to the cloud. It is able to accommodate postcards and panoramic photos. The software is integrated and it provides you to save, share and send photos.
Highlighted Points:
great for small and panoramic photos
it scans a single photo in 1 second
Single-step technology allows 2-sided scanning
compatible with Mac and Windows
use USB or wireless connectivity
Best Professional High-Speed Photo Scanner
Brother ADS-1700W Fast Scanner
Compact Design
The Brother ADS-1700W photo scanner features a compact design, it is ideal for a small office or home office use. The dimensions are 4.1 x 11.8 x 3.3 inches and this item weighs 3.3 pounds. It is pretty lightweight. The Brothers scanner is available in white color and it's made of quality plastic material.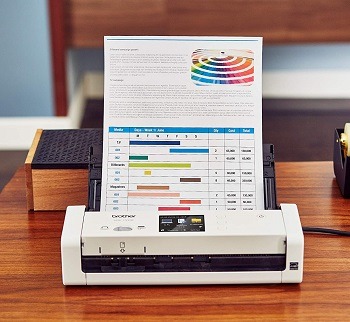 Duplex Scanning
The maximal document or photo size you can insert into this scanner is 8.27 x 11.69 inches. This scanner can be used by Linux, Mac and Windows users. The duplex scanning allows you to scan the photo or document on both sides, you don't have to flip it manually.
25 Pages Per Minute
The ADS-1700W scans black and white and color photos and documents. It ensures fast scanning, so it is able to scan 25 pages per minute. You can insert 20 pages into the auto document feeder. Control the scanner via a 2.8-inch color touchscreen display.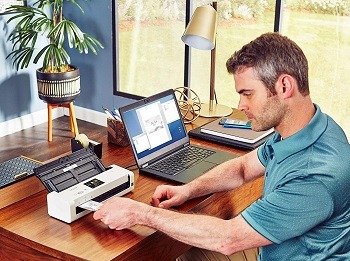 Optimize Your Photos
This high-speed document scanner is able to scan to multiple locations, that include email, cloud service, mobile device, USB flash memory, Network and others. When you insert the paper into the feeder, the auto start scan feature will turn on the device immediately. With this scanner, you can optimize text and photos.
Highlighted Points:
compact desktop wireless scanner
scan stack of papers on both sides
it scans up to 25 pages per minute
compatible with Mac, Linux and Windows
the automatic document feeder holds 20 pages
the software allows you to optimize your text and photos
Best Office High-Speed Photo Scanner
Canon ImageFormula R40 Scanner
Variety Document Types
The Canon ImageFormula R40 is intended for office document and photo scanning. It handles reports and contracts, receipts, business cards, long documents, thick and thin documents and photos. It is easy to set it up, just connect it to your computer with a USB cable.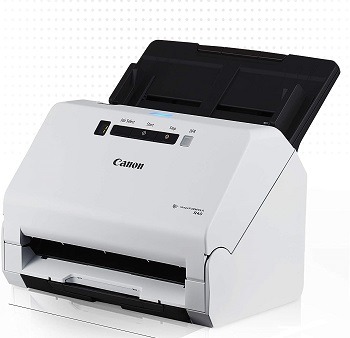 Hi-speed Certification
The Canon office scanner measures 11.4 inches in length, 9.9 inches in width and 9.6 inches in height. It fits with Windows and Mac operating systems. This scanner owns an Energy Star certificate for low power consumption and Hi-speed USB certification for fast transfer.
Digital Formats
The bundled software ensures your paper document conversion into searchable digital formats. Or you can send you scans directly to the cloud. The automatic feeder has a capacity of 60 sheets. The duplex scanning allows you to scan both sides of a document at the same time.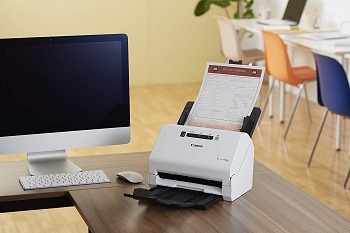 OneTouch Operation
The Canon high-speed photo scanner is able to scan 40 pages per minute. On the front of the device, there are three buttons for easy operation. The Optical Character Recognition software provides high-quality photos. It is important to say that this scanner isn't for legal-sized papers.
Highlighted Points:
great scanner for home or small office use
the Energy Star certification confirms low energy use
scan directly to the cloud, like Google Drive, OneDrive
fast scanner – it scans up to 40 pages per minute
works with Mac and Windows systems
Best Automatic High-Speed Photo Scanner
Plustek PS186 High-speed Scanner
Affordable Scanner
The Plustek PS186 photo scanner is a compact and lightweight scanner. It measures 10.36 inches in length, 5.02 inches in width and 5.83 inches in height. It weighs 3.6 pounds. This scanner doesn't take much space, so you can place it anywhere. Its price is affordable.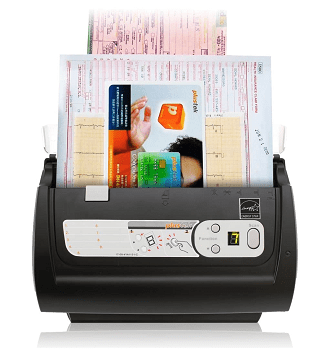 Long Papers
This fast automatic scanner with feeder is compatible with Windows 7, 8 and 10 and Mac. The PS186 scans 25 pages per minute and features an auto document feeder, which can handle 50 sheets. You can scan different paper sizes, from business cards to extra-long documents.
Barcode Reader
The bundled software allows you to create searchable PDFs. You can search these files if you enter a keyword or sentence. There is one interesting function, the Plustek has Barcode file reader software. This software helps you to finish the documentation archiving and read the barcode data.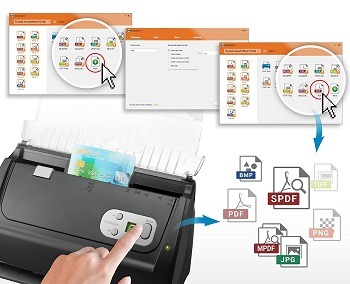 Upgrade Your Photos
The Plustek can scan up to 600 x 600 dpi resolution. You can optimize your photos with auto-crop, auto-rotate, auto deskew, blank page removal, character enhancement and other options. In the Quick Menu, you can create up t 23 profiles for different formats, resolution and other requirements.
Highlighted Points:
compact design and attractive price
it scans up to 25 pages per minute
the automatic paper feeder handles up to 50 sheets
the Barcode file reader software is integrated
optical resolution is 600 x 600 dpi
OCR software for searchable PDF files
Best 2-sided High-Speed Photo Scanner
Xerox XD-Combo Fast Scanner
Flatbed Type
The Xerox XD-combo is a flatbed paper scanner. It is available in white color and weighs 5.9 pounds. Its dimensions are 15.8 inches in width, 13 inches in depth and 5 inches in height. This convenient scanner has an automatic document feeder that holds up to 35 pages.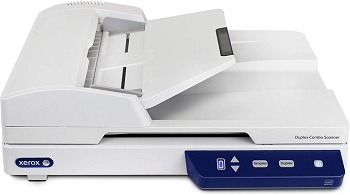 Easy-to-use
It is ideal for small offices because it features duplex scanning for documents and images. At the same time, it improves photo quality. The control panel is easy to use, there are OneTouch buttons. It is important to know that you can use it if you own Windows or Mac systems.
Visioneer Acuity Software
The Xerox large format flatbed scanner scans up to 25 pages per minute or 50 images per minute at 300 dpi. It scans in color, black and white and grayscale. The Visioneer Acuity software instantly improves the image quality, this technology uses advanced algorithms and correct imperfections.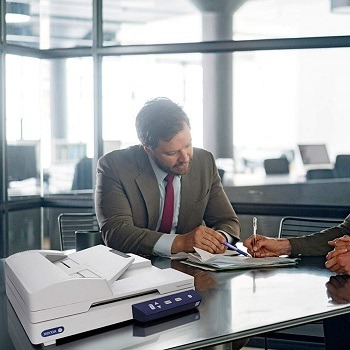 OCR Software
You can automatically send your scans to PC, email, cloud services, printers and file folders. Moreover, you can create searchable and editable scans. The OCR software is also integrated into this scanner. This high-speed photo scanner allows you to scan ID cards and long documents.
Highlighted Points:
automatic flatbed photo scanner
scan speed is 25 pages per minute or 50 images per min
the automatic document feeder holds up to 35 pages
Visioneer OneTouch technology with Acuity software
the Optical Character Recognition software included
the resolution is 300 dots per inch
Best Multiple-page High-Speed Photo Scanner
Fujitsu Fi-7160 Scanner
Powerful Product
The Fujitsu Fi-7160 is a workgroup-class professional duplex scanner. This item is small enough to fit on every desk but very powerful. It measures 17.7 inches in length, 9.5 inches in width and 11.2 inches in height. It weighs 9 pounds only. This is a pricey scanner.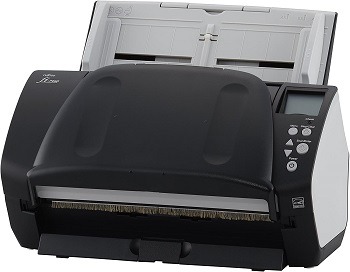 Second For Page
On the daily basis, it's able to scan up to 4000 scans. It is a fast, accurate and reliable scanner. The Fujitsu scans the papers of up to 60 pages per minute, which means it takes a second for a single page. The optical resolution is 600 dots per inch, you can have professional-looking photos.
Multi-page Capacity
The automatic document feeder has a capacity of 80 pages. The TWAIN and ISIS drivers are integrated into this scanner, so it is compatible with most software. Intelligent Multifeed technology provides an easy manual bypass for sticky notes and taped receipts.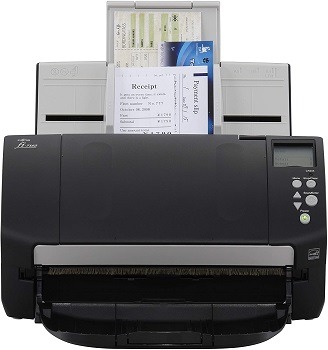 Acoustic Sensors
The Fujitsu multi-page scanner has many great features, and there are more – acoustic sensors that will detect misfeed. If they notice it, the device will stop working immediately. That prevents your documents and photos from damage. PaperStream software offers tools for photo optimization.
Highlighted Points:
professional duplex scanner for office use
it scans up to 4000 pages per day
the scanning speed is 60 pages per minute
optical resolution of up to 600 dpi
80-page automatic document feeder
compatible with almost all softwares
Things To Know About High-Speed Photo Scanner
If you work with high documents or photo volumes, you need to have a high-speed photo scanner. Here learn about its speed, automatic features, software options and more.
Scanner's Speed – Before you buy a photo scanner, check out how many pages per minute the device can scan. The photo scanners with 30 or 25 pages per minute are really fast. But there are even faster photo scanners. In these reviews find two models that scan 1 page per second.
One-sided Or Two-sided – These photo scanners are also known as simplex and duplex scanners. The simplex scanner scans one side of the paper, then you need to flip over the paper and scan the other side. The duplex scans both sides at the same time.
Paper/Photo Size – If you work with A4 size papers only, then buy the scanner for that size. Many scanners are able to scan business or ID cards and even long papers. These are the most common paper sizes: legal-size (8.5 x 14") and standard letter size (8.5 x 11").
Scanner Resolution – Each photo scanner comes with different resolutions. It is measured in dots per inch. For document use, 300 dpi is enough. But if you need the scanner for photos, consider the 600 dpi or higher resolution. You will have professional-looking photos.
Photo Optimization – You can find a good photo scanner at an affordable price. Also, these scanners include integrated software. With this software you can improve your photo quality, for example, you can restore its original quality, remove background, auto-crop, auto-rotate and more.
Final Verdict
Did you find your favorite fast photo scanner? If you did not decide yet, consider the Epson FastFoto scanner. This is the world's fastest photo scanner, it's able to scan the photo for one second, moreover, it delivers optimal resolution and features an auto-feed tray. If you are interested in some enhanced features, check out the review of high volume document scanners or professional photo scanners.