Are you interested in a paper punching machine for spiral binding?
If you are, keep reading.
In this review, we try to describe machines with a hole punch for spiral binding, so you can make your decision easier. We choose some models on the market which offer different features, let's take a look.
Our Top Picks
Best 5 Spiral Hole Punch Machines
Best of Best Spiral Hole Punch
TruBind Hole Punch Machine
AC Adapter
The TruBind TB-S20A machine requires standard 110V power and the AC adapter is included in the package. You need to insert the adapter on the backside of the machine. It powers electric coil inserter. The dimensions of this punching machine are 18 x 15 x 10 inches.
Electric Coil Inserter
The machine weighs 15 pounds and the price is affordable. The electric coil inserter makes your work easier, it provides fast and easy coil insertion. It is great if you have large workloads. There is a big red button, use it to turn on/off the electric inserter.
Adjustable Margins
The punching capacity is 20 sheets at a time. The depth and side margins are adjustable, that means, you can choose where you want to punch the holes in your book or documents. Once you set the margins, punch your papers quickly. Also, select the hole distance from the edge of the paper.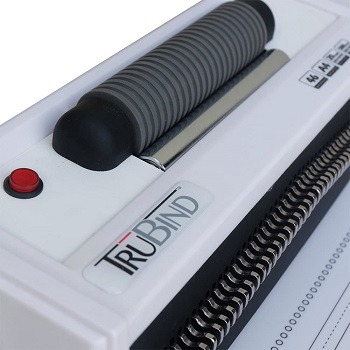 46 Disengaging Pins
There is Sizing Guide on this paper punching machine for spiral binding. Choose the right coil size depends on the number of papers in your project. The TruBind features 46 pins and they are all disengaged. The small waste bin collects the paper debris during the punching process.
Highlighted Points:
durable spiral hole punch machine
punching capacity is 20 sheets at a time
adjust the depth and side margins
use the sizing guide for proper coil size
built-in waste bin for paper pieces
adapter for electric coil inserter
Best Heavy-duty Spiral Hole Punch
Akiles CoilMac Punching Machine
Rugged Metal Construction
The Akiles CoilMac-ER 41 is a manual coil punch machine with features electric coil inserter. The product dimensions are 18 x 8 x 13 inches and it weighs 38 pounds. If you need to move it, don't do it by yourself, ask someone for help. The construction is made of rugged metal, which makes the device durable.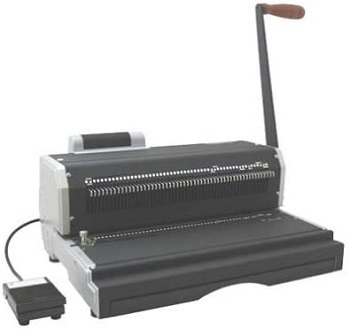 Large Waste Drawer
This spiral hole punch machine has non-slip feet, so it is stable and fixed in one place. The waste drawer has a high volume, all paper debris will fall in it. It makes a spiral hole punch and the capacity is up to 20 sheets. You can punch the hardboard of 2.6mm thickness.
For Any Paper Size
Akiles features open throat design, it isn't intended for the standard paper size only. You can punch the documents longer than 26 inches. The continuous punch guide is useful for easy alignment and punching. The depth and side margins are adjustable.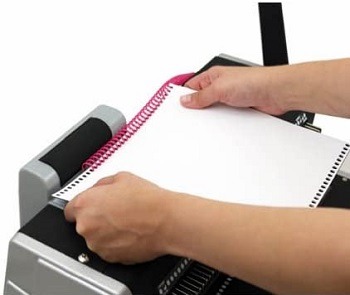 Foot Pedal Operation
Control the electric roller coil inserter with the foot pedal. The holes are oval and their dimensions are 4 x 5mm. The pins are fully disengaged, there are 54 pins. You can pull them independently. Akiles has a 4:1 pitch, so it makes 4 holes per inch of paper.
Highlighted Points:
heavy-duty coil hole punch machine
electric roller coil inserter
54 pins which are fully disengaged
adjustable margins for accurate alignment
large waste drawer for paper debris
Best Manual Spiral Hole Punch
Rayson Spiral Hole Punch Machine
Office & School Use
The Rayson PD-1503 is a manual spiral binding hole punching machine. It is intended for office and school use. With solid metal housing, non-slip feet and a convenient handle, this device is easy to use. Because of high-quality metal material, it will last for a long time.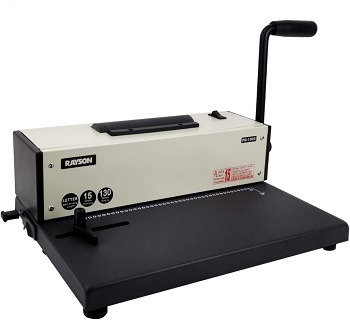 Unlimited Binding Capacity
The punching operation is manual, but there is an electric coil inserter. It makes spiral bound punch. The punching capacity is 15 sheets of paper at once and the binding capacity is unlimited. Also, the max size of the spiral binding ring is unlimited. The Rayson device is compatible with 4:1 pitch spiral binding coils.
Horizontal Loading
The loading is horizontal which ensures easy punching and accurate alignment. The shape of the holes is round and the hole size is 0.14 inches or 3.5mm. The Rayson paper punching machine for spiral binding doesn't have disengage pins. This device requires 110V.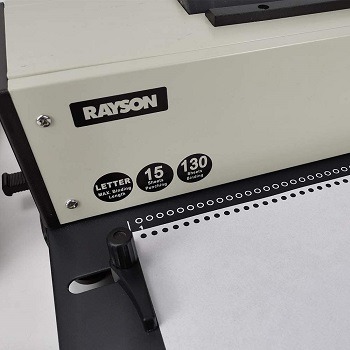 Steel Handle
On the side of the machine, there is an edge guide for accuracy. Use it for pinpoint punching. You can easily adjust the side and depth margins. There are three margin sizes: 0.12-inch, 0.19-inch, 0.27-inch. With a long durable handle, you can punch the documents with low force.
Highlighted Points:
made of high-quality metal material
perfect for long-lasting use
it makes spiral bound hole punch
unlimited binding capacity
15-sheet of punching capacity
depth and side margin adjustment
Best Electric Hole Punch For Spiral Binding
GBC Paper Punching Machine
Pricey Item
The Swingline's GBC ProClick P210E is an electric machine that measures 14 inches of width, 12 inches of depth and 4 inches of height. it weighs 22 pounds. It is designed for schools and small offices and provides a hole punch for spiral binding. The binding capacity is 110 sheets at a time. The price is higher.
Add The Pages
It punches the paper with electric power, you don't have to do it manually. Insert a maximally 15 pages into the machine. The ProClick is one of the rare devices which allows you to open it and remove or add sheets. You can open it with your hand or even a pen.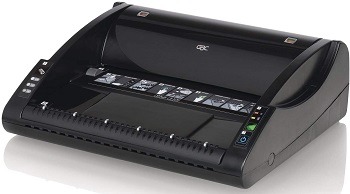 Oversized Papers
This machine makes hole punch for spiral binding, you can buy the GBC's spirals separately. They fit the best with this device. The maximal spine size is 5/8 inches. It is a versatile punching machine, you can use it for standard sized documents, but it accommodates oversized papers and covers, too.
Accurate Alignment
The GBC ProClick has the Guide Right features, use it before you punch and bind your documents. It will provide accurate alignment, punching and binding. All of your documents, papers or books will look professional. This high-quality machine has a warranty of 1 year.
Highlighted Points:
electric binding machine for spiral hole punch
useful for standard and non-standard documents
intended for mid-sized business
use the Guide Right for accurate alignment
it punches up to 15 pages at a time
bind up to 110 sheets of paper
Best Cheap Spiral Hole Punch
Vevor Punching Machine
High-quality Materials
The Vevor is a manual punching machine with an electric coil inserter. It delivers professional-looking documents and books. Use it in offices, library, bookstore and other places. This heavy-duty machine is made of high-quality metal and plastic materials.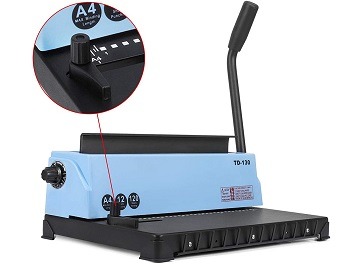 Punch 12 Sheets
The blades are made of hard alloy, because of that, they ensure strong punching performance. You can insert a maximally 12 sheets of A4 papers for punching. The binding capacity is 120 sheets. Pull the margin adjuster left and right and adjust the binding thickness.
Rotary Knob
On top of the machine, there is a binding ring gauge, so you can quickly select the binding ring. You can position the paper symmetrically with a knob lock positioner. This spiral binding hole punching machine features one more knob, it's rotary knob intended for the scale that should be pressed.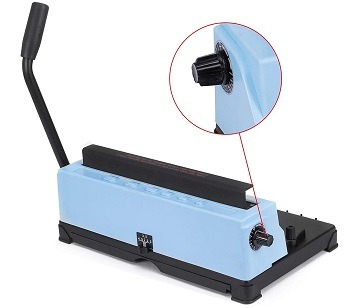 Convenient Handle
The Vevor has a 3:1 pitch and 34 holes. The hole size is 4 x 4mm. Use the convenient handle for punching, the vertical pressure ring system is easy to use. On the bottom of the machine is a waste box for paper debris. Your workplace will be always clean.
Highlighted Points:
spiral binding machine for offices, publishers, schools
punching capacity – 12 sheets
max binding capacity – 120 sheets of paper
adjustable edge distance
vertical pressure system for more accurate finish
twist positioner knob for symmetrical holes
Things To Know About Spiral Hole Punch Machine
There are many binding machines on the market, in this review we talk about the spiral binding style. Choose between manual and electric machines, binding and punching capacity and other features.
Coil Binding Hole Punch Style – With the spiral hole punch machine, the sheets are punched in a regular way and the coils are spun on the papers through punched holes. Usually, the machines have integrated motorized roller for coil inserting. Crimp the coils and they won't fall out of the spine.
Manual Or Electric Punch – There are two coil binding machines – manual and electric. The device with a manual punch is good for people who need to bind the documents occasionally. For a large workload, consider the electric punch, it will speed up your work.
Margin Adjustment – The spiral binding hole punching machine often features side and depth margin adjustments. It is useful because you can bind and punch the books or documents of any size. Also, you can control where the holes are punched on your paper.
Punching Capacity – This feature depends on the frequency of use. If you need a spiral hole punch machine for your office or bookstore, you should buy a heavy-duty or professional machine with 20+ punching sheet capacity. For personal use, the 10+ sheet capacity is pretty enough.
Crimping Pliers – Some spiral coil punch machine comes with crimping pliers included in the package. That is the tool you need when you finish punching and binding. Use for bending the coils and remove any excess. Also, it prevents the sheets from falling out of the spine.
Final Verdict
After many hours of researching, we think that the TruBind spiral hole punch machine is one of the best on the market. It features an electric coil inserter for faster work, a punching capacity of 20 sheets and disengaging pins. If you interested in binding machines powered by electric, take a look at the post about electric binding machines. Or you can learn something about thermal binding machines and check out the best models.