Do you need to buy a professional vinyl cutter for your business?
Then you're at the right place! Here you'll find detailed reviews of the best 6 models on the market. You can research different categories: professional, commercial, small businesses, etc. For additional info on features to consider, go to the buying guide.
Our Top Picks
Best 6 Professional Vinyl Cutter Reviews
BEST OF BEST PROFESSIONAL VINYL CUTTER
Graphtec CE600 24 Professional Cutter
Cost/Performance Advantage
This is the best professional vinyl cutter to use in business. CE6000 series cutting plotter has a Servo motor system and ARMS (Automatic Registration Mark Sensor) contour cutting. Because of the strong blades and high cutting force, it has a real cost/performance advantage. Any material is efficiently cut.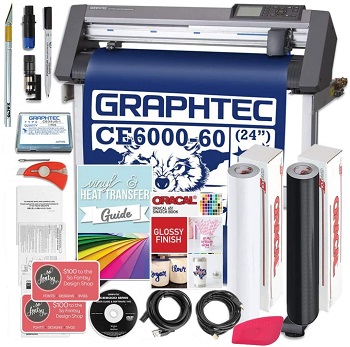 Works With Different Printers
ARMS contour cutting is guiding the blade with the laser around the printed lines of the image. So you can cut pre-printed images from solvent-based printers, water-based inkjet printers, desktop inkjet, and laser printers that can be connected to the Graphtec CE6000 plus vinyl cutter.
Suitable For Mac And Windows
The plotter Graphtec ce6000 model has a USB 2.0 interface and RS232C serial port to connect with the computer. It includes Graphtec Studio software with Cutting Master plug-in. It's suitable for both Mac and Windows operational systems which are very user-friendly because you can use any device to do business.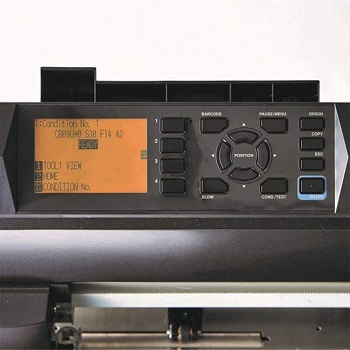 User-Friendly Accessories
ARMS system is expanding print and cut area while reducing the media waste. The maximum paper feed is 24". This 24 vinyl cutter comes with a floor stand, rear media roll rack with a new media brake, a 45-degree blade, 2 vinyl rolls, pen, trimmer, scraper, and license key to Pro Studio.
Highlighted Points:
commercial grade blades
ARMS contour cutting
Graphtec Studio software for Mac and Windows
24" maximum paper feed
includes read media roll rack
BEST COMMERCIAL PROFESSIONAL VINYL CUTTER
USCutter 34" MH Vinyl Cutter
Big Paper Width 
The maximum paper feed is 34" wide and the maximum cutting width is 3o". Therefore you can use different materials with this professional vinyl cutter. The strong blade cuts vinyl, heat transfer vinyl, paper, craft paper, card stock, and paint mask. It can't cut tint, laminate, low-intensity, and high-intensity reflective, un-backed, and unlined media.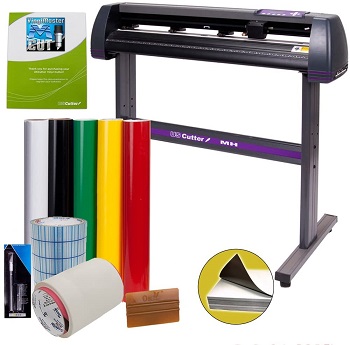 Strong And Fast Blade
The control panel has an LCD with control buttons such as origin, test, stop/start, and settings to adjust speed and pressure. This large vinyl cutter has a maximum cutting speed of 39 ips and a maximum cutting pressure of 12.34 ounces. The blade is fast and strong enough to cut thick materials. The system runs on a Stepper motor.
Software For Windows
This model includes software so you don't have to buy it separately. You'll get a VinylMaster Cut software that works with both DM-PL and HP-GL command sets, it's suitable for Windows only and includes vectorization tools. It also has spool function, design, and editing tools, and licensing.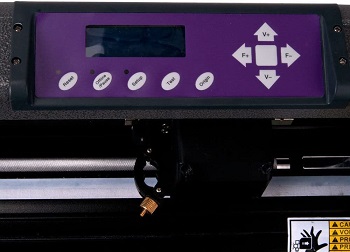 Accessories Included
Software and computer connect with the USB interface. The included accessories are a USB and power cable, a blade holder with three 45-degree blades, a pen holder with a pen, a hobby knife, and a squeegee. You'll also get 5 vinyl rolls that are 24" wide and 5 ft long, 2 magnetic blanks, transfer tape, and application tape.
Highlighted Points:
34" maximum paper feed
the maximum cutting width is 30"
control panel with many settings
39 ips maximum speed
VinylMaster Cut software
BEST FOR CRAFT PROFESSIONAL VINYL CUTTER
USCutter 28" Titan 2 Machine
High Downward Pressure
This model has a maximum pressure of 26.45 ounces. Therefore the blade is much stronger and can cut very thick materials. The maximum speed is 37 ips. Settings are controlled with the control panel and LCD.  Three Titan blades have a high cutting precision of 0.0003".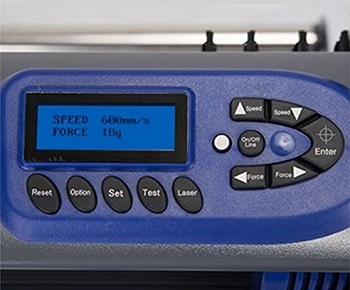 Catching Basket With Aluminum Frame
The exterior is made from aluminum. The servo motor vinyl cutter comes with the frame and catching basket which is very user-friendly because you can use long vinyl rolls and also do many projects unattended because they won't fall to the floor and damage. All projects go to the catching bin.
Laser Cutting
A great feature is the laser contour cutting for printing the image then cutting. The blade is guided with the laser around the printed image and then it's cut precisely around the lines. This is great for doing detailed jobs such as small stickers, labels, and logos, but also for bigger projects.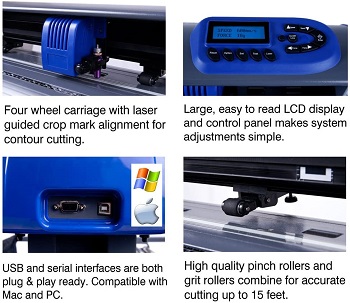 Adjustable Guide Rail
It includes VinylMaster Cut suitable for Windows only. This best professional vinyl cutter runs on a servo motor, therefore the blade is faster and stronger. The maximum paper feed is 28" and the maximum cutting width is 24". The feed has pinch rollers to adjust the guide rail according to the paper width.
Highlighted Points:
servo motor
26.45 ounces of maximum pressure
0.0003" cutting precision
laser contour cutting
28" maximum paper feed
BEST LARGE PROFESSIONAL VINYL CUTTER
Mophorn 53" Vinyl Cutting Machine
Good Value For Money
Considering its great features, this is the best cheap vinyl cutter machine you can get for professional use! It's a large model with a 53" maximum paper feed and a 49.64" maximum cutting width. The guide rail has 4 adjustable pinch rollers. They keep track of long projects so you can leave the machine unattended.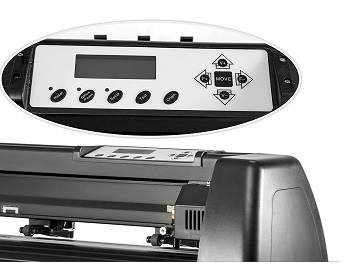 Adjustable Pinch Rollers
Also, the guide rail can be adjusted to the paper width, so you can create small and big projects. The cutting pressure can be adjusted between 0.7-17.6 ounces and cutting speed ranges from 0.8 ips to 31.5 ips. The wide range allows the machine to cut different materials, both thin and thick.
Software For Making Signs
The professional vinyl cutter comes with the Signmaster software that's compatible with Windows XP/Vista/7/8/10 on both 32-bit and 64-bit processors. It's not compatible with Mac. The software allows you to draw your own artwork, import designs, and use different fonts. It's great for making signs.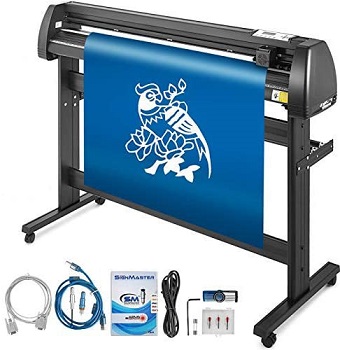 Cuts With Precision
The standard blade has a high cutting precision of 0.0004" so it can cut detailed images. The control panel has an LCD with a blacklight that helps navigate more easily and allows settings adjustments. The emergency stop and restart function can be used while the unit is working. The holder is Roland compatible.
Highlighted Points:
maximum paper feed is 53"
4 adjustable pinch-rollers
17.6 ounces maximum cutting pressure
31.5 ips maximum cutting speed
Signmaster Software for Windows
BEST FOR SMALL BUSINESS PROFESSIONAL VINYL CUTTER
Graphtec 15" Desktop Vinyl Cutter
Strong Blade And Easy Navigation
Like the previous Graphtec model, this is a great industrial vinyl cutter that's having a commercial-grade blade with high speed and precision to cut materials of any thickness. The maximum cutting force is 11 ounces which is enough to cut fabric, leather, stencil vinyl, etc. Settings can be adjusted on a control panel with many buttons and an LCD for easy navigation.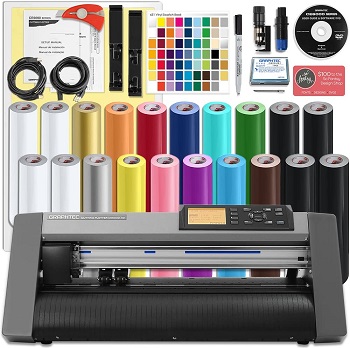 Software And Plug-Ins
If you owned Silhouette Cameo, your learning curve is reduced because Graphtec Studio is similar to the Silhouette Studio software. Graphtec software can work with both Windows and Mac which is very user-friendly. It comes with the plug-ins for Cutting Master and Plotter Controller.
Great For Small Projects
The maximum paper feed of this best professional vinyl cutter is 15". This is a desktop model that's compact, portable, and space-saving. It fits easily on any working surface. However, because of the smaller paper feed, it's suitable for businesses that are making logos, stickers, and other small projects. The machine has a standard blade and pen.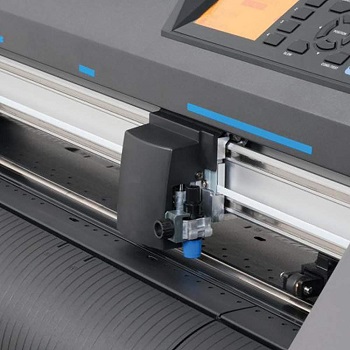 Includes Many Accessories
You'll get the license key to the Pro Studio, cutting blade manual, USB cable, and $100 to So Fontsy Design Store. Also, the offer includes 20 vinyl rolls that are 12" wide and 6 ft long, which is very user-friendly. You'll also get an 11.5" long and 16.5" wide cutting mat, a vinyl trimmer, and training videos.
Highlighted Points:
15" maximum paper feed
Graphtec Studio software with plug-ins
includes 20 vinyl rolls
11 ounces maximum cutting force
adverse control panel
BEST LASER PROFESSIONAL VINYL CUTTER
USCutter Laserpoint 3 Cutter Plotter
Precise Cutting And Keeping Track
This professional vinyl cutter has an ARMS contour cutting system that allows detailed and clear cuts when doing both small and large projects. You can use this machine for long projects because it has pinch rollers that keep track of the material and maintain it without damage. Catching bin prevents projects to fall and damage.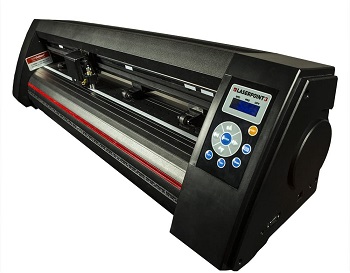 Automatic Material Feeding
Three pinch rollers are adjusting the guide rail to the material width, so this model can cut material of different width. Another user-friendly feature is the superior ball-bearing dual roller system that allows you to put materials on top of each other on the roll. The system is feeding material automatically.
Wide Paper Feed
Besides pinch rollers, it features a grit roller that improves the tracking of long materials. The maximum paper feed is 34". The cutting pressure and speed are adjustable with the control panel. The LCD is allowing easy navigation. This laser vinyl cutter includes VinylMaster Cut software that's suitable for Windows only.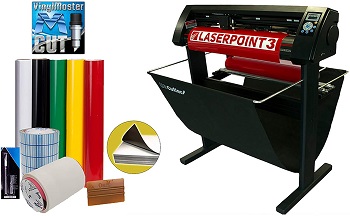 Included Accessories
The package includes three cutting blades for vinyl, 5 rolls of Greenstar vinyl that are 24" wide and 5 ft long. They come in different colors. Also, you'll get 2 sheets of magnetic blanks that are 12" wide and 24" long, one application transfer tape, and one paper application tape. The hobby knife and squeegee are also included.
Highlighted Points:
ARMS contour cutting
pinch rollers and grit rollers for keeping track
VinylMaster Cut software for Windows
34" maximum paper feed
comes with tools and materials
Things To Know About Professional Vinyl Cutters
Professional vinyl cutters are used in big companies, industries, and small businesses. They're more expensive than regular machines for DIY projects and hobbies. Here, I'll describe a few practical features you should consider when buying the best model.
Cuts Many Materials – When searching for the right contour cutting vinyl cutter for your business, make sure it can cut other materials besides vinyl- wood, fabric, vellum, leather, paper, cardboard, etc. The blade should be faster than 15 ips and with pressure, higher than 10 ounces. Also, precision should be 0.0004" or less. If you want to have clear cuts, check out if the model has a laser cutting function.
Adverse Control Panel – Professional projects require correct adjustments of settings according to the material and image that will be cut. Therefore, the control panel should have an LCD that shows you speed, pressure, and material settings. Also, the panel should have an emergency button to stop or restart the machine during the cutting.
User-Friendly Accessories – Another great feature to pinch rollers is a catch basket that's also desirable when doing long projects unattended because it prevents the material from falling to the floor and damaging. Also, buy a model that includes software. Check the compatibility of the software with your computer and its features such as vectorization tools, image formats, etc.
Big Material Feed – Unless your business is based on doing small logos and signs, you'll want to have a machine that can do projects of different sizes and materials. Therefore, I recommend buying a model that's bigger than 20" and with an adjustable guide rail so you can easily use material of any width.
Pinch Roller – This is very user-friendly feature tracks long projects and all best professional vinyl cutter should have it. They maintain the material stable in the feed, so it doesn't damage while being unattended in the vinyl roll cutter.