Are you looking for the best paper binding machine?
If you want to organize your documents or have a professional-looking presentation, there is a post for you. We'll explain how these machines work, which features are important and describe a few models for everyone's requirements.
Our Top Picks
Best 6 Paper Binding Machines
Best Of Best Paper Binding Machine
Fellowes Star+ Binding Machine
Light-duty Machine
The Fellowes Star+ paper binding machine is designed for home school or small office use. It measures 3.1 x 17.7 x 9.8 inches and weighs 9 pounds. The machine is made of sturdy and durable plastics. It is very easy to operate and the device doesn't occupy much space.

3/4-inch Comb
This paper binding machine has the ability to punch up to 15 sheets of paper at a time, manually. Also, it binds up to 150 sheets of paper with a 3/4-inch comb. The convenient built-in storage tray keeps your paper stack handy. You can easily add or switch the papers.
Adjustable Guide
The storage tray has a measurement device for your documents. This is a mistake-proof tool which helps you to choose the right size of the comb. Additionally, the edge guide is adjustable, you can center your documents with ease and have a professional finish.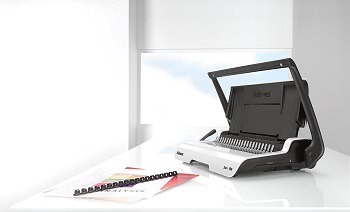 Precise Alignment
Fellowes paper binding machine offers a vertical document loading that provides accurate document alignment. On the top side of the binder, there is a small window, so you can see how many punches are in the dump bin. Visit the manufacturer's website if you need a video instruction.
Highlighted Points:
simple design and easy-to-operate
it features a built-in comb sizing system
vertical loading system provides accurate alignment
integrated storage try for extra supplies
it binds up to 150 sheets of paper
the machine punches up to 15 sheets
Best Wire Paper Binding Machine
TruBind TB-W20A Binding Machine
Reliable Machine
The TruBind TB-W20A machine is made of heavy-duty plastics and its gears and mechanism is made of metal. This machine is sturdy and reliable. But the machine has 18 pounds, it's portable. It is suitable for school use and small offices. The price is affordable.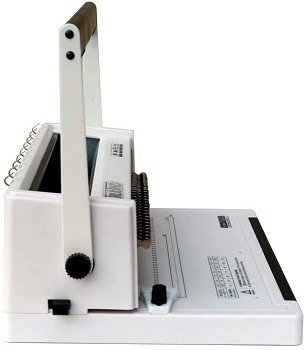 Foot Pedal
The dimensions of this paper cutting and binding machine are 17 x 8 x 14 inches. TruBind is good for bind books and documents. It utilizes 3:1 pitch twin-loop wire and foot pedal for easy use. With the foot pedal, you can easily control the coil inserter. It's a hands-free device.
Disengaging Pins
This binding machine is suitable for left-handed and right-handed because of the convenient handlebar. You can disengage the pins and control where the holes are punched. That prevents half-punched holes at the edge of the documents.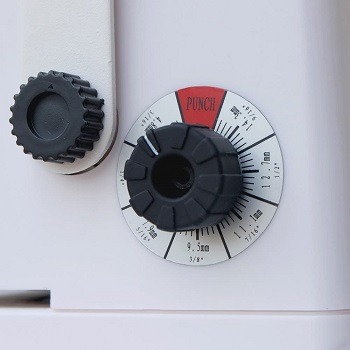 Adjustable Margins
With this machine, you can punch 20 sheets of paper at a time. Bind the books of any size or shape because of adjustable margins. It binds up to 120 sheets. The TruBind features open throat design, which means, the document size isn't important. The warranty covers manufacturing defects and it lasts 2 years.
Highlighted Points:
portable wire binding machine
the handlebar is suitable for left- and right-handed
the punch capacity is 20 sheets of paper
it binds up to 120 sheets at the time
open throat design for any paper size
adjustable margins and disengaging pins
Best Electric Paper Binding Machine
Swingline GBC VeloBind Machine
All-in-One Machine
The Swingline GBC VeloBind V110E machine is an all-in-one machine that is designed for firms, large offices and financial institutions. It is a high-quality product with a 1-year warranty. If you want to use this machine, you need to buy VeloBind spines, which are compatible with this machine.
Push-button Operation
This machine is able to bind up to 200 pages at a time. The electric punch pierces through up to 24 documents at once. It's ultra-easy to use this device, just push the button. It isn't suitable for standard size documents only. You can insert oversize documents and bind them.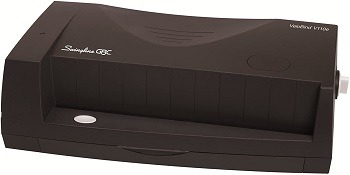 Jam Release Function
If paper jams occur, use the jam release knob and clear the jams easily. The included editing tool allows you to add or remove sheets, but you don't have to cancel the whole binding process. That is very useful if you forget to insert page or two into the stack.
Chip Drawer
The chip drawer with a transparent window ensures accurate document alignment. The Swingline is able to make 11 small holes. This item has a 20 x 12 x 8 inches, weighs 8 pounds and its price is affordable. The covers aren't included in the package.
Highlighted Points:
quality binding machine for heavy-duty tasks
jam release knob clear up paper jams
use the editing tool to add or remove pages
it binds up to 200 papers at a time
electric punch pierces 24 sheets
Best Manual Paper Binding Machine
Akiles WireMac-31 Binding Machine
One Of The Best
The Akiles WireMac-31 is one of the best manual paper binding machines on the market. It offers a lot of great features. There is a powerful hole punching mechanism that is able to pierce through 20 sheets per single punching. It's a bit pricey product.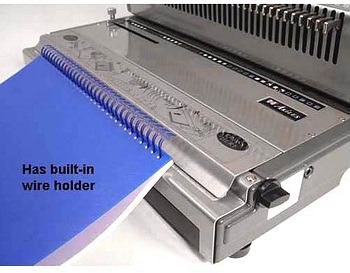 Varying-sized Documents
All of 40 dies are disengage, so you can use only the ones you need for your book or documents. The throat opening is 14 inches wide, but you can put even larger documents. This is a great choice for people who work with different sized documents. Use this machine for brochures and bigger books.
3:1 Pinch
The Akiles WireMac measures 19.1 x 15.6 x 9.5 inches and it weighs 35 pounds. This is a bit heavy item because its construction is made of metal. The closing capacity goes from 3/16 inches to 9/16 inches. It features a 3:1 pinch, that feature tells you the number of holes per inch.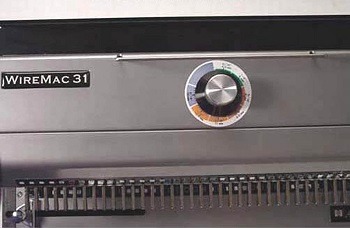 Two Handles
This paper cutting and wire binding machine is compatible with 3:1 metal wires. The square holes have 0.157 x 0.157 inches. The closing mechanism is vertical for more precise alignment. There are two strong and long handles for heavy-duty tasks.
Highlighted Points:
durable wire binding machine
all of 40 dies are disengaged
two long handles for demanding tasks
wide throat opening – 14 inches
punching capacity is 20 sheets at a time
the heavy construction is made of metal
Best Home Paper Binding Machine
Tianse Paper Binding Machine
Using Method
Tianse machine is a compact comb binding machine. It is easy to use it at your home. First, insert the file, press the handle and place the comb ring. Then open the comb ring, place the perforated documents and pull the handle back. That is it, there are just two simple steps.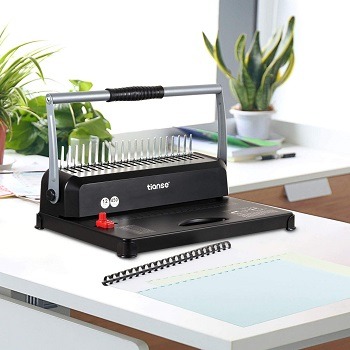 Tianse Design
This binding machine has 14.6 inches of length, 10.2 inches of depth and 9.3 inches of height. It weighs 8 pounds only. The range of use is wide, it is good for business, office, school and recreational use. You can punch 15 sheets of 20 lb maximally.
21 Holes For A4
With 2-inch comb, this machine is able to bin up to 450 sheets of paper at a time. The Tianse machine is designed for all document sizes, which include letter-sized papers. Also, you can insert A4 and A5 papers. The machine makes 21 holes on A4 paper.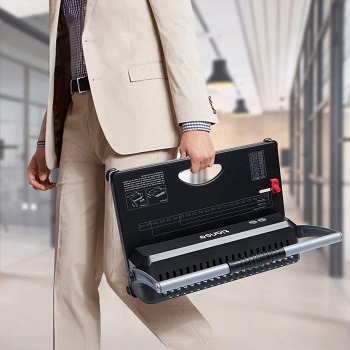 Dual-handle System
Tianse features two functional handles for easily punching and binding. The handles are comfortable for both, left- and right-handed. On the bottom of the machine, there is a convenient drawer that keeps paper scraps. There is no mess on your desk.
Highlighted Points:
user-friendly design with two handles
it features open throat design for non-standard sizes
punch up to 15 sheets of paper manually
it binds up to 450 pages at the time
convenient drawer for pieces of paper
Best Cheap Paper Binding Machine
Offnova Paper Binding Machine
Manual Machine
This is an affordable comb binding machine. If you need to punch and bind the papers occasionally, this product is a good choice. Offnova measures 14.57 x 10.24 x 9.25 inches and weighs 6.4 pounds. You can place it anywhere and store it in a drawer, shelf, it doesn't take much space.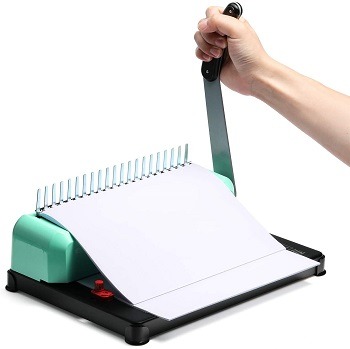 Curved Handle
Don't use this binding machine for PP and PVC plastic covers, it is intended for paper only. The curved handle requires less force to pierce the papers. You can manually punch up to 12 sheets of paper at once. It is high effective machine, you can simultaneously punch and binding the documents.
All Sizes
Insert letter size, A4 and A5 paper sizes into the machine, it is able to bind and punch all of them. The Offnova utilizes a positioning knob, so you can align the documents accurately. Bind up to 450 pages per single operation. The margins are adjustable, there are three options: 3, 4 or 5mm.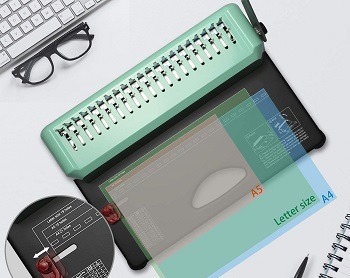 Square-shaped Holes
The distance between holes is 14.3 mm and there are 21 holes. The holes have a square shape and its size is 3 x 8mm. The Offnova paper binding machine features separate cutters. It comes with 100 x 3/8 inches comb, so you don't have to buy it separately.
Highlighted Points:
low-priced manual paper binding machine
punch 12-sheet of paper with a curved handle
it binds up to 450 sheets at once
21 square-shaped holes
adjustable margins for any paper size
the compatible comb is included
Things To Know About Paper Binding Machine
The paper binding machine is a convenient device for any office, school or even home use. Before purchase, consider some factors and choose the model which suits best your needs.
Punching Capacity – This feature means how many papers the machine can pierce per single punch. The casual models are able to punch up to 8-10 sheets. More powerful devices have the ability to punch at least 20 sheets of paper at the time.
Binding Capacity – This capacity is just as important as punching capacity. The amount of pages depends on your projects. For light-duty use, choose the paper binding machine with capacity of 200 pages. For professional/business use, a machine with min 400-sheet capacity is required.
Manual Or Electric – There are two main types of paper binding machines on the market – manual and electric. How to decide? If you work with a huge amount of paper in some offices, the electric binding machine is more suitable for you. The manual device is intended for occacional use.
User-friendly Design – It is easy to ruin your documents, so read the machine features before you buy one. The manual machine could be tough to handle, while the electric ones are simple to use. Check out if your device has adjustable margins, that it's also important.
Paper Size – Many models are intended for standard paper size. But if you work with variety document sizes, you should consider the machine which can handle at least two different paper sizes. For example, you can find the product that punch and binds letter-size papers, A4 and A5 formats.