Are you looking for a machine to make spiral notebooks?
Check out what we've covered!
Here we talk about notebook binding machines. If you looking for one, we have prepared a useful buying guide about important machine's characteristics. Then choose the model with a suitable capacity for your needs.
Our Top Picks
Best 6 Notebook Binding Machines
Best Of Best Notebook Binding Machine
TruBind Spiral Binding Machine
Office Equipment
The TruBind TB-S20A is a spiral/coil binding machine intended for office or school use. It is available in white color and its dimensions are 18 x 15 x 10 inches. The item weighs 15 pounds. If you aren't satisfied with this machine, the manufacturer will refund your money. The warranty lasts for 2 years. The crimping tool is included.
Electric Coil Inserter
With this device, you can create professional-looking notebooks, books or other documents. The TruBind features an electric coil inserter, which means the machine electronically inserts the plastic coils. You can bind your papers faster.
Sturdy Handlebar
The sturdy handlebar allows you to punch holes through 20 sheets of paper per single operation. This binding machine features side and depth adjustment, so you can bind your notebooks or any size or shape. Just pull forward the silver button and disengage individual punches.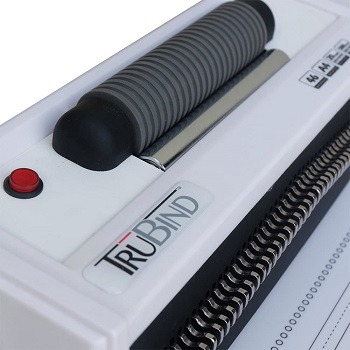 Disengaging Pins
There are 46 disengaging pins, so you can easily avoid half punched holes in your notebook. The dye shape is oval, which improves easier page-turning. Because of open throat design, you can insert the different sizes of papers into the electric binding machine. There is a sizing guide on the machine, so you can select the right coil size.
Highlighted Points:
manual punch operation for up to 20 sheets
electric coil inserter for faster binding
open throat design provides different paper sizes
adjust the depth and side margins
the package includes the crimping tool
use sizing guide for right coil size
Best Manual Notebook Binding Machine
Swingline CombBind C20 Machine
Everyday Needs
The CombBind C20 manual binding machine is designed for small or medium offices for everyday use. It isn't intended for heavy-duty tasks, though. This machine measures 22.05 x 19.29 x 9.84 inches. It can handle spirals and plastic combs.
CombBind Spines
The Swingline binds up to 330 sheets of paper per single operation. Also, it punches up to 20 sheets. Use low force handle for easier binding. The CombBind spines provide easy reading because the pages lie flat. These spines are durable and won't peel over time.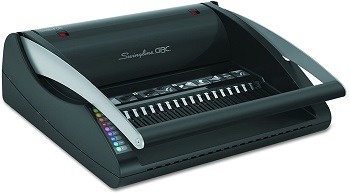 Accommodate Oversized Papers
This binding machine is compatible with the spines of 1.5 inches in diameter. The Swingline notebook binding machine accepts the documents of any sizes. Insert standard-sized paper, A4 or even oversized documents. You can find the guide on the machine, it's easy to select the spine size.
Paper Waste Tray
The neat locator arrow provides you to accurately align the comb and bind the notebook perfectly. With a vertical punch, it's much easier to align the paper. This binding machine features an easy-access tray that collects the paper waste during the punching process.
Highlighted Points:
intended for medium offices with everyday needs
it creates professional-looking documents
punch up to 20 sheets at a time
the binding capacity is 330 sheets
convenient tray for paper waste
Best Electric Notebook Binding Machine
Fellowes Galaxy Electric Machine
Frequent Usage
The Fellowes Galaxy electric binding machine is designed for daily use in medium and large offices. So you can use it frequently, it's really durable. The dimensions are 19.75 x 8.31 x 23 inches. It weighs 32 pounds, so it isn't so easy to move around.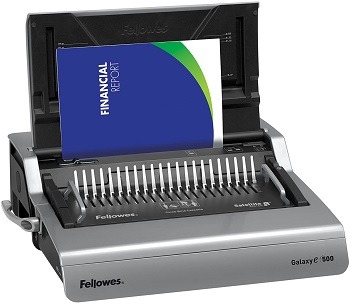 Removable Binding System
This paper binding machine requires 110V, plug it into the standard outlet. It has the ability to punches up to 25 sheets at a time and binds up to 500 sheets with a 2-inch comb. If you remove the binding system, two users can punch and bind at the same time. That feature increases productivity.
Vertical Loading
The Fellowes uses vertical paper loading which ensures more accurate alignment. You can disengage the dies for different paper sizes. The storage tray has an integrated measurement device for documents. The edge guide is adjustable, so it's easy to center the notebook or papers.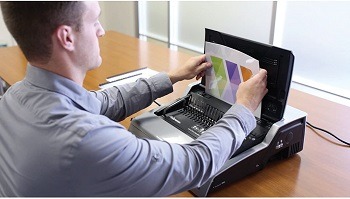 Different Comb Sizes
If the electricity goes off, you can't punch the documents. But the binding is manually operated, so you can use that part of the machine. You can use a smaller spiral or comb size. The max size is 2 inches. The price is a bit higher and the warranty lasts 2 years.
Highlighted Points:
medium duty device for large offices
it electrically punches up to 25 sheets
the binding capacity is 500 pages
the dies are releasable for different paper sizes
removable binding mechanism
front-access tray for paper waste
Best Wire Notebook Binding Machine
Rayson Binding Machine
Light-duty Use
The Rayson is a wire binding machine that has 18.11 x 10.43 x 13.98 inches and weighs 20 pounds. This wire binding machine is made of metal and because of that material, it's hard to lift it and move. It is intended for light office use. The price is affordable.
Two Handles
You can punch manually up to 15 pages at a time and you can bind up to 130 sheets at once. The Rayson comes with an oiled cutting blade, that prevents die from rust. Before use, take the oiled removing paper and clean up the blades. There are two handles, one is for punching and another is for binding.
Releasable Blade
The holes have a rounded shape, which is the most common shape. The holes diameter is 0.18 inches and the closing capacity goes from 1/4" to 5/8". The punching blade is releasable, so you can use the machine for notebooks or documents of different sizes.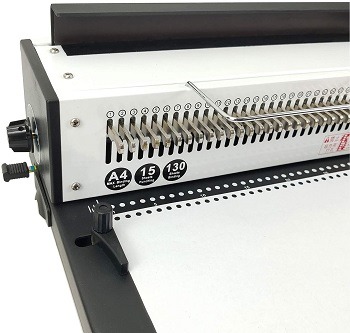 3:1 Pitch Machine
The edge guide will help you with accurate alignment. You an adjust side and depth margins. Also, you can select different wire-o binding ring size. Just match your wire spine's size to the measurement on the side of the binding machine. It is a 3:1 pitch binding machine.
Highlighted Points:
wire binding machine with metal construction
two handles – for binding and punching
it punches up to 15 sheets of paper
bind up to 130 sheets at a time
the durable rust-free cutting blade
Best Cheap Notebook Binding Machine
Vevor Notebook Binding Machine
High-quality Metal
Vevor is a heavy-duty machine made of sturdy materials. The construction is made of high-quality metal and has high-quality hard alloy blades. The binding machine size is 15.1 x 9.1 x 14.2 inches. It weighs 14 pounds and has anti-slide feet for more stability.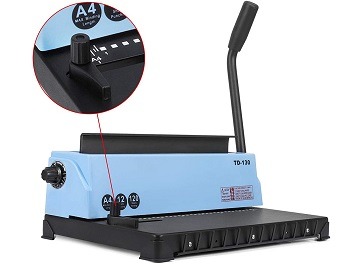 Long Handle
You can use this spiral binding machine in schools, offices, graphic stores, publishers, bookstores,… The Vevor has a user-friendly design, there is a long handle for operation. The waste box is at the bottom of the machine, so there is no mess around you. You can bind up to 120 sheets of paper.
Three-stage Edge Distance
This machine is able to punch up to 12 sheets of paper, this is a manual operation. There is an electric coil inserter for faster work. The pressure system is vertical. You can adjust the margins, too. Pull the adjuster to fit different binding thicknesses.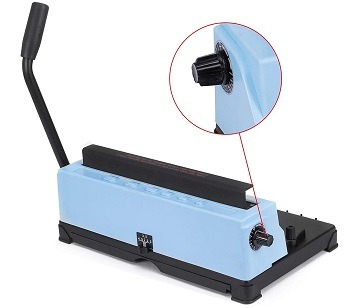 Knob Lock Positioner
The positioner fixes the paper in one position, so the paper is symmetrical to both sides. There is another knob on the side of the machine, turn the knob to the scale that you want to press. Vevor features 34 square holes of 4 x 4mm. The price of this spiral notebook binding machine is low.
Highlighted Points:
made of sturdy materials
metal handle for punching and binding
adjustable edge distance
pull-out drawer for paper waste
punching capacity – 12 sheets of paper
binding capacity – 120 sheets
Best Spiral Notebook Binding Machine
Akiles Coilmac-ER 41 Machine
20-sheet Of Paper
The Akiles Coilmac-ER 41 machine has a manual coil punch and electric coil inserter for faster binding. Its dimensions are 18 x 8 x 13 inches and it weighs 21 pounds. You can punch up to 20 sheets of 20 lbs paper or up to 2.6mm for hardboard.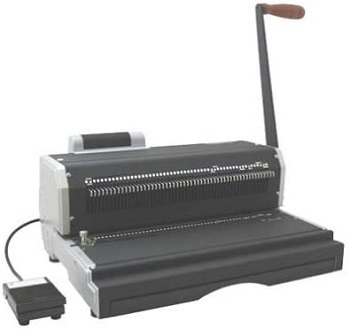 54 Pins
This spiral machine has 54 pins, they are fully disengaged, you can pull them and remove them. The holes are oval and have 4 x 5mm. The punching length is extendable from 13 inches to 26 inches. You can punch notebooks or papers of any length. The punch mechanism is very durable.
Sturdy Blade Set
The blade set features cast-hardened and heat-treated steel dies, they are very durable. With Precision Guiding System, you can create professional-looking notebooks, books and documents. Akiles features an electric roller coil inserter, you control it with a foot pedal.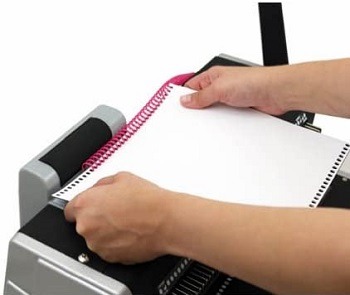 Punching Margin Control
Control the side margins and center easily any document. Also, you can control punching margins. This notebook binding machine features open throat design, so the document size isn't limited. You can align properly and punch everything you need.
Highlighted Points:
manual machine with an electric coil inserter
sturdy and durable metal construction
foot pedal operated machine
the punch length is extendable
punching capacity – up to 20 sheets
open throat design for any document sizes
Things To Know About Notebook Binding Machine
Choose the binding machine depends on your use. There are few characteristics you need to consider – binding capacity, punching capacity, manual or electric and some machine options.
Paper Sizes – Before you buy a binding machine, the important consideration is size. The standard paper size is A4, but maybe you need to work on A3 or A5 formats. Check out if your desired binding machine has open throat design, with that feature you can bind all paper sizes.
Binding Capacity – If you aren't a bookstore, your needs for binding aren't so high. You need a machine for occasional use. The binding capacity of 150 pages could be enough for you. If you use the binding machine on daily uses, look for 300+ sheets per single operation.
Punching Capacity – For less frequent use, the machine with the ability to punch 10 sheets at a time is enough. In case you need more powerful machines with higher capacity, consider 20+ sheets per operation. Then you should focus on models for professional use.
Coil Binding – As we mention the coil binding is most common for notebooks. Coil binding is PVC filament, it is shaped like spring. These notebooks lie perfectly flat and you can turn the pages through 360 degrees. You need to crimp the coils, so sheets won't come off the spine.
Manual/Electric Machine – For low volume paper binding needs, you don't have to buy an electric machine. They are designed for heavy-duty use in large offices. Manual machines feature a convenient handle for punching and binding, it is simple and safe for use.
Final Verdict
If you still can't decide, we suggest you consider the TruBind spiral binding machine one more time. It features open throat design, a punching capacity of 20 sheets and adjustable margins. There are many different binding machines on the market, we also write about cinch binder machines, so check out the models. If you want to try devices with heat power, visit the post about thermal binding machines.