Do you need a vinyl roll cutter for your business or home?
Then read this article! Here you'll find models for crafting, commercial and professional use, large and for small businesses. Also, you can read the buying guide with more practical info on vinyl rolls for cutter and buying the right model.
Our Top Picks
Best 6 Vinyl Roll Cutters
BEST OF BEST VINYL ROLL CUTTER
Vevor 34" Plotter Cutter
Stand With Casters And Basket
This vinyl roll cutter comes with user-friendly accessories: bin and floor stand. The machine on the stand is 41" high. The stand is made from heavy-duty metal and it holds the basket that prevents material to fall to the ground. It also has caster wheels which are very practical so you can move the machine throughout the room.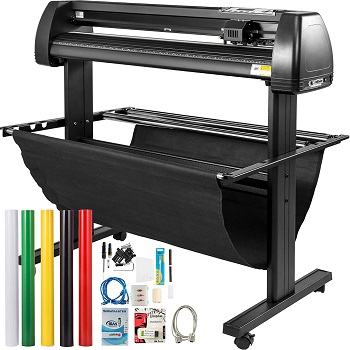 Wide Stable Feed
The maximum paper feed is 34.3", and the maximum cutting width is 30.7". The anti-deviation design is user-friendly because you can adjust the paper feed to the material width. It's one of the sign cutters that have three double-spring pinch rollers, an aluminum knurling stick, wheels, and a scale line that keeps the feed stable.
Use Different Fonts And Images
The system is highly efficient with a D-typed motherboard and 4M inner memory that allows fast transfer of data from the computer to the machine. Signmaster software can work with DM-PL and HP-GL command sets. Also, it's suitable for Dingbat fonts and file formats such as SVG and PDF. The software works with Windows operating system, but it's not compatible with Mac.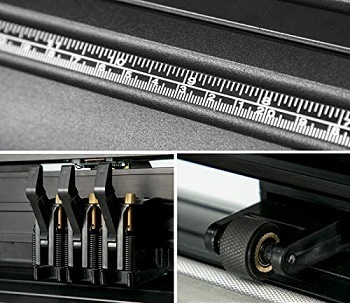 Strong And Fast Blade
The control panel has an LCD and buttons to adjust settings such as cutting speed and force. The machine has a speed range between 0.8 ips and 31.5 ips while the cutting pressure range is between 0.7 and 17.6 ounces. The blade is strong and fast, so it can work with hard materials. The offer includes 5 vinyl rolls for cutter, a rubber soft magnet, textured paper, transfer tape, a knife, and a scraper.
Highlighted Points:
heavy-duty metal stand
bin and caster
Signmaster software
the maximum cutting width is 30.7"
includes 5 vinyl rolls
BEST COMMERCIAL VINYL ROLL CUTTER
USCutter 28" SC2 Cutter Machine
Practical Dual Roller
SC2 vinyl roll cutter machine has a stand and a basket for a clean and organized working space. Another practical user-friendly feature is the superior ball-bearing dual roller system. You can put materials on top of each other, place them on the roll and the machine will take them into feed automatically.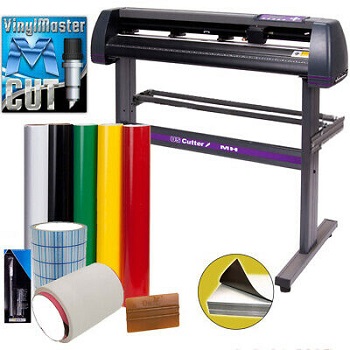 Accessories And Tools
Like the previous offer, this one also includes 5 viny rolls for cutter. You'll get Oracal 651 vinyl rolls that are 24" wide and 5" long. The package also includes the 6" wide film application tape with grid and 6" wide paper application tape. Tools included are a knife for weeding and cutting, a squeegee, and a cutter with three blades.
Efficient Motor And Memory
The paper feed is stable because of pinch-rollers. Also, the guide rail can be adjusted to the material width. This vinyl stencil cutter features a fast and quiet Stepper motor. The memory and motherboard are improved and stable. The system can automatically store up to 99 projects in internal RAM.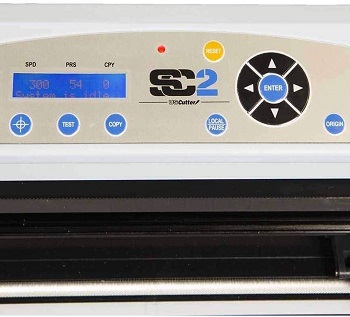 Rotating Blade For Precise Cuts
The inertial rotating blade holder creates clear and precise cuts. The control panel has a blue and yellow backlight LCD to track and adjust cutting speed and pressure. The system automatically memorizes the settings, and has emergency stop and restart buttons. VinylMaster Cut is suitable for Windows only and connects to the computer with a USB cable.
Highlighted Points:
superior ball-bearing dual roller system
includes vinyl rolls and tools
Stepper motor and rotating blade
auto-memory function for speed and pressure
VinylMaster Cut software for Windows
BEST LARGE VINYL ROLL CUTTER
Mophorn 53" Vinyl Cutter Machine
Wide And Adjustable Feed
Use this large vinyl cutter to make big signs, logos, designs, and other projects. It's great for both professional and home use. The maximum paper feed is 53.1", while the maximum cutting width is 49.6". The feed features four pinch-rollers that allow the guide rail to adjust according to the material width.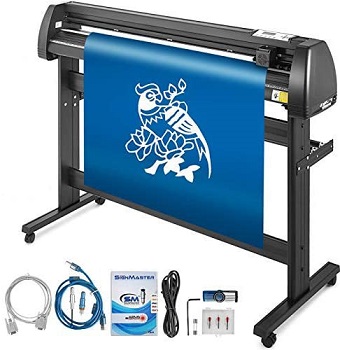 Practical Parts Included
Unlike previous models, this one doesn't include vinyl rolls for the cutter. However, you'll get three blades with a holder, one pen holder, USB cable, serial cable, power cord, USB disk, and a metal floor stand with wheels for free movement. The blades are Roland compatible and suitable for any holder.
Works On Hard Materials
The system has a control panel with an LCD to adjust force and speed. Blades can cut with speed between 0.8 ips and 31.5 ips while cutting force ranges from 0.7 to 17.6 ounces. It has a high cutting precision of 0.0004". Therefore, it's suitable to cut thick materials and creating small projects.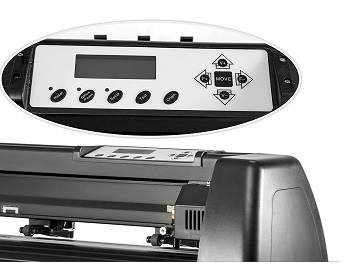 USB Interface
An efficient system has 2M of inner memory. Signmaster software works with all command sets (both HP-GL and DM-PL) and it's suitable for Windows XP/7/8/10/Vista on both 32-bit and 64-bit processors. It's not compatible with Mac operating systems. The machine has a USB interface for connecting to a PC.
Highlighted Points:
53.1" maximum paper width
0.0004" cutting precision
Roland compatible blades
four pinch-rollers
Signmaster software for Windows
BEST PROFESSIONAL VINYL ROLL CUTTER
USCutter LaserPoint 3 Cutter
Software Features And Requirements
The vinyl rolls for cutter aren't included in the offer, however, you'll get a stand with basket and software. VinylMaster Cut software allows you to make professional projects. It includes vectorization tools, editing tools, spool function, and licensing. It requires 512MB of RAM, 50MB of hard-disk space, a Windows operating system, and a USB 1.1 or 2.0 interface.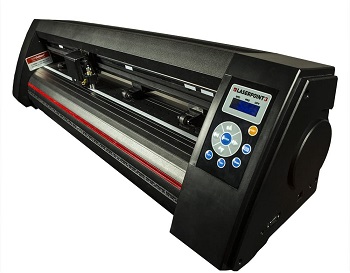 Lower Cutting Precision
Besides the USB interface, the machine also has a serial port. The repetition accuracy of the blade is o.oo5" which is far less than the previous model. In comparison to sticker laser cutting machines or the previous model, this unit isn't as good for doing small projects.
Unique ARMS System
The maximum cutting width is 24", while the maximum paper feed is 28". The unique function of this vinyl roll cutter is Automatic Registration Mark Sensor or ARMS. It's an advanced function used in contour cutting that allows the optical eye to automatically scan the printed crop marks and cut around printed images.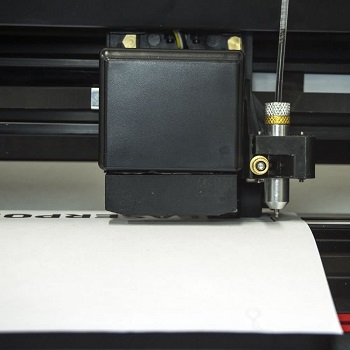 Straight Material Feed
The model is quiet and features grit-rollers for straight feed into the machine which is very practical when working with long rolls. The catch basket prevents material to fall and damage during automatic cutting. The control panel has an LCD and buttons so you can see default settings and adjust when needed.
Highlighted Points:
VinylMaster Cut for Windows
0.005" repetition accuracy
the maximum cutting width is 24"
ARMS contour cutting
girt-rollers and catch basket
BEST FOR SMALL BUSINESS VINYL ROLL CUTTER
Pevor 28" Vinyl Cutting Machine
Fast And Strong Blade
This is the best vinyl cutter for small businesses because it has a sturdy frame, strong blade, adjustable settings, and efficient system. It has a big LCD and buttons to set cutting speed and pressure according to the material. The speed range is 0.8 – 31.5 ips and the pressure range is 0.7 – 17.6 ounces.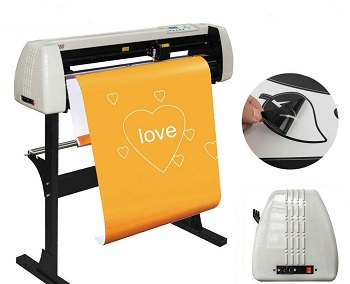 CorelDraw And ArtCut
The maximum cutting width is 24.8", while the maximum paper feed is 28.3". The blades are made from super steel and they're built-into the closed blade holder which prevents them from slipping. The package includes CDs to install CorelDraw and ArtCut plug-ins. The computer and machine can connect with a USB interface.
Precision In Cutting
The vinyl roll cutter can work with a Pentium 32-bit and 64-bit processor with Windows operation systems. It won't work with Mac systems. The cutting precision is 0.0005", which is lower than the previous model on the list, but still high enough to make precise cuts when working on smaller projects.
Optimal Working Temperature
The optimal working temperature is between 32°F and 131°F, while relative humidity is between 5% and 65%. The package doesn't include vinyl rolls for cutter, but you'll get the blade and its holder, plotter holder, Allen wrench, serial cable, parallel cable, USB cable, and USB port.
Highlighted Points:
maximum paper feed is 28.3"
the maximum cutting feed is 24.8"
32-131°F optimal working temperature
0.0005" cutting precision
for Windows only
BEST CRAFT VINYL ROLL CUTTER
Instahibit 28" MH Vinyl Cutter
Adjustable Guide Rail
The user-friendly feature is an adjustable guide rail with 3 pinch-rollers, therefore you can use vinyl rolls for cutter of different widths. The maximum paper feed is 28", while the maximum cutting width is 24". So this vinyl roll cutter is ideal for creating small to medium projects.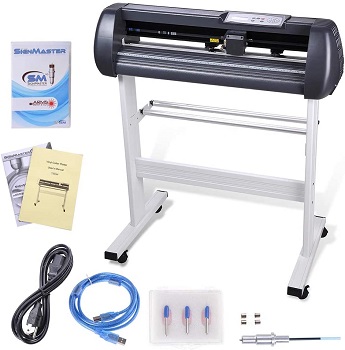 Signmaster Cut Software
This 24-inch vinyl cutter is equipped with the Signmaster cut basic software that can work with all image formats and it's compatible with many plug-ins such as Flexi, SignLab, SignCut, ArtCut, WinPCSign, and CorelDraw. The software can work with Windows operational systems on both 32-bit and 64-bit processors. It's not compatible with Mac.
Two Interfaces And Strong Motor
Suitable command sets are DM-PL and HP-GL. The vinyl roll cutter machine has an RS-232 serial interface and USB port to connect with the computer. The stepper motor runs the system and ensures a cutting speed of 0.8 – 31.5 ips and cutting force between  0.7 – 17.6 ounces.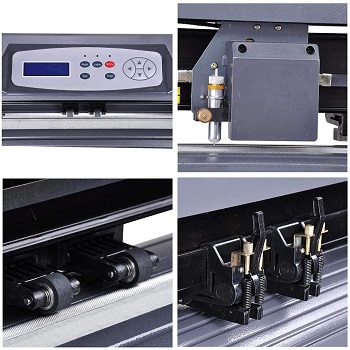 High Cutting Precision
The strong blade can cut thick materials such as leather and fabric, and an inertial rotating blade holder enables cuts of high precision. Control panel with LCD allows you to adjust settings according to the material thickness. Also, you can stop cutting and restart with the emergency button.
Highlighted Points:
maximum paper width is 24"
3 adjustable pinch-rollers
Signmaster Cut basic software for Windows
inertial rotating blade holder
emergency restart button
Things To Know About Vinyl Roll Cutters
Materials for crafts such as vinyl can come in two shapes: sheets and rolls. Rolls can later be cut into sheets. Some machines can take whole rolls, without previously cutting them. To do so, they need to have features such as a big stand, sharp blade, wide paper feed, large dimensions.
Viny Rolls For Cutter – Each vinyl roll has its own color. If you're doing a multiple-colored design, you need to cut each roll separately and then layer them on top of each other. Therefore it's great to look for options that include rolls of different colors. Vinyl rolls can be solid, reflective, holographic, metallic, golden, and silver.
Catch Basket And Stand – Rolls are both wide and long, and it's much easier to work when you elevate the craft vinyl cutter machine above the desk. The stand is very useful for that purpose so look for offers that include it. The basket is useful because it catches the material during the long automatic cutting.
Minimum Paper Feed – Vinyl rolls require machines with the paper feed wider than 20", so consider models with dimensions of 24", 34", 28", 54" and above. Small models with narrow paper feed are made for use with vinyl sheets so it will be complicated to use vinyl rolls.
Fast Working System – When working with vinyl rolls, it's useful to have a feed system that allows automatic and faster work. Therefore I recommend models with a ball-bearing dual roller media system. It allows you to put different materials on the rollers, so the vinyl roll cutter can automatically cut different projects.
Contour Cutting – This is a very practical function that some models have, some don't. Consider buying a contour vinyl cutter with this feature in case you want your machine to make a clear cut on a vinyl roll after finishing the work and preparing it for the next project.