Are you interested in buying a contour cutting vinyl cutter?
Then search no more! Read this review of the 6 best contour vinyl cutters and compare different categories so you can easily find the one you need. For more info on practical features such as paper feed, blade speed, etc., go to buying guide.
Our Top Picks
Best 6 Contour Cutting Vinyl Cutters
BEST OF BEST CONTOUR CUTTING VINYL CUTTER
Cricut Explore Air 2 Machine
Cuts Many Materials
This is the best contour vinyl cutter for doing crafts, DIY projects, or even for professional use in business. It can cut over 100 materials of different thicknesses such as cardstock, vinyl, iron-on vinyl, leather, fabric, vellum, etc. The cutting has one fast mode and the second precise mode.
Full Package
At the side of this contour vinyl cutter is a smart holder where you can put tools, blades, pens, and other accessories needed for work. With the package, you'll get a 12" long and wide light grip cutting mat, a fine point pen with holder, and a blade with a housing.
Bluetooth Connectivity
The model has a double tool holder so it can easily switch between a blade and a pen, which is ideal for contour cutting. Put any printed image in this machine, and it will easily cut around printed lines. Besides you can connect it with Bluetooth to any device and import images.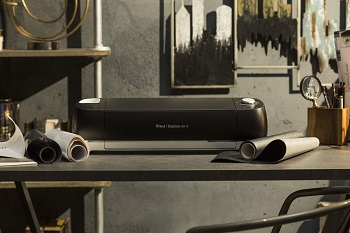 For Mac And Windows
The contour cutting vinyl cutter will work with both Mac and Windows operating systems. This Mac compatible vinyl cutter has Cricut Design Space software that already includes 50 pre-installed designs. You'll also get a 1-month membership to Circut Access Library with over 100 000 designs.
Highlighted Points:
fast and precise cutting modes
Cricut Design software for both Mac and Windows
Bluetooth connectivity
double tool holder
smart holder for accessories
BEST ARMS CONTOUR VINYL CUTTER
USCutter 28" Laserpoint 3 Machine
High Cutting Precision
This Laserpoint 3 ARMS contour cut vinyl cutter is high-quality made and ensures precise laser cutting. It's great for commercial and professional use since it has a very quiet motor and powerful blades.  Cutting precision is high with 0.005" accuracy, while cutting resolution is 0.001"/step.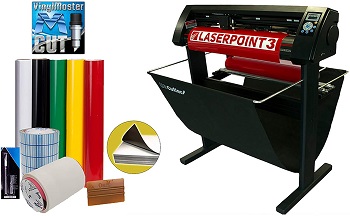 Software Requirements
It comes with VinylMaster Cut software that's suitable for Windows only. This ARMS contour cutting vinyl cutter connects to the computer with two interfaces: USB 2.0 and serial port. If you have a Mac OS, then you should install the Sure Cuts A Lot Pro software.
Wide Feed With Grit-Rollers
The maximum cutting width is 24", while the maximum paper feed is 28". The paper feed of this 24-inch vinyl cutter has very strong grit-rollers that allow improved tracking of material in the feed. Also, the guide rail can be adjusted so you can work with materials of different widths.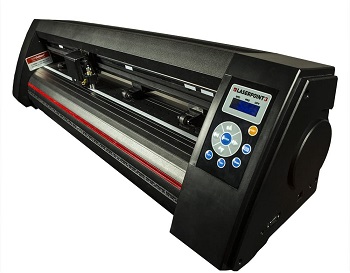 Practical Accessories
Another great feature is the catch basket. Therefore you can live the ARMS contour vinyl cutter unattended because the work is stored in the basket which prevents any damage to materials. It has an LCD with control buttons and a metal stand so you can use vinyl rolls.
Highlighted Points:
0.005" cutting precision
28" maximum paper feed
catch basket and a stand
VinylMaster Cut for Windows
USB 2.0 and serial interface
BEST FOR SMALL BUSINESS CONTOUR VINYL CUTTER
USCutter PrismCut P20 Vinyl Cutter
Nice Exterior Design
This contour vinyl cutter has a great exterior design with LED lighting, so it's a great addition to the interior of any office. Another feature that makes it ideal for business is wireless connectivity so you can work from anywhere in the room. The model has VinylMaster Cut software.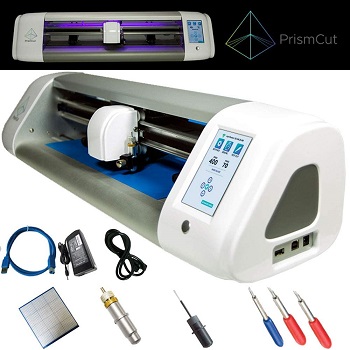 Camera Contour Cutting
It can work with only Windows operating systems, on both 32-bit and 64-bit processors. The model features a camera that sees the registration marks and guides the blade around printed lines. The maximum paper feed is 19.5", while the maximum cutting width is 16".
High Cutting Precision
The system of this contour cutting vinyl cutter runs on a Stepper motor. It's a great model for commercial use because it has a strong blade with high precision. The maximum cutting downforce is 17.6 ounces. So this commercial vinyl cutting machine can work with different materials, both thicker and thinner than vinyl.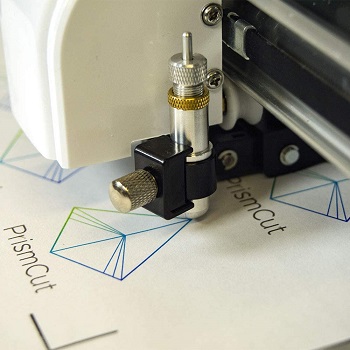 Control Touchscreen
The machine has a control touchscreen that allows you to do test cuts and adjust settings. It has buttons for easy navigation and adjustments of speed and downforce. The package includes a 15" long and wide cutting mat, 60-degree blade, two 45-degree blades, USB cable, power adapter with cable, blade holder, and pen with the refill.
Highlighted Points:
LED lighting
19.5" maximum paper feed
Stepper motor
VinylMaster Cut for Windows
wireless connectivity
BEST DESKTOP CONTOUR CUTTING VINYL CUTTER
USCutter 15" Titan 3 Machine
Servo Powerful Motor
Like Laserpoint 3, this contour cutting vinyl cutter has a laser that guides the blade around printed lines and ensures precise cutting of stickers, labels, and other designs. It's running on a powerful and quiet servo motor. Therefore it has high speed and downforce.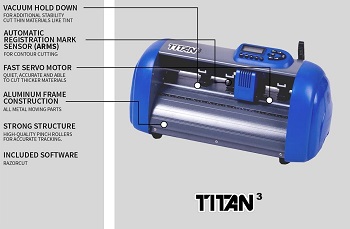 Strong And Fast Blade
Maximum cutting speed is 37 ips while maximum cutting force is 26.45 ounces. Besides, the system features Titan blades so this contour vinyl cutter is suitable for industrial use. The package comes with 30-degree, 45-degree, and 60-degree blades. The tool carriage has 4 wheels.
Efficient Material Tracking
This servo motor vinyl cutter has a 15" wide paper feed with high-quality pinch-rollers and grit-rollers that maintain the material in the feed, keeping it straight and tracking it. This model is suitable for smaller projects. It has a vacuum hold down so it's capable of cutting thin materials.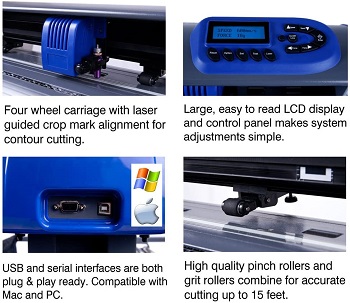 Software And USB Compatibility
A large LCD and control panel allows easy adjustment of blade settings. The product is made from an aluminum metal frame. The system features VinylMaster Cut software suitable for Windows only. It has USB 1.1 and 2.0 interfaces to connect with a computer. USB can connect to the Mac device.
Highlighted Points:
4 wheel carriage with Titan blades
15" maximum paper feed
37 ips maximum cutting speed
the maximum cutting downforce is 26.45 ounces
VinylMaster Cut software for Windows
BEST FOR CRAFT CONTOUR CUTTING VINYL CUTTER
TS300 Cutter Vinyl Machine
High-Efficient Processor
This contour vinyl cutter has a camera sensor for fast registration mark detection so the cutting is precise. The system works on an ARM 32 CPU processor and 256MB memory drive. The blades can cut over 100 materials. Besides vinyl, you can use fabric, leather, paper craft, cardstock, vellum, and much more.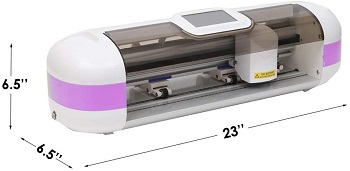 Feed With Rollers
The maximum cutting width is 16" so it's suitable for making smaller logos, banners, designs, and other projects. The grit-rollers and pinch-rollers on the feed maintain the material stable so it doesn't get damaged. Also, you can adjust the guide rail according to the paper width.
High Cutting Force 
This htv vinyl cutter has a big touchscreen that allows easy setting adjustments and navigation through the working process. The blade has a maximum cutting downforce of 21.16 ounces. The package includes Signmaster software that's suitable for Windows operating system on a 32-bit processor.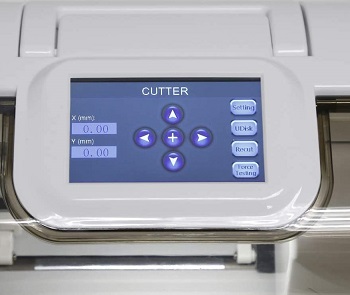 Package Content
The software can import JPG and PDF. The contour cutting vinyl cutter is connecting to the computer by USB cable. The package includes a knife blade with holder, fine point blade with housing, 16.5" long and 11.8" wide Lightgrip adhesive cutting mat, power cable, and USB cable.
Highlighted Points:
16" maximum paper feed
feed pinch-rollers and grit-rollers
21.16 maximum cutting downforce
touchscreen control panel
comes with a fine-point pen and knife blade
BEST PLOTTER-CUTTER CONTOUR VINYL CUTTER
Graphtec 24" CE7000-60 Vinyl Machine
Industrial Grade Blades
This is one of the most cost-effective automatic contour cutting plotters on the market because it has high-quality functions. The model features industrial-grade blades with the Print And Cut function that reduces the waste during cutting. The sign plotter has a 24" maximum paper feed.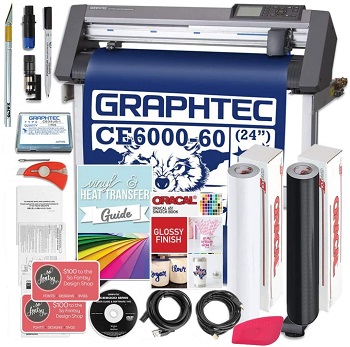 Big Display With Controls
It can efficiently track over 15 ft of any material and be used for wide applications- stickers, decals, window signage, htv vinyl transfer, etc. The Graphtec contour cutting machine has a big LCD with control buttons that allow you to adjust many settings, do test cuts, and much more.
Data Link Barcoding
A unique function that other contour vinyl cutters from this list don't have, is the DataLink barcode system. This is ideal for big businesses with a lot of projects. The system connects to the data on the computer that has a specific barcode and they are imported into the machine for cutting.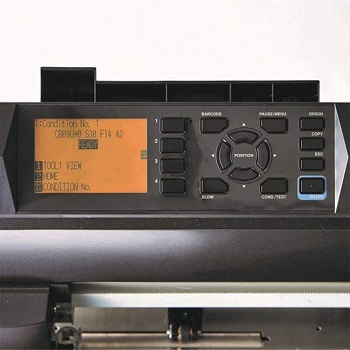 Suitable For Mac And Windows
The contour cutting vinyl machine comes with the Graphtec Pro Studio for Windows and Graphtec Studio for Mac OS. The sign plotter's package also includes the Cutting Master 4 plug-in, stand with media rollers, blade holder, loupe for setting blade depth, a water-based fiber-tip pen with a holder, power cord, and USB.
Highlighted Points:
industrial-grade blades
automatic cutting with barcodes
24" maximum paper feed
Graphtec Studio and Pro Studio
LCD with control buttons
Things To Know About Contour Vinyl Cutters
The contour cutting vinyl cutter has a special ability to guide the blade around printed lines with laser or registration marks. It's ideal for creating labels, stickers, logos, and other images from the printed templates. When buying one, you should also consider other features such as feed width, blade strength, other user-friendly functions, etc.
Paper Feed – If you want to create both small and big projects, you need to buy a model with paper feed above 20" and pinch-rollers that allows adjusting to the paper width. Mini vinyl cutters have feed up to 20" wide and they're good for small logos, images, and other designs.
Blade Settings – The blade has cutting speed and downforce. If the speed is around 20 ips or above, and the cutting force is around 10 ounces or above, the blade can cut materials thicker than vinyl such as stencil, vellum, leather, htv vinyl, etc.
Accessories – It's desirable to buy a model that comes with a catching basket and metal stand because you can live the work unattended without fearing getting damaged. Also, it's great when you get materials and tools to start with, and Software so you don't have to buy it separately.
User-Friendly Functions – Many professional vinyl cutters will include additional functions such as writing, pre-installed designs with the software, or a data barcoding system. Also, it's great if the model features auto-memory so you don't have to manually set the data before every project.
Software Requirements – The best contour vinyl cutter will include software. However, not all software will work with all devices. If you're having a Mac device, search for models with Cricut Design Space, Silhouette Studio, Sure Cuts A Lot Pro, and Graphtec Studio Pro. VinylMaster Cut and Signmaster are suitable for Windows only.