Do you need a sticker laser cutter making stickers?
Then read this review! Here you will find the best 6 models from different categories- laser cutters, simple sticker makers, and vinyl cutters without sticker laser cutting option. Compare them and read the buying guide for more info on choosing the right machine.
Our Top Picks
Best 6 Sticker Laser Cutters
BEST OF BEST STICKER LASER CUTTER
Brother ScanNCut CM350E Cutter
Create With Adhesive Vinyl
This is a vinyl cutter without a sticker laser cutting function. However, it has many tools you can use to make stickers. With this machine, you need to use adhesive vinyl for making stickers. Therefore, you can create your own design and then use it as a template to cut adhesive vinyl.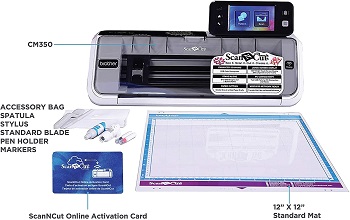 300 DPI Built-In Scanner
The main difference in comparison to a sticker laser cutter is in lack of sensors that cut around the printed lines. The unique feature of this best vinyl cutter for small businesses is the 300 DPI built-in scanner. You can use your own images and photography and scan them into the ScanNCut software.
Transfer Designs With Bluetooth
The software will convert the image to a CUT file and sent it to the cutter. You'll get 631 already installed designs you can use. The software also works with SVG and PVG files. You can create your own images at CanvasWorkspace and download them to the machine with a USB interface or Bluetooth.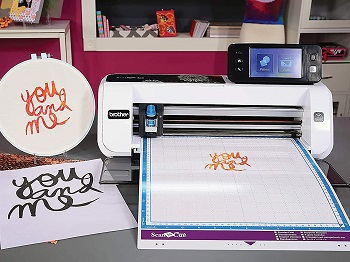 Background Scanning
The machine has a 4.85" LCD touchscreen to see materials with a background scanner. It also includes the 12×12" cutting mat, standard blade and holder, two pens with holder, spatula, touch pen, and accessory bag.  The blades can cut materials up to 0.1" thick.
Highlighted Points:
built-in scanner
ScanNCut software for Windows
4.85" LCD touchscreen
includes tools and materials
works with SVG images
BEST SMALL STICKER LASER CUTTING
Xyron Create-A-Sticker Maker
Simple Sticker Maker
This machine is without sticker laser cutting function. It's a simple sticker maker with two different adhesive tapes that are added to the images. This could be a great addition to the laser sticker cutter. You can create vinyl images, and then add adhesive tape with this machine.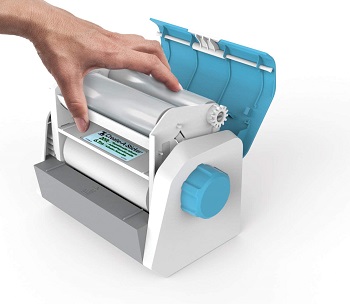 Portable And Lightweight
It's small and compact. Paper feed is only 5" wide, so you can create small stickers only. However, it's space-saving and portable, and ideal for doing funny crafts at home. It weighs only 1.1 pounds so it's very lightweight. It's 7.87" long, 6.69" wide, and 6.3" high.
Long Pre-Loaded Adhesive
To use it, just put the image in the machine and start turning the side knob to apply permanent adhesive tape from edge to edge. The unit is delivered with pre-loaded adhesive tape. It's 10 ft long, non-toxic, acid-free, and permanent.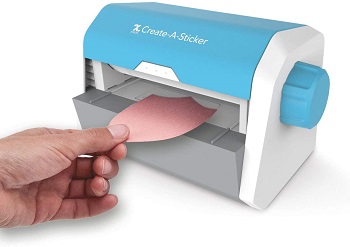 Apply Without Mess
It's easy to replace and put the new refill which is sold separately from the machine. The adhesive doesn't need heat, electricity, or glue. This is a clean and easy method of doing stickers, and it's a great addition to any vinyl cutting machine for crafts.
Highlighted Points:
the material feed is 5" wide
glue, heat or electricity aren't needed
10 ft long pre-loaded permanent adhesive
machine is 7.87" long, 6.69" wide and 6.3" high
turn side knob to apply adhesive
BEST CRAFT STICKER LASER CUTTER
Xyron Creative Station Sticker Maker
Applies Variety Of Materials
This is also a machine without sticker laser cutting. However, you can use a sticker laser cutter to create projects from different materials, and then use this machine to apply adhesive on them. Unlike the previous model, this can apply more materials.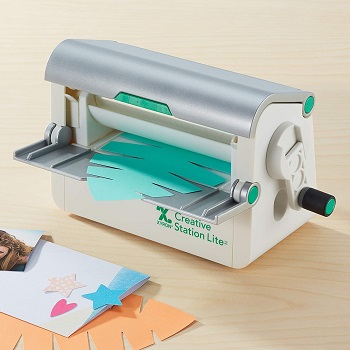 Two Cartridge Sizes
Besides permanent adhesive, you can use repositionable adhesive, magnet, laminate, two-sided laminate, and laminate-adhesive. Therefore you can do a variety of projects with this machine. It's 5" wide, but you can also use a 3" big cartridge in case you do smaller stickers.
Lightweight And Space-Saving
To change the function of the machine, just switch the cartridge. The vinyl lettering machine weighs 2 pounds so it's very lightweight and easy to carry anywhere. Its design is compact and space-saving, so you can place it anywhere on your working surface. It's 5" long, 9.4" wide and 6" high.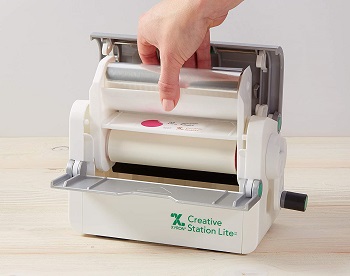 Easy To Apply
Adhesive, laminate, magnet tape, and other materials are easily applied, without the mess. There's no need for using glue, heat, or electricity to make stickers that are very user-friendly. If you use a cartridge of the right width, there won't be any waste of material. The adhesive is instantly dried. By turning the knob, it's applied edge-to-edge on the item.
Highlighted Points:
suitable with 3" and 5" cartridge
applies laminate, magnet, permanent and repositionable adhesive
no electricity, heat, or glue
it's 5" long, 9.4" wide and 6" high
weighs 2 pounds
BEST PROFESSIONAL STICKER LASER CUTTING
UsCutter Titan 3 Vinyl Cutter
ARMS Contour Cutting
This is a great sticker laser cutter that can be used professionally for business. The sticker laser cutting is enabled by ARMS (Automatic Registration Marks) contour cutting with laser guidance. The system is sensing the print lines and then guiding the blade to cut around them.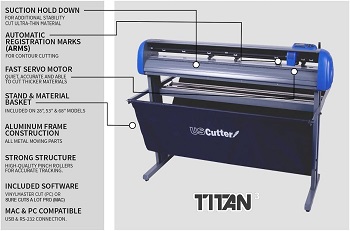 Strong And Fast Blade
To make stickers, this machine must cut adhesive vinyl. The model has a maximum downforce pressure of 26.46 ounces. Therefore, it's strong enough to cut vinyl, stencil vinyl, leather, wood, fabric, and other materials.  Servo motor enables a maximum cutting speed of 37 ips and quiet operation.
Aluminum Stand With Basket
This servo motor vinyl cutter has a sturdy exterior structure. It's made from an aluminum metal frame and comes with a floor stand with a basket for catching material that comes out of the feed. Therefore you can live the work unattended and your material won't get damaged.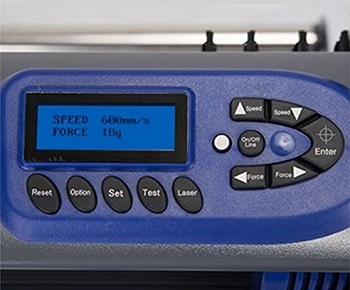 Adjustable Material Width
The guide rail has two adjustable pinch rollers and grit rollers that enable the material to go straight through the feed and you can adjust the guide rail to the material width. The maximum cutting width is 24", while the maximum paper feed is 28". The model has VinylMaster Cut software for Windows only.
Highlighted Points:
arms contour cutting
quiet servo motor
maximum cutting speed is 37 ips
26.46 maximum cutting pressure
the maximum cutting width is 24"
BEST DESKTOP STICKER LASER CUTTER
Lolicute A4 Sticker Machine
Cutter And Plotter
It's a cutter machine for making stickers without sticker laser cutting. Unlike the previous sticker laser cutter, it doesn't feature ARMS contour cutting with laser guidance. However, this desktop vinyl cutter has drawing and cutting functions, and you can make stickers from adhesive vinyl.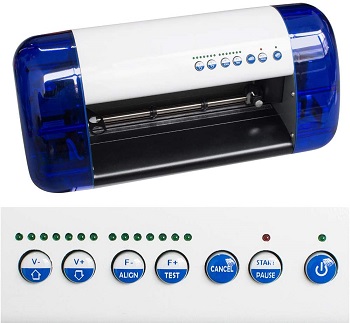 Short Feed And High Cutting Pressure
Device is 7.4" long and 98.4". The maximum cutting width is 8.24", and the maximum paper feed is 9.45". The maximum cutting speed is 11.8 ips while cutting pressure ranges from 2.47 ounces to 17.64 ounces.  Therefore, this model has a fast and strong blade to cut a variety of materials.
Cutting Precision
You can make stickers from paper, cardstock, fabric, vinyl, stencil vinyl, vellum, leather, etc. The cutting precision is 0.001". In comparison to other cutters that have a precision of 0.0004", it's not having the highest precision, but it's enough for making simple small projects.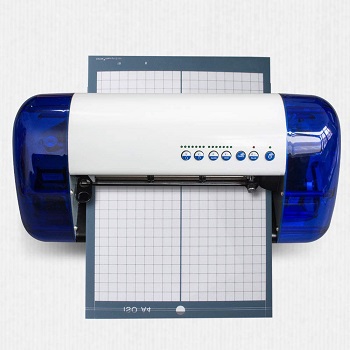 Software And Stepper Motor
The Stepper motor is running the system. The optimal system working temperature range is between 32°F and 95°F. Relative non-condensing humidity is between 5% and 95%. Software is included, and it works with DM-PL and HP-GL command sets. It connects to the machine with a USB 2.0 interface. It includes a blade and pen with holders.
Highlighted Points:
8.24" maximum cutting width
9.45" maximum paper feed
11.8 ips cutting speed
17.64 maximum cutting force
0.001" cutting precision
BEST COMMERCIAL STICKER LASER CUTTING
USCutter Laserpoint 2 Vinyl Cutter
High Precision With ARMS
This vinyl roll cutter comes with a function for sticker laser cutting. The system has ARMS contour cutting that is registration the printing line with sensors and then guides blades around it. It makes high-quality laser-cut vinyl stickers.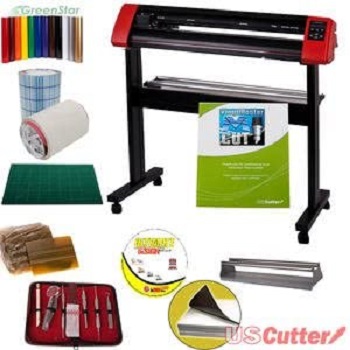 Wide Paper Feed
The sticker laser cutter has a maximum paper feed of 31.5". It's big enough to automatically take vinyl rolls into the feed. To make stickers, use adhesive vinyl. The machine has a control panel with an LCD and buttons to track and adjust cutting speed and pressure.
LCD With Clear Backlight
The LCD has a clear and bright blue and yellow backlight so you can easily navigate and organize your work. The adjustments of settings can be done while the laser sticker cutting machine is working. There is an emergency stop and start in case you need to restart the machine during the cutting process. There are three 45-degree blades and a pen holder.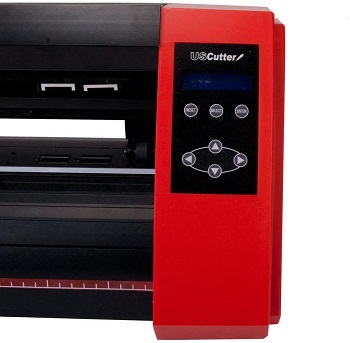 User-Friendly Features
The blade is having a high force and speed and can cut with high precision because of the inertial rotating blade holder. Unique features of this model are manual contour cutting and auto-memory of settings. The blade automatically adjusts to the material thickness. VinylMaster Cut for Windows and 1-year limited warranty is included.
Highlighted Points:
ARMS system
31.5" maximum paper feed
LCD with blue and yellow backlight
inertial rotating blade holder
VinylMaster Cut software for Windows
Things To Know About Sticker Laser Cutting
The main feature is the ability to work with adhesive vinyl or other materials. In this review,  I've described machines for adding adhesive tape to your projects, sticker laser cutters, and sticker vinyl cutters without laser function. Here I'll share some practical info that will help you to choose the right model.
Sticker Makers – These models are ideal for an addition to any vinyl cutter. If you want to use different materials, besides adhesive vinyl, buy a sticker maker that comes with the adhesive tape. In that way, you can make a sticker from any material (leather, vellum, fabric, wood) that you have cut from the vinyl cutter.
Sticker Vinyl Cutters – Like vinyl sign cutters, these models come with Software that includes cartridges for letters, alphabet, and other images you can use as templates for your projects. Although they don't have laser function, there are many models with strong and fast blade and high precision that can cut adhesive vinyl and make projects with clear cuts.
Laser Sticker Cutters – Sticker laser cutting is a function based on ARMS contour cutting that allows precise cutting around the printed lines. It's ideal for cutting small and detailed projects from the adhesive vinyl. Therefore, if you want to have high-quality made stickers with clear and accurate cuts- this is the right choice for you.
Right Size – If you want to make small and large stickers, the best choice is a large vinyl cutter with feed wider than 20" that has a guide rail that can be adjusted to the material width and maintains it stable while cutting. Desktop models with less than 20" paper feed are suitable for making small stickers.
Cartridge With Images – As I already mentioned, cartridges comes with certain software. For example Signmaster Cut, Cricut Design Space, and Silhouette Studio. They're practical addition to the sticker machine because you'll have images that are already designed for you and ready for download and use.
Final Verdict
The best model is USCutter Laserpoint 2 sticker laser cutter because of the ARMS sticker laser cutting that's improved with high-precision, auto-memory function, and manual contour cutting. It's ideal for making small detailed stickers. If you want to make detailed projects with clear cuts, check out car decal maker machines.